In the extraordinary realm of majestic mountains, where frostbite threatens to steal sensation, the ice climbing gloves become the lifeline that separates triumph from defeat, survival from surrender!
Ice climbing gloves meet the specific requirements of the sport. Scaling frozen terrains, such as icefalls, frozen waterfalls, or ice-covered cliffs, is known as ice climbing.
The gloves are made to keep climbers warm, dexterous, and protected while helping them to maintain a strong grip on ice tools and equipment in cold and icy situations.
Best Ice Climbing Gloves
Here's a list of some of the Best Ice Climbing Gloves Available on Amazon
A highly maneuverable alpine and ice climbing glove made to survive cold conditions is the Rab Pivot GORE-TEX Glove. It has GORE-TEX Active technology, which combines breathability and waterproofness to keep your hands dry and comfortable all day long.
Precision motions are ensured by the pre-curved structure, which permits free grip on ice tools and ski poles. These gloves are appropriate for rough use due to the resilience of the Pittards Armortan leather reinforcements on the palm and fingers.
Even in damp weather, the synthetic PrimaLoft Gold insulation offers exceptional warmth.
The gloves include a pre-curved fit and mapped 3D structure to optimize dexterity and movement. They also provide additional knuckle protection to keep users safe when dealing with falling ice and stones.
Climbers looking for warmth, waterproofing, and improved grip in difficult winter conditions have a dependable and adaptable alternative in the Rab Pivot GORE-TEX Glove.
The alpine glove is characterized as being composed entirely of nylon and having a cozy fleece inside. With the help of Gore-Tex technology, it is designed to provide dependable weather protection, balanced heat transfer, and excellent moisture control.
Primaloft Gold insulation combined with aerogel technology provides the best level of warmth in chilly and rainy weather conditions in the glove. The sophisticated Pre-curve design improves comfort by making it simple for the hands to keep their natural posture.
Pittards goat leather and 4-way stretch fabric are used in the construction to provide abrasion resistance and optimum dexterity. A quick-release adjustment and a gentle nose wash are features of the complete gauntlet design.
Gore Grip Technology, which connects internal layers to deliver the best grip and dexterity, is another characteristic of the glove. With durability, dexterity, and precision for tricky settings and rope work, this sophisticated and well built alpine glove is made to satisfy the needs of alpinists.
The KINGSBOM winter thermal gloves are a durable, fashionable, and unisex alternative for people who are always on the go. These gloves offer exceptional warmth and heat retention since they are lined with 200g of 3M Thinsulate Insulation.
Multiple layers of Thinsulate insulation are used in the construction of the gloves to provide breathability while maintaining hand warmth.
As a result of its waterproof, snowproof, and windproof construction, they may be used for a variety of outdoor winter activities.
In order to operate touch screens on smart devices without taking off the gloves, the gloves additionally have conductive fabric on the thumb and index fingers.
In harsh sub-zero conditions, these waterproof gloves are made to keep your hands cozy and pleasant. They offer outstanding warmth for sports like skiing and snowboarding thanks to SUMMITLOFT insulation. The gloves include a nylon shell that is wind- and water-resistant to keep you dry and safe from the elements. During high-intensity sports, the TPU breathable membrane lets perspiration and moisture escape, keeping you at ease. These gloves are made to last thanks to their reinforced all-nylon outer layer and synthetic leather palm.
The double-faced synthetic leather palm provides exceptional grip, making it simpler to handle snowmobiles, shovels, and ski poles. For a snug fit and to keep snow out, the gloves include a drawstring closure and an adjustable clasp at the wrist. They also include concealed elastic bands that prevent loss while not in use. These gloves are appropriate for cold-weather outdoor activities such as skiing, snowboarding, winter labor, and other sports.
These warm krosa gloves include a 5-layer thermal softshell construction and 3M insulation for superior insulation and a secure fit.
These gloves can keep your hands warm even in temperatures as low as -10°F thanks to the 3M Insulation cotton and premium polar fleece. They are flexible and comfortable, and the stretchy cuffs make them simple to put on and take off.
The gloves' 10 fingertips are made of conductive PU leather, allowing you to use touchscreen devices without taking them off. These gloves are appropriate for a variety of activities, including driving, cycling, and hiking, thanks to the silicone prints on the palms and fingers that provide a firm grip.
Thanks to the combination of high-density nylon and breathable TPU materials, the gloves are waterproof and windproof. They successfully block moisture from entering and stop sweat from gathering inside.
The improved zipper and adjustable cuffs guarantee a tight fit and simple removal. The gloves are convenient to carry along and make a terrific present for both men and women.
These men's winter gloves are made particularly for riding in temperatures as low as -30 degrees Fahrenheit. They are among the warmest gloves for outdoor activities since they are constructed with premium waterproof materials, warm fabric from abroad, and a fleece inside.
The gloves include a waterproof inner bag and a water-resistant outer layer, giving two layers of water resistance to keep the hands dry even in wet or abrasive conditions.
You can use your smartphone without taking the gloves off since each glove's finger has a conductive layer that enables touch screen interaction. You may use this function to keep your hands warm when utilizing smart devices in the chilly winter weather.
Before being released into the market, the gloves were put through many tests to guarantee their quality. They are appropriate for many outdoor activities, including jogging, hiking, cycling, and more.
These gloves include three insulation materials for windproofing and warmth in below-freezing weather. They are composed of superior Dacron and soft, thick fluff material.
The two water-repellent layers offer further defense against the elements and harsh situations. The touchscreen compatibility of the gloves allows for effective touchscreen operation without sacrificing warmth.
The wrist is double shirred elastic with a zipper closing to create a snug fit but not too tight. The gloves are suitable for various outdoor activities and offer both functionality and style.
Waterproof Mittens
Long-lasting performance is provided by the sturdy, multipurpose polytex shell used in the construction of these gloves. They offer outstanding grip and dexterity because of their stick-grip fingers, thumb, and digital-grip palm.
Additionally, the gloves have a FastDry lining that wicks away moisture to keep your hands dry and comfortable. A waterproof insert makes sure that there is defence against moisture.
To provide additional warmth and a plush sensation against the skin, the gloves are lined with fleece. For a comfortable fit and additional insulation from the cold, they offer a fleece cuff with an adjustable wrist strap clasp.
The gloves' reinforced PU palm and softshell trim increase their sturdiness and lifetime. A nasal wipe function and a wrist strap closure with a fleece cuff are also included.
These gloves are adaptable and suited for a range of outdoor activities. They provide insulation, moisture wicking, and weather protection.
The Gordini Men's Gore-Tex Gauntlet Mitts include a sturdy shell and mini-ripstop trim made of 100% polyester. The mitts include a textured palm and thumb for better grip, and the finger section is constructed of real leather for increased durability.
Your hands will stay dry and comfortable thanks to the waterproof, windproof, and breathable Gore-Tex material in these mittens. They have synthetic Megaloft insulation, which offers exceptional warmth in cold weather.
Additionally, the mitts contain a moisture-wicking inside to keep sweat off your hands.
The wrist strap and drawcord wrist cuff on the gauntlet cuff allow for a snug and customizable fit. These mittens provide protection and dependable grip, making them a perfect choice for hard winter conditions whether you're skiing, snowboarding, or participating in other winter activities.
Ice Climbing Gloves – Beginner's Guide
What Are the Different Types of Ice Climbing Gloves?
Softshell Ice Climbing Gloves: Softshell gloves are incredibly flexible and light. Typically, they are constructed from a mix of elastic materials that offer both flexibility and breathability. They may not provide the best insulation, but they are appropriate for ice climbing in less extreme situations or as a liner glove in colder climates.
Insulated ice climbing gloves are intended to keep hands warm in chilly settings. They feature insulation made of down or synthetic material to keep your hands warm. To guard against moisture from ice and snow, these gloves frequently include an outer layer that is waterproof or water-resistant.
Waterproof ice climbing gloves are essential for ice climbing in order to protect your hands from damp weather and melting ice. Usually, they are constructed of waterproof fabrics like Gore-Tex or other membranes that enable moisture to leave while blocking the entry of water. For improved grip and durability, these gloves frequently have reinforced palms and fingertips.
Modular gloves: For increased warmth and protection, modular gloves have an outer shell and an inner liner that may be worn individually or together. The inner liner normally offers insulation, while the outer shell typically provides waterproofing. Because of this design, climbers may alter their gloves according to the weather and their particular preferences.
Gloves with an extended cuff that extends over the forearm are known as gauntlet gloves. This feature aids in keeping cold air, snow, and ice out of the glove. In order to tighten the cuff and keep out snow and moisture, gauntlet gloves frequently have a drawstring or wrist cinch.
Mittens: As an alternative to gloves, mittens offer exceptional warmth by containing all of the wearer's fingers in a single compartment. They provide less dexterity than gloves but may be a useful option in severely cold temperatures or when dexterity is not as important.
Materials Used for Ice Climbing Gloves Construction
1. Exterior
Ice climbing gloves' outer shells are typically composed of strong, abrasion-resistant fabrics to survive the challenging circumstances experienced during ice climbing. Synthetic materials like nylon, polyester, or Cordura are popular options. These substances offer sturdiness, wind resistance, and defense against jagged ice and rock edges.
2. Insulation
Ice climbing gloves frequently have insulation to keep hands warm in icy conditions. A variety of insulating materials are employed, including:
a. Synthetic Insulation
Insulation made of synthetic materials is frequently utilized; examples include Polartec, Thinsulate, and PrimaLoft. These synthetic fibers keep their insulating qualities, offer warmth even when damp, and dry rather rapidly.
b. Down Insulation:
Gloves made for severely cold circumstances occasionally employ high-quality goose down or synthetic down insulation. Down insulation provides an excellent warmth-to-weight ratio but may lose its insulating properties when wet.
3. Waterproof membranes
are essential to keep the hands dry given the chilly and damp conditions encountered while ice climbing. The waterproof membranes most frequently used in gloves are Gore-Tex and related products. Because these membranes are permeable, perspiration vapor may leave while water cannot get inside the gloves.
4. Palm and Grip Materials
The palms and grip areas of ice climbing gloves are often reinforced with durable materials to provide enhanced grip and protection. These materials could be made of abrasion-resistant synthetic leather, goat leather, or something similar. They offer a good grip on ice tools and prevent wear and tear from rope handling.
5. Lining
The ice climbing gloves' inside lining contributes to comfort and moisture control. To transfer sweat away from the skin and keep it dry, linings that are moisture-wicking and quick-drying are frequently employed.
What features should you look for when purchasing ice climbing gloves?
Warmth & Insulation
To keep warm in chilly weather, look for gloves made of excellent insulation materials like synthetic fibers or down.
Waterproofing
To keep your hands dry in freezing and damp weather, make sure the gloves feature a waterproof membrane, such as Gore-Tex.
Dexterity
Select gloves with a good blend of warmth and dexterity to enable you to precisely handle ice tools and equipment.
Hold
To offer a firm hold on ice tools and minimize sliding, look for gloves with a textured palm or reinforced sections.
Durability
Consider using gloves that are constructed of strong materials that can handle the strain of ice climbing and prevent abrasion from jagged ice or rock edges.
Wrist Protection
Gloves with extended wrist gauntlets or movable fasteners can help keep out snow, ice, and chilly air, adding to your protection.
Fit
Make sure the gloves are comfortable and well-fitting so that you can move freely and with flexibility.
Touchscreen Compatibility
Some gloves include touchscreen capabilities, making it possible to operate your smartphone or other devices without taking the gloves off.
Breathability
To avoid excessive perspiration and retain comfort, look for gloves with breathable materials or ventilation systems.
Removable Liners
Some gloves come with liners that can be taken out and washed separately, which helps speed up drying times and improve cleanliness.
Wrist Leashes
Attached to the gloves and loopable around the wrists, wrist leashes keep the gloves from slipping off or disappearing when climbing. This function is very helpful while using machinery or momentarily taking off the gloves.
Carabiner Attachment Points
Some ice climbing gloves contain loops or attachment points made particularly for securing carabiners. This enables you to attach the gloves to your harness or other equipment, making sure they are readily available and won't disappear during climbs.
Care and Maintenance of Ice Climbing Gloves
Ice climbing gloves can assist increase their lifespan and guarantee excellent performance with proper care and maintenance. Following are some suggestions:
Cleaning
Consistently clean your gloves as directed by the manufacturer. The majority of gloves may be cleaned by hand in lukewarm water and mild detergent. Bleach and other strong chemicals should be avoided since they can harm the materials.
Drying
After washing, gently compress the gloves to remove any extra water. Do not twist or wring them out as this will cause the shape to change. To air dry, spread them out flat or hang them in a room with good ventilation. Avoid using direct heat sources like heaters or radiators since the gloves might become damaged by excessive heat.
Waterproofing
The gloves' waterproofing qualities might deteriorate over time. Consider applying a specialist waterproofing spray or treatment made for the materials of the glove to improve or restore water repellency. Reapply as necessary and follow the manufacturer's recommendations.
Storage
Keep your ice climbing gloves out of the sun and away from excessive temperatures in a cool, dry location. They shouldn't be crushed or packed firmly because this might compromise their form and insulation.
Avoid Handling Sharp Items
To avoid damaging or puncturing the gloves, use caution while handling sharp tools or equipment. Regularly check the gloves for wear and rips, and fix or replace them as necessary.
Hand hygiene
Take good care of your hands to prevent excessive perspiration and eliminate smells. To assist control perspiration and keep clean, think about utilizing moisture-wicking liners or wearing thin gloves beneath.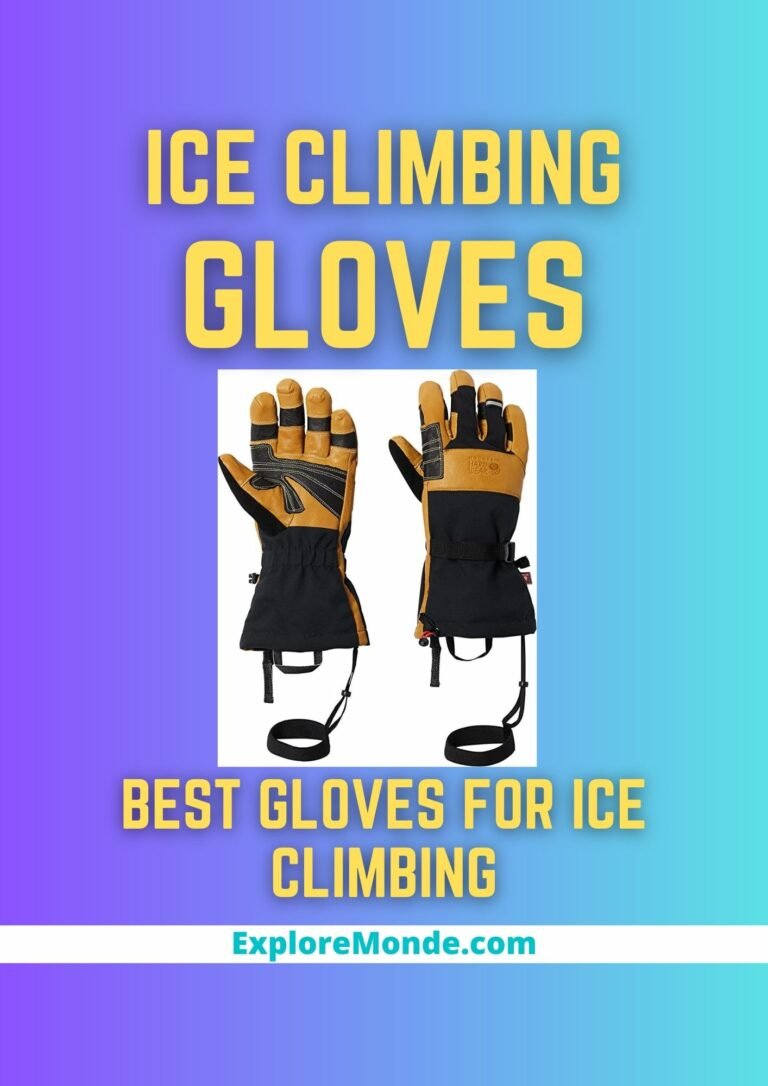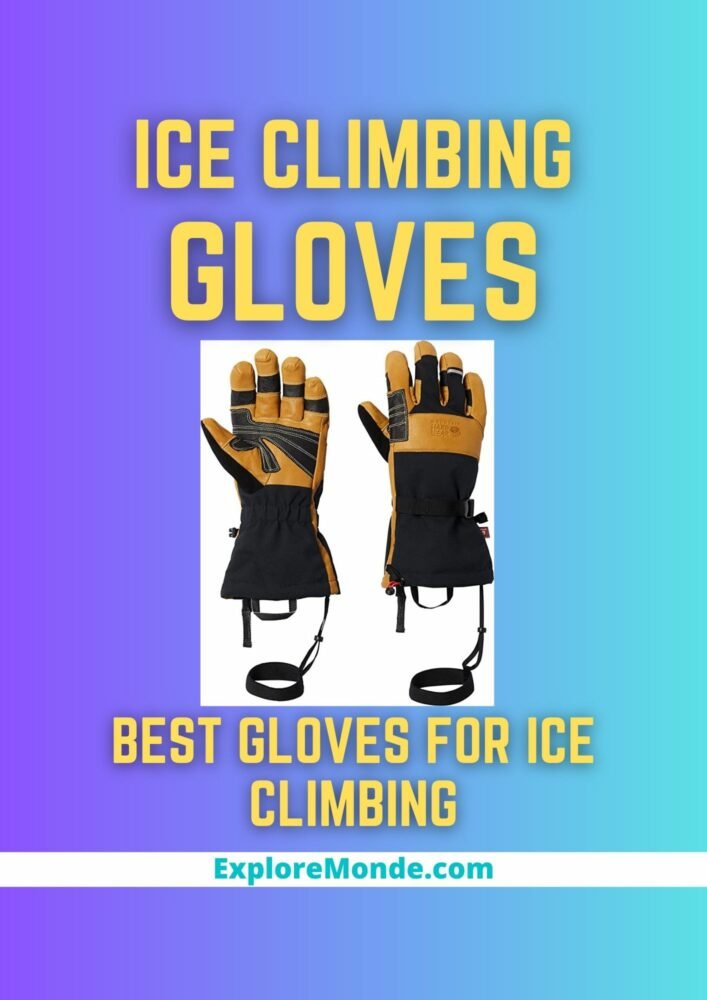 ---
Note: The hours of operation, ticket prices, and admission criteria of museums, parks, etc. may change from time to time. For the most updated information, we recommend checking the official website of the attraction directly prior to your planned visit.
Blog Categories: Asia, Africa, Europe, USA, Australia & New Zealand, France, Germany, India, Italy, Spain, Sports, Switzerland, Travel Tips, UK, Products
More From The Blog
---