The rock climbing gloves are special hand protection equipment that enhance safety and performance during rock climbing and related adventures.
Rock climbing gloves offer an additional layer of defense against cuts, blisters, and abrasions that might result from coming into touch with abrasive rock surfaces, pointed edges, or jagged fissures. They aid in avoiding pain and injury when climbing.
It's crucial to remember that while rock climbing gloves have many advantages, how you use them will depend on your tastes, your climbing technique, and the particular climbing circumstances. Some climbers choose to use only their bare hands and chalk for grip, forgoing the use of gloves altogether.
The option to wear rock climbing gloves is ultimately a subjective one depending on personal requirements and preferences.
Best Rock Climbing Gloves
Here's a list of some of the best rock climbing gloves available on Amazon
The premium materials used to create these imported gloves are a combination of 65% goat skin, 25% polyester, 8% neoprene, and 2% lycra. Goat skin is frequently used because it has a soft, comforting feel and ensures a fine balance between durability and flexibility. Due to their structure, they are perfect for a variety of jobs that call for both protection and dexterity.
These gloves have padding on the palm, adding another line of defense against the heat produced by protracted rappels. They become more durable and ideal for hard tasks thanks to this trait. The gloves are also made to be breathable, using flexible spandex for better dexterity and elastic materials that encourage ventilation.
The gloves also prioritize flexibility and comfort. They feature anatomically curved fingers that conform to the natural shape of the hand, allowing for a more ergonomic fit and better control. The soft neoprene cuff, coupled with a Velcro design, adds to the comfort and flexibility of the gloves, ensuring that they can be worn without causing any restrictions or discomfort.
Additionally, these gloves are designed to be easily accessible when needed. They come with a built-in carabiner hole on the cuff, allowing you to conveniently attach them to your harness or other gear. This feature ensures that the gloves are always within reach and readily available for use during activities.
The gloves' strengthened synthetic leather construction and Kevlar thread stitching on the palm guarantee optimum toughness and lifespan. This design element improves their resistance to damage, making them appropriate for demanding activities.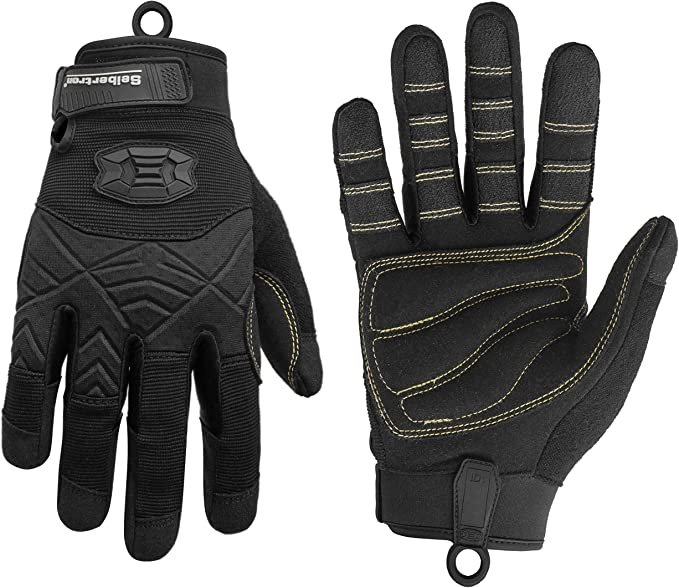 The gloves come with SBR cushioning on the palm to increase comfort and functionality. This cushioning enables prolonged usage without pain by absorbing shocks and lowering hand fatigue. The fingertips of the gloves include a super grip print that improves grip strength and control.
The middle and ring fingers of the gloves include pullers for ease. These pullers make it simple to remove the gloves, which saves time and effort.
Additionally, users may personalize the gloves by writing their names on the ID tag that is attached to the wrist. This feature makes it easier to identify the gloves and offers a handy place to hang them while not in use.
The utility and durability of these gloves are priorities in their design. To ensure optimum toughness and lifespan, they have Kevlar thread stitching and reinforced synthetic leather on the palm. Because of their design, the gloves are extremely durable and appropriate for tough activities.
The gloves have SBR cushioning on the palm to increase comfort and protection. This cushioning allows for prolonged usage without pain by efficiently absorbing shocks and reducing hand fatigue. The gloves are made to offer the best possible support and cushioning, improving performance and lowering the chance of injury.
---
Bestseller GoPro Selfie Sticks
---
The middle and ring fingers of the gloves include pullers for ease. The gloves may be taken off with ease and speed with these pullers, which saves time and effort.
Additionally, the wrist of the gloves has an ID tag. As a means of identification, this enables users to mark their names on the gloves. The ID tag may also be used as a convenient hook to hang the gloves when not in use, keeping them accessible and avoiding loss or misplacing.
For tasks like belaying, aid climbing, and via Ferrata, choose the lightweight, tough Black Diamond Crag Half-Finger glove. These gloves put hand safety first while preserving dexterity. To provide a firm grip and a comfortable fit, they are made with a blend of strong synthetic leather and extremely breathable stretch mesh.
The gloves are composed of synthetic leather and are imported, providing a balance between flexibility and durability. To provide a snug and adaptable fit, they include a hook closing. For good upkeep and care, hand washing these gloves is advised.
In conclusion, the Black Diamond Crag Half-Finger gloves are created to offer hand protection that is both light and breathable without sacrificing dexterity. Their blend of stretch mesh and synthetic leather provides a firm hold and an opulent fit. These imported gloves should be hand cleaned and include a hook closure for security.
---
Bestseller Copper Water Bottles
---
The Black Diamond Crag Gloves are intended to offer a breathable, lightweight alternative for Ferrata and belaying sports. While preserving exceptional dexterity, these gloves prioritize hand safety. They have a blend of knuckle cushioning and stretchy, breathable mesh fabric for improved ventilation while in use.
The gloves' palms and fingers are composed of synthetic leather, which provides strength and a firm grip. In high-wear regions, the index finger and thumb crotch are strengthened for increased durability. Because of this design, the gloves can endure the rigors of strenuous activity.
A hook-and-loop cuff fastening on the gloves allows for an adjustable and secure fit. They also have a pull-on/clip-in loop that makes it easier to put on or fasten the gloves.
The Black Diamond Crag Gloves have been updated with improved finger construction for enhanced durability. They also feature a sleek and low-profile modern Velcro wrist strap. These design updates contribute to a firm grip, comfortable fit, and improved overall performance. The gloves are available in two women's specific colors, catering to individual style preferences.
Do I Really Need Rock Climbing Gloves?
Rock Climbing gloves could be a great fit for you as they provide various benefits as mentioned below.
---
Bestseller Cupholder Bottles
---
Rock climbing gloves are frequently manufactured with materials that provide a better grip on the rock surface in the palms and fingers. Climbers may keep a firm grasp by using this improved grip to assist them grab holds, fissures, or tiny edges.
Granite climbing gloves can offer insulation and protection against heat or cold transmission in situations when the weather is severe, such as on warm granite surfaces or in freezing temperatures, helping to maintain ideal hand comfort.
Moisture control: Wet hands might lose their grip and cause slippage. Many gloves for rock climbing are made of materials that drain moisture away, keeping your hands dry and improving your grip on rocks.
Comfort and cushioning: The palm and knuckles of rock climbing gloves, which are frequently subjected to impact or extreme friction, frequently have cushioning or reinforcement. Using this cushioning during extended climbing sessions might assist to lessen pain and tiredness.
Protection for your hands and skin: Climbing gloves can shield your hands from dangerous elements like dirt, chemicals, or plant irritants, reducing the possibility of infections or skin responses.
Types of Rock Climbing Gloves
Rock climbing gloves are available in a variety of forms and designs, each of which is intended to fulfill a particular function and provide differing degrees of protection and grip. Here are a few popular varieties of gloves for rock climbing:
1. Gloves with full fingers
These gloves completely enclose the hand, including the fingers. They frequently consist of tough materials like leather or synthetic materials, offering great defense against cuts and abrasion. Full-finger gloves are appropriate for both crack and traditional climbing, among other forms of climbing.
2. Gloves without fingers
As the name implies, these gloves only cover the palm of the hand, leaving the fingers exposed. They allow for enhanced dexterity and sensitivity while providing protection for the palm and back of the hand. Sport climbing and bouldering where precise finger movement is needed, frequently include the usage of fingerless gloves.
3. Gloves for Approach
These gloves are made for hiking and scrambling on the approach to the climbing location. They give defense against scuffs and abrasion, as well as sporadic mild insulation for chilly weather. Approach gloves are frequently breathable, light, and have an excellent grip.
4. Belay gloves
They are made particularly for belaying, which is when a climber controls the rope for a partner. In order to guard against rope burns and excessive friction, these gloves frequently include strengthened palms and fingers. Belay gloves often don't have fingers or have open fingertips so the wearer may still manipulate ropes and carabiners with ease.
5. Mountaineering Gloves
Mountaineering gloves are used for high-altitude climbing and alpine situations, yet they are not only used for rock climbing. These gloves offer protection from the cold, wind, and wetness. They frequently include features like adjustable cuffs, reinforced palms, and wrist leashes and are composed of materials like Gore-Tex.
Materials used to construct rock climbing gloves and their impact on performance
1. Leather
Because of its strength, superior abrasion resistance, and a natural grip, leather is a preferred material for rock climbing gloves. Leather gloves are renowned for their durability and capacity to gradually adapt to the contour of the hand. They offer effective defense against jagged rock edges and fissures.
2. Synthetic Materials
A range of synthetic materials, including those with flexibility, breathability, and moisture-wicking capabilities, are used to make rock climbing gloves. Among the frequently utilized synthetic materials are:
a. Synthetic Leather (like Clarino or Amara):
Synthetic leathers are made to resemble the characteristics of genuine leather and offer grip, flexibility, and durability. They are frequently utilized in climbing gloves as a more affordable substitute for genuine leather.
b. Nylon and Polyester:
The two synthetic materials nylon and polyester are frequently utilized in the manufacture of climbing gloves. They have high flexibility, rapid drying, and ventilation.
c. Spandex and Lycra:
These flexible synthetic fabrics, spandex, and lycra, are frequently used in climbing gloves to create a close-fitting, comfortable fit. They improve dexterity and enable a variety of hand motions.
d. Rubber and silicone:
To improve grip and friction on rock surfaces and climbing gear, grip pads or coatings made of rubber or silicone may be placed on the palms or fingers of climbing gloves.
3. Insulation
Climbing gloves may be made with insulation materials to keep climbers warm and guard against frostbite in colder climates or at higher elevations. Insulating synthetic materials like PrimaLoft or Thinsulate are frequently employed.
4. Reinforcements
To increase durability and protection, climbing gloves may have reinforcements applied to particular locations. To withstand wear and tear in high-stress locations, these reinforcements can be built of materials like synthetic overlays, Kevlar, or extra layers of leather.
How can I find a perfect fit for my rock climbing gloves?
For comfort, dexterity, and peak performance, rock climbing gloves must fit perfectly. 
Follow these steps to get the best fit:
Before buying, test various glove styles and sizes. To try on gloves in person, go to a store that sells climbing equipment, or go to a climbing event. By wrapping a measuring tape around the broadest portion of your palm, you may determine the size of your hands.
Take into account finger length; fingers should fit snugly inside the glove's opening. Make sure the gloves are a tight fit, with no extra material protruding beyond the curve of your hands. A close fit reduces sliding and improves dexterity.
A tight fit is preferred by some climbers, while others use thin-liner gloves below for extra warmth or protection. Layering is a possibility.
As size guidelines often change, try several brands and models. Find the gloves that best fit the size and shape of your hands by looking through a variety of alternatives.
Things To Consider While Buying Rock Climbing Gloves
Grip
Look for gloves that have a solid grip. On the palms or fingers, silicone or rubber coatings can increase friction and improve grip on climbing gear and rock surfaces.
Dexterity
Consider the dexterity of the gloves since it is essential for accurate finger motions. Better dexterity and sensitivity are made possible by gloves that fit snugly and are made of flexible fabrics, such as spandex or Lycra.
Breathability
In order to avoid discomfort and excessive perspiration, climbing gloves should be breathable. For better airflow and dry hands, look for gloves with breathable fabrics or ventilation features.
Closing system
Check the gloves' closing system before using them. You may adjust the fit and keep the gloves in place by using wrist closures with adjustability, such as Velcro straps or elastic bands.
Compatibility with touchscreens
Consider using gloves that are touchscreen compatible if you often use technological devices while climbing. The fingertips of these gloves are made of conductive materials, making it possible to use touchscreen devices without taking them off.
Other accessories to use with rock climbing gloves to improve performance
These add-ons can make climbing more comfortable, safe, and enjoyable overall.
A chalk bag
It is a little pouch that is used to contain climbing chalk, which keeps the hands dry and strengthens the grip. You may access chalk while wearing gloves by attaching a chalk bag to your harness.

Finger Tape
Climbers frequently use finger tape to brace and shield their fingers and joints. To offer more stability or to wrap around certain regions that are prone to abrasion. For additional support and protection, finger tape can be used in conjunction with gloves.
Climbing salves or hand balms
These products moisturize and aid in the recovery of dry, cracked skin. They may be utilized both before and after climbing to keep skin healthy.
Brush
Cleaning grips and removing dirt, chalk, and debris from climbing surfaces are both simple tasks that may be accomplished using a climbing brush. Before beginning a climb, it can be used to clean the holds. It can also be used to increase grip on slick areas.
Sweatbands
Sweatbands or wristbands can be worn beneath or in addition to gloves to wick away perspiration and keep hands dry. They add comfort and work to stop perspiration from impairing grip.

Fingerless Liner Gloves
For extra warmth and protection in colder situations, some climbers like to wear light fingerless liner gloves underneath their climbing gloves. In order to retain dexterity and sensitivity, liner gloves can add an additional layer of insulation.
Care and Maintenance of Rock Climbing Gloves
The lifespan and effectiveness of rock climbing gloves may be increased with proper care and maintenance.
Cleaning
To get rid of perspiration, oils, and filth that might build up over time on your gloves, clean them on a regular basis. Gently clean the gloves, giving special attention to the places where perspiration and dirt tend to accumulate. Rinse them well, then let them air dry.
Avoid Heat and Direct Sunlight
To prevent material damage or deformation, avoid exposing your climbing gloves to high temperatures or direct sunlight. Keep them away from heaters, radiators, and other heat sources when drying them.
Avoid Using Harsh Chemicals and Abrasive Things
When cleaning your gloves, stay away from using harsh chemicals, solvents, or abrasive things since they may weaken the materials or impact how well the gloves operate.
Storage
When not in use, keep your climbing gloves in a safe place. Before storing them, make sure they are totally dry to avoid the formation of mold or mildew. Away from harsh sunlight and things that might pierce or harm the gloves, store them in a cool, dry area.
Avoid Excessive Force and Abrasion
When climbing, be aware of surfaces that might harm or prematurely wear out your gloves if you apply too much force to them. Keep your hands from dragging or frequently scraping against rocky surfaces.
Conclusion
Rock climbing gloves are an essential piece of gear for every professional climber, to sum up. They give climbers safety, comfort, and grip so they may push themselves while reducing the chance of damage.
The correct gloves may improve performance by strengthening grip and shielding hands from cuts, blisters, and abrasions. They also provide warmth and protection in colder settings, allowing climbers to concentrate on the task at hand rather than their pain.
But it's crucial to select gloves made expressly for rock climbing, taking fit, material, and durability into account.
The lifespan and efficiency of the gloves will be extended with proper care and maintenance. In the end, buying a good pair of rock climbing gloves is a wise move that will improve performance, safety, and overall pleasure of the activity.
Therefore, whether you're a novice or an expert climber, don't undervalue the significance of this crucial piece of equipment. Put on those gloves, conquer the cliffs, and revel in the thrilling sport of rock climbing!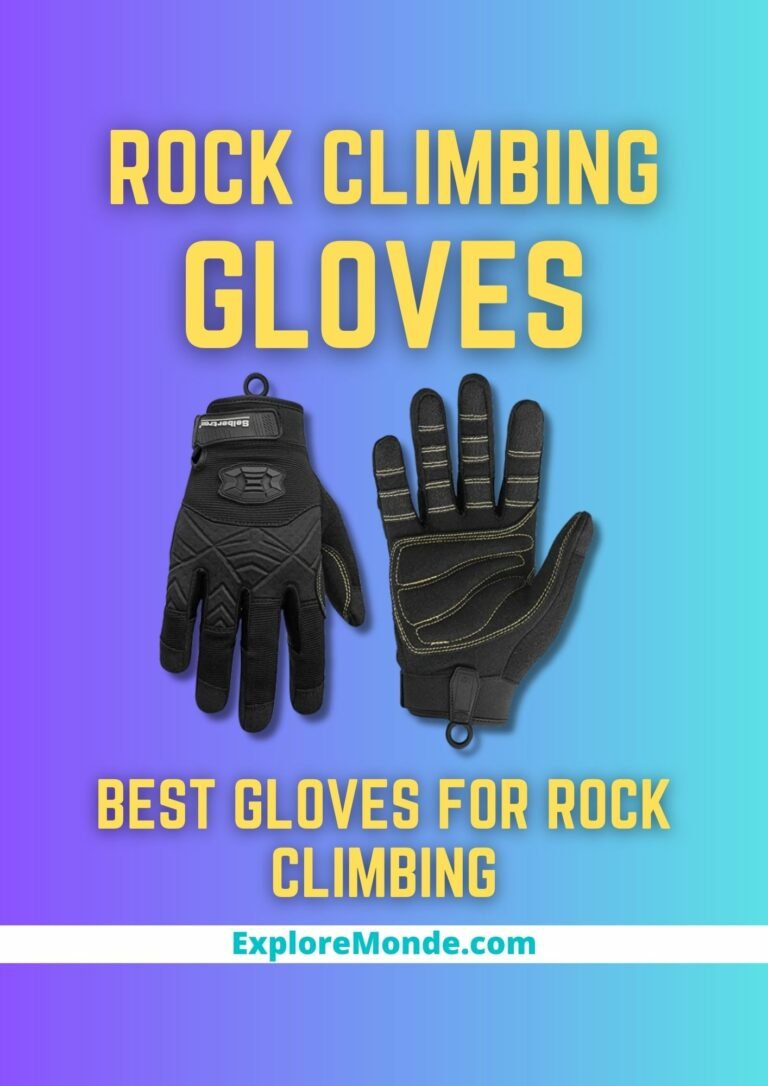 ---
Note: The hours of operation, ticket prices, and admission criteria of museums, parks, etc. may change from time to time. For the most updated information, we recommend checking the official website of the attraction directly prior to your planned visit.
Blog Categories: Asia, Africa, Europe, USA, Australia & New Zealand, France, Germany, India, Italy, Spain, Sports, Switzerland, Travel Tips, UK, Products
More From The Blog
---