---
This article has been reviewed by Laura and Sumeet, travel enthusiasts who have travelled to 40+ countries (follow on Youtube youtube.com/@Ciao.Namaste). Should you have any inquiries, please do not hesitate to contact at contact@exploremonde.com
---
To keep the camera steady and avoid camera shakes, you can use tripods for GoPro (for both still and motion photography). When using telephoto lenses or slow shutter speeds, tripods are important because if any cameras shake while the shutter is open, the images come in blurry.
You can fix your GoPro to the tripod mount or to the quick-release tripod mount. For attaching your GoPro, the kit comes with a standard 3-prong connector and a standard buckle adapter that is lightweight and, fits easily to your GoPro, monopod, and selfie stick.
Best Tripods For GoPro Cameras
Here's our list of the best tripods for GoPro cameras available in the market today.
Key Features
The tripod comes with a water-resistant travel case and an adjustable center pole.
A bubble level indicator and non-slip feet are included.
It's portable and easy to take anywhere.
A tripod's extension range is 50 inches.
The legs are made of aluminum alloy in three sections, and the head has three pans.
You can get those fantastic photos using the Tripod Mount Adapter for GoPro HERO.
Using a tripod mount, you may fasten your GoPro camera.
This tripod fits with all GoPro quick-release cameras, including as the WIDE HERO, Helmet HERO Wide, Motorsports HERO Wide, and Motorsports HERO cameras.
With just a wipe, you can eliminate oil stains and fingerprints using a microfiber cleaning cloth. With or without the use of cleaning solutions, it dries up quite quickly.
Key Features
With this portable short tripod (4.6in, 11.7cm) , you can take excellent group photos, selfies, and different other viewing angles.
It is great for travels, on-the-go activities, and more.
You can extend the tripod shorty up to 8.9in (22.7cm).
The built-in tripod on Shorty allows you to set it up on any flat surface.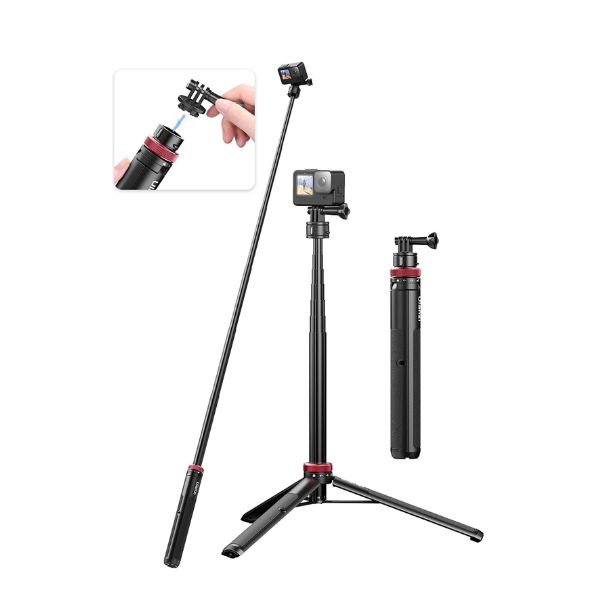 Key Features
The selfie tripod comes with the Go Instant II System, a magnetic mount, strong suction, and other features that enable quick connection without the need for screws.
More securely for usage, it inserts a second stronger locking pin.
The selfie stick includes 7 levels of adjustment, allowing it to be extended from 29.3 cm (11.53 in) to 140 cm (55 in) with incredible ease. It also has 4 parts that can be adjusted to suit different shooting demands.
It weighs only 0.73 lbs./0.33 kg and is simple to fit in a backpack.
It is made of ABS aluminum that is lightweight and durable.
It is perfect for outdoor activities like taking selfies, movies, and photos as well as for family and friend reunions, vacations, hiking, and skiing, among other things.
It serves as both a tripod support and a selfie stick.
The tripod converts into three tripod legs, providing sturdy support when used in tripod position.
This tripod can stand on most uneven ground since the main column is held back from the ground.
The tripod has an action camera fast release adapter that works with the Gopro Hero 10, Hero 9, Hero 8, Hero 3, DJI Osmo Action, DJI Action 4, DJI Osmo Pocket 2, Insta360 One R, One X2/X3, and other sport cameras.
Key Features
Smatree tripod stand's flexible ball head offers 360-degree rotational angle for your camera and smartphone to achieve different suitable photography angles. This selfie stick tripod f its with Ricoh Theta S, M15 Cameras, Compact Cameras (1/4″ thread), Cell Phones, and Insta360 X3, GoPro Hero 11/10/9/8/7/6/5/4/3+/3/2/1/Session Cameras (56mm-80mm).
For a long-lasting and reliable use, Smartpole Q3S is built of high-quality aluminum. Your camera or phone will be well-protected by the wrist strap and slip-resistant rubber that surround the selfie stick to avoid unexpected falling off.
With a selfie stick tripod, you can quickly change the length between 11.8′′ and 36.6′′. Simply twist in the other direction to release, choose your desired length, then twist in the opposite direction to lock.
Any monopod can be used with this universal stick tripod, which has a bottom 1/4″ screw port.
It holds the monopod on top securely.
The selfie stick tripod stand is sturdy and durable.
You can record photo and video for hours with the tripod stand and camera selfie stick combination. With this expertly made setup, you may shoot in comfort.
Key Features
It has a 12 Flexible inch tripod with wrapping legs.
It comes with an adapter for mounting GoPro HERO.
Your collection of camera gear will look great with this tripod. It encircles chairs, polls, trees, etc.
The legs can be bent 360 degrees and are rubberized for easy gripping. It has a rapid-release plate so you can reach your camera with ease.
For accurate horizons, it also contains a bubble level indicator.
The height is 5 "and comes with a microfiber cloth, and it can hold up to 6.61 pounds.
You may attach your GoPro camera by using a tripod mount.
All GoPro quick-release cameras, including the WIDE HERO, Helmet HERO Wide, and Motorsports HERO, are compatible with this tripod.
Key Features
Any tripod, including all Gorilla Pods, can support the GoPro mount.
Simply insert the quick-release plate from your tripod into the 1/4 inch-20 tripod mount that is located on the bottom of the Tripod Mount for GoPro.
You're ready to record or take photography after you mount your GoPro to your tripod.
You will have excellent control with a built-in ball head.
With 90° tilting and 360° panning capabilities, your action camera can be quickly adjusted.
You can mount your camera nearly everywhere.
It can be operated by wrapping rubberized rings around the legs, and the foot grips add stability to it.
The product dimensions are 5.5 x 5.5 x 25.7 cm (2.17 x 2.17 x 10.12 in).
The weight of the tripod is: 191 g (0.42 lbs)
Key Features
The portable, lightweight extended tripod makes a great vlog accessory because it can be used as a handle grip or selfie stick.
The ball head can be rotated 360 degrees, adapts to any angle, and supports vertical filming. A cold shoe on the ball head allows you to mount a microphone for speech recording and an LED video light, providing the best solution for upgrading video quality.
The ULAZNI MT-16 is an improved version of the MT-08 with one more adjustable level, more steadiness, and the addition of a cold shoe for mounting a microphone and an LED video light.
The tripod is just 22.5cm and weighs 170g. You can fit it in any backpack or storage bag because it is so small and lightweight.
It extends on 4 levels.
The cold shoe mount is for a light stand or for the microphone.
The ball head may be rotated 360 degrees to change the angle.
A nice and non-slip feeling is provided by the rubberized design.
It is compatible with camera/phone holders with a universal 1/4″ screw.
For GoPro or other sports cameras, the universal action camera mount is compatible.
Key Features
With a length of 8.46 inches, the Tripod Stand weighs only 0.37 lbs. It is portable and fits easily into a bag, backpack, or suitcase.
Aluminum and ABS are used to create the ZT32 phone tripod, which is sturdy and long-lasting. The tripod's non-slip rubber feet have a maximum load weight of 4.4 lbs./2 kg for best performance.
This tabletop tripod offers complete adjustment with a 90°angle and 360°rotation capacity, fulfilling your different angle requirements.
The best solution for your requirements is universal for smartphones, cameras, action cameras, webcams, and projectors.
You will receive 1 little tripod and 1 phone holder, and a twelve months of warranty;
Key Features
The GoPro Hero 10/9/8/GoPro Hero 7Black/GoPro Hero6/GoPro Hero5 and other action cameras, as well as the DJI Osmo action camera, are all compatible with the selfie stick tripod.
The tripod for the selfie stick has three stages of extension.
The selfie stick is made for vlogging and is lightweight and portable for travel and daily vlogging.
It is a high-quality, mini, lightweight, and portable selfie stick that can also be used as a tripod stand for capturing videos.
Key Features
The camera tripod has a GoPro mount that was specifically created for well-known action cameras. The action camera tripod allows you to get the perfect shot because the folding legs can be opened and the pole can be extended to the desired length in the water, up to 55.2in/130cm. It is also convenient to fold and easy to carry.
Adjusting the locking base is simple and prevents you from falling.
The three legs are solidly stabilized, well-supported, and not moving.
A GoPro adaptor is included with the box.
It works with all Go Pro Max Hero 10 9 8 7 6 5 Session, DJI Osmo Action, DJI Action 2, DJI Osmo Pocket 2, Insta360 One R, One X2, Action Camera, and Digital Camera types.
With its five separate column legs and quick-release lever locks, it can be moved up or down from 12.9″ to 52.5″ in order to accommodate a range of shooting settings and photographic requirements.
Key Features
A three-in-one design can function as a camera grip, tripod, or extension arm.
You can adjust your camera's angle without moving the mount to an integrated ball joint.
The extension arm that folds up can be used as a handheld boom for selfies, overhead views, follow-cam footage, and getting closer to the action.
A quick-folding built-in tripod offers a steady shooting platform for time-lapse photography, group photographs, and other uses.
Even on all-day trips, the grip is comfortable to use because of its ergonomic design.
Key Features
This small tripod is in the shape of an octopus from Digicharge and is incredibly adaptable.
It is a tripod that can be wrapped and adjusted.
The tripod leg makes it possible for it to be used everywhere in addition to being a superb tripod on a flat surface.
When folded, it can also serve as a hand grip. Height, when folded, is 10″.
With rubber grips at each joint and rubber feet on each leg to prevent slipping when used as a mount, it has a high-quality manufacturer and is sturdy and composed of long-lasting ABS plastic.
A 360-degree shooting perspective is guaranteed by the 360-degree rotating ball head.
A number of cameras and rugged cameras, like GoPro, Nikon, Kodak, and Fujifilm, can be used with the universal 1/4″ screw adapter.
An excellent gift for YouTube vloggers.
---
Note: The hours of operation, ticket prices, and admission criteria of museums, parks, etc. may change from time to time. For the most updated information, we recommend checking the official website of the attraction directly prior to your planned visit.
Blog Categories: Asia, Africa, Europe, USA, Australia & New Zealand, France, Germany, India, Italy, Spain, Sports, Switzerland, Travel Tips, UK, Products
More From The Blog
---