Crack climbing gloves are specialized protective gloves designed for rock climbers who engage in crack climbing. They offer durability and abrasion resistance, often made from materials like leather or synthetic fabrics.
These gloves typically have reinforced areas on the hand and fingers, providing extra padding to protect against cuts and abrasions when jamming into rock cracks. They usually feature a fingerless design to maintain dexterity and tactile sensitivity while leaving fingertips exposed.
Crack climbing gloves aim to provide a snug fit, flexibility, and breathability to enhance grip, prevent slippage, and maintain comfort during strenuous crack climbing maneuvers.
The use of crack climbing gloves is a personal choice, and some climbers prefer not to use them, relying on different techniques such as hand taping.
Best Crack Climbing Gloves
Here's a list of some of the best crack climbing gloves available on Amazon
These crack climbing gloves are carefully crafted with top-quality materials and innovative design features to enhance your climbing experience.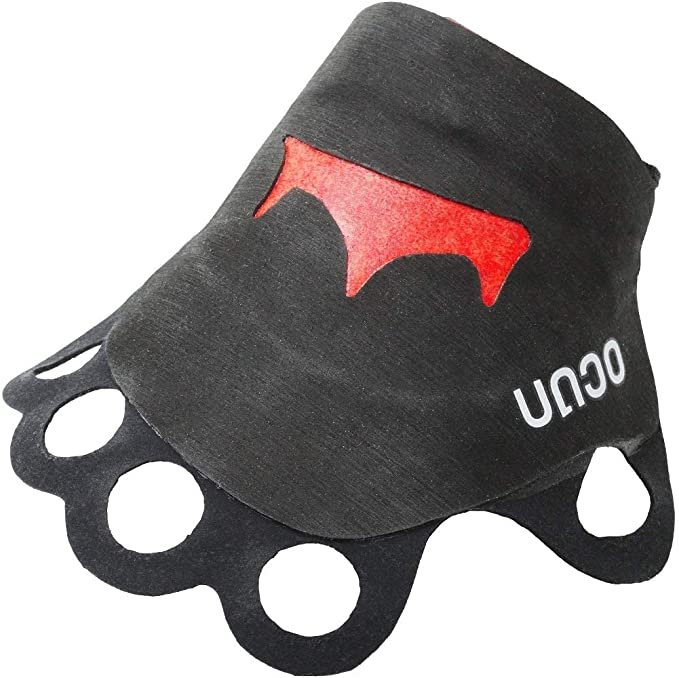 These gloves are made with microfiber stretch suede and adhesive rubber CAT 1.1, striking the ideal balance between performance and protection. The microfiber stretch suede provides exceptional comfort, while the CAT 1.1 rubber compound offers superior adhesion, increasing friction for optimal grip on the rock.
The gloves feature a thoughtfully engineered design with a Velcro closure that tucks away neatly to ensure a secure fit while climbing. With a thin rubber layer providing hand protection without compromising sensitivity, our crack gloves have received high ratings from climbers.
Moreover, the rubber covering the Velcro ensures it remains out of the way during your ascent. Trust these crack climbing gloves to provide the perfect combination of comfort, protection, and grip for your climbing endeavors.
These are the highest-performing crack climbing gloves in the market, designed to deliver exceptional performance and comfort. These crack gloves boast an overall thickness of less than 1mm, offering the perfect balance of protection, dexterity, and grip. The synthetic suede material used in their construction ensures maximum abrasion resistance and breathability, keeping your hands comfortable even during intense climbing sessions.
Featuring a Hypalon strap, these gloves provide a strong and secure closure while maintaining a thin and low-profile design. The flat-stitched patterning not only reduces bulk but also enhances overall comfort. With 3D patterning, these gloves offer an articulated fit, ensuring optimal flexibility and movement.
In addition, the white color of these crack gloves is specifically chosen to minimize heat absorption from the desert sun during long climbing routes. Furthermore, they mimic the classic tape glove construction, ensuring a superior fit.
With a seamless transition from suede to rubber thanks to the 0.6mm rubber adhesive film set into a molded depression, these crack gloves deliver excellent protection, grip, and sensitivity. Trust in the quality and performance of the BD Crack Gloves for your crack climbing adventures.
These gloves offer superior hand and finger protection with a high-performance factor. Featuring a thick layer of super sticky texture Climb X climbing rubber, the gloves extend down to the first joint, ideal for challenging off-width climbing.
The open palm design and flexible material provide ample ventilation and conform to the shape of your hand, ensuring maximum comfort without compromising climbing ability. The gloves are available in various sizes
---
Bestseller GoPro Selfie Sticks
---
Singing Rock's jamming gloves, are designed to enhance your climbing experience with their reliable performance and thoughtful features. These gloves are constructed with durable nylon material, ensuring longevity and resistance to wear and tear.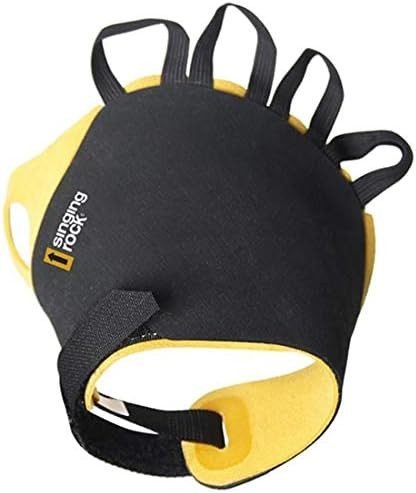 Featuring a Velcro closure and elastic bands for the fingers, these jamming gloves offer a secure and adjustable fit, allowing you to find the perfect level of comfort and support for your climbing needs.
The highlight of these gloves is the high-friction rubber used, which not only provides excellent grip but also allows for free movement of the wrist. This feature enables you to maintain flexibility and maneuverability during your climbs, enhancing your overall performance.
Black Diamond's climbing gloves, a reliable choice for climbers seeking high-quality hand protection during their climbing adventures. These gloves are crafted with premium goat leather, known for its durability and flexibility, ensuring a long-lasting performance.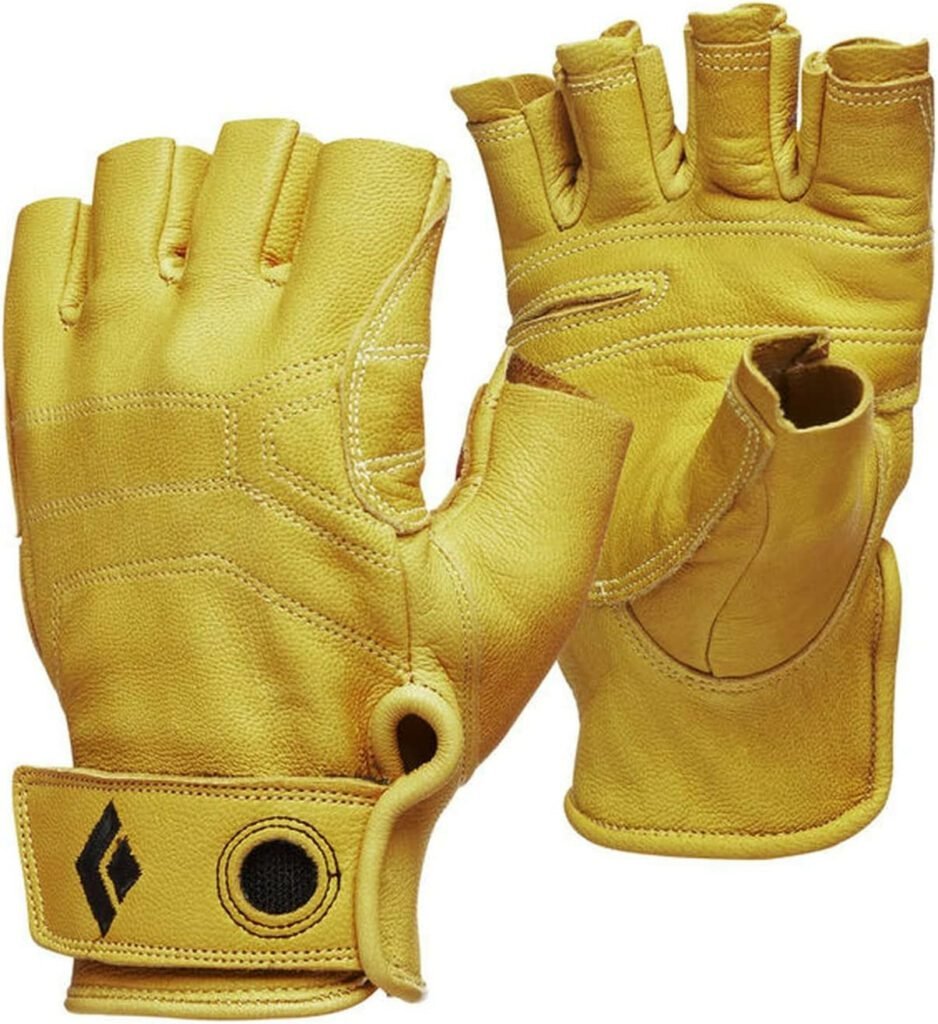 Designed in a size large, these gloves provide a comfortable fit for adult climbers. Their ambidextrous hand orientation allows for versatile use, accommodating both left-handed and right-handed individuals.
---
Bestseller Copper Water Bottles
---
The natural color of these gloves adds a classic touch, while the reinforced leather palm and knuckle patches, along with Kevlar stitching, provide added strength and durability in high-wear areas. This ensures that these gloves can withstand the rigors of climbing, offering reliable protection where you need it most.
The hook-and-loop cuff closure allows for easy adjustment and a secure fit, ensuring that the gloves stay in place during your climbs. This feature provides added convenience and peace of mind, allowing you to focus on your climbing performance.
With a lightweight design weighing only 50 grams, these gloves offer excellent dexterity and maneuverability, allowing you to maintain a natural feel while climbing.
To ensure the longevity of these gloves, it is recommended to hand wash them as per the product care instructions, enabling you to keep them clean and in optimal condition for your next climbing adventure.
Crack Climbing Gloves: Beginner's Guide
Here are some important things to know before you buy a pair of crack climbing gloves.
---
Bestseller Cupholder Bottles
---
Importance of Crack Climbing Gloves: Why Do I Need Them?
The importance of crack climbing gloves lies in their ability to enhance safety, provide protection, and improve performance during crack climbing.
Hand Protection
Crack climbing involves placing hands and fingers into tight cracks, which can result in cuts, bruises, and abrasions. Crack climbing gloves with reinforced areas and durable materials offer an additional layer of protection, reducing the risk of hand injuries.
Grip and Stability
The textured surfaces of crack climbing gloves enhance grip on rough rock surfaces, allowing climbers to maintain better control and stability while jamming their hands into cracks. This improves overall climbing efficiency and reduces the likelihood of slips or falls.
Extended Climbing Sessions
Crack climbing gloves can alleviate some of the strain and discomfort that can occur during long climbing sessions. They provide cushioning and reduce the impact on the hands, enabling climbers to sustain their performance and endurance over extended periods.
Heat and Cold Protection
Gloves can offer insulation against extreme temperatures, protecting hands from hot rock surfaces or cold conditions. This ensures climbers' hands remain comfortable and functional, allowing them to focus on their technique and performance.
Skin Preservation
Regular crack climbing without gloves can lead to rough and calloused skin on the hands. The use of gloves can help preserve the skin and prevent excessive wear, reducing the risk of developing painful blisters or skin injuries.
Confidence and Psychological Support
For some climbers, wearing crack climbing gloves can provide a psychological boost by instilling confidence and a sense of security. Knowing that their hands are protected can alleviate fears and allow climbers to focus more on their climbing technique and enjoyment.
Ultimately, the importance of crack climbing gloves depends on the individual climber's preferences, the difficulty and type of crack climbing, and the specific conditions they encounter.
Types of Crack Climbing Gloves
Traditional Leather Gloves
Traditional crack climbing gloves are typically made of durable leather. They offer good friction and protection against abrasion while allowing for a good feel of the rock. These gloves are often preferred by climbers who prefer a minimalist approach.
Fingerless Gloves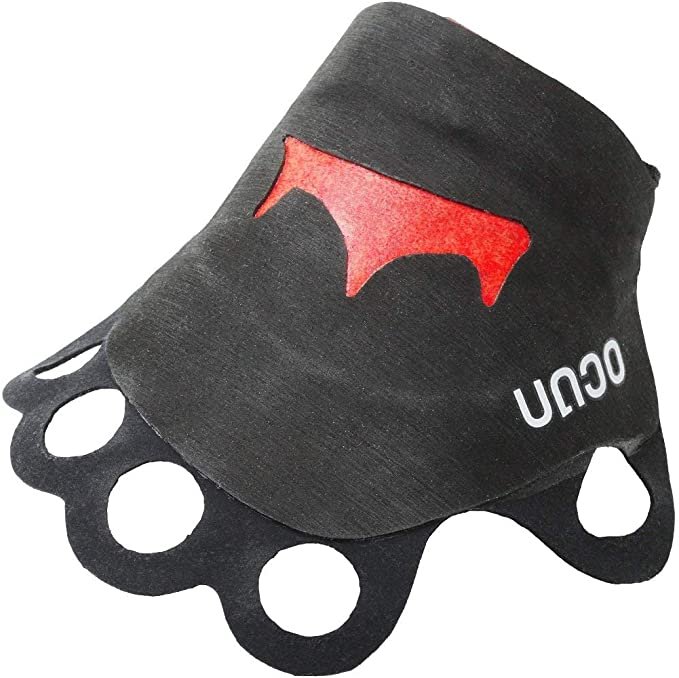 Fingerless crack climbing gloves cover the palm and back of the hand but leave the fingers exposed. This design allows for better dexterity and sensitivity while providing protection to the main contact areas of the hand.
Full-Fingered Gloves
Full-fingered crack climbing gloves provide complete coverage for all fingers and the entire hand. They offer more protection against cuts, scrapes, and abrasive surfaces. These gloves are suitable for climbers who prefer maximum hand coverage and are less concerned about tactile feedback.
Tape Gloves
Tape gloves are a DIY solution where climbers wrap athletic tape around their hands to create a protective layer. This method allows for a customized fit and can be adjusted based on crack size and hand dimensions. Tape gloves provide good grip and protection but can be time-consuming to create and maintain.
Mixed Gloves
Some crack climbing gloves combine different materials to optimize grip, durability, and protection. They may feature leather or synthetic palms for enhanced grip and durability, while the back of the hand may be made of breathable and stretchy materials for comfort and flexibility.
How to choose the best crack climbing gloves?
Here are some things to consider while purchasing crack climbing gloves:
Material
The material of the gloves greatly impacts their durability, grip, and protection. Leather is a popular choice for crack climbing gloves due to its durability and good friction on the rock. Synthetic materials, such as synthetic leather or specialized fabrics, may also provide excellent grip and durability. Consider the type of crack climbing you'll be doing and choose a material that suits your requirements.
Fit and Comfort
It's important to choose gloves that fit well and feel comfortable on your hands. Look for gloves that provide a snug yet flexible fit without restricting movement. Consider features like adjustable closures, stretch panels, and pre-curved designs that can enhance the comfort and flexibility of the gloves.
Grip
A good pair of crack climbing gloves should offer excellent grip to help you maintain control and stability while climbing. Look for gloves with textured or rubberized palms that provide extra friction on the rock. Some gloves may also feature specialized grip patterns or sticky rubber inserts for enhanced grip.
Protection
Crack climbing gloves should provide adequate protection against cuts, scrapes, and abrasive surfaces. Check for reinforced areas on the gloves, such as padded or extra-durable sections, to ensure they offer sufficient protection for your hands.
Dexterity and Tactile Feedback
Depending on your climbing style and preferences, you may want gloves that allow for good dexterity and tactile feedback. Fingerless gloves or gloves with thinner materials can provide better sensitivity, allowing you to feel the rock and place your hands more precisely. Full-fingered gloves may offer more protection but can slightly reduce dexterity.
Breathability
Climbing can be physically demanding, and your hands can sweat during intense crack climbing sessions. Look for gloves that offer breathability, such as those with mesh panels or moisture-wicking materials, to keep your hands cool and dry.
Durability
Crack climbing can be rough on gloves due to the abrasive nature of the rock. Ensure the gloves are made from durable materials and have reinforced stitching in high-wear areas. Read reviews or seek recommendations from other climbers to determine the longevity and durability of the gloves.
Compatibility with Crack Size
Consider the crack sizes you'll be climbing when choosing gloves. Some gloves are specifically designed for thin cracks, while others may work better for wider cracks. Look for gloves that suit the crack sizes you commonly encounter.
Care and Maintenance of Crack Climbing Gloves
Proper care and maintenance of your crack climbing gloves can help prolong their lifespan and ensure optimal performance. Here are some tips for caring for and maintaining your crack climbing gloves:
Cleanliness
Regularly clean your gloves to remove dirt, sweat, and grime that can accumulate over time. Follow the manufacturer's instructions for cleaning, as different materials may require specific care. Typically, hand washing with mild soap and water is recommended. Avoid using harsh chemicals or bleach, as they can damage the gloves.
Drying
After cleaning or when they become wet, allow your gloves to dry thoroughly before storing them. Air drying is generally the best method. Avoid exposing them to direct sunlight or using a heat source, as this can cause the materials to degrade or shrink.
Storage
Store your crack climbing gloves in a cool, dry place away from direct sunlight and extreme temperatures. Ensure they are completely dry before storing them to prevent the growth of mold or mildew. To maintain their shape, avoid folding or crumpling them excessively.
Patching and Repair
Over time, your gloves may develop wear and tear, particularly in high-stress areas. Regularly inspect your gloves for any signs of damage, such as holes, fraying, or loose stitching. Repair minor damages using specialized glove repair adhesives or patches designed for the specific material of your gloves. For extensive damage, consider contacting the manufacturer or professional repair service.
Avoid Chemical Exposure
Protect your gloves from exposure to chemicals, including petroleum-based products, as they can weaken the materials and affect their performance. Be cautious when applying hand creams or sunscreen, as some formulations can deteriorate glove materials.
Rotation
If you frequently climb or participate in activities that require crack climbing gloves, consider rotating between multiple pairs. This allows each pair to have ample time to dry and recover between uses, reducing wear and extending their overall lifespan.
Follow the Manufacturer's Guidelines
Always refer to the manufacturer's care instructions specific to your crack climbing gloves. They may provide additional guidance or recommend products for cleaning and maintenance.
What is the alternative to crack climbing gloves?
The alternative to using crack climbing gloves is climbing without gloves altogether. Many climbers, particularly those with well-developed calluses on their hands, choose to climb cracks bare-handed. By relying on their natural skin, climbers can maintain a direct connection with the rock, allowing for increased sensitivity and a better feel of the cracks. Bare-handed climbing can be advantageous in situations where gloves may hinder dexterity or tactile feedback.
However, it's important to note that climbing without gloves exposes the hands to potential abrasion, cuts, and scrapes from the rough rock surface. Therefore, it requires a certain level of hand toughness and conditioning to withstand the demands of crack climbing without protective gear. Regular crack climbers often build up calluses on their hands through consistent climbing, which can provide some level of natural protection.
It's worth mentioning that climbers who prefer not to use crack climbing gloves may still utilize other forms of hand protection. Some climbers opt for tape gloves, where the athletic tape is wrapped around specific areas of the hand to create a protective layer. Tape gloves provide customizable protection based on crack size and individual hand dimensions.
Conclusion
In conclusion, crack climbing gloves are an essential piece of equipment for climbers venturing into the vertical world of cracks. These gloves not only provide protection against abrasion, cuts, and scrapes but also enhance grip and offer peace of mind while tackling challenging crack climbing routes.
When purchasing crack climbing gloves, it's crucial to consider factors such as material, fit, grip, protection, dexterity, breathability, durability, and compatibility with crack sizes. By choosing gloves that align with your climbing style and preferences, you can optimize your performance and comfort on the rock.
Proper care and maintenance of crack climbing gloves are key to prolonging their lifespan and ensuring their reliability. Regular cleaning, drying, storage in appropriate conditions, and timely repairs are essential practices to maintain the integrity of the gloves.
Equip yourself with a reliable pair of crack climbing gloves and embark on thrilling crack climbing adventures, knowing that your hands are protected and ready to conquer the challenges that lie ahead.
---
Note: The hours of operation, ticket prices, and admission criteria of museums, parks, etc. may change from time to time. For the most updated information, we recommend checking the official website of the attraction directly prior to your planned visit.
Blog Categories: Asia, Africa, Europe, USA, Australia & New Zealand, France, Germany, India, Italy, Spain, Sports, Switzerland, Travel Tips, UK, Products
More From The Blog
---