---
This article has been reviewed by Laura and Sumeet, travel enthusiasts who have travelled to 40+ countries (follow on Youtube youtube.com/@Ciao.Namaste). Should you have any inquiries, please do not hesitate to contact at contact@exploremonde.com
---
Whether it's skiing, running, skateboarding, climbing, or mountain biking, GoPros are excellent for capturing activities. GoPros allow you to capture the best images and make amazing viewpoint videos.
The GoPro can be mounted to a helmet, chest, surfboard, and pole. For skiing, mounting the camera on your chest allows you to include your hands and poles in the clip. Alternatively, mounting the camera on your ski boot will produce a shot that is low to the ground and appears to be taken very quickly. Additionally, it's a good idea to have a 3-Way Pivot Arm GoPro mount extension, a few mounting buckles, and extra mounting screws. If the angle of the GoPro needs to be changed, a pivot arm can be helpful.
With so many options available, selecting the right GoPro for skiing can be difficult. All  GoPro cameras are made for activities and sports, but each one of the models has unique characteristics and video options.
Which is the best GoPro for skiing?
Let us take a look at the following GoPro cameras For Skiing. Based on features and price, you can pick your favorite. If budget allows, we recommend going with the latest GoPro model.
Key Features:
The largest field of vision ever is out of the box on a HERO camera. This GoPro allows you to capture more of the sky and horizons in each image, giving you an extra-large canvas to show your creativity.
To maintain detailed textures and clarity of your movie, you may zoom in, crop your images, switch digital lenses, change aspect ratios, and more.
With 5.3K footage, the HERO11 Black catches the action with sharp clarity and dramatic image quality, offering 91% more resolution than 4K and an astounding 665% more than 1080p.
The HERO11 Black's new image sensor boosts photo resolution up to an incredible 27MP while delivering 5.3K60 video with amazingly fluid motion that you can use to grab stunning 24.7MP stills of your favorite shots. Plus, record 2.7K240 video can play in 8x slo-mo to catch details that can't be seen at normal speed.
This hyper smooth 5.0 raises the bar even more with Horizon Lock and has improved stabilization for 4:3 aspect ratio footage.
The Autoboots has maximum stabilization with minimal image cropping. You can use this GoPro when going on a Bike, skating, skiing, and many more to get the best POV shots (even the shakiest footage comes out silky smooth).
The carrying case, curved adhesive mount, mounting buckle + thumb screw, and USB-C cable come with the HERO11 Black Camera.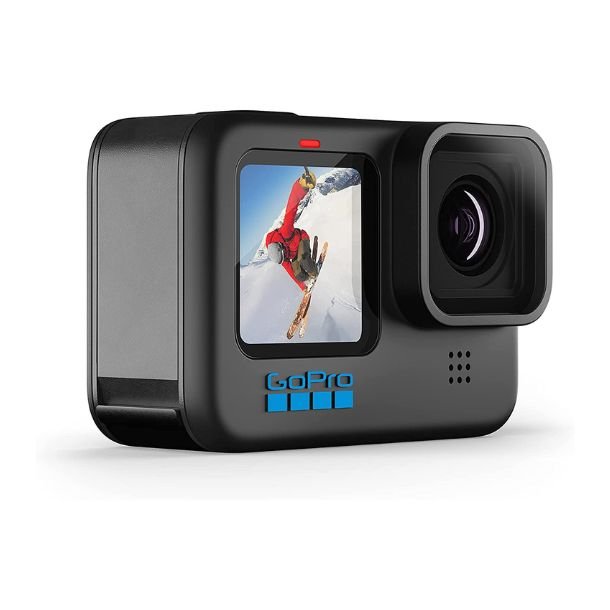 Key Features:
The GP2 "system on a chip" is the quickest ever and was specifically created for the demand of the GoPro.
You can upgrade to the most accurate GoPro ever.
The HERO10 has twice the frame rate for incredibly smooth motion, while the GoPro has been improved to outstanding 23MP images and 5.3K video resolution at 60fps. You can pause videos, take stunning 15.8MP still shots from 5.3K footage, and there is an 8x slow-mo at 2.7K.
Even in low light, you can capture images with extreme detail textures, and remarkable contrast. A new hydrophobic lens cover that resists water and helps to reduce lens flare and other artifacts makes images appear their best.
Its design is extremely smooth, and it is simple to adjust for the best stability at all times.
A larger tilt limit will result in even better low-light performance and horizon leveling, ensuring that your footage always appears precisely straight.
With the Quick app or a lightning-fast wired connection via USB, it's easy and flexible to transfer photographs and movies from your cloud-connected devices to your phone.
A hassle-free auto-upload feature and limitless cloud storage are also available. When your camera is connected to your home Wi-Fi, all you need to do is plug it in; the camera will do the rest for you.
Key Features:
With up to 5K resolution, you can capture beautiful videos that keep their detailed clarity even when you zoom in. With a brand-new, compelling 23.6MP sensor, the HERO9 offers image quality, smooth action, and an in-camera horizon.
With 20MP clarity, you can take clear images of superb quality.
In order for you to get the perfect shot, HERO9 can automatically select the optimum image processing.
On HERO9, the rear touch screen is new, larger, and has touch zoom.
A larger 1720mAh battery offers a 30% increase in battery life. This enables you to shoot more without changing batteries.
Utilize the most cutting-edge video stabilization ever to feel the smoothest motion possible. In-camera horizon leveling and boost are available with the Hyper smooth 3.0 in all settings.
Key Features:
Its strong waterproof construction and hyper-smooth 2.0 video stabilization make it one of the most adaptable HERO cameras ever. With the optional Media Mod, you can add more brightness, professional audio, and even another screen.
You get incredible slow-mo. superb video clarity, and excellent frame rates.
Using the GoPro app, you can broadcast in 1080p and store the video on your SD card for later review.
Experience moments that your phone cannot capture.
The HERO8 Black is tough, waterproof to 33 feet, and is ready for adventure.
Take advantage of updated algorithms that actively filter out wind noise and a newly designed mic placement for sharper, clearer audio quality.
There are three levels of stabilization in the HERO8 Black that is On, High and Boost.
For anything you do, you can choose the finest choice.
Get an incredibly wide angle or increase the smoothness of some of the best videos ever provided by a HERO8 camera.
All frame rates and resolutions are compatible with the hyper smooth.
You can take amazing new pictures using more than 45 mounts and accessories that are compatible with your HERO8 Black, including mods.
Key Features:
Take incredibly steady time-lapse videos as you travel around a scene. To make lengthier activities into memorable moments, speed up the process by 30 times.
While you're there, talk about your experience.
Utilize the GoPro app to live stream in 720p with Hyper smooth stabilization and store video to your SD card for later viewing.
Share experiences that your phone cannot capture. The HERO7 Black is strong and waterproof up to 33 feet without covering (10m).
The HERO7 Black's Super Photo feature applies HDR, local tone mapping, or noise removal automatically to maximize your photos.
Use 16 voice commands to operate your GoPro hands-free, including "GoPro, take a picture" and "GoPro, turn on."
It can interact in English (US, UK, Australia, and India), Mandarin Chinese, French, German, Italian, Japanese, Korean, Portuguese (BR), Russian, and Spanish (EU and NA).
With 12MP images and amazing 4K60 video, the HERO7 Black captures moments that are just awesome as they are.
Key Features:
Your video footage from HERO6 is automatically sent to your phone, where the software edits it into a short story with a fantastic video.
The HERO6 Black offers two times as much performance with 4k60 and 1080p240 footage. It also offers better image quality with a brand-new GP1 chip tailored for GoPro shooting.
It records incredibly smooth video whether it's mounted to your equipment or used handheld because of the most cutting-edge video stabilization.
It has 33 feet of waterproofing (10 meters).
You can now enable touch zoom and an improved user interface.
The 2-inch display makes it simple to set up shots, adjust settings, and replay video.
You can transfer photographs and movies to your phone three times faster with the 5 GHz Wi-Fi.
Key Features:
It can take 12MP photographs in the single, burst, and time-lapse modes and produces beautiful 4K videos.
Hero5 Black is waterproof up to 33 feet (10 meters) without a cover and is built to be tough.
Time-lapse photo intervals are 5, 1, 2, 5, 10, 30, and 60 seconds. Additional GoPro Hero5 black features and advantages are listed below on the product page.
Using your GoPro, you can edit your video, adjust settings, and preview and playback your shots.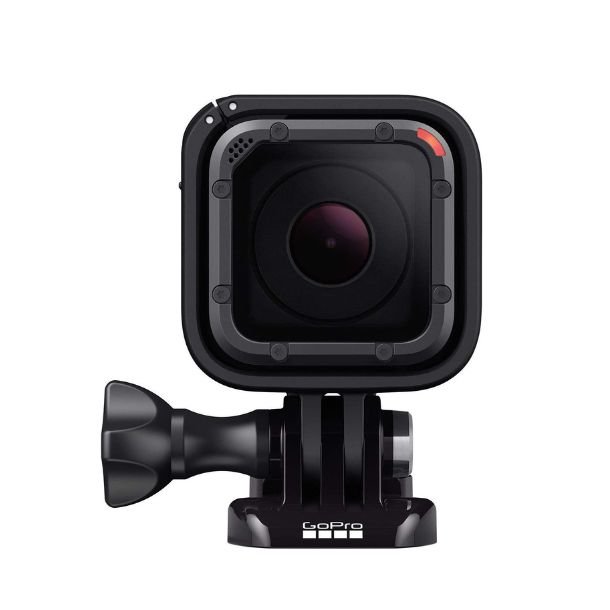 Key Features:
It includes a camera, a regular frame, a flat sticky mount, a mounting buckle, and a USB Type-C cord.
The GoPro is waterproof up to 33 feet (10 meters) without a cover. The SD card is not included.
Use a computer or a GoPro charging device along with a USB cord to charge your camera;
Press and hold the menu button for around eight seconds to bring your camera to a complete stop if it freezes. This reset will keep all of your settings and data.
The photographs have a 4:3 aspect ratio and are 10 MP resolution.
The camera turns on with a single push of the shutter button, and the recording begins immediately.
Instructions for software updates are provided below in the user manual and installation manual; MAC and PC operating systems are compatible.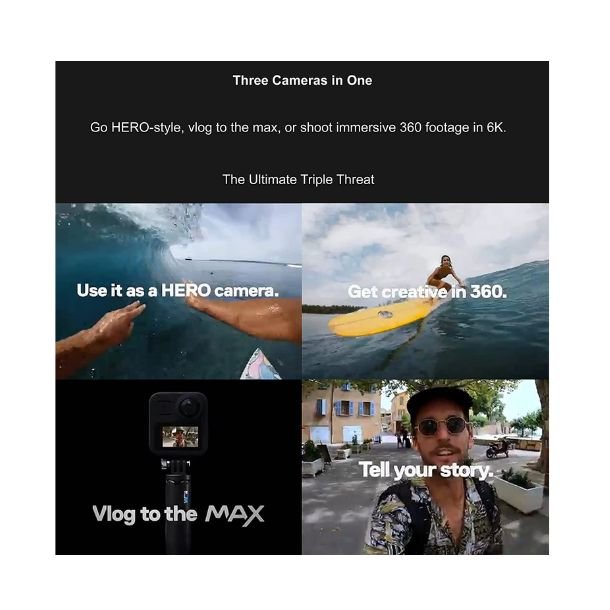 Key Features:
Increase your range of artistic freedom using MAX.
You have the option of taking 360-degree realistic film or conventional HERO-style video and photographs.
With a front-facing screen and a shotgun mike, you can Vlog to the fullest extent possible.
By leveraging 180° capture as the ultimate buffer, MAX provides unbreakable stability.
It operates smoothly, and controlling your camera is simple when using a touch screen. In HERO mode, you may also set up your shot, watch the video, and take a selfie.
While you're there, record in HERO mode and share. Utilize the GoPro app to live stream in 1080p with Max Hyper Smooth stabilization while broadcasting, and store video to your SD card for later review.
It's easier to record your story with more than 35 compatible mounts and devices.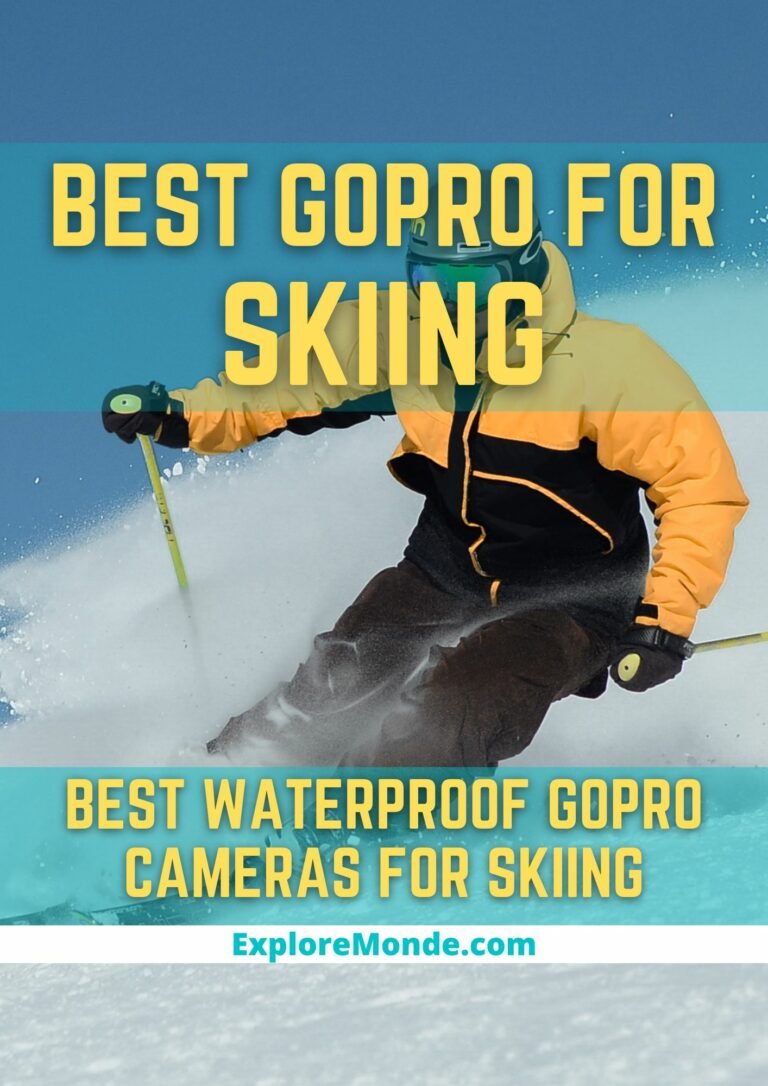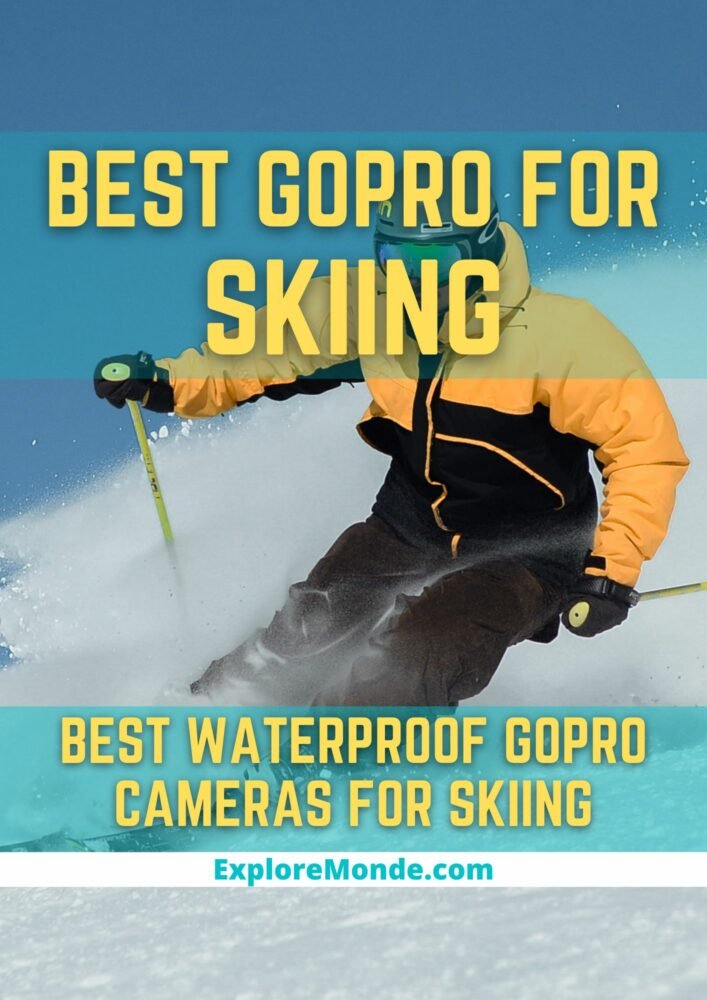 ---
Note: The hours of operation, ticket prices, and admission criteria of museums, parks, etc. may change from time to time. For the most updated information, we recommend checking the official website of the attraction directly prior to your planned visit.
Blog Categories: Asia, Africa, Europe, USA, Australia & New Zealand, France, Germany, India, Italy, Spain, Sports, Switzerland, Travel Tips, UK, Products
More From The Blog
---