Where is Florence?
Florence, Firenze, is the capital city of the region Tuscany. When you think about Tuscany you think about food (sorry LOTS OF FOOD ;)), wine, culture, history, and much more. I visited Florence twice and both times I fell in love with the atmosphere and the people there. This time (July 2020) I visited a weirdly empty Florence with very few tourists as the travel restrictions put in place cause of the coronavirus, unfortunately, hit this beautiful city (just like many others). Follow me for more information on Milan, Venice, and many other places around the world, coming up soon ;). Here are some tips and ideas to visit the wonderful Florence.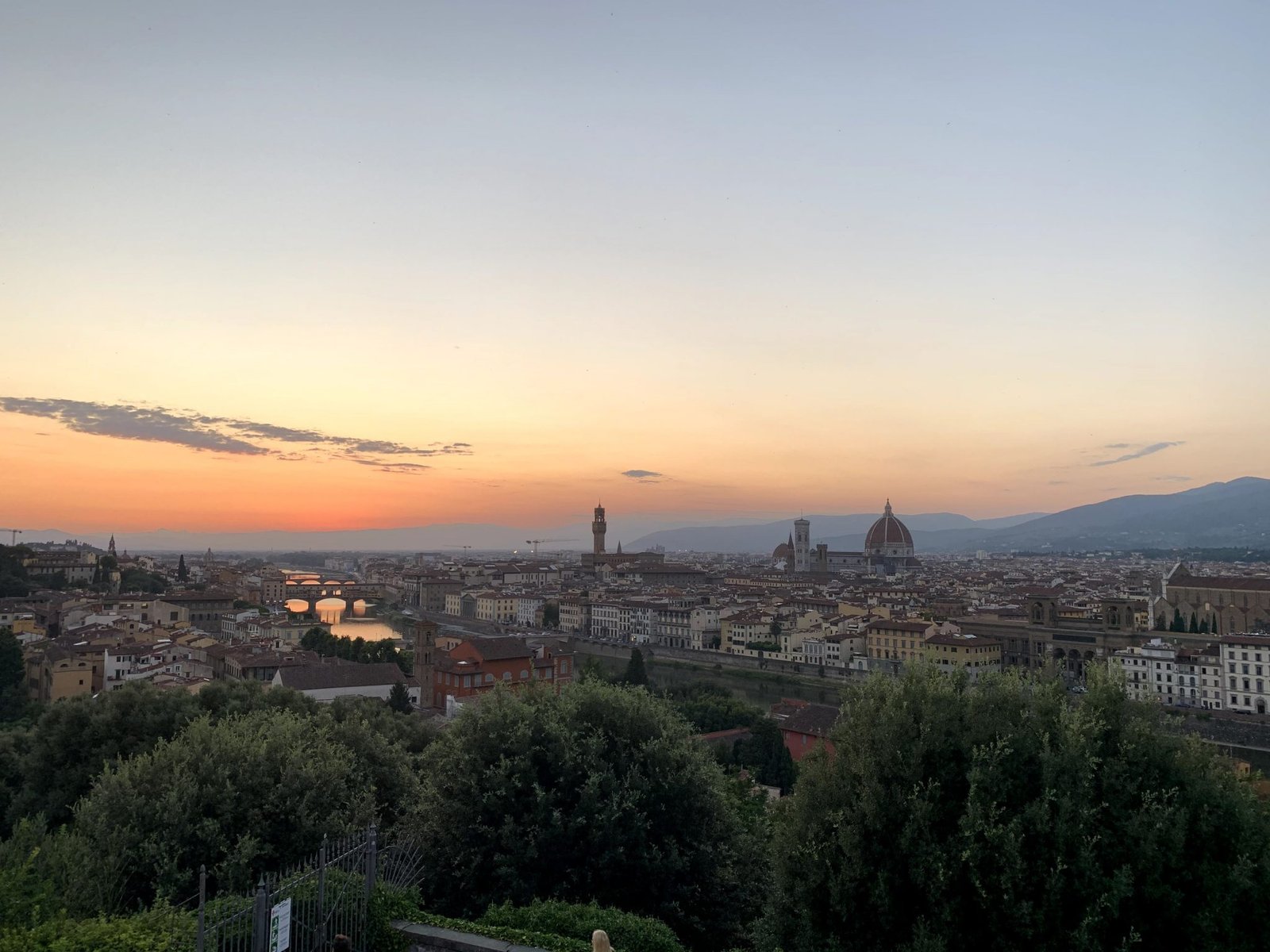 How to reach Florence
Florence Train Station
I reached Florence by train. The main railway station is "Firenze Santa Maria Novella". I bought my tickets online on the "Trenitalia" website. In Italy there are three main types of trains:
Regionale: these are cheaper but slower trains that stop more often.
Intercity: these trains are slightly faster as they connect bigger cities, as the name suggests.
Frecciarossa – Frecciabianca or Frecciaargento: these trains are the fastest Italian trains (they have three different names according to the part of Italy they travel to and they serve). The service is really good and you can reach your destination faster 🙂
When you click the Trenitalia website (Here is a link to the English version of the website: https://www.trenitalia.com/en.html) you can pick the type of train you would like to use.
If traveling with Frecciarossa or any fast train is your preference, I would suggest signing up for Trenitalia's emails because they send codes with discounts up to 30% off. Also, the earlier you check for your trains the better offer you will get (you will get different fares: Super economy, economy, and base, the first in the order being the cheapest BUT there are limited numbers of tickets sold at that rate).
We traveled Intercity from Milan and it took us about 3 hours and a half to reach but it was cheap as we spent 13.90 euros each 😉 Back then social distancing seats were available on Intercity trains. You can check for their availability online.
Florence Airport and its Code
The airport in Florence is called Amerigo Vespucci Airport (also known as "Aeroporto di Firenze-Peretola"). Its code is FLR. There is a bus service available from Florence airport to the center of the city that is called the "Volainbus" shuttle (it will take you to the train station Firenze Santa Maria Novella and the trip is about 25 minutes). The shuttles run from 5:30 am to 11:00 pm every 30 minutes. Cost of the ticket: 6 euros. Another alternative that has been recently made available is Tramvia. You can, indeed, travel on these from 5.00 am to midnight (precisely: the last train from the airport to the city on weekdays and Saturdays is at 00.02 while on Sundays it is at 00.12). Choose line T2 (linea T2 Vespucci).
A one-way ticket with a validity of 90 minutes. Always remember to validate your ticket before using it (this is something to remember for almost any ticket for trains, buses, etc. in Italy so please always keep this in mind).
Florence Italy Time
Florence has the timezone: Central European Time (CET)
Florence Italy Weather
Generally, winters are pretty cold in Florence and summers are hot and sunny. The best time to visit this city is between May and September when it is generally warm and sunny.
Where to Stay in Florence, Italy
There are plenty of hotels in Florence, a quick search "Florence Italy Hotels" will bring up 100s of results, I am sure. From personal experience, we can recommend (because we stayed in it) the "Hotel Porta Faenza" for many reasons. It is very clean, it is 5 minutes away from the main train station and 5 minutes away from the city center and we paid only 103 euros per two nights and two people (breakfast included). We booked using Booking.com. 🙂
---
Bestseller Drones
Bestseller No. 1
Bestseller No. 2
---
Lovely note alert: the hotel sent us a message thanking us for choosing them <3 and we loved it.
Where to Eat
In Florence, you can find many great places to eat local cuisine. We feel like recommending a couple of places in particular: the first is "All'antico Vinaio" where you can have a schiacciata for about 6-8 euros. The ingredients are amazing, very fresh, and local and the sandwich (=schiacciata) is big! We went to one of their two shops where you buy the schiacciata and eat it as you walk (or you can sit somewhere on the road which makes the experience even more enjoyable) and the two shops that are one in front of the other are identical. So basically go there and get in line because yes, there will be a line BUT do it, it is totally worth it!!
Another great place that we found through the app "TheFork" is "La Cantinetta in Borgo" which is an amazing authentic osteria 🙂 We ordered "bruschetta" and "crostone with mushrooms and goat cheese" and both were excellent. We also had some pasta: a plate of pasta with truffle and Pici pasta with bacon and ricotta cheese: both of them were simply fantastic 🙂 we highly recommend this place: also the service was great!
TIP: the app "TheFork" selecting a specific time they gave us 30% off our bill which is.. pretty good 😉
What to do in Florence (in 1 day and a half)
We had basically (and unfortunately) only 1 day and a half in Florence and therefore we did not have time to visit everything. We tried, however, to make the best of the time we had. This is the itinerary we followed and it can give you an idea of what to do if you have 1 day OR if you have the luck to have more days in Florence you can visit every attraction we mentioned (because there is a lot to see and to learn).
Day One – Morning
Start from visiting the Duomo di Firenze (Chiesa di Santa Maria del Fiore). This fantastic cathedral was built between 1296 and 1436. The outside of the cathedral is made of green and pink marbles of different shades. The dome of the cathedral was made by Brunelleschi and it is a must-see as well as the cathedral itself and the Campanile (Bell tower) made by Giotto.
Note: Check online for Coronavirus guidelines.
2. Walk for 5 minutes towards Piazza Della Signoria. (Piazza means "square") Here is what you can find it in: Palazzo Vecchio (or Palazzo Della Signoria, nowadays Town Hall of the city of Florence), the replica of Michelangelo's David, the Neptune's fountain, and the Loggia Della Signoria" where you can find many other interesting statues. Make sure you do not miss any of these once you are there.
Lunch Time
3. Time to eat: Go and have a fantastic schiacchiata at "All' Antico Vinaio". You can then go back to Piazza Della Signoria (2 minutes walk) and sit on the steps in front of the Loggia 🙂 Not a bad view for a lunch 😉 Be ready for a line that is anyway pretty fast and, again, totally worth it.
---
Bestseller GoPro Selfie Sticks
Sale
Bestseller No. 1
Bestseller No. 2
---
Afternoon
4. After lunch and after a (mandatory ;)) espresso coffee, walk towards Ponte Vecchio (5 minutes walking). The view is beautiful from there. As you will see there are only jewelry shops on the bridge. Cross the bridge, find a good coffee shop and enjoy a fresh beer or wine and enjoy some "dolce far niente" (literally "sweet do nothing time" ;)).
5. In the afternoon you can just walk around and literally get lost in the wonderful and charming streets of Florence. I loved also watching street artists' paintings. Soon I noticed they were painting cats very often and I happened to Google the relation between cats and Florence. I learned that the Florence commune has actually a lot of feline colonies around the city where cats are taken care of. I loved this! <3
The Unmissable Florence Sunset
6. Later in the afternoon, grab a gelato (as mandatory as the espresso coffee) and start your walk towards Piazzale Michelangelo and be ready to see the sun setting on Florence. It is a wonderful experience. The way to the top could be tiring but absolutely not impossible if you take it easy (you can choose to climb up taking the stairs or the road). If it is summer, take with you some mosquito spray as the mosquitoes are quite hungry there.
If you take the steps, you will have the luck to see one of the Feline colonies I talked about (going up the stairs you will find it on your right). We spotted a black cat <3 Once on the top, you can sit on the steps or you can go down to the terrace. There is also a cafè which I did not visit but looked nice. What we did was grab a couple of beers (we paid 8 euros for 2 beers BUT you can get a couple at a supermarket to save some money) and sit on the steps. It was beautiful, there was a musician performing and as the sun was setting and people were enjoying and finally they clapped hands (I know, typical 😀 And I am Italian so… :D).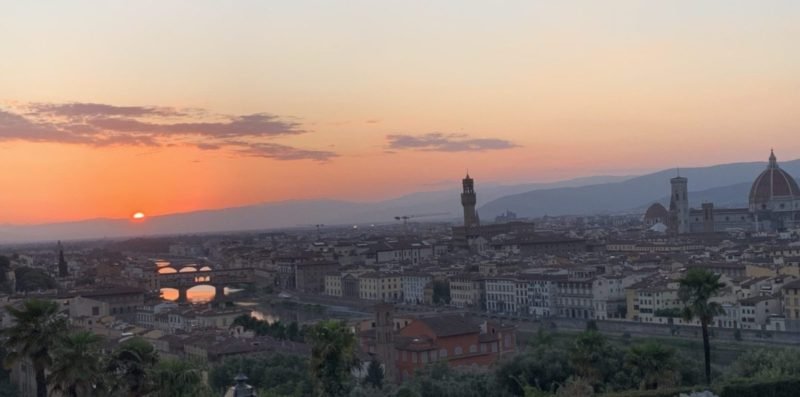 7. For dinner use your TheFork app to find a restaurant around you or just walk back towards the city center. There are many osteria and restaurants that serve Florentine food for reasonable prices. If you are a meat lover do not miss their "Fiorentina" steak with a good glass of wine :). In the evening we found musicians on the Ponte Vecchio playing live music: very nice 🙂
---
Bestseller Copper Water Bottles
Bestseller No. 1
Bestseller No. 2
---
Florence – Day Two
1. Our hotel was like 3 minutes walking from another Florence attraction you cannot miss: Mercato Centrale. So, after breakfast, that's where we headed to 🙂 Mercato Centrale is a big, indoor market where you can find any type of food you can think of (and not only food). Indeed, they sell anything from fresh fruits and vegetables, fresh fish, all types of meats, spices, and many Tuscany delicacies (olive oils, bread, olives, bruschetta, etc.). We went there right after breakfast so we were pretty full but if you happen to go around midday, you can have also lunch there (or appetizers ;)), eating local.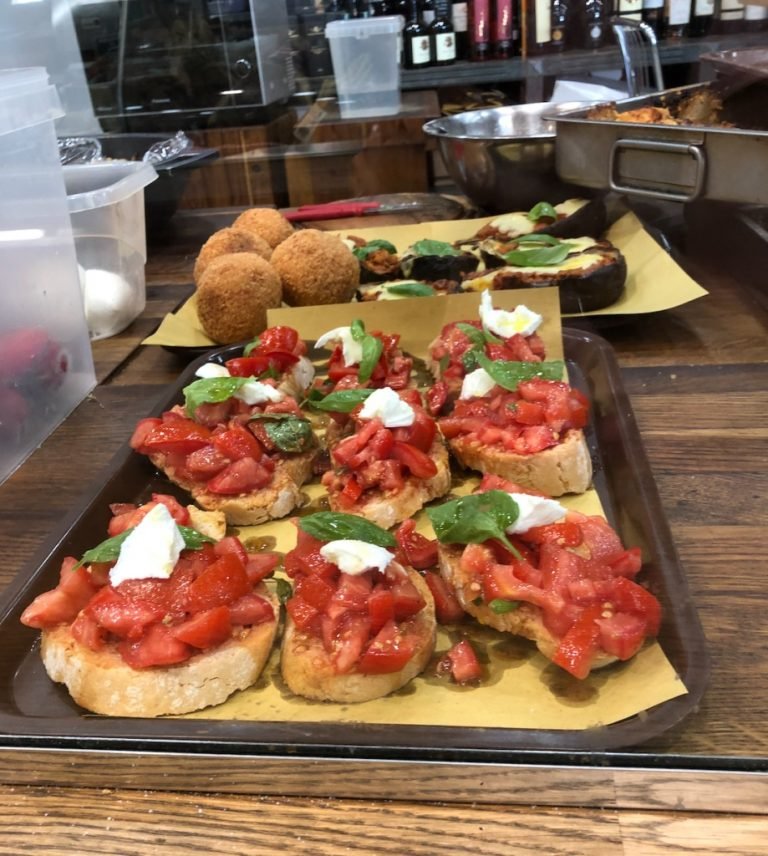 The market opens daily at 10.00 am and closes at 10.00 pm but some restaurants or shops close at a different time so I would suggest going there earlier and looking around and if you see something you like just ask the specific shop or restaurants when they close. This is how I got my cantucci (Typical Tuscany cookies that you can have dipped in their amazing wine Vin Santo! I went to a shop in the market that was selling many varieties of them, different from the classical (but delicious) almond cantucci 🙂 (we got orange and chocolate cantucci, Pista cantucci, and a package of original ones ;)).
Time for Art Appreciation
2. After a visit to Mercato Centrale, walk back to the city center for an espresso. It will give you all the energy and focus you need to see the big museum of Uffizi (gallery). As of now (July 2020), you do not need to purchase the ticket in advance. There is no need to as, unfortunately, and differently from before, the line to enter is almost equal to zero. Just go there and be in the line (we went at 2 pm when the museum opens) and we were in line for literally 10 minutes. Big bags or liquids (except half a little plastic water bottles) are not allowed. Give yourself time to visit the Uffizi as it is incredibly rich and beautiful 🙂 There is a cafeteria inside in case you need another shot of espresso 😉 Note: the museum is closed on Mondays.
3. For lunch we recommend you go to the "Cantinetta in Borgo" as they serve good quality food and for a reasonable price (plus don't forget the 30% off that was given for booking through TheFork app ;)).
4. In the late afternoon we took our train to Vicenza so we basically did not do much but if you have time you can spend the afternoon visiting the Giardini di Boboli, Palazzo Pitti, and Galleria dell'Accademia (where the real "David" of Michelangelo is).
---
Bestseller Cupholder Bottles
Bestseller No. 1
Bestseller No. 2
---
Short Trip, but we'll be back
There is so much to see and do in Florence that this is just an example of an itinerary if you do not have a lot of time to spend in Florence. The city is worth even just a day of walking around without visiting anything in particular because every single building or road has so much history and so much to tell.
We will surely go back soon!
Read also:
---
Note: The hours of operation, ticket prices, and admission criteria of museums, parks, etc. may change from time to time. For the most updated information, we recommend checking the official website of the attraction directly prior to your planned visit.
Categories: Asia | Africa | Europe | USA | Australia & New Zealand | France | Germany | India | Italy | Spain | Sports | Switzerland | Travel Tips | UK | Products | Download AI Trip Planner App
---