The real essence of Sarawak lies in Sarawak's national parks and rainforests, and there are many of them! If you want to visit all of them, then it might take you more than a month and you will still get just a single day to visit each of them.
Sarawak is rich in the exceptional natural beauty that lies in its beautiful beaches, greatest mountains, trails, caves, and culture. However, the area is mostly covered with rainforests and national parks where tribes have preserved culture, nature, and rich biodiversity.
Tourists are not allowed in all the national parks to protect and preserve nature and keep it undisturbed. Here is the list of the top 6 national parks in Sarawak.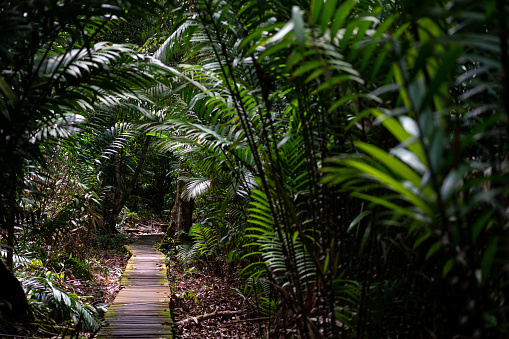 Here are some of the Best National Parks of Sarawak:
Best National Parks of Sarawak
1. Bako: Smallest yet Wholesome Sarawak's National Park
Bako National Park is the smallest national park in Sarawak with an area of 27Sq Km. Despite its small area, it offers a unique experience to its tourists. It consists of whopping 7 ecosystems;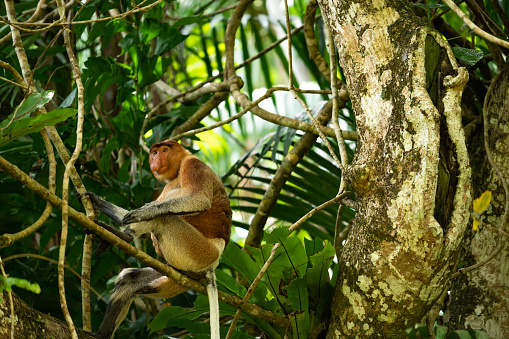 Dipterocarp forest
Mangrove forest
Beach flora
Cliff vegetation
Heath forest
Grasslands
Peat swamp forest.
Trekking Activities at Bako National Park:
This national park offers a wide variety of trekking trails. There are a total of 18 color-coded small and medium-level trails that can be trekked in half-day or a whole day.
The route names in Malay offer you an indication of the trail's topography and/or end destination.
alan = Trail; Tanjung = Cape; Telok = Bay; and Bukit = Hill.
Each trail offers something unique. Depending upon your priority, you can choose where you want to head towards. Some trails offer wildlife, some trails are really great for a hike.
Make sure you carry water and food with you and some sun protection as well, because few areas in this national park are open without any tree cover.
Images of Bako National Park in #Sarawak, one of the very interesting parks to discover in Malaysia. Photos are taken with ultra-wide-angle on a #GalaxyS10Plus and unedited. #MoreSarawak #MalaysiaTrulyAsia #VisitMalaysia #RaonRaonSarawak #MoreToDiscover #nature #WithGalaxy pic.twitter.com/cOuRwyIguC

— David Hogan Jr (@MalaysiaAsia) July 8, 2020
Entry fees:
foreigners: RM 20 (adult)
foreigners: RM 7 (child, 7-18 years)
Malaysians: RM 10 (adult)
Malaysians: RM 3 (child, 7-18 years)
Children 6 years and below: free.
Coastline and Water Bodies in Bako National Park
This park is a combination of various landscapes including both cliffs and a seashore. Swimming in the waterbodies in this national park is one of the best activities to do in Sarawak. But nowadays, due to migration of the habitat, most crocodiles are observed here making water activities hazardous.
In just 90 minutes, you'll travel across a surprising range of ecosystems, sceneries, and viewpoints on one of Borneo's greatest short walks.
Biodiversity in Bako National Park
This is one of the best national parks in Sarawak for wildlife watching. Endangered species of proboscis monkeys can be seen here. This is the oldest national park in Sarawak and hence you can see human-friendly animals here.
Silver-leaf monkeys, long-tailed macaques, monitor lizards, bearded pigs, and a variety of birdlife can be experienced here.
Accommodation in Bako National Park
Most tourists prefer this place as a one-day picnic spot in Sarawak. However, to explore this national park to the fullest, an overnight stay is recommended. A variety of rooms are available at Bako national park ranging from 100 RM to 250 RM per night. For cheaper options, you can go to hostels where you can book a bed for 15 RM to 40 RM.
---
Bestseller GoPro Selfie Sticks
Sale
Bestseller No. 1
Bestseller No. 2
---
2. Gunung Mulu: Experience extreme caving!
This Sarawak national park is known for its caves and the expeditions that have been organized to examine them and the jungle that surrounds them.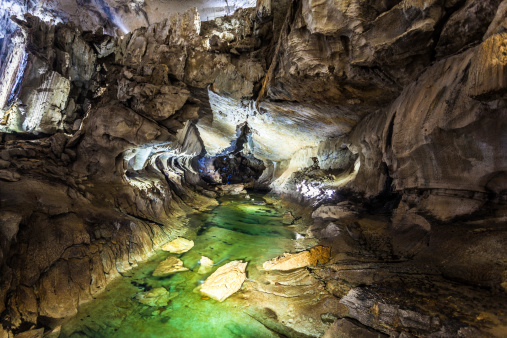 Gunung Mulu National park is best known for its wide variety of diversity and vegetation. It has 17 types of vegetation and more than 3500 species that have made a home there.
This national park is also known for its caves. Sarawak's cave- the largest cave in the world is housed here in Gunung Mulu national park.
Trekking and caving at Gunung Mulu national park
Limestone Pinnacles On Mount Api – Gunung Mulu National Park – Sarawak Island of Borneo – Malaysia – 📸 pic.twitter.com/6a5lMTJpAe

— 🌍Travel Destinations🏝 (@WorldTourisms) February 28, 2017
Activities like canopy walking, birdwatching, camping, night walks, and trekking are preferred in this national park in Sarawak.
Mulu is a 420-meter canopy walk hung 25 meters above the forest floor that is also one of the longest and largest tree-based canopy walks. You can go early morning for birdwatching.
---
Bestseller Copper Water Bottles
Bestseller No. 1
Bestseller No. 2
---
Camping facilities are provided in the park along with camping gear for around 100 RM per person. Camping at the world's largest cave is also available.
Gunung Mulu national park offers an exceptional caving experience too. Racer Cave, Lagang Cave, Sarawak Chamber, and so on are a few popular caving destinations in Gunung Mulu national park in Sarawak.
For extreme adventure seekers, adventures like Pinnacle climbing and summit trek are available. These are extreme adventures, so make sure you are physically and emotionally fit for them. These are expeditions for 2-3 nights where unguided tours are not permitted. Taking a licensed guide's help is mandatory.
Richest Biodiversity In Gunung Mulu national park in Sarawak
Mulu's biodiversity is as outstanding, with 75 animal species, 262 bird species (including the eight hornbill species), 74 frog species, 47 fish species, 281 butterfly species, and 458 ant species. This makes it one of the best national parks in Sarawak for wildlife watchers.
Accommodation in Gunung Mulu national park
Hostels and lodges are available for tourists to stay here that cost around RM 60 to RM 300. Personal camping isn't permitted anywhere in this national park.
---
Bestseller Cupholder Bottles
Bestseller No. 1
Bestseller No. 2
---
Mulu is one of the world's biodiversity hotspots, and you can understand why, here.
Get a better understanding of the wonderful diversity that exists all around you. Mulu as a World Heritage Site, Sarawak's protected regions, and the Park's geology and biodiversity are all covered on information panels.
You can book your stay here.
3. The Archaeological Heritage of Sarawak: Niah National Park
The prominent feature of this national park is this is the only national park in Sarawak that has pieces of evidence of human habitats from almost the Stone age.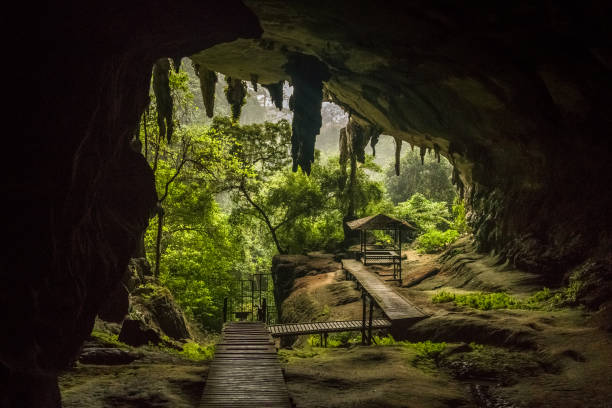 A human skull dated around 40,000 BCE was found here recently. This makes Niah, the archaeological site by UNESCO. Forest walks, Iban longhouse visits, and cave exploration are a few favorite activities to do here.
Activities at Niah National Park
Entry fees:
| | | |
| --- | --- | --- |
| Malaysian Adult | 18 – 59 years | 10 RM |
| Malaysian Senior Citizen | 60 Years and above | 5 RM |
| Disabled Person (Malaysian) | 6 years and above | 5 RM |
| Children (Malaysian) | 6 – 17 years | 3 RM |
| | | |
| --- | --- | --- |
| Adult (foreigner) | 18 years and above | 20 RM |
| Disabled Person (foreigner) | 6 years and above | 10 RM |
| Children (foreigners) | 6 – 17 years | 7 RM |
Explore the rich culture of headhunters at Iban Village:
This is a longhouse where the ethenic Iban people reside. They are known as headhunters and they are one of the toughest folks.
Now, you can explore their culture by going there, and yet, you won't get beheaded! You can also stay there which is inexpensive. You can observe their rich culture, authentic dance forms, religion, and their daily lifestyle.
This longhouse is located just before the National park's entrance making it one of the best activities to do in Sarawak.
Trek through the magnificent caves and admire the centuries-old Niah Cave Paintings
Cavemen's paintings at Niah National Park,
Miri, Sarawak. Malaysia, where the oldest skull was dated 40,000 yrs ago pic.twitter.com/OqYjeKRSX6

— Mimi Lampam (@MLampam) October 9, 2013
There are four trekking trails in this national park that lead to four important caves. These are those four cave trails: Niah Caves, Kasut Hill, Gunung Subis, and painted cave, are those four cave trails.
While all the trails are moderately difficult, Gunung subis is the relatively harder trail to hike and takes around 4-5 hours depending upon one's strength and stamina.
These trails offer a great variety of flora and fauna in the national park.
Niah Cave's entrance is considerably big and it is one of the world's most stunning cave openings. It stands over 60 meters tall and 250 meters wide and leads to an even bigger room within. The archaeological digs may be seen on the left side of the cave opening.
Vegetation and Flora in Niah National Park
Limestone vegetation on karst, Mixed Dipterocarp Forest, Seasonal Swamp forest on clayey marls, Seasonal Swamp forest on peat soils, Riparian forest, and Regenerating forest are the 6 found vegetation in this Sarawak's National Park.
More than 800 plant species are found in Niah National Park. Various species of flowers like orchids are found here.
Accommodation at Niah National Park
An overnight stay is available at Niah national park. Both rooms and hostels are available depending upon your choice you can select the type of stay.
Single sharing, double sharing camping facility is also available at the rate of RM 5. Other rooms' costs start from 40 RM to 500 RM offering a variety of pax capacity and room sizes.
They provide basic room amenities. You can also get local cuisine served there.
4. Lambir Hills National Park is an ecological Disneyland:
Lambir Hill National Park is Sarawak's fourth oldest national park, and researchers and students frequently visit on fieldwork expeditions.
Cool off at a waterfall after a pleasant trek through the Lambir Hills National Park in Miri. #MalaysiaTrulyAsia #TourismMalaysia pic.twitter.com/t9ZFN9BBei

— Malaysia Truly Asia (@TourismMalaysia) October 19, 2017
This national park in Sarawak is popular with tourists because of its scenic waterfalls, excellent birding opportunities, and stunning towering trees, especially on weekends when more people from Miri visit for the day.
There are various hiking paths for visitors to enjoy. These range from short, relatively easy treks to the long, occasionally steep journey to Bukit Lambir's top, the park's highest point.
Flora and Fauna in Lambir Hills National Park
There are 237 species of birds, 64 species of mammals, 46 species of reptiles, and 20 species of frogs discovered in this national park. Hence, it is one of the best national parks in Sarawak to watch wildlife and flora.
Lambir Hills national park is a victim of ecological disaster due to its loss of numerous important species of mammals and 6 out of 7 hornbill species. This could be the outcome of illegal hunting and the modest size of the jungle
This national park is also rich in its flora. More than 1175 plant species can be found here. Dipterocarpaceae is the dominating tree family in the park. The pitcher plant Nepenthes hispida can only be found in the park and its environs.
Trekking activities at Lambir hills national park:
This national park is truly a heaven for nature admirers. There are a few waterfalls that offer magnificent views of nature. Jungle trekking, swimming/recreation, nature education, and research, bird watching, wildlife observation, photography, and Night walk are popular activities to do in Lambir Hills National Park.
There are 10 trekking trails and most of them lead to different waterfalls. These are a combination of short and longer trails. It can take around 15 mins to hours to reach the summit. All of these trails are color-coded.
The best thing about trekking here is you can explore the natural beauty, and sweat while finishing trails, and then can simply take a dip into cold water pools while admiring the beauty of mesmerizing waterfalls.
Accommodation at Lambir hills national park
Chalet apartments and a campsite are available for rent in the park. For the most up-to-date lodging pricing and booking information, please contact the National Park's Booking Office in Miri.
Entry Fees:
| | | | |
| --- | --- | --- | --- |
| | Malaysian | | Non-Malaysian |
| | (Adult): RM10 per person | | RM20 per person |
| | (Child): RM5 per person | | RM10 per person |
5. Dive into magnificent waterfalls at Kubah National Park.
Want to have an adventurous yet relaxing experience on a weekend getaway? Then this national park in Sarawak is for your rescue.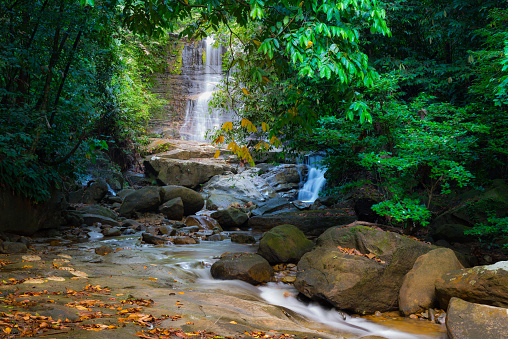 The park's rainforest environment is breathtaking, and it is home to a diverse array of orchids and ferns. It's also known for its palm groves, which contain 93 different kinds. After a jungle excursion, the park's jungle streams and waterfalls make excellent resting spots.
Flora and Fauna of Kubah National Park
There are more than 30 species of birds that reside here, making it one of the best national parks in Sarawak for birdwatching activities. Whopping 93 species of palm trees are found here as well.
While tourists can spot varied flora here efficiently, Kubah's wildlife, on the other hand, prefers to stay deep in the forest. Spotting them is a very rare case scenario. Gunung Mulu or Bako national parks can offer better sites for wildlife than this, due to the friendlier nature of the animals to humans.
The trekking trails of Kubah National Park
Day 6: Just arrived to Kubah National Park #loveBCHS #LifeAtOsborne pic.twitter.com/E8aJipjDE7

— BCHS.Worldchallenge (@BWorldchallenge) July 20, 2019
You can go hiking on 6 trails named Gunung Serapi, Palmetum, Selang Trail, Waterfall Trail, Rayu Trail, and Belian Trail. They all offer unique experiences to trekkers.
Gunung serapi:
Time: 5-6 hrs for a return trip
This is the main trail that reaches the summit. It runs through a dipterocarp forest and connects the park's different paths.
Palmetum, Selang Trail:
This trail features a great showcase of palm trees along the way. Palm trees being the prominent attraction of this national park, this trail plays an important role.
Selang Trail:
Time: 45 minutes
The main attraction of this trail is the spectacular views of Matang and the Santubong peninsula.
Waterfall Trail:
Time: 1 hr 30 mins
This is the most popular trail in this national park that passes through a mixed dipterocarp forest.
Rayu Trail
Time: 3-4 hours
The prominent feature of this trail is that it winds through a lovely riverine forest with a few buttress-rooted rainforest giants and a smattering of bintangor trees. This trail leads to the Matang Wildlife Center. AIDS researchers are working on the chemical obtained by Bingator trees.
Belian Trail:
Time: 40 mins.
This trail truly provides a wholesome experience of wildlife diversity. This trail is for the conservation of Belian trees. These are fine-quality hardwood that is extremely durable and strong. Needless to say, it is greatly used by the locals.
You will get to see a wide variety of fruiting trees and other trees and plants. Also, it has a wide variety of birds and animals that most often can be spotted.
Accommodation at Kubah National Park
If you want to stay here, relax in the room, and admire the natural beauty, book your stay in Chalets. Air-conditioned chalets with basic amenities and the special provision of the BBQ area are given. These chalets are comprised of 2 bedrooms that can accommodate up to 6 people.
Apart from this, there are other cheaper options such as hostels and rest houses that are available where you can pay for the bed.
6. Click a selfie with the world's largest flower at Gunung Gading National Park
The Gunung Gading National Park is located in Sarawak, Malaysia's Kuching District. The park is around a two-hour drive from Kuching and is a favorite spot to witness the Rafflesia flower in full bloom.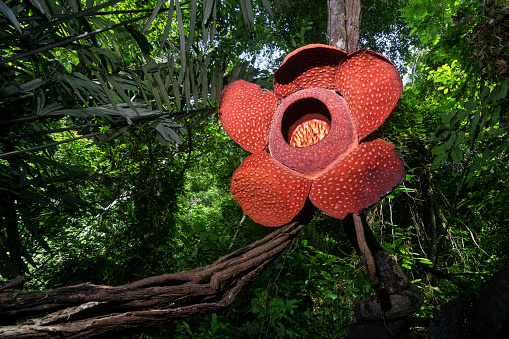 It takes nine months to mature and just four or five days to blossom before dying. There is no specific season for blooming. However, the monsoon season is considered the best.
Gunung Gading National Park is one of the best national parks in Sarawak to spot Rafflesia flowers.
Entry Fees:
| | | | |
| --- | --- | --- | --- |
| Malaysians | Rate (RM) | Non-Malaysian | Rate(RM) |
| Adult | 10 | Adult | 20 |
| Children (7-18 years) | 3 | Children (7-18 years) | 7 |
| Children (below 6 years) | Free | Children (below 6 years) | Free |
Trekking Trails at Gunung Gading national park
The waterfall trekking trail is a really easy hike and hardly takes an hour to complete. This trail consists of seven waterfalls. Huge strangling fig trees with magnificent basket-like trunks line the path to the waterfalls.
Had the chance to see the Rafflesia (R. tuan-mudae) in bloom.

Selamat Hari Malaysia for real.

16/9/2020, Gunung Gading National Park#sarawak pic.twitter.com/6QO1lAXv1A

— mason's rats (@reinedeloup) September 16, 2020
Only 1st, 3rd, and 7th waterfalls are accessible to tourists. So, seize the opportunity to take a perfect dip into the cold waters after a great sweat session of hiking!
There is a summit trekking trail that goes to Gunung Gading summit starting from the park. The trail offers great views of spectacular waterfalls. Beginning at the seventh waterfall, the summit route is a continuation of Trail 2. The top is reached after a lengthy and steady ascent of roughly 2.5-3.5 hours. The bottom section takes you through a lovely dipterocarp forest with large trees and the chance to observe Rafflesia blossoms.
A relatively straightforward walk from Gunung Gading top to Batu Berkubu over a small saddle takes an extra 2.5-3.5 hours round trip.
In addition to these trails, there is another trekking trail that passes through the part of the park where Rafflesia is blooming. This is just a small plank walk.
Accommodation at Gunung Gading national park
Fairly decent accommodation is provided here if you are planning to stay here overnight.
Chalet flats, hostel rooms, and a tent site make up the park's lodging.
The Forest Lodge Type 5 costs RM 150 per night and sleeps up to six people. There are three rooms in each apartment.
At Gunung Gading, a bed in a 4-person hostel room costs RM 15. The cost of renting the entire room is RM 40.
There is also a campground with around 35 tent spots. The cost of camping is RM 5 per person.
In a Nutshell, Do Not Miss out on the National Parks of Sarawak
When it comes to National parks, Sarawak is the best option! It has more than 30 national parks that offer extremely unique wildlife and flora. For nature admirers, Sarawak's national parks are heaven. Not all parks are accessible to tourists. However, tourists and adventure seekers can go on hiking trails in a few national parks.
Sarawak's national parks occupy a land that is equivalent to the area of England!
Cavings, night walks, night hikes, swimming, boating and cruising, and camping are a few preferable activities in these national parks.
With the help of this article, you can plan your perfect getaway to these parks and you will witness nature at its best!
Read more: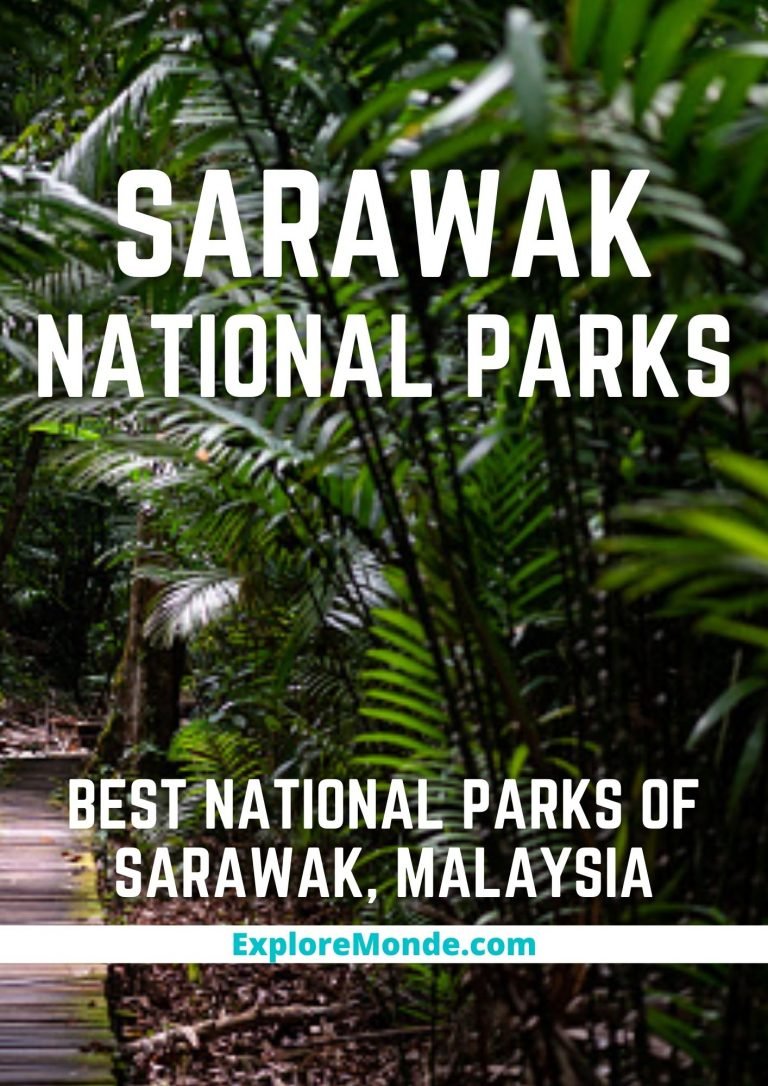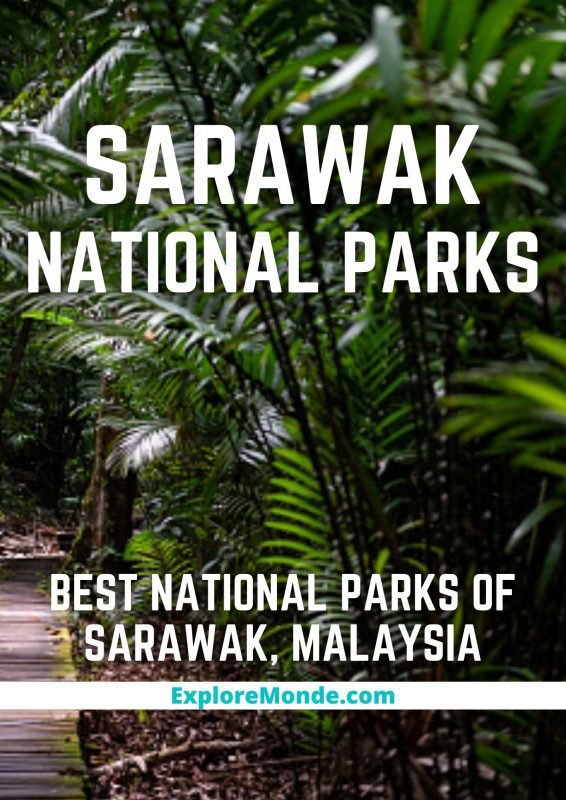 ---
Note: The hours of operation, ticket prices, and admission criteria of museums, parks, etc. may change from time to time. For the most updated information, we recommend checking the official website of the attraction directly prior to your planned visit.
Categories: Asia | Africa | Europe | USA | Australia & New Zealand | France | Germany | India | Italy | Spain | Sports | Switzerland | Travel Tips | UK | Products | Download AI Trip Planner App
---