Breakfast is known as an important meal of the day and it is said that a good breakfast can really set the tone for the entire day. There are many Breakfast places in Destin that can give you an amazing breakfast experience along with the view.
Best Breakfast Places in Destin, Florida (Jump To Section)
Best Breakfast Places in Destin, Florida
We have listed 13 topmost Breakfast places in Destin that can ensure a great experience for you with your friends or family:
1. Tailfins Waterfront Grill
Want to sip your coffee over a killer view? Tailfins Waterfront Grill is the perfect place for you. Here you can get a delicious and freshly prepared breakfast by the waters. The vibe of this restaurant is cozy and perfect for Sunday brunches or breakfasts.
What makes the restaurant's experience extraordinary? It's the staff! Well, Tailfins is known as one of the best breakfast places in Destin for its employees! Their waiters and waitresses will take care of your order and will help you select the best option as per your liking.
They have a wide variety in a breakfast menu including eggs, steak, seafood platters, and much more. Do not forget to try their seafood omelet. It has incredible breakfast sandwiches and a specially designed kid's plate that has a pancake, French toast, or eggs and bacon—served with Fruit.
Opening Hours: 8 am/ all days of the week.
2. Cissy's Scenic 98 Cafe
This is a nice, small, and happening place by the seashore. They have a huge variety of food and bread. If you plan to visit there, don't forget to ask for an everyday special menu.
If you want to stop by a place to grab your quick bite, Cissy's is one of the best Breakfast places in Destin for you! Go for an early morning long drive on a Sunday morning and have your delicious breakfast here with your loved ones!
From their breakfast menu, try their gooey breakfast burrito with eggs, bacon, avocado, brown potatoes, and cheddar cheese. The place serves traditional breakfast with bagels, sausages, toast, and a quite good variety of coffees. You should try their Amavida Coffee.
Along with this they also have sandwiches, flatbreads, and instant takeaway foods such as cheese ravioli, lobster ravioli, pasta, lasagna, etc.
Opening hours: 7:30 am daily
3. Ruby Slipper Cafe
Ruby Slipper Cafe is an excellent place to grab a mouth-watering breakfast as well as brunch. Its menu is quite vast.
The vibe of this place is cozy and you get to try varieties of food and drinks. They have 4 types of french toast, Egg preps, bacon preparations, sandwiches, burgers, and cocktails.
They have types of decent coffees and if you feel adventurous then you can sip over their eye-opening cocktails as well.
---
Bestseller GoPro Selfie Sticks
---
Does it get any better than this? Short answer ~ NO! Saturdays are made for Brunch & Burgers. #ThatBrunchLife🥂 #internationalburgerday🍔 🇺🇸 #putaneggonit🍳 pic.twitter.com/WOqT08ilrE

— Ruby Slipper Restaurant Group (@RubySlipperCafe) May 28, 2022
Opening hours: 7:30 am
4. East Pass Coffee Co
Looking for a perfect coffee shop for a breakfast with mouthwatering sandwiches and toast? East Pass Coffee co is one of the best breakfast places in Destin for amazing freshly brewed coffees.
The specialty of this place is their JumpinGoat coffee. JumpinGoat Coffee is a family-owned enterprise that roasts its beans by hand in the Georgia highlands. JumpinGoat Coffee has over 25 distinct varieties of coffee, including 7 different origins, and is made with high workmanship.
Their menu consists of a great variety of freshly brewed coffees, iced coffees, acai bowls, smoothies, sandwiches, and quick bites. You can also get other soft drinks over here. They also have a great collection of toasts that would go with their special coffees. Do not forget to try their avocado toast, another specialty of this breakfast place in Destin.
The reason why East Pass coffee co stands out from all other breakfast places in Destin is here you can buy gift cards that are redeemable at the coffee shop. You can buy it online as well and you can keep recharging it starting from $10.
---
Bestseller Copper Water Bottles
---
Opening hours: 7:30 am
5. Waffle House
One of the interesting breakfast places in Destin is Waffle House. It is heaven for waffle lovers. If you crave waffles in the morning itself, consider trying this place out. Their All-star special breakfast has eggs, meat, toast, and waffles incorporated. You can customize it as per your choice.
The real Pros play with Waffle Irons. That's why we've partnered up with @adidasgolf to create a waffle-inspired golf shoe in honor the first major of the year.

Available in Men's and Women's sizing at https://t.co/5gPfFGyY96 on April 7 pic.twitter.com/PT229L1zyN

— Waffle House (@WaffleHouse) April 4, 2022
Apart from this, they also have breakfast options in eggs and meat. You can choose how many eggs you want, how much cheese you want, size of the piece of meat. Basically, you can customize everything here. The best part is, that you can now watch out for your calories. As you add ingredients to your meal, it will show all the nutrients you are going to consume.
If you are someone who is regular to this place, you can take advantage of their discounts for regulars. You might get daily discounts or coupons. They also have a store where you can buy products of their merchandise. Here you can get Waffle House t-shirts, sweatshirts, sunglasses, masks, Coffee, Waffle mix, and more! You can also give their gift cards to your loved ones!
Remember, it is one of the most crowded breakfast places in Destin. Comparatively, the seating area is smaller and you would want to wait for quite a long time until you get a place to sit. However, their extremely helpful staff will attend to you and will help you throughout.
---
Bestseller Cupholder Bottles
---
Waffle House is a restaurant chain that is quite old. They have a museum that features the culture and history of the waffle house. The management arranges museum tours for a group of 10 people or more.
Opening hours: 24 hours
6. The Local Market
It is one of the fantastic breakfast places in Destin to grab your breakfast. It has everything you ask for. It is a huge place with a spacious seating area and a huge variety of food at an affordable price. The place is clean and organized.
Their food is delicious and coffee brews are just perfect to make your morning afresh. The staff is very inviting and will help you through the entire dining experience. You don't have to worry about the time while getting your breakfast because they serve it till 3 pm.
As mentioned earlier their breakfast menu is versatile and full of variety. They have breakfast burrito bowls, tacos, sandwiches, biscuits, toast, donuts, rolls, and so on! They also have breakfast bowls, egg preparations, special local market bowls, yogurt bowls, etc. They have a curated menu for kids as well such as turkey sandwiches, cheese sandwiches, juices, etc.
All food items are of amazing quality, freshly prepared, carefully cooked, and gathered together. This makes The Local market one of the most fantastic and wholesome breakfast places in Destin.
This is an ideal food joint if you want to go there along with your kids. The ambiance of the place is really fun and your kids can enjoy their arcade games as well. Since the seating area is pretty huge it normally accommodates all of its guests and guess what? No waiting time as well!
You can buy their gift card which is available in both physical and online ways. The best part is there is no expiry date. You can buy it anytime and you can redeem it anytime you want to.
You can also order your food online from their website.
Opening hours: 7 Am.
7. Capriccio Cafe
The Capriccio Cafe is the best Breakfast place in Destin for a weekend. Although, this cafe only serves brunch on weekends, serves a wide variety of food. They serve authentic Italian food from EGGPLANT PARMIGIANA to CARPACCIO DI MANZO, you will get everything here.
They have paninis, salads, authentic pizzas, kinds of pasta, and so on. For the brunch, they have sweet and savory crepes, french toast, sandwiches, smoothies, specialty quiches, and many types of egg preparation served along with different juices and smoothies.
The brunch is served till 3 pm and on Saturday, and Sunday only. You can order the food online also.
If you are someone who watches calories and keeps track of nutrients being taken, this place is a gem for you. You can browse over different kinds of pasta and also opt for their gluten-free options.
The best part about their breakfast is it's authentic, locally prepared, and seasonal. You should also try their lunch and dinner menu to explore Italian cuisine. Take an advantage of happy hours from 4 to 7 pm. Also, you can get a bottle of wine for half the price on Saturday and Sunday along with the brunch.
Plan your romantic breakfast date with your significant other at Cappricio cafe for the most authentic and cozy experience. You can also purchase their gift cards and can gift them to your friends and family.
Opening hours: 6 am
8. Another Broken Egg Cafe
As the name suggests this cafe is a gem option for breakfast. They have been serving amazing breakfast, brunch, and lunch menus for a couple of decades now.
Their dishes are not typical ones, each and every dish has its unique artisanal touch. They have turned breakfast classics into a really creative way and have also invented mouth-watering egg preparations.
The ambiance of the place is cozy and casual and each meal experience feels memorable. This makes the restaurant one of the most adored breakfast places in Destin. It is a restaurant that runs on the "Nothing Short of Right is Right" principle.
Their menu consists of a wide variety of pancakes and waffles, different egg preparations like benedict, french toast, omelet, scrambled egg, etc. You can get every type of egg preparation here. You name it and it is on your table.
You must try one of their specialty Shrimp Benny which is Poached eggs on grilled focaccia with sautéed mushrooms, roasted peppers, onions, and arugula. Topped with Gulf shrimp in a creamy velouté sauce and green onions. Served with fresh seasonal fruit. Their stuffed omelets are also worth the try.
Being an egg specialty restaurant they have a great innovative variety of omelets and scrambled eggs. You can also have their gourmet burgers and sandwiches that are specially curated for your taste palate. They also have a kid's menu making the place ideal for kids as well.
They have a special gluten-free menu and dishes that are high in nutrients, If you are a health-conscious person who watches calories then this is the place for you.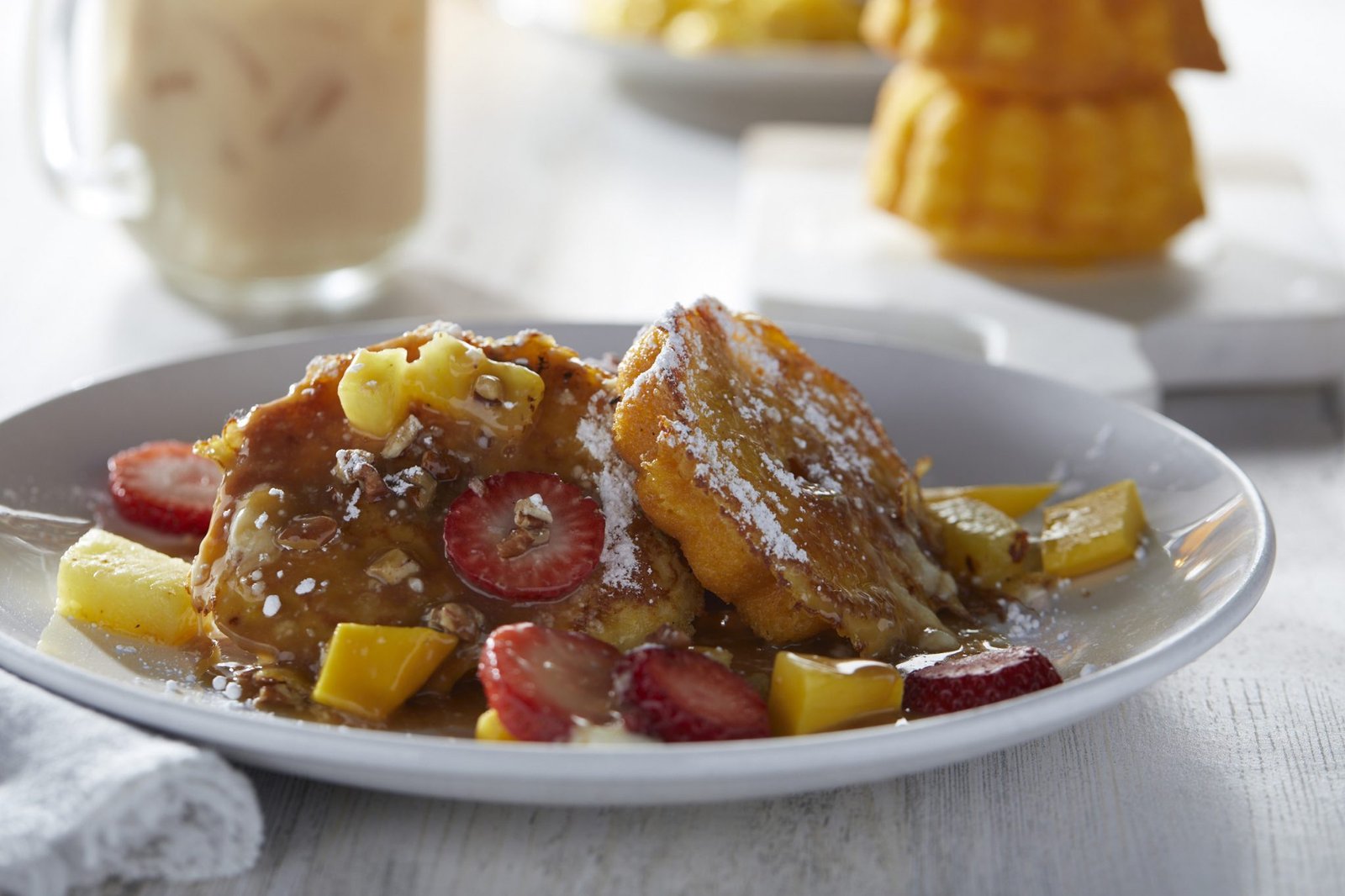 They have a seasonal menu where they serve delicacies Chilaquiles, Piccata Benedict, Mango Margarita, and so on. Waffles, chocolate pancakes, chocolate milk, and so on are served to kids as a kid's menu. So, overall it is one of the best breakfast places in Destin.
Opening hours: 7 Am
9. Donut Hole Bakery And Cafe
This is one of the most popular breakfast places in Destin. It is popular and one of the oldest. If you want to take a gist of Destin's authenticity, you must visit Donut hole bakery. If you want to visit the cafe in the morning, make sure you be there early, as the place is always crowded for breakfast and you might need to wait but, it will be worth it.
You will get an oversized omelet, eggs benedict, donuts, or other breakfast classics here and no dish will disappoint you.
Donut hole bakery is a place where every dish that comes out of the kitchen looks utterly delicious and you just get confused about which one to order.
As their name suggests, the place specializes in delicious donuts to pacify your sugar quench. But, apart from this, you will also get a classic breakfast menu including egg preparations, french toast, pancakes, and so on. They have a menu for your sweet tooth and a special kid's menu as well!
Their egg preparations are served the entire day. They have a fair amount of omelets, scrambled eggs, sandwiches, and burgers. You must try their breakfast burger; Sirloin Burger topped with a Fried Egg, Bacon & Cheddar Cheese, served with Hash Browns.
A variety of pancakes is their specialty and the most popular on the menu. For your nutrition hunger, you can opt for a diet plate that consists of home baked buttermilk biscuits topped with sausage patties, cheese & fried eggs, smothered in cream gravy & served with hashbrowns.
Opening hours: 6 am
10. Cafe Destin
If you are in Destin, Cafe Destin is a must-visit breakfast place. It's more of a restaurant than a coffee shop and the place is thoroughly neat and clean. Its breakfast menu is surprisingly wide and they serve anything from breakfast classics to waffles with coffees.
They use all the disposable plates making it easier to keep the area cleaner and easier for takeaways. Their breakfast menu has different types of egg preparations with meat and salmon, and a variety of omelets where you can also choose from different ingredients like the choice of cheese, veggies, etc.
For your sweet tooth, they also have a wide range of waffles, pancakes, and french toast that you must try. To accompany your freshly brewed hot coffee, you can go for their fancy toasts, biscuits, and croissants.
You can also come here for delicious sandwiches, salads, and burgers while sipping your beer or mimosa!
Opening hours: 7 am
11. Crackings Cafe
The Crackings Cafe is known for its fast service and hence a short waiting time. Not just fast, the food here is delicious as well and you can definitely consider this breakfast place in Destin as your next breakfast stop.
The restaurant was opened in the year 1998 and now they have two restaurants- one in Destin and another in Santa Rosa Beach, Florida.
They have different starters out of which you must try their cinnamon roll. They also have several types of benedict and omelets and scrambles. For the sugar rush, they have the classics dishes like tiramisu french toast, banana foster, and praline peccary.
you can also plan your brunch on weekends here and can go for their wraps, pies, steak, seafood, or just a classic BLT sandwich. They also have a few healthy options for health conscious people.
Apart from these, you can always get your classics here. If you are a calorie watcher, then they also have a few gluten-free options available to them.
Opening hours: 7 am
12. The Pancakery
Want to have pancakes, early in the morning? This is the place for you. You will get numerous options for breakfast and pancakes here at a reasonable price.
The place has now expanded its operations in Panama city as well. They have everything from gourmet pancakes, and eggs to a kids' menu as well. You will get so many options and flavors like apple, strawberry, blueberry, and banana in pancakes to indulge in. You name the flavor and you have it on your plate. You can also get a pancake made with whole grains. So you don't have to kill your cravings for pancakes while following a healthy diet.
You can also make your own choices to build your favorite pancake. You can choose your batter, filling, and topping, and voila! you are done!
Along with pancakes, it also serves classic egg preparations like omelets, scrambles, and french toast. You must try their Grilled shrimp omelet or you can also choose ingredients to build the omelet.
For your sweet tooth, they have banana foster, waffles, and crepes as well.
Overall, for pancakes, this is the best breakfast place in Destin.
Opening hours: 7 Am
13. First Watch
It was termed First Watch after the nautical word for the first shift of the day, which translates to breakfast out. There are presently 310 First Watch restaurants, with 256 owned by the firm and 54 franchised. The Egg & I and Sun & Fork are two more brands owned by the company, with a total of 364 sites.
Needless to say, it is an experienced and one of the best breakfast places in Destin. They do have tremendous food and beverage options available.
They have classic breakfast options, egg preparations, juices, a variety of salads, omelets, healthy bowls, burrito bowls, and so on!
They also have very attractive-looking beverages that can wake up your senses. You can customize your dishes and also can watch calories. Every nutritional fact is written below the name of the dish so it is an ideal breakfast place in Destin for health conscious people.
They have an attractive and delicious kid-friendly menu as well that is packed with nutrition.
Now you can order their food online from their website and can also look for new additions to the menu and their seasonal specialties.
Opening Hours: 7 am
Read more: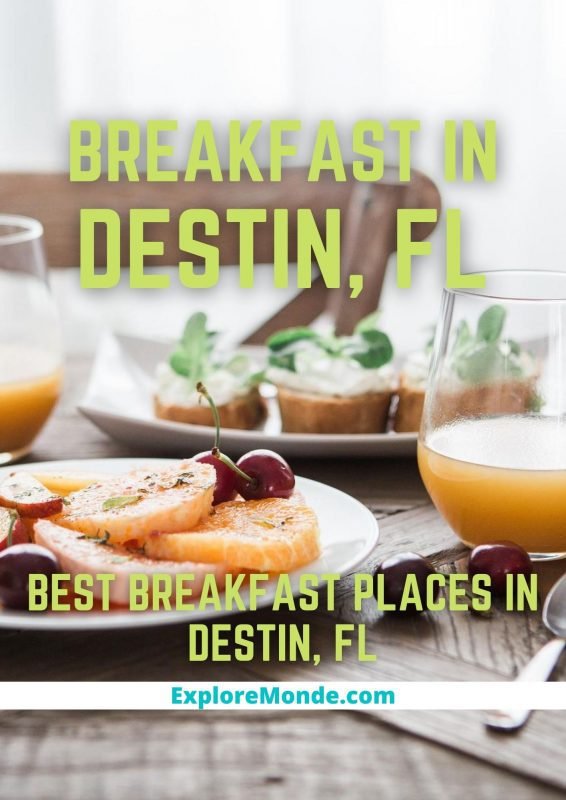 ---
Note: The hours of operation, ticket prices, and admission criteria of museums, parks, etc. may change from time to time. For the most updated information, we recommend checking the official website of the attraction directly prior to your planned visit.
Blog Categories: Asia, Africa, Europe, USA, Australia & New Zealand, France, Germany, India, Italy, Spain, Sports, Switzerland, Travel Tips, UK, Products
More From The Blog
---