Tallahassee, nestled between the Gulf of Mexico and Georgia, is actually the capital of Florida, not Miami or Orlando as some might assume. The city of pleasant, warm, and sunny weather is known for its abundant greenery and nature trails available for people to enjoy the outdoors and nature.
Best Bars In Tallahassee (Jump To Section)
People can get involved in various outdoor activities and Have access to the Gulf throughout the year, it makes for a perfect combination. This shouldn't mean that Tallahassee has only serene wide open green fields. It also has much more to offer to those who are willing to explore. Though it might not be a party destination, it has plenty of amazing bars and nightlife scenes that one can enjoy and have fun with. There are many places you can visit and try out their craft beer as well as an amazing ambiance along with mouth-watering foods. It has a variety of options for all legal-aged adults, whether you are looking to rage and party late at night in an upbeat, college student-dominant crowd or enjoy your delicious cocktail in an upscale establishment with an equally amazing view.
Whether you are in Tallahassee for a vacation or just looking to explore new bars and have fun, we have compiled a list of the 11 best bars in Tallahassee that you should consider checking out.
Best Bars In Tallahassee
1) Liberty Bar and Restaurant
This is a classy place that has a pretty mix of diverse crowds. They have a comfortable hangout spotlighting so it doesn't get too bright either. The decor is not too flashy but it is rather subtle and sophisticated. They have large dining tables so they are good to entertain large groups of people if you come here for dinner. They dim the lights after certain hours and increase the volume of music to give you the bar feeling. They offer unique bespoke cocktails which are nothing less than delicious. They also offer craft draft beer, which people like a lot. They have a large niche drink menu as well.
Not kidding, #tallahassee Liberty Bar and Restaurant has the best brunch. Pastrami salmon benedict! Yuuuum pic.twitter.com/oKL2cmOoG2

— Sam S. (@bewitchedmae) April 15, 2017
The ambiance is cozy, warm, and welcoming. The crowd isn't filled with too many college students either. They offer a perfect hip as well as a mature place where you can grab a pint and have a rather delicious dinner too. Their Scotch Eggs are highly recommended and are one of the most popular items on their menu. They have a rather extensive menu which has something or the other for everyone. The food not only tastes amazing but also looks deliciously appetizing. Other popular dishes on the menu include Steak Frites, Mac and cheese, and Chicken and Waffles. They also have vegan options available. The service is excellent too. They also have an outdoor seating area. Most of the days, they remain open from 5:00 p.m. to 2:00 a.m. It is located at 1307 N Monroe St, Tallahassee, Florida.
2) Bar 1903
This is one of those locations which are a must-visit if you are exploring for bars to visit. It is located in the historic Walker Library. This place honors the history of mixology while curating a cocktail experience for their customer. Situated in an area filled with modern architecture, the Library Bar 1903 stands out with its old and classic look which lends it a character of its own. The interior decor is nothing less than class and sophistication. There is an abundance of wood combined with little green here and there under a double-height ceiling creating an ambiance, which is nothing short of elegance.
Drinks and apps in an old library. Bar 1903 #tallahassee pic.twitter.com/wA56vLSI47

— Sissy Curto Hand (@SissyHand) October 16, 2021
Their most popular items on the menu include Charcuterie Board and White Negroni. Both of these are highly recommended. They have a massive menu of cocktails, which can serve practically anyone regardless of how nuanced your taste buds are. They have an extensive food menu to go with the cocktail menu, which has unique and special drinks. The food is delicious and the service is top-notch too. This small and cozy place makes for a perfect location for your next dinner date. The place remains closed on Sundays. For the rest of the week, it stays open from 5:00 p.m. to 11:00 p.m. and on weekends it remains open till midnight. It is located at 209 E Park Ave, Tallahassee.
3) The Brass Tap
This place has multiple things to offer. They have an Indoor conventional bar where you can sit and grab a chilled one while you watch sports on the TV. They also have an outdoor patio seating arrangement where you can sit with your friends, eat food and enjoy their amazing beers and have endless conversations with them. The outdoor seating places have green grass and make you feel you are having beer and food at your friend's place. The tables outside have individual shades too so it doesn't get too sunny. The indoor seating is perfect for small groups of people. The pub has an overall festive and upbeat feel to it. It makes for a great location to catch the weekend game with the boys.
Happy Friday!🍻Tomorrow is the Tallahassee Brews & Burgers Festival at The Brass Tap Midtown! We'll have our award-winning White Chocolate Cinnamon Coconut Creatures in the Dark Chocolate Sweet Stout, Grapefruit La La Land West Coast Style IPA, Lager, and Mango Wit at the event! pic.twitter.com/6ZepgkT7kD

— Proof Brewing Co (@ProofBrewingCo) April 6, 2018
And for the ladies, the outside patio has a perfect feel to catch up with your friends and have a blast trying out their myriad of wine options. They offer an extensive selection of beer as well. Some of the unique things that you can find here are Mango beer and Girl Scout Cookie Beer Flight. Their food menu is also large, offering conventional dishes like nachos, Tacos, rib sandwiches etc among other things as well. The food is delicious and the ambiance is also amazing. They also have live music if you don't want to watch TV. They stay open throughout the week from 4:00 p.m. to 12:00 a.m. On weekends they open early at noon. It is located at 1321 Thomasville Rd, Tallahassee, Florida.
4) The Leon Pub Inc
If you are looking to visit a place that has that old retro look and charm to it then you should consider this place. This pub looks like the pubs of the past, Harding anything modern or closely reminding you of it. The place has retro wooden furniture and classic pool tables. This minimalist and retro decor will make you feel like you have been transported back in time. This also creates an ambiance good for truly enjoying the time out with your friends and some truly amazing beer.
Found this at The Leon Pub in Tallahassee. Mabuhay! pic.twitter.com/apFi7HvNTW

— Bobby Caina Calvan (@BobbyCalvan) September 15, 2020
They also have an outdoor seating arrangement for those who want to sit outside. They have a lot of conventional Bar games which are fun and you will surely enjoy competing with your friends. Their beer selection is huge and is at fair prices also. The place is a perfect location to have a chill and relaxing time with either yourself or your friends. The bartender is friendly and the service is amazing. There is a jukebox available too which adds to the charm of the place. This is a great alternative to regular pubs. The place remains open throughout the week from 5:00 p.m. to 2:00 a.m. It is located at 215 E 6th Ave, Tallahassee, Florida.
5) Bullwinkle's Saloon
This is a place perfect for students and young people looking to have a blast at a lively, fun place which is pocket friendly too. The place from the outside has the traditional look of the wild wild west drinking saloons. The use of lots and lots of wood adds to the feel of the place. It is one of those places that is famous for its young crowd and energetic ambiance. It is a must-visit place for your 21st birthday. The place remains lively and fun due to the band's performances and DJs blasting some bangers. One of the things it is famous for is its daily drink specials. It is a great place for you to have a blast with your friends and enjoy partying out with them.
You can understand that this is a college crowd-dominant place from the fact that you can hope to see beer pong tables. The drinks are cheap and the place has ample space to dance and truly enjoy yourself. One of the most popular things on their menu is the Y Boat consisting of white vodka and either Redbull or some beer. On Thursday nights, they have 10 dollars for all-you-can drinks for students. This is a must-visit place for the younger crowd if you are on a budget and want to have a great time. The place remains open throughout the week from 8:00 p.m. to 2:00 a.m. It is located at 620 W Tennessee St, Tallahassee, Florida.
6) Warehouse Whisky Bar
This place is for all whisky aficionados. This is a place where you can get a great selection of bourbon and whisky. A very simple and minimalist place where you can enjoy drinking and have a calm, relaxing time. It is a spacious and informal place where you can just sit back and unwind after a long day. There is also an attached pizzeria too. The decor is minimalist and old-fashioned with spotlights and dim lights all over the place providing an ambiance where you can just enjoy your drink and sway with your own thoughts. The whisky and Bourbon selection is absolutely huge. People who truly enjoy drinking whisky would love the place.
They also have beer selections available for people who don't want to drink whisky. The bartender is friendly and makes delicious cocktails made out of whisky and Bourbon. Whether you want the classic Sazerac or Boulevardier, you are not going to be disappointed. This is one of those places where you can just sit and slowly enjoy your perfectly crafted cocktail with each sip. They also have a handful of vodka, gin, and rum of the top shelf. The service is great and the food menu is also decent-sized. You will find something or the other to eat as they have most of the common things like salad, pies, appetizers, etc. The place remains open throughout the week from 5:00 p.m. to 1:00 a.m. It is located at 603 W Gaines St, Tallahassee, Florida.
7) The Palace Saloon
This is a great place for those who are looking for a pocket-friendly spot and also don't want too much of the student crowd. This place certainly has the old, timeless, and unpretentious charm about it. The place isn't too loud or gaudy. It feels like going back in time when you step into the place. It has a lot of bar games to offer. From Dartboards to pool tables, it has plenty of games to keep you engaged and entertained. The one-dollar beer is an absolute steal. What can one dollar get you these days? What the place lacks in decor gives back to you in the form of inexpensive beers.
I ran the Palace Saloon 5k and earned a free mimosa @MadisonSocial! #Tallahassee #TLH #ihearttally #eatthis pic.twitter.com/hUiC1oyi05

— Mike Bonfanti (@sweeteabourbon) April 21, 2018
This is one of the oldest bars in the city and it reflects in its exterior as well as interior. The old, timeless charm and practical wits of the place surely create an ambiance that is like no other. The crowd is always nice and friendly. The food is also great. The service is top-notch too. For those who want an inexpensive option and looking to drink and eat at a location, which has a lot of games to keep them entertained, then they should check this place out. The place remains closed on Mondays. For the rest of the week, it stays open from 3:00 p.m. to 2:00 a.m. It is located at 1303 Jackson Bluff Rd, Tallahassee, Florida.
8) Recess at CollegeTown
This is a place where you can do a lot of things from having a blast on the dancefloor to swimming in the pool. This is a rather swanky nightclub which provides you with an opportunity to have a lot of fun. This is a rooftop place with an indoor space as well. The ambiance is lively and always upbeat. The lights and aesthetics create a mood suited for having a nice time drinking with your friends and partying your heart out. The place gives you an amazing view of the Doak Campbell Stadium. They offer delicious cocktails and bottle services as well.
The DJ and the music creates an upbeat mood while the lights add to the ambiance for an overall amazing time. The prices of drinks are reasonable so it is not expensive either. The service is also amazing. If you are looking to party and you are in a large group then this place is highly recommended. The food menu is also fair-sized and you can find something or the other according to your preference. The food is tasty and the bartenders are friendly. They also have private cabanas available if you want some privacy and want to drink and eat among just your friends. They remain open only on Fridays, Saturdays, and Tuesdays from 10:00 p.m. to 2:00 a.m. It is located at 705 S Woodward Ave, Tallahassee, Florida.
9) Poor Paul's Pour House
This is one of the oldest bars in the city and it has been open since 1976. This place is absolutely minimalist with an old-school bar look and vibe to it. The neon signs, the low ceilings, and booth lights, all scream old-school bar and give out a vibe like you have been transported back in time. It has a cozy feel to it. It has been maintained fairly well for how long it has been open. There are conventional bar games available that will keep you entertained. There are a couple of pool tables, dart boards, and trivia games available. There is also karaoke available for you to let your inner singer come out in public and enjoy after you have had a few drinks.
This is especially a good option for those who are looking to visit or find a new location that is not too heavy on the pocket either. They serve inexpensive beers and drinks. The whole place has an incredibly welcoming and comfortable feel to it. The bathrooms are covered with old comics and wall graffiti. This is a perfect place for you to experience the classic good old bar vibes, jukeBox music, pool, darts, and sports on the TV. The crowd is friendly as well as the staff. They remain open throughout the week from 3:00 p.m. to 2:00 a.m. It is located at 618 W Tennessee St, Tallahassee, Florida.
10) Waterworks
This place has a tropical vibe to it. If you want to have a chill and laid-back afternoon with your friends and family where you can have some drinks and eat good food then you should check them out. The decor of the place is not only convincing but also beautiful. The kitschy atmosphere, as well as the tiki bar-style drinks, are fun and delicious at the same time. This place has live music and they always have new performers. It has an eccentric and unique vibe to the place which is not like any other. The drinks are fairly priced and the tropical drinks are delicious, to say the least. Some of the popular dishes on their menu include Paella, Sangria, Eggplant Parm subs, etc.
A few more from Waterworks in Tallahassee, one of my favorite places for a relaxing evening out. pic.twitter.com/8Js1YCYmCK

— E Mart (@erichm) June 8, 2022
They also have outdoor seating available. At night, they dim the lights, and The DJ and live performance turn the place into an eclectic and hip bar where one can dance and have delicious drinks. The food tastes amazing and the service is also top-notch. This is a perfect spot if you are not in a hurry and can sit back, relax and enjoy the ambiance as well as the tiki drinks they have to offer. The place is also really old so they know how to create an atmosphere and be a great host. They are closed on Sundays and Mondays. For the rest of the week, they remain open from 5:00 p.m. to 10:00 p.m. On weekends, they remain open till midnight. It is located at 1133 Thomasville Rd, Tallahassee, Florida.
11) Level 8 Lounge
It is one of the upscale, chic, and sophisticated places. As evident from their name, they are situated on a tall building providing you with a view of the city horizon which looks absolutely beautiful. At night, it looks particularly picturesque and serene. You can sit out on the balcony and enjoy your drink while gazing far into the city skyline. At the time of sunset, you would want to sit out and enjoy the view with a chilled one. The decor of the place is posh and minimalist but in a good way. Some of the most popular drinks they offer are Chocolate Martini, Banana foster, whisky sour, etc.
Reason to love TLH #64: Level 8 Lounge and the stunning Tallahassee views it provides. Stop by for drinks, live music, and an unforgettable view of the city you call home. #iHeartTally #Level8Lounge #Tallahassee pic.twitter.com/YbzdAOM3ul

— KCCI Tallahassee (@KCCItallahassee) July 19, 2019
The bartenders are talented and friendly. They can make you anything and will execute it to perfection. The food menu is also relatively extensive, from which you can order as you like. The food is equally delicious, if not more. The overall ambiance is perfect to unwind and relax after a long day or a week. The staff is also friendly and polite. If it interests you then you can also smoke a cigar outside while gazing at the stunning view of the city. They remain open throughout the week from 4:00 p.m. to 11:00 a.m. On weekends, they remain open late till midnight. It is located at 415 N Monroe St, Tallahassee, Florida.
We hope you found our list of the best Bars in Tallahassee helpful.
Read more: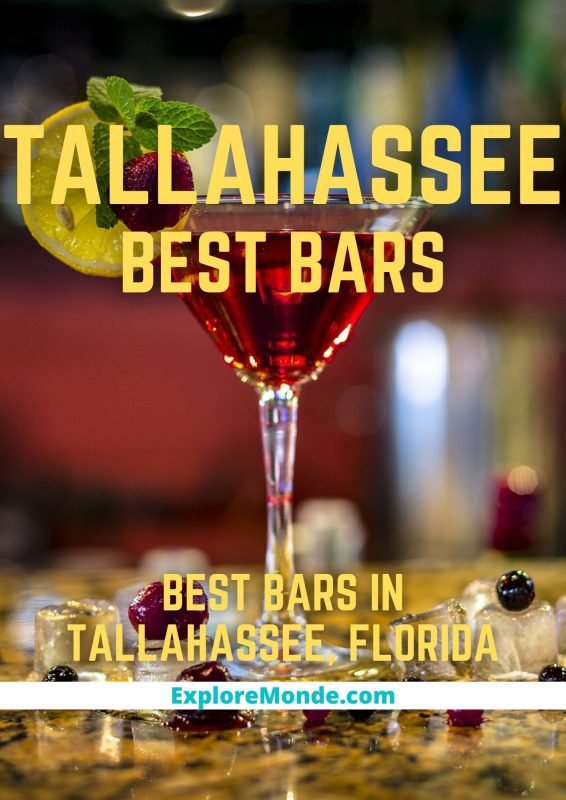 ---
Note: The hours of operation, ticket prices, and admission criteria of museums, parks, etc. may change from time to time. For the most updated information, we recommend checking the official website of the attraction directly prior to your planned visit.
Blog Categories: Asia, Africa, Europe, USA, Australia & New Zealand, France, Germany, India, Italy, Spain, Sports, Switzerland, Travel Tips, UK, Products
Fresh From The Blog
---