Atlanta is a city with so much to offer, it's hard to know where to start. There are so many things to do in Atlanta that you can easily get overwhelmed by the sheer amount of choices available. From historical sites, cultural experiences, and outdoor activities – to food, shopping, and more – Atlanta has something for everyone! Here are some of the best things to do in Atlanta.
Enjoy an afternoon at Piedmont Park
Visit The Coca-Cola Museum
Enjoy a culinary experience at one of the many restaurants or cafes in Atlanta
Attend an Atlanta Hawks game at Philips Arena
Shop for unique gifts or furniture at one of the many Atlanta shopping destination
Atlanta offers visitors a cultural experience unlike any other. Atlanta is home to the world's largest number of black-owned businesses, and it has plenty of historical sites like the Martin Luther King Jr. National Historic Site, the High Museum of Art, and the Atlanta History Center.
Atlanta, Georgia has something for everyone. The list below highlights the 33 best things to do in Atlanta.
Best Things To Do In Atlanta 1-10
1. Atlanta Botanical Garden
The Atlanta Botanical Garden is one of the oldest botanical gardens in North America. It was founded by a group of citizens led by Dr. William J. Pemberton and Mr. Wylie Hall, who donated their land for public use on behalf of The Georgia Horticultural Society (later renamed The Atlanta Horticultural Society).
The garden's mission statement reads: "Our vision is to inspire people through science and beauty so that they may deepen their connection with nature."
As such, it aims to create an environment where visitors can learn about plants from around the world as well as view some rare ones found only at this site or in other parts of the state due to limited numbers elsewhere.
The garden is located in Midtown Atlanta at 1345 Piedmont Avenue, Atlanta, Georgia 30309. It is open daily except for Thanksgiving and Christmas Day.
Things to do in Atlanta Botanical Garden Atlanta
Atlanta Botanical Garden is a beautiful and peaceful refuge for sun, rain, or snow. It has been in existence for decades and offers a variety of activities to help you get your mind off the hustle of daily life.
1) Escape from reality with visits to their cafe garden
2) Take time out on any given day at the library, nature center, or conservatory gardens
3) Delight in educational programs such as workshops for kids about butterflies.
2. Georgia Aquarium
Georgia Aquarium Atlanta is a world-class aquarium located in the heart of downtown Atlanta. The Georgia Aquarium has been voted "Best Place to See an Exhibit." With its innovative exhibits, state-of-the-art facilities, and educational programming like dolphin shows, it's no wonder that AJC readers' choice for the best attraction was awarded to the Georgia Aquarium!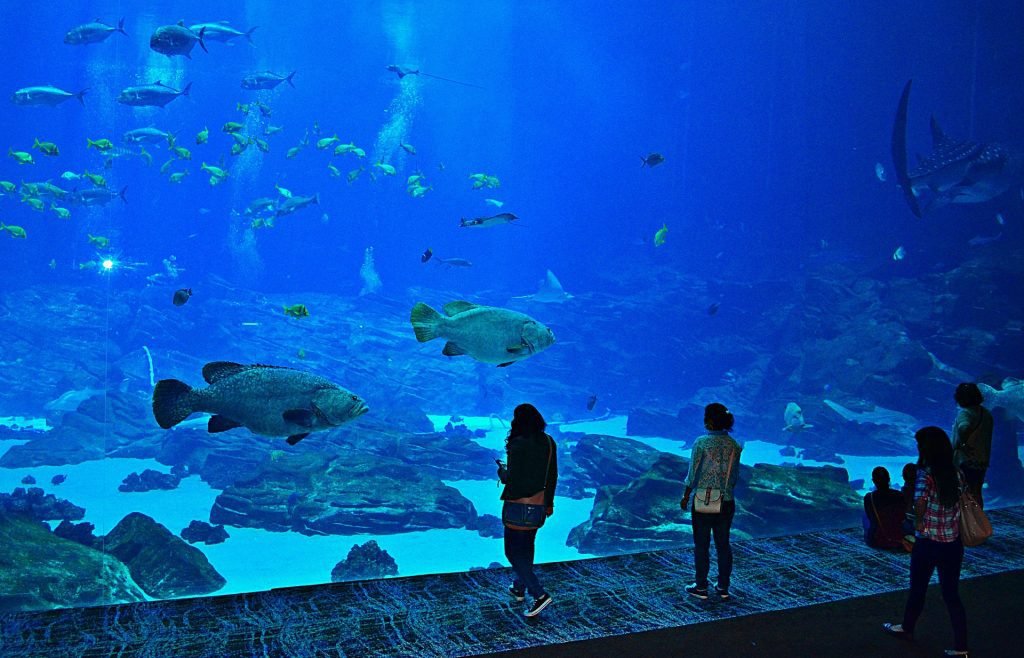 Things to do in Atlanta Georgia Aquarium
The Georgia Aquarium is a world-class aquarium located in the heart of downtown Atlanta. The Georgia Aquarium has been voted "Best Place to See an Exhibit." With its innovative exhibits, state-of-the-art facilities, and educational programming like dolphin shows, it's no wonder that AJC readers' choice for the best attraction was awarded to the Georgia Aquarium!
1) Take a tour of the world's largest aquarium (in the Western Hemisphere)
2) Watch a dolphin show
---
Bestseller GoPro Selfie Sticks
---
3) Visit the touch tank
4) See the world's largest fish tank
5) Watch a shark feeding
6) See the world's largest whale shark
7) Visit the aquarium's newest exhibit, Ocean Voyager
---
Bestseller Copper Water Bottles
---
Location: 225 Baker St NW, Atlanta, GA 30313, United States
3. World of Coca-Cola
For decades, the World of Coca-Cola has been a place to experience great moments and unforgettable memories.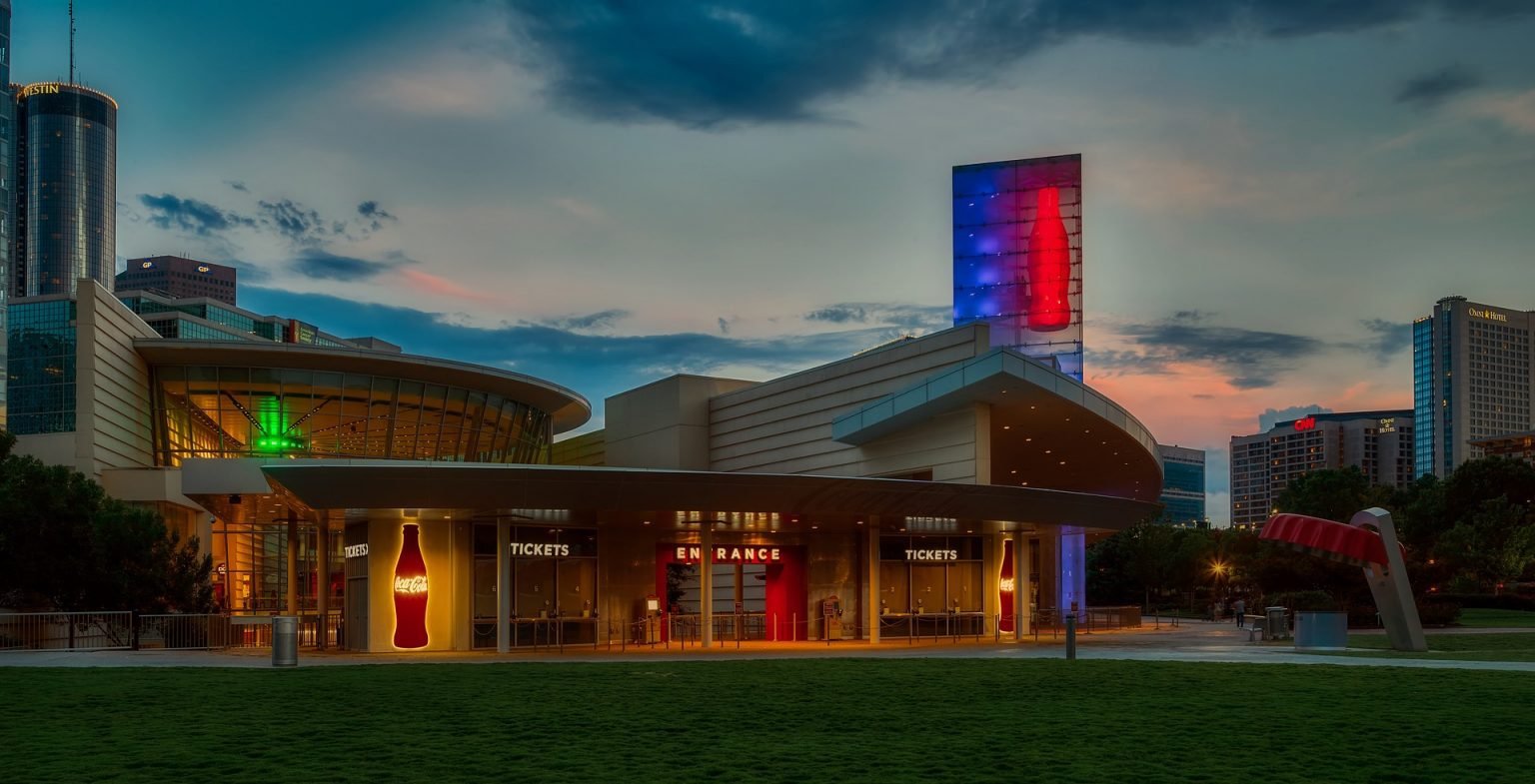 This immersive attraction features interactive experiences that allow guests to travel back in time through iconic moments such as:
Fountain Moments – Discover when it all started for Coca-Cola with incredible hands-on demonstrations and exhibits from decades ago.
The Journey Back – Step into an 8mm film reels showing real people doing things you might have seen while visiting your local bottling plant
---
Bestseller Cupholder Bottles
---
Time Machine Presentation Room – Witness how the products were once packaged before being bottled today.
The Vault – See the original recipe (maybe?) for Coca-Cola and other secret formulas
Coca-Cola Store – Shop for Coca-Cola merchandise and souvenirs
Coca-Cola Freestyle – Taste over 100+ different Coca-Cola beverages from around the world.
Location: 121 Baker St NW, Atlanta, GA 30313, United States
4. Martin Luther King Jr National Historic Site
The Martin Luther King Jr National Historic Site is a memorial to the American Civil Rights leader and Nobel Peace Prize winner, who was born in this city. The historic site contains exhibits from his life and works as well as historical artifacts such as newspapers, pamphlets, and speeches that he delivered during the height of his career. It also includes audio-visual presentations about him by people who knew him or were inspired by what they heard about him. The site is located in the Sweet Auburn district of Atlanta, which was the center of African-American life in Atlanta during the time that King lived there.
The Martin Luther King Jr National Historic Site is open from 9:00 am to 5:00 pm Monday through Saturday and 12:00 pm to 5:00 pm on Sunday. Admission is free.
Things to do in Martin Luther King Jr National Historic Site
Historic Walking Tour: Discover the history of Atlanta and Martin Luther King Jr's leadership through this guided tour.
Audio Guide to Dr. Martin Luthur King Jr National Monument: Hear a well-documented audio guide that covers the entire site, including some surprises along the way!
Location: 450 Auburn Ave NE, Atlanta, GA 30312, United States
5. Fernbank Museum of Natural History Atlanta
The Fernbank Museum of Natural History, Atlanta is the largest public natural history museum in the Southeast. It houses over 8 million specimens from all major taxa and offers temporary exhibitions to inspire visitors' curiosity about nature. The permanent exhibition showcases a glimpse into our world's biodiversity that spans millions of years with an IMAX theater which will be opening soon offering spectacular views on animals ranging from dinosaurs to space exploration. A lot can happen at this 42-acre site – so wander through its trails or take part in one of their many educational programs such as playing archaeology detective or traveling back in time for a hands-on experience!
Things to do in Fernbank Museum of Natural History Atlanta
Explore the exhibits at Fernbank Museum of Natural History Atlanta. There are plenty of opportunities for guests to learn about life on earth, its ecosystems, and biodiversity through interactive experiences like touch-screen displays or virtual reality devices in each exhibit room.
Visit the planetarium to see how stars form and watch space missions from a host's perspective!
Experience what it is like to be an animal with this puppet show by Hetzia The Bat Theatre Company
Put your creativity into practice with our art museum where you can create artwork that will be on display for visitors' enjoyment
Paint some pictures in one of the classes and get creative outside as well – explore nature around.
Take a trip back in time with the Fernbank Museum of Natural History Atlanta's Time Machine exhibit.
Get up close and personal with some of the animals at Fernbank Museum of Natural History Atlanta's Animal Ambassador program
Go on a scavenger hunt to learn about the museum
Take part in one of the many educational programs offered by Fernbank Museum of Natural History Atlanta
Visit Fernbank Museum of Natural History Atlanta during one of their special events
Visit the gift shop to purchase souvenirs or gifts for friends and family
Eat lunch or dinner at the Fernbank Museum of Natural History Atlanta's restaurant
6. Center for Civil and Human Rights
The Center for Civil and Human Rights Atlanta operates as a non-profit human rights agency based in the United States. It is dedicated to advancing civil, political, economic, and social rights by promoting social change through education of policymakers about those issues; spearheading litigation; conducting advocacy training programs with legal practitioners on behalf of both public officials and citizens alike so that individuals have recourse when their basic democratic freedoms are violated.
The center is located in the heart of downtown Atlanta, Georgia, and is open to the public. It is a non-profit organization that relies on donations from individuals, corporations, and foundations.
The center does not accept any government funding or donations from corporations who may be affected in regards to its mission statement which means it relies solely upon private contributions for operating expenses such as rent, salaries, etc., but these funds are strictly allocated towards our cause without any unnecessary overspending since we believe material objects cannot buy happiness at all costs.
The center is a member of the International Network of Civil Liberties Organizations (INCLO) and the Global Coalition for Democracy and Human Rights.
Things to do in Center for Civil and Human Rights
The Center for Civil and Human Rights Atlanta has a number of activities to make your time here worthwhile. The center organizes tours, workshops, lectures, camps that focus on themes such as human rights education and the United States Constitution. You can also check out their museum which features historic artifacts from various civil rights moments in history including Jim Crow laws and the Freedom Riders Movement.
Location: 100 Ivan Allen Jr Blvd NW, Atlanta, GA 30313, United States
7. Fox Theatre
The Fox Theatre was designed by architect John Eberson, and it opened in 1929. The theatre's interior is noted for its unusual curving walls of plaster inset with faux gold leaf tiles set against a background of marble; the exterior features an ornate terra cotta façade resembling that seen at European cathedrals. Located near Centennial Olympic Park in downtown Atlanta, it hosts performing arts and other events such as films premiere screenings or concerts.
The Fox Theatre has been designated a National Historic Landmark.
Things to do in Fox Theatre
Fox Theatre Atlanta is the perfect place to spend an evening. Whether you enjoy traditional theater, dance performances, or music concerts, this venue has something for everyone in mind. The ticket prices are reasonable and events take place nightly so there's always a performance going on right now that interests you if it happens to be your night off from work!
Location: 660 Peachtree St NE, Atlanta, GA 30308, United States
8. Piedmont Park
Piedmont Park is located in the Midtown district of Atlanta, Georgia. It is one of the largest urban parks in America. The park was established as a city public work to provide for recreational and educational uses being brought about by its proximity to several major railroad lines which converged at what would become known as "the Big Four Depot" (now called Atlantic Station). Later it became an integral part of Atlanta's park system when it was annexed into then-City Beautiful plans for Andrew Young Sr.'s planned community – now referred to as Eastside – but continued operation outside the borders designated for that development plan.
As with many other urban areas where land acquisition has not been feasible or practical due to limited space within existing boundaries, Piedmont Park occupies both public property and private lots owned by various entities such as railroads/railroad companies; governmental agencies; charitable organizations: real estate developers/ownership groups who have donated property easements or donated funds toward constructional improvements under restrictions imposed upon them regarding usage (mostly prohibiting heavy industry); corporations including Coca Cola Company among others.
Things to do in Piedmont Park Atlanta
There are many things to do in Piedmont Park including playing a game of pick-up basketball, boating on the Chattahoochee River, and walking around. Enjoy shopping at one of the boutiques or restaurants located nearby such as The Antique Row Shoppes and Café & Bakery Riau. There is also an outdoor concert venue that hosts multiple concerts throughout the year! Stay for a late-night movie under starry skies with your friends if you're looking for some entertainment after dark too!
Location: 1320 Monroe Dr NE, Atlanta, GA 30306, United States
9. Atlanta History Center
For those of you who are interested in American history and would like to learn more about Atlanta, the city is home to a large number of museums that will appeal to your interest. If this interests you then be sure not to miss out on one such museum: The Atlanta History Center. This renowned institution was founded by philanthropists George Agnes Scott and his wife Ann Marie as well as businessman Henry Wielcome Mitchell Jr., all three members of Georgia's Civil War veterans for their contributions during the war against secessionism; which started just outside of downtown Atlanta with General John Bell Hood's attack before moving into town when Confederate forces captured it from Union troops at Piedmont Park (now Grant Park). From its founding until today, they have been a dedicated mission focused on preserving documents related specifically to modern-day African Americans in America while providing educational programs through seminars, lectures, theatrical presentations & symposia throughout each year.
The Atlanta History Center is located in the heart of downtown Atlanta. It is open Monday through Saturday from 10:00 am to 5:00 pm and Sunday from 12:00 pm to 5:00 pm. Admission is free. For more information, please visit their website.
Things to do in Atlanta History Center
Take a tour of the building's exterior and interior.
Explore an interactive timeline explaining Atlanta's history from ancient times to the present day.
Browse through exhibits that explore everything from major historic events, such as race riots in 1906 and redlining during WWII, to more mundane topics like vagrancy laws or architectural styles in the city.
Location: 130 W Paces Ferry Rd NW, Atlanta, GA 30305, United States
10. High Museum of Art
The High Museum of Art is a contemporary art museum located in Atlanta, Georgia. It houses one of the world's foremost collections of international modern and contemporary works, some dating back to the 1920s. The permanent collection has more than 18,000 pieces from nearly every major country on Earth as well as over 100 years' worth of American decorative arts and design.
The building itself was designed by architect Ivar Jorgensen who also conceived its iconic sculpture garden which features sculptures by Henry Moore; Alberto Giacometti; Pablo Picasso; Fernand Léger; Constantin Brâncuși, and Alexander Calder.
The High Museum of Art is a member of the Art Museums of Atlanta, a consortium of five major art museums in the city. The other four museums are: The High Museum is also a member of the American Alliance of Museums, and is accredited by the American Association of Museums.
Location: 1280 Peachtree St NE, Atlanta, GA 30309, United States
Best Things To Do In Atlanta 11-20
11. Center for Puppetry Arts
Atlanta is home to the Center for Puppetry Arts, which celebrates and produces new ideas in art form. Its goal is to bring together artists from around the world while inspiring adults and children alike with a wide range of performances including traditional theater, dance, puppeteering classes as well as educational programs that make learning easy through games. The center also creates original productions showcasing their talented staff's workmanship.
The Center for Puppet Art Atlanta brings international performers such as Héctor Salamanca (El Chavo del Ocho) or Wagner Moura (Elysium). They have been able to provide an abundant artistic outlet by celebrating diversity within one venue rather than having people separated into different genres like literature/theater vs film vs music etc.
The Center for Puppetry Arts Atlanta is a non-profit organization that was founded in 1996. The Center for Puppetry Arts Atlanta is a 501(c)(3) organization. The Center for Puppetry Arts Atlanta has been featured on the Travel Channel's "World's Best" series and has been featured in the New York Times, USA Today, and other publications.
Things to do in Center for Puppetry Arts
There are many things to do at the Center for Puppet Arts Atlanta. The museum is a perfect spot to learn about puppetry history and culture, see famous pieces from around the world, or just walk in and take it all in. It also hosts exhibitions throughout the year showcasing everything from modern-day American folklore to ancient Chinese shadow puppet plays that have been passed down through generations of families.
12. Oakland Cemetery
Oakland Cemetery is the oldest and most active cemetery in Atlanta, Georgia. It is a public park with 243 acres of land for reflection and contemplation. Established as one of the city's earliest parks in 1850 by Joseph Forsyth Johnson from his estate "Oakland" after whom it was named; Oakland Cemetery became home to many notable Atlantans including business leaders such as James Waters Bellamy who founded Coca-Cola Co., civil rights pioneer Charles Augustus Lafayette McGehee (who established what would become known as present-day Freedom Park), Union General John Mims Beard Jr., musician Aida Ethel Payne ("Aunt Honey"), artist Jens Jensen, philosopher Thomas Carlyle Harris Jr., educator Mary Holmes Terrell (first female president of Spelman College) among others.
The cemetery is also home to the graves of many Confederate soldiers, including General John Mims Beard, Jr., who was killed in action at the Battle of Atlanta. The cemetery is also home to the grave of former Atlanta mayor William B. Hartsfield, who died in office in 1971.
The cemetery is open daily from sunrise to sunset and features a variety of monuments and mausoleums.
Location: 248 Oakland Ave SE, Atlanta, GA 30312, United States
13. Centennial Olympic Park
Centennial Olympic Park is a park in Atlanta, Georgia that was built to commemorate the 1996 Summer Olympics. It has hosted many events such as concerts, festivals, sporting competitions, and special ceremonies. The Park hosts events with more than 17 million visitors each year.
Things to do in Centennial Olympic Park
The park is a great place to explore, especially if you're looking for something in particular. There are many events and activities going on throughout the year, including festivals such as Atlanta Arts Festival that takes place annually at Centennial Olympic Park; SummerBreakaway Music & FoodFestival each July through September; and HolidayFest with holiday lights adornments during December.
The park is also home to the Atlanta Cyclorama, a large-scale painting depicting the Battle of Atlanta. The painting was commissioned by the United States government in 1887 and completed in 1889. It is located on the grounds of Centennial Olympic Park.
Location: 265 Park Ave W NW, Atlanta, GA 30313, United States
14. Michael C. Carlos Museum
Michael C. Carlos Museum Atlanta is a museum for art and culture, located within the College of Arts and Sciences at Emory University in Atlanta that houses exhibitions from diverse cultures across time periods with an emphasis on global social justice movements to enhance public understanding of human struggle, creation, identity, and creativity. The museum opened its doors in 1919 as part of a $100 million capital campaign by Michael Carlos who also donated his personal collection as well
Things to do in Michael C. Carlos Museum Atlanta
Ebrik Coffee Room: Ebrik believes that coffee is at the core of human nature. They offer you not only a wide selection of the best coffees but also centuries-old brewing techniques which give each cup an exclusive flavor and aroma unlike anything else. Stop by and refuel with coffee, pastries, and snacks.
Also, check out the Museum Bookshop which has a number of books in almost all genres.
Location: 571 South Kilgo Cir NE, Atlanta, GA 30322, United States
15. Stone Mountain Park
Stone Mountain Park is a historic landmark in Atlanta, Georgia. It was opened to the public in 1965. In addition to the mountain itself – which served as one side of an ancient Indian burial ground and later became a quarry for construction projects such as the Stone Building, it also features attractions such as water parks, live concerts, and theatrical events; hiking trails; and camping facilities.
Activities in Stone Mountain Park
Studdard Picnic Area has 200 stone picnic tables and public grills available
Campground Sites offer picnic tables, grills, and fire rings for park visitors to enjoy
Pavilion Rentals at Stone Mountain Park to suit large gatherings of friends and family, like birthday parties and family reunions, are fun opportunities to celebrate!
Location: 1000 Robert E Lee Blvd, Stone Mountain, GA 30083, United States
16. CNN Center
CNN Center is a complex of buildings in Atlanta, Georgia that serve as the global headquarters of CNN and its sister networks. It was designed by architect Edward Durrell Stone who wanted to make it "one unified building", with direct access from all floors and open lines of sight between them for maximum efficiency.
The center takes up an entire city block bounded on the west by Marietta Street, north by Forsyth Street, east by Spring Street (a major street running through downtown Atlanta), south by North Avenue NW (also known as Peachtree Road). The complex's centerpiece is a pair of glass domes that rise 215 meters from street level atop twin 300-foot high marble columns flanking each side entrance facing onto these streets.
The complex is composed of two buildings, the CNN Center and the Time Warner Center. The CNN Center houses the main newsroom, studios, offices, and production facilities for CNN and its sister networks. The Time Warner Center houses the corporate headquarters of Time Warner (formerly known as Time Inc.), which owns CNN's parent company Turner Broadcasting System.
Things to do in CNN Center Atlanta
Visit CNN Center's expansive atrium, where you can find interactive exhibits that explore the latest innovations in technology and science today.
Location: 190 Marietta St NW, Atlanta, GA 30303, United States
17. Mercedes Benz Stadium
Mercedes Benz Stadium is a retractable roof football stadium in Atlanta, Georgia. It replaced the original incarnation of Turner Field and was constructed on the site of Hank Aaron's former home at the northwest corner of Mercedes-Benz Boulevard and Northside Drive (also known as "The Ted"). The stadium can seat up to 73,000 people when fully open with an overall height from ground level to upper deck location of 137 feet.
Mercedes Benz Stadium is the home stadium of Major League Soccer team Atlanta United FC and NFL team Atlanta Falcons. You can do a stadium tour and experience the Mercedes-Benz Stadium, including locker rooms and the field itself.
It's also used for other sporting events and concerts. It can also be booked for corporate events such as Conferences, Trade Shows, Conventions, Team Building Exercises, and other Social Events.
Location: 1 AMB Dr NW, Atlanta, GA 30313, United States
18. Zoo Atlanta
Zoo Atlanta is home to over 1,200 animals and many activities for guests of all ages. Zoo Atlanta has a plethora of activities to keep you entertained. From the zoo's own on-site restaurant and bar, to their other amenities such as Zoomazium – an amazing indoor children's play area with over twenty different attractions! It is literally impossible not to have fun at Zoo Atlanta.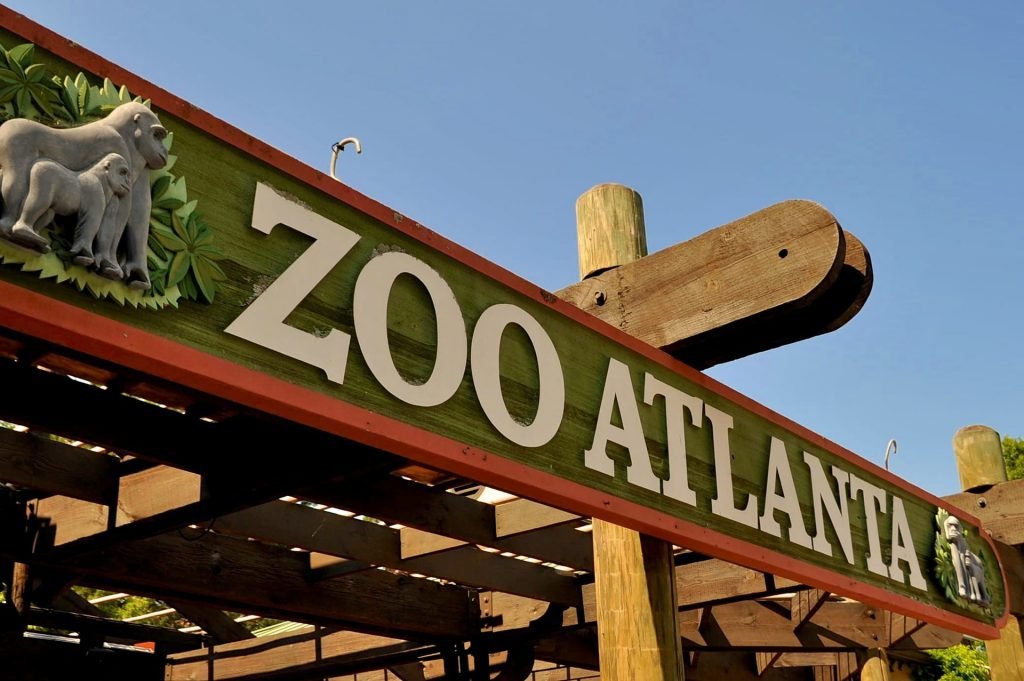 If you're looking for fun things to do in Zoo Atlanta with the family, check out a few of these options:
– Walk through the zoo's African Savannah exhibit while getting up close and personal with some lions.
– See monkeys swinging from trees or riding on an elephant at their regular feeding station!
– Watch birds swooping around high above your head as they get picked up by one of the bird feeders.
– Take a ride on the carousel and see the animals up close.
– Visit the petting zoo and meet some of our animals.
– Watch the giraffes feed in their outdoor habitat.
– See our giant tortoises, snakes, and turtles in their outdoor habitats.
– Feed some of our smaller animals like goats, sheep, or rabbits.
– Play with our interactive petting zoo area for kids of all ages!
19. College Football Hall of Fame
Home to one of the largest collections of memorabilia in all college football, The College Football Hall of Fame Atlanta is a museum that highlights various aspects and moments pertaining to American collegiate, professional, and high school football. It houses an extensive collection that includes over 100 interactive exhibits, more than 140 displays with thousands of artifacts from every era in these sports' history. The facility's main galleries house items such as uniforms worn by players on some winning team or key factor during any given season; it also has sections dedicated to individual teams like the Chicago Bears or San Francisco 49ers along with movies documenting their histories including footage shot live at old stadium venues worldwide.
Things to do in College Football Hall of Fame Atlanta
You'll find yourself in the College Football Hall of Fame Atlanta surrounded by a sea of memories. Here, fans can relive their favorite moments from years past or bask in new memories as they walk through hallowed halls and view football's biggest legends on display throughout the year. In addition to all that history, you're going to love this museum for its interactive exhibits where kids will be able to take part in activities like throwing a pass with an NFL quarterback at one station while admiring college stars' game-worn cleats at another stop!
Location: 250 Marietta St NW, Atlanta, GA 30313, United States
20. Ponce City Market Atlanta
Ponce City Market is a mixed-use development in Atlanta, Georgia. It was the largest private development project created by Jamestown Properties and the Central Atlanta Progress Corporation to date. The redevelopment of Ponce de Leon Avenue has been celebrated as one of the most successful urban revitalization efforts on any major city's main street in U.S history with an estimated $500 million investment made during its construction period.
A redeveloped portion of Ponce De Leon Avenue now hosts restaurants, retail stores, and art galleries which are within walking distance from MARTA rail stations
The multi-level building includes luxury apartments, condominiums, or lofts for sale; commercial space at ground level including eateries such as Sweetwater Taverna Bar & Kitchen; office spaces available to entrepreneurs looking for flexible lease terms ranging from 6 months to 5 years depending on market needs.
Things to do in Ponce City Market Atlanta
In Ponce City Market there are many things to do. From art and music performances to foodie tours, shopping for unique home decor items, participating in community events and classes offered at the Atlanta Beltline's Artopia Factory, or visiting one of their local breweries- this is a great spot! The market has been designed with outdoor space that connects all its levels by means of ramps. It also features an urban garden on every level accessible from street level as well as smooth concrete surfaces which make it ideal for casual strolling throughout the day. When you're done walking around take advantage of the top floor with views of Downtown Atlanta.
Location: 675 North Avenue NE, Atlanta, GA 30308, United States
Best Things To Do In Atlanta 21-30
21. Jimmy Carter Library & Museum
The Jimmy Carter Presidential Library and Museum is the presidential library of former U.S. President Jimmy Carter, located in Atlanta, Georgia on land donated by the city's founder and mayor William Hartsfield Jr., a lifelong friend of Mr. Clinton.
The museum includes permanent exhibits about international diplomacy with China; peace negotiations during his presidency; Cold War strategy for various crises including SALT I & II talks to address Soviet weapons deployments in Cuba during Operation Mongoose as well as Cuban missile crisis meetings (including those between John F Kennedy, Nikita Khrushchev & Fidel Castro). The exhibit also features an interactive timeline that illustrates key moments from his life such as campaign stops he made throughout Georgia or even how he came up with "Jimmy" while playing basketball at YMCA camp when young.
One thing you can do at this location is to take a tour around the various areas of the museum which includes exhibits about how he started out as a farmer and became president.
The Gala Gallery features an exhibit on international policy issues with artifacts that were central for each phase in their development including peace signs from Cesar Chavez's labor movement, Israel-Palestinian posters from before Israeli occupation by Jordan had begun until after it ended when America supported Palestinian statehood efforts; and more.
When walking through any part of this area explore all these different pieces while listening to archived interviews or watching videos captured during events such as Mr. Carters Inauguration Day celebration with friends like Stevie Wonder performing live music throughout!
Location: 441 John Lewis Freedom Pkwy NE, Atlanta, GA 30307, United States
22. Atlanta BeltLine
Atlanta BeltLine is a revitalization project that has been transforming Atlanta's central city since 2005. The vision of the BeltLine is to create a 22-mile loop around Atlanta and its surrounding neighborhoods, reconnecting communities along the way with parks and transit options.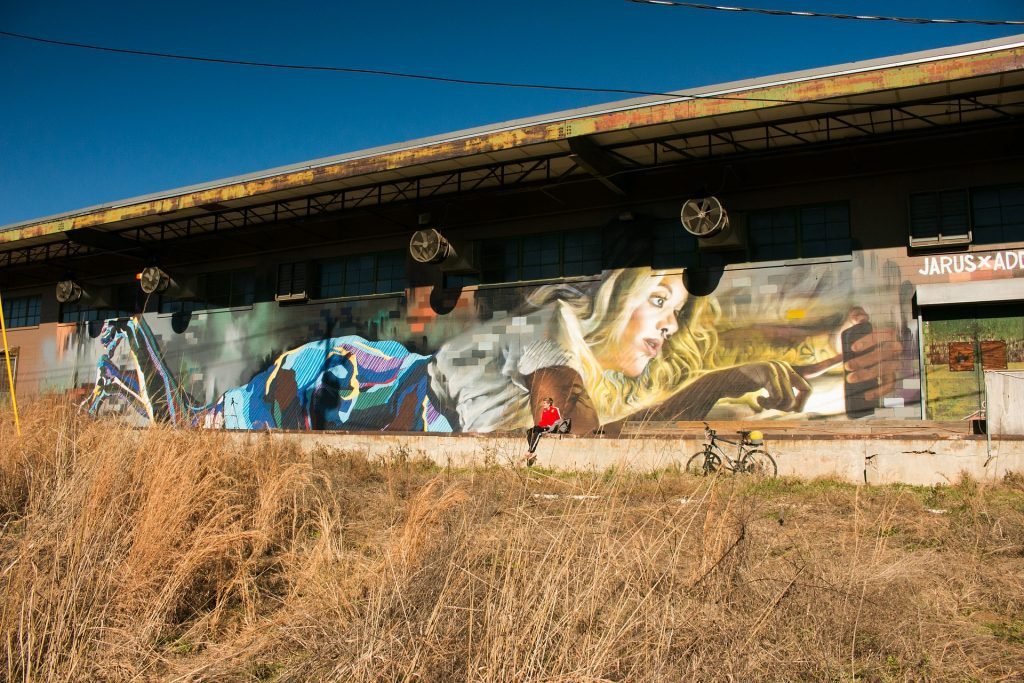 Atlanta BeltLine is a network of paved and unpaved trails, parks, gardens, and greenways that encircles the city's center. It was designed to provide green space in an area close to heavily populated areas such as Downtown Atlanta.
As one travels through this urban corridor on foot or by bike, they can enjoy views of historic Cabbagetown, Krog Street Market & Reynoldstown; take in modern art at Ponce City Market; explore natural landscapes such as those found just outside Decatur Square Park (and beyond); or simply marvel at how human intervention can transform an abandoned railroad lined with crime into vibrant mixed-use development space for thousands of residents to live, work and play within walking distance from their homes.
23. Delta Flight Museum Atlanta
Delta Flight Museum Atlanta is the museum of Delta Air Lines and its history. The museum has many exhibits that will provide a lot of information about the company, as well as their aircraft. The building itself looks like a giant bird in flight, with wings spread wide open to welcome visitors into this grandiose establishment. This museum features interactive displays which allow you to take part in learning more about planes from around the world since 1924 when it was founded by William J Smith Jr., who owned an aviation business at Hartsfield-Jackson International Airport.
Things to do in Delta Flight Museum Atlanta
Some of the activities that you can do in Delta Flight Museum Atlanta are taking a guided tour, reading historical information about the aircraft and planes, viewing old photographs from different decades on display. You can also view how aviation has evolved over time by looking through various themes such as technology with "The Future is Now" exhibition. Another activity is to watch any one of their many films available for your area's preference – movies like The Wright Brothers Fly Again or IMAX 6D Experience: Spirit Of America.
Location: 1060 Delta Blvd, Hapeville, GA 30354, United States
24. SkyView Atlanta
SkyView Atlanta is an observation wheel located in Centennial Olympic Park. The ride takes visitors on a journey through the sky of the city and offers incredible views of downtown Atlanta and beyond.
The Ferris wheel has a height of nearly 20 stories and has 42 pods for visitors to sit and enjoy the city views.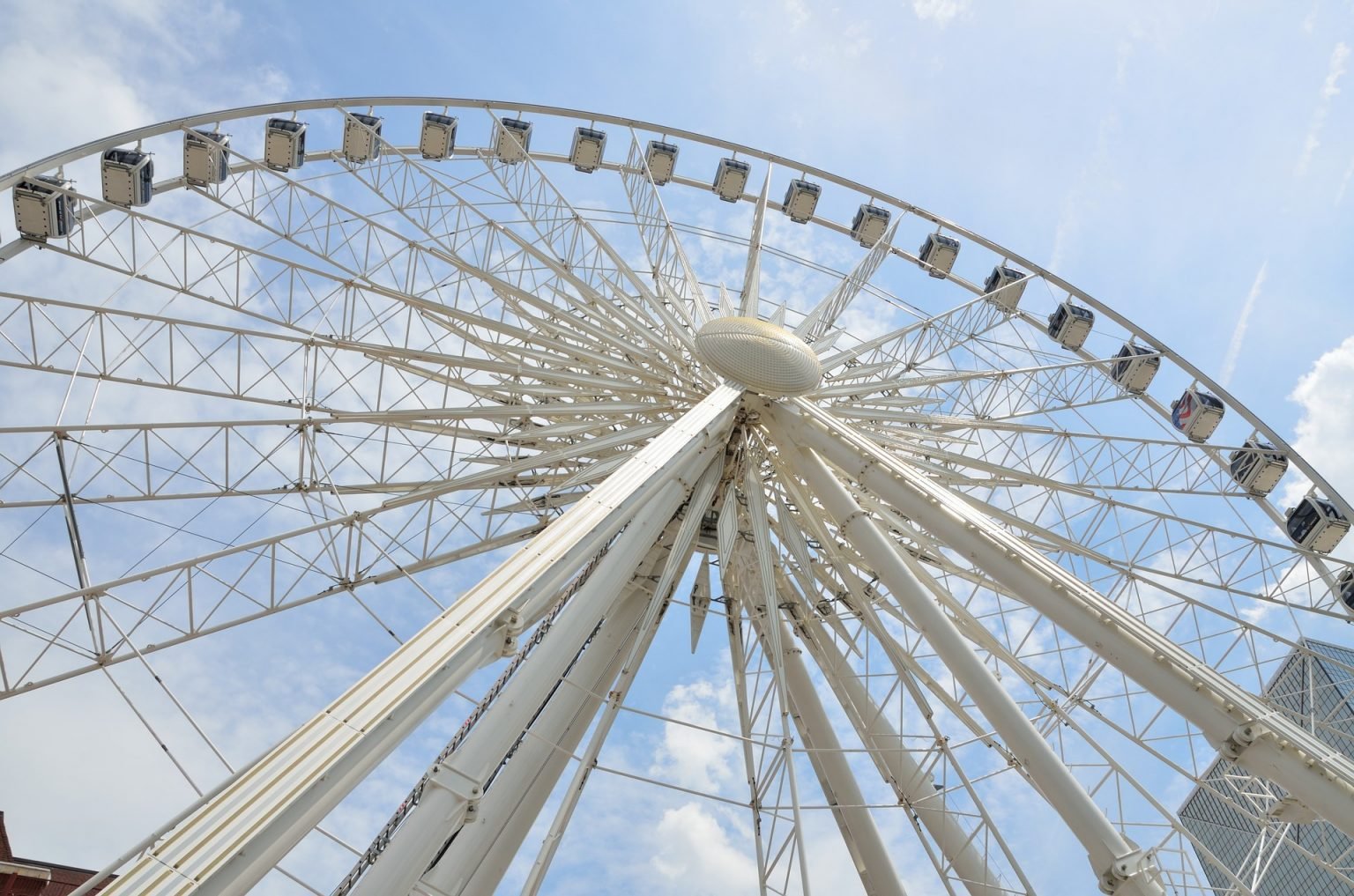 They also have a VIP experience wherein you get sports-style seats in your gondola and more ride time to enjoy the experience for a longer time.
Location: 168 Luckie St NW, Atlanta, GA 30303, United States
25. Krog Street Market
Krog Street Market is a culinary destination in Atlanta, Georgia. It was the first public market to open on Capitol Hill and has now become one of the largest markets for street food in America. The experience that visitors have as they explore this lively community-based venue will surprise them with its sheer variety of foods from around many cultures which are available at nearby storefronts within Krog Street Market's central courtyard known as "the court."
Krog Street Market is a place where shoppers can enjoy everything from falafel sandwiches to Korean BBQ tacos.
Things to do in Krog Street Market Atlanta
There are so many things to do in this bustling marketplace that you'll be hard-pressed not to discover something new after just one trip!
1) Wander through the eclectic shops, stopping at every interesting store along the way – from vintage clothing boutiques and art galleries, all the way down to local food vendors selling their famous banh mi sandwiches.
2) Head towards The Pink Door Bakery for a sweet treat or grab lunch at Bin 555 – both of these spots have been featured on Food Network's "The Best Thing I Ever Ate."
3) Stop by Rhythm & Booze while sipping your favorite cocktail and listening old jazz records playing overhead
4). Explore nearby community gardens where children tend as they learn how plants grow
5). Walk up three levels of an outdoor shopping complex with over 350 stores
6). Enjoy music performances on stage (e.g., hip hop dance parties), live entertainment throughout weekend nights
7). Have dinner alongside locals as they share stories around one table or take it easy with some coffee
Location: 99 Krog St NE, Atlanta, GA 30307, United States
26. Van Gogh: The Immersive Experience
Van Gogh: The Immersive Experience Atlanta is a project created by the team at the Georgia Institute of Technology. It uses virtual reality to experience the life and works of Vincent Van Gogh in 3-D. By wearing an Oculus Rift headset, you can see your surroundings as if they were real, right down to his brushstrokes on canvas or canvases that he painted himself! In addition, with live narration from Arthur Goldstuck's audiobook "The Life and Death of Vincent Van Gogh," this experience allows users to explore different aspects like how religion shaped his work during its development into maturity.
Location: 225 Rogers St NE, Atlanta, GA 30317, United States
27. Fun Spot America
Fun Spot America is a theme park located in the Atlanta, Georgia area. The amusement park has been open since 1954 serving thousands of visitors each year. Notable attractions include roller coasters, water rides and live entertainment such as concerts and shows from well-known artists like Aerosmith .
Fun Spot America offers several options for thrill seekers who want an adrenaline rush without getting too extreme! They offer two coasters with names that are familiar favorites around the world – Wild Mouse & Avalanche Falls! There's also Krazy Kat's Banana Cabana where you can get your photo taken holding a giant banana while wearing some killer sunglasses or enjoy juicy burgers at Bun Burgers Barbeque Restaurant while being surrounded by neon signs advertising Fun Spots' biggest menu items!.
Location: 1675 Hwy 85 North, Fayetteville, GA 30214, United States
28. LEGOLAND® Discovery Center Atlanta
LEGOLAND® Discovery Center Atlanta is a state-of-the-art, interactive indoor family attraction that will immerse guests in the magical world of LEGO.
Legoland Atlanta offers an exciting new way for kids and parents alike to discover their creativity at every turn. Easily transport your children from one area of the park into another via gateway areas called Transports Zones that come equipped with plenty of shop windows, interactive displays, and ramps perfect.
The park is divided into four main areas: the LEGO City, the LEGO City Adventure, the LEGO City Water Park and the LEGO City Outpost. The LEGOLAND Discovery Center Atlanta is a great place for kids of all ages to enjoy their favorite childhood pastime.
See a miniature cityscape of Atlanta built with more than a million lego bricks MINILAND®
LEGO® 4D CINEMA – Enjoy movies with wind, rain, and snow effect
KINGDOM QUEST – experience the chariot ride
LEGO® RACERS: BUILD & TEST your racecars
attend a workshop at LEGO® MASTER BUILDER ACADEMY
see how lego bricks are made during a LEGO® FACTORY TOUR
Location: 3500 Peachtree Rd NE, Atlanta, GA 30326, United States
29. Little Five Points
Little Five Points is a small and decidedly urban neighborhood located in Atlanta, Georgia. In the early 20th century, Little Five Points was home to many of the city's earliest black-owned businesses and artists' studios. It became an important hub for African Americans escaping Jim Crow segregation as housing prices increased across metropolitan Atlanta during that time frame.
The name comes from its location at 5 points on Ponce de Leon Avenue – 3rd Street SW., 4th Street SE., 7th Streets West & East respectively (hence "Little" point). These five streets converge into one large intersection which divides this area from downtown Atlanta.
Little Five Points is located in the Midtown area of Atlanta, Georgia. The neighborhood is bordered by Virginia-Highland and Little Five Points Park to the north, Virginia-Highland and Little Five Points Historic District to the east, Virginia-Highland and Inman Park-Cabbagetown to the south, and Midtown Atlanta to the west. Little Five Points has a number of restaurants and bars that are popular with both locals and tourists alike.
Little Five Points is known for its sidewalk cafes and the many bars on Moreland Avenue with live music venues that play everything from jazz to rock. There are also plenty of eateries to choose from including barbecue joints and Mexican restaurants with bar service. Little Five Points has an easy-going vibe where you can enjoy delicious food along with great drinks while soaking up the culture.
30. Woodruff Arts Center Atlanta
The Woodruff Arts Center opened in Atlanta, Georgia in 1968. It was originally named the Memorial Art Center and established as a tribute to the 122 people who died at Orly Airfield in France while traveling home from an artistic tour of Europe back in 1962.
The Woodruff Arts Center is a performing arts center in Atlanta, Georgia. It was founded by the late Robert Woodruff to provide an environment for artists with all levels of experience to share their talents, ideas, and works with one another as well as other members of the public through its exhibition spaces, studios & classrooms.
The main building houses art galleries that host exhibitions on a rotating basis; performance space which includes two black box theaters featuring live performances every day (closed Mondays); teaching studios dedicated exclusively to digital animation, film production, photography courses; music recording facilities located within state-of-the-art sound stages.
The Alliance Theatre, Atlanta Symphony Orchestra, and High Museum of Art are three renowned institutions that enrich patrons' lives in the Woodruff Arts Center. The center also has more than 170,000 students taking classes or participating in events every year to make it the largest arts educator in Georgia.
Location: 1280 Peachtree St NE, Atlanta, GA 30309, United States
Best Things To Do In Atlanta 31 and beyond
31. Top Golf Atlanta
Top Golf Atlanta is a family-friendly indoor entertainment center located in the heart of Buckhead, Georgia. The facilities are designed to make it easy for guests to enjoy themselves and their friends while playing golf all year long. They have three levels that contain different attractions including arcade games, sports bar tables with HDTVs mounted on the walls, and many other great amenities like food service from our main restaurant venues, 18 TopGolf driving ranges over 4500 sq ft each, 8 heated hitting bays as well as outdoor putting greens framed by an impressive view of downtown Atlanta skyline.
You can bring your friends and family and enjoy multiple rounds of golf and bar snacks at this venue!
Location: 1600 Ellsworth Industrial Blvd NW, Atlanta, GA 30318, United States
32. Chattahoochee River National Recreation Area
As the most popular tourist destination in Georgia, the Chattahoochee River National Recreation Area offers a variety of recreational opportunities. The Chattahoochee River includes approximately 340 miles of recreation areas that are open to visitors all year long for fishing, boating, hiking, and camping. This river is also one of the highest-quality trout streams in North America with hopper rainbows being plentiful throughout its length from Atlanta northwards along Interstate 75 into Tennessee – upriver to Chattanooga on US Highway 27 (The Old Federal Road).
Location: 1978 Island Ford Pkwy, Sandy Springs, GA 30350, United States
33. Atlanta Monetary Museum Atlanta
This is a museum that highlights the history of money in America. It will take you through what happened when humans first learned how to create, exchange and use this form of wealth around 3,000 years ago up until now. You can follow along with people from ancient cultures as they learn about trade and barter systems which eventually lead them to make coins for trading purposes and ultimately create one currency for all societies. The focus here is on telling stories behind the evolution of money but also letting visitors explore it themselves by trying out coin-making activities like stamping copper into disks or pouring molten silver onto plated brass tokens.
Group tours, as well as self-guided tours, are available at this museum where you can learn about the role of the Federal Reserve in the country's economy.
Get the big picture idea of the monetary system in the country.
Learn about the monetary policies and how they can impact you.
Know how Fed manages bank supervision and regulation.
Location: 1000 Peachtree St NE, Atlanta, GA 30309, United States
General Overview of Atlanta
Outdoor Experiences in Atlanta
Atlanta has a number of beautiful parks. If you want to get outside, you're in luck! Atlanta's parks are perfect for playing with your kids and relaxing outdoors. Northeast Atlanta is home to two major parks–BattleFrog Park and Freedom Park–both of which boast plenty of great amenities like playgrounds, a splash park, walking trails and more. Another great spot for outdoor activities is the 14-acre Martin Luther King Jr. Park in West Midtown that offers 1.5 miles of walking trails and meadows that serve as a habitat for several species of birds.
In addition, there are plenty of places around the city to enjoy nature at its finest too! The Atlanta Botanical Garden is one of the most popular attractions in the city, boasting over 5 million plants from all over the world as well as a variety of animals including peacocks, lemurs and blue monkeys! There is also the Fernbank Science Center & Planetarium that offers six different shows every day on astronomy, space travel and other topics related to science.
Fun fact: Did you know Atlanta was once called Terminus?
Food & Drink in Atlanta
The food in Atlanta is incredible. There are so many options throughout the city, you'll never get bored of new places. You can find anything from Southern staples like fried chicken and grits to some of America's most famous dishes, like all-American burgers. If you're looking for an area with a lot of culinary variety, consider dining downtown on Ponce de Leon Avenue.
You'll also find Atlanta has some excellent bars and pubs near its neighborhoods. The drinks here are always strong and flavorful, making it easy to enjoy your night out! Want to check out some cocktails? Look no further than the top floor of Buckhead Saloon!
There are so many things to do in Atlanta that it's easy to get overwhelmed by the choices available. One great thing about a city like this is that there are so many outdoor activities around town–like hiking and biking trails–that will help you relax after a long day of doing everything else.
Local Shopping In Atlanta
There's so much to do in Atlanta, it can be easy to forget about the city's shopping opportunities. Luckily, Atlanta offers countless shopping options–from chain stores to local shops and boutiques. Some of the best places for shopping are Lenox Square, Ponce City Market, and Atlantic Station. And at the end of your day, you'll find plenty of places to enjoy a meal or even a cocktail!
Historical Sites In Atlanta
There are so many historical sites in Atlanta that there's no way you could do them all. But if you're looking for a good place to start, check out the Martin Luther King Jr. National Historic Site. This site includes a museum, visitor center, and library to explore the life of Martin Luther King Jr. Keep in mind that this is a part of the National Park Service so be prepared for some crowds!
Another great historical site is the Atlanta Cyclorama Building. This building was originally built by Joseph Jacobs as a circular pictorial history of the Civil War and it's still one of Atlanta's most popular sites today. There are even guided tours available every day–so don't worry about getting lost and running out of time!
Other great historical sites include Stone Mountain Park, Sweet Auburn Cabbage Patch, and Piedmont Park–to name just a few.
Out of the list of the Best Things To Do in Atlanta, you can pick and choose which ones you want to cover depending on your preferences and how much time you have available on hand. We'd recommend doing all of them!
Read more: Paris: 39 Best Things To Do When Visiting the City of Lights
---
Note: The hours of operation, ticket prices, and admission criteria of museums, parks, etc. may change from time to time. For the most updated information, we recommend checking the official website of the attraction directly prior to your planned visit.
Blog Categories: Asia, Africa, Europe, USA, Australia & New Zealand, France, Germany, India, Italy, Spain, Sports, Switzerland, Travel Tips, UK, Products
More From The Blog
---