If you want to visit a place that is a complete package of culture, authenticity, hospitality, and natural richness, Sarawak is a perfect choice for you! It is a Malaysian state that has a coastline of 1,234.1 kilometers. Needless to say, it offers exquisite beaches to spend time on and various sanctuaries, and rainforests to indulge in as well.
Sarawak is Malaysia's third-largest economy that is dependent on its natural resources in many ways. Sarawak is rich in its culture, traditions, hospitality, linguistics, food, history, and so on. Sarawak cherishes its 19th-century landmarks including white Rajah Palace, Margherita fort, Astana, etc.
For all these reasons Sarawak is a perfect getaway for anyone who loves nature, culture, and history!
Let's take a look at numerous activities one can indulge in, depending upon their choice.
Here's a list of the 20 best things to do in Sarawak, Malaysia:
Beaches in Sarawak, Malaysia
As mentioned above, Sarawak is blessed with a huge coastline and offers numerous beaches to indulge in activities like snorkeling, relaxing, or just spending a romantic evening with your significant other.
1. Have Your Perfect Weekend Getaway at Sematan Beach, Sarawak
Sematan is a small fishing town of Sarawak that offers a long, clean sandy seashore. There are various activities and water sports available at the beach.
The clean coastline is the main feature of this beach which makes it a perfect weekend destination in Sarawak for beach lovers.
Many resorts ranging from luxury to deluxe levels are available for tourists to stay and watch the divine sunset.
2. Watch the Seahorse Lighthouse at Sunset on Brighton beach, Sarawak
If you are looking for the best place to watch the sunset, then Brighton beach is the option. Brighton beach aka Tanjung Lobang is located in Miri, Sarawak, and offers marvelous coastline views.
Important features of this beach are two docks, jogger's trails, and Taman Selera, the food center. The symbol of the Miri- seahorse lighthouse can be seen from here.
You can taste the freshly prepared seafood at Taman Selera while watching the beautiful sunset with your loved ones.
3. Feel Hawaii in Miri, Sarawak
If you want to experience Hawaii-like vibes, visit this beach in the fishing town. It is a perfect weekend getaway for both youngsters and elder ones.
Hawaii beach can be described as a barbeque beach. It is a favorite spot for people looking for a picnic for a weekend. The beach is surrounded by coconut trees and gives very relaxing vibes. Camping gear and tents and barbecue equipment are provided at the beach.
You can book these activities for nominal charges as well.
4. Shop Traditional Handicrafts at Damai Beach, Kuching
Damai beach in Sarawak offers a wholesome experience of activities, food, and shopping. The beach is located on the foothills of the famous mountain Santubong. This avails of trekking activities around the beach. Other water sports activities such as jet-skiing and wind-surfing are preferred by tourists.
Here you can choose from a few beachfront restaurants where you can sip your beer and enjoy the sunset. International, as well as local cuisine, is served here. The availability of music gives a great party vibe where you can have a really fun time with your friends.
Items like necklaces and other traditional products handcrafted by local tribes can be seen here. So next time you are at Damai, don't forget to pick a souvenir for yourself.
---
Bestseller GoPro Selfie Sticks
Sale
Bestseller No. 1
Bestseller No. 2
---
Few things to keep in mind:
Damai experiences heavy rainfall between October and March. Hence it's advisable to visit the beach in the drier months.
Shops and restaurants tend to be closed around public holidays. So carry your food and activity gear.
5. Watch Mesmerizing Sunset at Pantai TemasyaTanjungBatu, Bintulu
This is another clean beach that offers one of the best sunset views in the city. It's the only beach in Bintulu. Tourists like to visit the beach in the evening and it is packed with people on weekends. There is ample space for parking available at the beach.
It has a parallel jogging track alongside to get yourself moving in the early morning. There are a few food stalls available where you can fancy drinks and some delicious local food like satay.
6. Witness Blue Tears at Tusan Cliff Beach, Miri
Locals refer to the cliff along the Tusan seashore as Batu Kuda, which means "horse's head." if you look closely, you'll see that it appears like a horse's head with its wavy hair and is now sipping seawater.
---
Bestseller Copper Water Bottles
Bestseller No. 1
Bestseller No. 2
---
The beach is also known for its 'Blue Tears,' natural phenomena in which light-producing microalgae glow bright blue. The first glimpse of the 'Blue Tears' and the 'Horse Head' was only in 2015, pushing Tusan Beach to popularity.
Sarawak is blessed with rainforests and there are 30 of them. So it will take a month almost to explore each national park in Sarawak.
Each national park is unique in its way and they are rich in biodiversity. Not all national parks are accessible to tourists. If you are planning a vacation in Sarawak then consider visiting these rainforests to indulge yourself in an extraordinary experience. Below are a few national parks that can be accessed by tourists.
7. Go camping in Gunung Mulu National Park, Sarawak
Gunung Mulu, a 2,376-meter-tall sandstone pinnacle, is the park's most prominent feature and it is a UNESCO world heritage site. The Melinau Formation features a spectacular concentration of caverns, reflecting a 1.5 million-year geological history. Gunung Mulu National Park has a diverse diversity of plant and animal species, both above and below ground.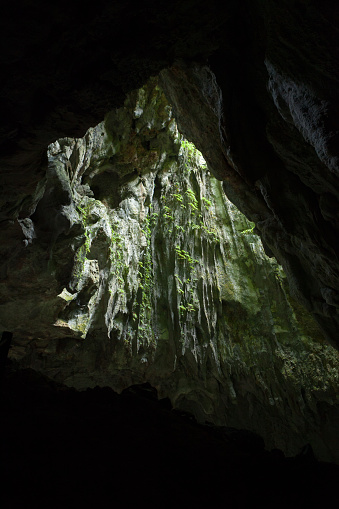 Mulu is known for the world's biggest subterranean chamber, the world's largest cave tunnel (Deer Cave), and Southeast Asia's longest cave (the Sarawak Chamber) (Clearwater Cave).
---
Bestseller Cupholder Bottles
Bestseller No. 1
Bestseller No. 2
---
Trekking, camping, night walks, climbing caves and camping overnight, pinnacle climbing, and treks to the summit are the wide variety of activities available at this national park.
This park is heaven for extreme adventure seekers.
This national park is situated in Kuching and you can experience the great diversity of animals here. Endangered proboscis monkeys are found in Bako. Bako is a habitat of around 15 proboscis monkeys. The long-tailed macaque, silvered langur, plantain squirrel, Bornean bearded pig, monitor lizards, and otters are among the other creatures.
Bako's wide trail system includes 16 color-coded forest pathways that provide a variety of walking and trekking opportunities.
One can take 3-8 hours to complete these trails. If you feel tired while coming back, you can go for a boat ride as well. This can altogether be a different experience for you!
There are plenty of beaches within the park where you can hop in to swim. Make sure you know the safety aspect of the water body.
9. Capture the Beauty of Numerous Waterfalls in Lambir Hills National Park
With its beautiful waterfalls, excellent birding, and towering trees Lambir Hills National Park is one of the most complex and diversified forest ecosystems on the planet. Miri is approximately 32 kilometers away from Lambir. Lambir also has wonderful walking routes that lead to glistening waterfalls and bathing pools dispersed throughout the woods.
One can cover several trails in a day because most of them are interconnected.
10. Take a gist of Orangutan's Lifestyle at Semenggoh Wildlife Rehabilitation Center
"Home of an orangutan". That's how we can recognize this national park. Here, injured, orphaned orangutans are treated, fed, and taken care of until the time to leave them in the forest.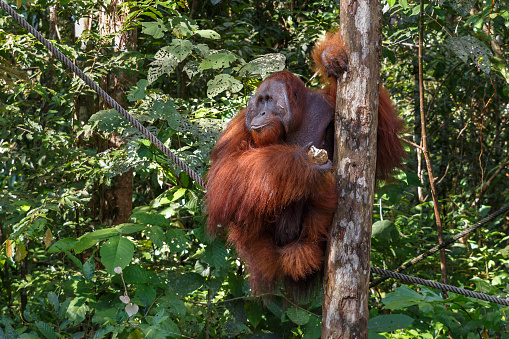 This center is just a 30 minutes ride from Kuching.
This center is spread over 740 acres of land. Being such a huge establishment, it becomes a prominent tourist destination.
Charges: RM 3/ per person
RM 40 for a guided tour.
11. Experience the Stone Age at Niah National Park, Sarawak
Niah is the most important national park for various reasons. It's the smallest park of all the national parks of Sarawak. Around 40,000 years ago, the park's oldest modern human remains, as well as numerous other ancient artifacts, were unearthed, making it one of the world's most important archaeological sites.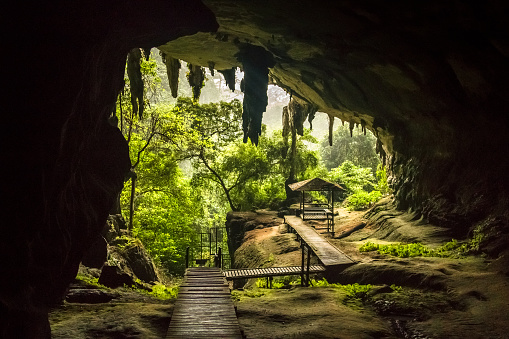 There were several human settlements in the region, including tools, cooking utensils, and decorations made of bone, stone, or clay. These discoveries indicated a long history of occupancy dating back to the Palaeolithic period (the earliest part of the Stone Age). More excavating work is currently being done.
Don't forget to check out the cave paintings at Niah.
There are five mainstream mountain ranges for trekking. Trekkers can get a gist of widely diverse flora and fauna on the way along.
Bird watching and caving are some other activities preferred by tourists. Niah has 8 main caves and a walk through these caves is the favorite activity to do in Sarawak.
12. Extreme Adventure Getaway at Kubah National Park, Sarawak
Kubah National Park features some of Sarawak's most beautiful rainforests, complete with crystal cascades and lush jungles—perfect for frogs!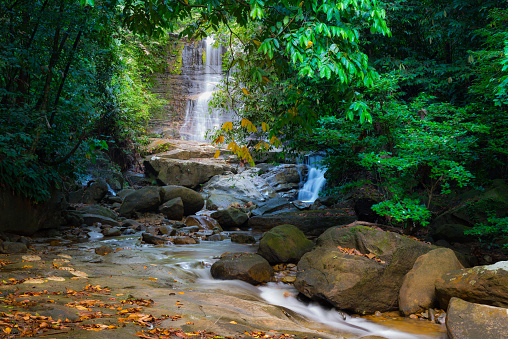 If you are into outdoor activities and adventure, add this to your bucket list.
Apart from its beautiful forested terrain, this sanctuary is home to spectacular falls where you may swim in freshwaters while admiring the beauty of nature and relaxing in the peaceful ambiance. This slice of heaven on earth also has swimming pools and streams. It's also a great area to see animals in their natural environment.
You can indulge yourself in multiple treks while admiring the mesmerizing beauty of nature. There are many enchanting waterfalls and natural pools where you can take a bath.
13. Go Cruising at Kuching Wetlands National Park
If you are nearby Damai beach, then do not forget to visit this national park that is just 5km away from the beach. The park is primarily made up of a salty mangrove system, which comprises a large network of coastal waterways and tidal creeks that connect the park's two major rivers.
You must cross the river to explore the park. In and around the park, a variety of tour companies provide beach and river cruises.
Although the park is newer, nature lovers have long been drawn to the region because of its intriguing ecosystem and good animal viewing chances.
14. Indulge Yourself in The Pitch Darkness at Wind Caves Nature Reserve, Sarawak
If you want a relatively easier caving experience, add Wind caves to your itinerary to Sarawak. These caves are a whole different experience altogether. They are pitch dark and once you go inside you will have to move amongst bats with the help of your torchlight.
Wind caves are among the world's longest and most complicated caves. Wind Cave gets its name from the wind that blows out (and in) of the cave's tiny natural opening. The wind's direction is determined by barometric pressure.
Wind Cave Nature Reserve ( Lubang Angin) offers a realistic but somewhat safe caving experience in pitch black, bat-infested passageways.
Fairy Cave, another display cave in Sarawak, is only a few minutes away. You may begin your day early and visit both caverns in a single day.
Three lighted tubular corridors make up Wind Cave. Wind Cave has no illumination (to prevent upsetting the bats), so after a minute or two of wandering, you're fully relying on your flashlight, which is essential for this cave.
An interesting fact about the Wind Cave in Sarawak- The cave was initially discovered in 1881 by two brothers called Bingham who heard a loud whistling noise emanating from the cave's single natural entrance. It is now one of the world's longest caverns, with more than 130 kilometers of excavated channels.
This makes wind caves the best place to visit in Sarawak.
Other things to do in Sarawak
15. Groove at The Rainforest World Music Festival
The Rainforest Global Music Festival (known simply as RWMF) is an annual three-day music festival held in Kuching, Sarawak, Malaysia, that celebrates the diversity of world music.
For six years in a row, Songlines ranked the event as one of the finest international festivals; from 2010 to 2015.
Daytime music workshops, cultural exhibitions, art displays, food booths, and main-stage nighttime performances are just a few of the activities available.
Traditional music, world fusion, and contemporary world music are among the genres represented in the event.
The best thing about this festival is you can actually hang out with the artists and can talk to them. There are absolutely no restrictions on interacting with artists. Workshops in the daytime are held in traditional houses where anyone can walk in and walk out at their convenience.
If you want to relax and groove as well, The Rainforest World Music Festival is one of the best things to do in Sarawak. It's a heaven for music lovers as the audience gets to experience music from all over the world.
16. Fancy a Walk Through the Cultural village of Sarawak
Sarawak has established its own distinct culture, which differs significantly from that of mainland Malaysia. Tours here take you to fascinating tribal cultures, the Brooke Dynasty's well-preserved legacy, and a plethora of colorful festivals. Discovering Sarawak's culture is unquestionably one of the most compelling reasons to travel to the beautiful Land of the Hornbills.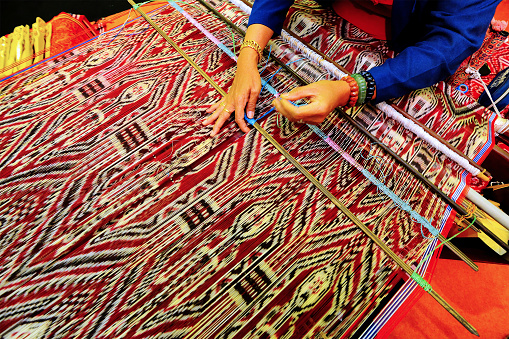 If you want to taste the real essence of Sarawak, you should visit Sarawak Cultural Village. It's an award-winning living museum that is just across Damai Beach.
You can get into multiple activities in the village. There are many cultural programs performed by locals are available for your entertainment. These are held in the Village's theatre.
There are model structures representing every major ethnic group in Sarawak, primarily the Bidayuh, Iban, Orang Ulu, Penan, Melanau, Malay, and Chinese, in Sarawak Cultural Village.
Members of ethnic groups dressed in traditional attire and performing traditional activities staff all buildings. The employees play the role of storytellers, describing and interpreting our way of life. They'll also cheerfully pose for photographs with you!
The place has won multiple awards such as the PATA Cultural Gold Award, ASEANTA Cultural Presentation Effort, MTV Band Alert Award – Breakthrough Award, The Best of Malaysia Award (Best Cultural and Historical Destination), World Championship of Performing Arts, Best Tourist Attraction Award, and many more!
There are 7 houses dedicated to each tribe where you can buy tickets and experience their culture and daily lifestyle.
you can book your tickets here.
You can taste the traditional cuisine, drinks, pastries, etc at Restaurant Budaya. Set meals are served here in the most authentic style.
Don't forget to pick a souvenir for yourself and your loved ones from the handcrafted shop just beside the restaurant. You can get many traditional headgears, beads, etc that can act as practical gear for outings or just a souvenir collection that can be used at functions!
17. Sibu Central Market
It is said that if you want to explore any culture in its truest form, you should explore its marketplaces. Sibu Central market is the largest indoor market in Sarawak. The best part is, it's free! it opens early in the morning by 6 am and closes by 11 pm at the night. You can explore the market in the meantime. Make sure you carry enough water with you if you are in Sibu Town and want to dedicate a few hours to visiting this market.
There are several vendors selling a variety of vegetables, fruits, meat, general products, as well as food and beverages.
The Iban ladies selling unusual fruits, forest vegetables, and handicrafts, as well as the Chinese poultry vendors selling live chicks and ducks neatly wrapped in tubes made from old newspapers, are highlights.
Mount Santubong features four path alternatives, each of which begins at a different access point and requires an admission fee in some cases. Santubong does not require a permit, and the trek should not take more than 8 hours in total. With high vertical climbs through rope ladders and deep jungle utilizing tree roots as stepping stones, the ascent can be difficult.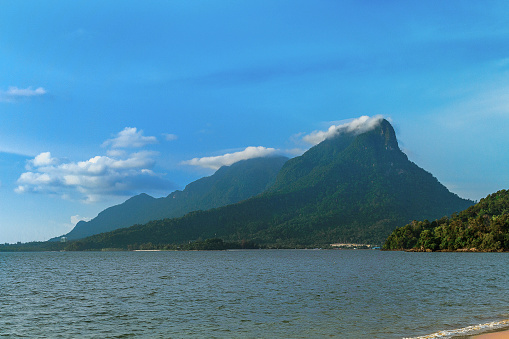 Climbing this mountain does not require any guidance and one can complete this trek on his own. Although you may want to carry your own food and water since there isn't available any. There are toilets and bathrooms along the way to help tourists with their sanitary needs.
There are guiding maps allocated everywhere so finding a route is incredibly easy. Once the climb is over you can dive into the waterfall or just come back and spend quality time at Damai Beach.
19. Taste the Delicious Cuisine of Sarawak
Sarawak is rich in its culinary arts. Its cuisine is lesser known to the world yet it's very authentic and flavorful. A few prominent dishes include Sarawak laksa, kolo mee, sayur midin belacan, tomato mee, linut, and Ayam pansuh.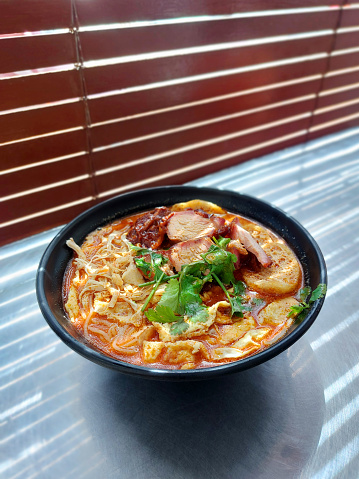 Sarawak tribes have preserved the authenticity of their cuisine and have evolved the food culture. They have been experimenting with the ingredients found in Sarawak's rainforests and have been developing extraordinary tastes.
Because of this rich food culture, trying and tasting a variety of dishes here is one of the top things to do in Sarawak.
20. Walkthrough Museums to Re-live the History
Sarawak is not just about tourism and adventure, it also preserves a great history of mankind. History of different tribes, their art, textile, and so on can be found in numerous museums here.
There are different museums including Sarawak Museum, Cat Museum, Ranee museum, textile museum, and so on. As their name suggests, tourist can find their interest and visit these places to understand more about Sarawak's Culture.
The Bottom Line
Sarawak is a beautiful place that offers a wholesome experience to tourists. It is Malaysia's third-largest economy that is engaged in the tourism sector for obvious reasons.
Sarawak has great trekking trails, hiking points in its rainforests, a great tribal culture, and a diverse food culture suitable for every type of tourist. It also offers a wide array of beaches and hence the coastal culture.
One can spend a great amount of time here to experience the culture completely.
Read also: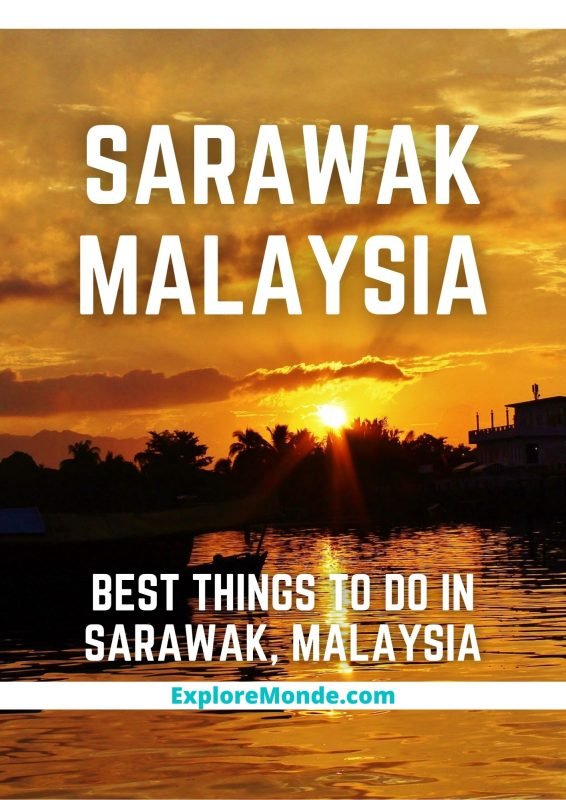 ---
Note: The hours of operation, ticket prices, and admission criteria of museums, parks, etc. may change from time to time. For the most updated information, we recommend checking the official website of the attraction directly prior to your planned visit.
Categories: Asia | Africa | Europe | USA | Australia & New Zealand | France | Germany | India | Italy | Spain | Sports | Switzerland | Travel Tips | UK | Products | Download AI Trip Planner App
---