Sarawak is a Malaysian State that is blessed with natural beauty. It is a heaven for nature admirers. The mountains in Sarawak are the best part of the state as they offer uniqueness. You may find diversity in both flora and fauna. Most of the species are endemic on the planet and you can find them only on these mountains in Sarawak, Borneo.
Most of the mountains in Sarawak offer a magnificent experience of trekking to the adventure junkies. There are around 14 mountains in Sarawak, each offering a unique atmosphere and experience.
Here are the chosen 7 best mountains in Sarawak.
Best Mountains in Sarawak
1. The Golden Mountain in Sarawak: Santubong
Mount Santubong, the iconic mountain where the Rainforest World Music Festival takes place at the foot of the mountain. I took this photo during a mangrove & wildlife cruise this morning, as it was part of the #RWMF2019 itinerary. To be honest, everytime … pic.twitter.com/rRhxM3bIuO

— David Hogan Jr (@MalaysiaAsia) July 13, 2019
Elevation: 810mtrs
Time: 2-3 hours/ one way (depending upon the trekker's speed, stamina, and expertise)
The Sanubong mountain in Sarawak is an outcome of volcanic eruptions millions of years ago. The volcanic explosion that hurled Mount Santubong up out of the sea is assumed to have also thrown up the dirt, scattering the gold resources in the vicinity, explaining why no substantial quantities have yet been discovered. Hence, when in a slack season fishermen cannot go fishing, they dig and sell this gold and earn around 20$ a month.
Trekking at Mount Santubong
Mount Santubong is a popular location for trekkers in Sarawak. However, it's not a beginner's trek. So, if you are not familiar with the route and you are an amateur trekker, then consider taking a guide with you.
This mountain in Sarawak features four path alternatives, each of which begins at a different access point and requires an admission fee in some cases. At the first View Point, however, all four pathways converge.
Green Paradise Seafood Restaurant Trail, Bukit Putri Trail, Sarawak Cultural Village Trail, and Permai Rainforest Resort Trail
Trekking at Mount Santubong gives you a wholesome experience. It is considered an arduous trek with steep patches, aluminum ladders, and tree roots used as stepping stones.
Finale part of this trek is considered the hardest. You have to climb huge boulders with the help of ropes and tree roots and branches to hold by hand.
2. Hike the Sandstone Mountain in Sarawak: Mount Mulu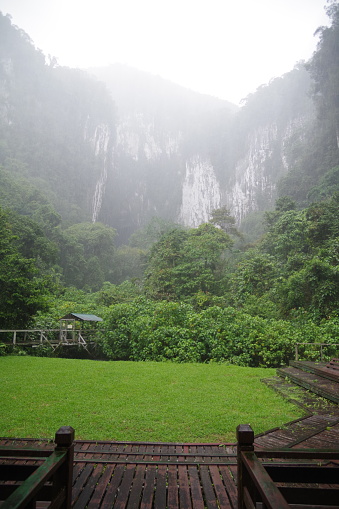 Elevation: 2375 m
Duration: 4 days 3 nights
Mount Mulu is the second-highest mountain in Sarawak. Gunung Mulu National Park is named for it and is located inside its limits.
Mulu's limestone karst and remote mountain peaks are home to a variety of rare and endangered flora and animals.
---
Bestseller GoPro Selfie Sticks
Sale
Bestseller No. 1
Bestseller No. 2
---
Gunung Mulu National Park and the mountain provide important natural habitats for a diverse range of plant and animal species, both above and below ground. There are seventeen vegetative zones in the 52,865-hectare park, with about 3,500 species of vascular plants.
The mountain is known for its variety of pitcher plants. Mount Mulu is home to five different species.
Trekking at Mulu mountain in Sarawak
Gunung Mulu is around 24 kilometers from the park's boardwalk to the top, making it a 48-kilometer round journey. Camps 1, 3, and 4 are three cottages along the road where you may spend the night. One option is to go camping 3 one day, Camp 4 the next, summit and descend to Camp 3 the third day, and return on the fourth day.
The first section of the ascent is on a well-kept boardwalk. Several creeks and rivers must be crossed.
Things grow steep at Camp 3 after a straightforward hike to Camp 1. After crossing the ridge, there are around 5 kilometers of flat land but little net height gain to Camp 4.
Borneo gets a double monsoon more than anywhere else. So, any time of the year you might find rain here. In the rainy season, there is a fair chance of getting leaches on the legs. So, watch out!
3. Trek Above the Clouds in Sarawak: Mount Murud.
Elevation: 2424 mt
---
Bestseller Copper Water Bottles
Bestseller No. 1
Bestseller No. 2
---
Duration: 4 days (depending upon the route, it may take longer)
Mount Murud is the highest mountain in Sarawak. This white-yellowish sandstone mountain has two high points with a difference of only 15m! This mountain brings amusement along for visitors as there are many amusing stories you get to hear from local legends about the formation of this mountain.
Mount Murud is blessed with varied flora at the summit. As of 1995, more than 240 species of varied flora have been found. The mountain is called for the tropical pitcher plant species, which is assumed to be indigenous to the top region. Murud black slim is also unique to this mountain.
For Lun Bawang, a mountain is a sacred place. In 1990, the Lun Bawang villages constructed a church. In July of every other year, pilgrims from all over the world assemble here for a three-day international revival assembly.
Every year in May, Ba'kelalan people climb this peak for 11 hours, including prayer breaks.
Mount Murud is an underrated mountain in Sarawak and is not known. This mountain has so many hidden treasures; the rock garden is one of them! Here you will find a rock formation that looks like a dog. From here, you can walk for an hour or two and you will reach the summit. There are two pinnacles perpendicular to the ground, standing proudly next to each other!
---
Bestseller Cupholder Bottles
Bestseller No. 1
Bestseller No. 2
---
Beautiful view from Mount Murud pic.twitter.com/zQbutQfD6v

— Barbara Stephen (@barb_bstephen) July 23, 2015
Trekking at Murud Mountain in Sarawak
Mount Murud is one of the best mountains of Sarawak for trekking and adventure activities. This mountain has a great potential for religious ecotourism as well.
There are two routes to conquer this mountain- from Bario and from Ba'kelalan. Both of them are considered difficult and you might want to hire a guide. Finding a guide that is helpful and cheaper is possible with the help of locals only!
The Eastern slopes of this mountain come under Indonesian territory. However, you are not supposed to cross borders for tourism purposes.
Trekkers prefer to ascend via Bario and descend to Ba'kelalan and vice versa. With this, you get a gist of every route. Going here with groups is much more advised than trekking alone as it will not put a strain on a budget.
Although it takes 4 complete days to finish the trek, you should consider keeping 2 days extra in your hand to relax and travel back and forth.
Even though Murud is the highest mountain in Sarawak, it is not hiked by many. It is not a well-known mountain and it is the best secret of Sarawak that one should really experience!
4. Hike Husband wife peaks at Bukit Batu Lawi Mountain in Sarawak
Elevation: 2,046 m
Duration: 2-3 whole days
There are several folk stories about this mountain in Sarawak that may be heard. The mountain's summits, according to Kelabit tradition, are a husband and wife—a couple of protective gods who are the progenitors of all highland peoples. According to another legend, there was a period when a mountain of fire known as Batu Apoi attempted to extinguish all life. Batu Lawi eventually defeated it, and Batu Apoi's flames faded out.
Mountain heath vegetation is found on the female peak along with species that are endemic and are only found in Borneo and nowhere else on the entire planet. Some of these species are also found in Gunung Murud. There are more than 67 species of birds, 20 species of mammals, and so on are found.
Religious tourism
Batu Lawi was originally visited by Kelabit pilgrims on pilgrimages from Bario or Ba Kelalan, a two-day trip through the forest that is now part of Pulong Tau National Park. They must not say the mountain's name from the time they first see it until they stand at its base, according to their beliefs, for fear of angering the spirits on the peaks.
On the male summit, flames have been seen shooting out spontaneously on a frequent basis.
Trekking at Batu Lawi mountain in Sarawak
Mount Bukit Batu Lawi is a significantly tough trek and a serious expedition. Going along with Guides and porters is of utmost importance.
The first successful climb of the male peak was undertaken in 1986 by British and Australian troops from the 14th/20th King's Hussars, headed by Jonny Beardsall.
In 1988, Bruno Manser attempted but failed to scale the peak. He entered Sarawak illegally in May 2000, telling his Penan buddies that he meant to climb Batu Lawi for the second time, but he has been missing ever since. On March 10, 2005, he was legally proclaimed dead.
A Malaysian climbing team successfully scaled Batu Lawi in 2007.
This trek can be begun from Ba'kelalan or Bario. Watch out for leeches as you may find plenty of them. No matter how many precautions you take, you will get bitten by at least one leech on the trail. So make sure you carry salt, insect repellent, or vinegar to kill or trap leeches.
5. Wander through the Rafflesia Mountain in Sarawak: Gunung Gading
Elevation: 965m
Duration: 3-4 hours (one way)
This mountain lies within Gunung Gading National park and offers a challenging trail to the summit through the thick jungle. Perks of hiking this trail is you can also explore other smaller trails along with this one that would hardly take an hour or two.
The trek to the Gunung Gading Summit route (3-4 hours one way), will need you to be physically fit because it entails some severe hill trekking. Because overnight stays in the forest are not permitted, you must complete the trek and return the same day.
Had the chance to see the Rafflesia (R. tuan-mudae) in bloom.

Selamat Hari Malaysia for real.

16/9/2020, Gunung Gading National Park#sarawak pic.twitter.com/6QO1lAXv1A

— swamp the slime puppy (@reinedeloup) September 16, 2020
A sidewalk to Batu Bakubu, a former communist camp during the war, maybe done from the peak. The Park HQ can provide you with further information on these walks.
This is the park's longest and most demanding trail. The scenic view from the Gading hill summit, which is 965 meters high, is well worth the 3 to 4-hour climb. While trekking, one may witness Rafflesia blossoms on the lower slopes of the hill.
A relatively straightforward walk from Gunung Gading top to Batu Berkubu over a small saddle takes an extra 2.5-3.5 hours round trip. Trail markers are painted on trees, however, they might be difficult to see in the dark or wet.
6. Conquer the Highest peak in Brunei: Bukit Pagon
Elevation: 1,875 m
Duration: 11 hrs.
This 17.7-kilometer out-and-back track is located in Nanga Medamit, Sarawak. This path is ideal for hiking, trail running and strolling, and you won't run across many other people while exploring it. The path is available all year and is a lovely place to come at any time.
Pagonprick (Bukit Pagon;1850 m)– szczyt w Brunei,w pobliżu miasta Bangar,blisko granicy z Malezją.Jest najwyższym wzniesieniem tego państwa. pic.twitter.com/gMsKZx32BJ

— Krzysztof Bednarczyk (@zibi20201) May 26, 2017
In certain parts, especially during the rainy season, the path up Pagon Hill may be steep, muddy, and treacherous. This path is home to a diverse range of vegetation and wildlife. Because this walk is located in a woodland region, bring proper hiking footwear, a trekking stick if required, and bug repellent.
The tallest peak in the tiny country of Brunei, Bukit Pagon ('Pagon Hill,') is relatively famous. It has been climbed multiple times in recent years, always from the Malaysian (Sarawak) side, through the numerous logging roads. Because it is bordered by protected forest on the Brunei side, regular hikers are unable to access it. On the upper hills, pitcher plants can be found.
Recently trekkers have collected water from pitcher plants to satisfy their thirst. You can't really rely on water sources on the trail so carry water more than you expect you will need.
7. Discover Malaysia's second-largest chamber at Mount Api
Elevation: 1750m
Mount Api is a limestone mountain in Sarawak, Malaysia's Gunung Mulu National Park. Mount Benarat and Mount Buda are both parts of the same geological formation.
The 5th WLE winning place brings us to Malaysia!

The karst formation known as the Pinnacles is located near the top of Mount Api, Gunung Mulu National Park. It is the most studied tropical karst area in the world!

The full list of winners 👉 https://t.co/FqtPMhb0TB pic.twitter.com/ATMo0yceyS

— Wiki Loves Earth (@WikiLovesEarth) December 24, 2020
The spectacular limestone karst structures known as "the pinnacles" are a feature of Mount Api. Many caverns may be found on the mountain, with pathways leading to the huge Clearwater Cave system. During the Benarat 2005 Caving Expedition, the Api Chamber, Malaysia's second-largest chamber, was discovered on Mount Api.
Mount Api is known for its pitcher plant variety, with at least eight different species.
Read also: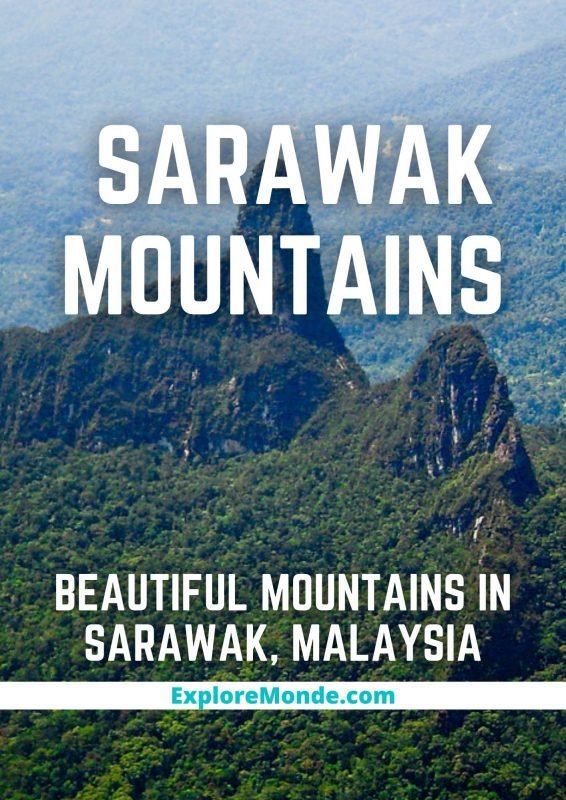 ---
Note: The hours of operation, ticket prices, and admission criteria of museums, parks, etc. may change from time to time. For the most updated information, we recommend checking the official website of the attraction directly prior to your planned visit.
Categories: Asia | Africa | Europe | USA | Australia & New Zealand | France | Germany | India | Italy | Spain | Sports | Switzerland | Travel Tips | UK | Products | Download AI Trip Planner App
---