Bali is an Indonesian island in the westernmost Lesser Sunda Islands, lying between Java to the west and Lombok to the east. It is one of the country's 34 provinces with the provincial capital at Denpasar towards the south of the island. Bali is Indonesia's main tourist destination, which has seen a significant rise in tourists since the 1980s.
Bali is part of the Coral Triangle, the area with the highest biodiversity of marine species. In this area alone, over 500 reef-building coral species can be found. The volcanic activity which formed the island continues to contribute to the islands' unique geology, and it is composed of young volcanic rock.
The main attraction for most tourists is the island's warm, friendly culture. The Balinese people are very welcoming to both domestic and international tourists.
Here's a list of the 21 best things to do in Bali, Indonesia.
Best Things to do in Bali, Indonesia 1-10
1. Tegalalang Rice Terraces

Tegalalang Rice Terraces are located in the village of Tegalalang, Ubud. The terraces cover a relatively small area of land of only 1.82 hectares, going up to a height of 300 m above sea level, with a width of 3.5 meters and a depth of 60 cm. The steps on the terraces are made from stone and dense, compacted dirt. The unique shape of the terraced rice paddies in Tegalalang form a beautiful, picturesque view for Bali tourists.
Lush green flora and fauna surround the Tegalalang Rice Terraces, and a beautiful view of Mount Agung can be seen from all angles. Tegalalang Rice Terraces are a place to visit if you want to take wonderful pictures and enjoy gorgeous panoramic views of the Balinese landscape.
2. Sekumpul Waterfalls
Sekumpul Waterfalls are in Bali, Indonesia. They are approximately 2 hours away from the airport. The tall, natural waterfall is in a forest, with a pool around it. There are areas where people can jump from the rocks above into the water below. The waterfall has been in movies and has been a popular tourist attraction.
There are several ways to get to Sekumpul Waterfalls. The easiest way is by car. Renting a car and driving there is the cheapest option, but it can take more than two hours. There are also tour companies that provide transportation to the waterfalls. These tours can be a little bit more expensive but they cut down on transportation time. People can also walk from Tirtha Empul, a Hindu temple that is about 30 minutes away.
When going to Sekumpul Waterfalls it's best not to wear expensive clothes, because of the risk of ruining them. The rocks around the waterfall are slippery and there is a lot of water on them which can make clothing wet.
People who visit Sekumpul Waterfalls can swim in the pool, jump from the rocks above into the water below, and can walk around the waterfall. It's also possible to do yoga in the water as there is a part of the river where people can get out of the water and the river is calm. There are also some vendors who sell snacks and drinks, but it's recommended to bring food with you. There are also showers and bathrooms available to use at Sekumpul Waterfalls.
Sekumpul Waterfalls has been in movies and has been a popular tourist attraction in Bali, Indonesia.
3. Diamond Beach, Bali
Diamond Beach is a popular tourist destination in Bali, an Indonesian island. It boasts clear water and sand that sparkles like diamonds when the sun shines on it. Diamond Beach is also known as Dreamland Beach. It is found along the southwestern coast of Bali, near Tanjung Benoa.
The sandy shore of the beach is very fine and long, looking like a strip of sparkling diamonds, hence its name. The water is crystal clear and relatively shallow. Dreamland Beach is also part of Benoa Bay, Indonesia's first man-made marina. It is open to the public.
There are also several resorts in the area, which provide easy access to the beach.
4. Gili Air, Bali
Gili Air is located in Bali, Indonesia. It is part of the Gili Islands, three islands off the northwest coast of Lombok. Gili Air is the smallest and most relaxed of the three, with a population of just over one thousand. Gili Air hotels are some of the most luxurious in Indonesia, with private pool villas and cheap bungalows easily available.
---
Bestseller GoPro Selfie Sticks
Sale
Bestseller No. 1
Bestseller No. 2
---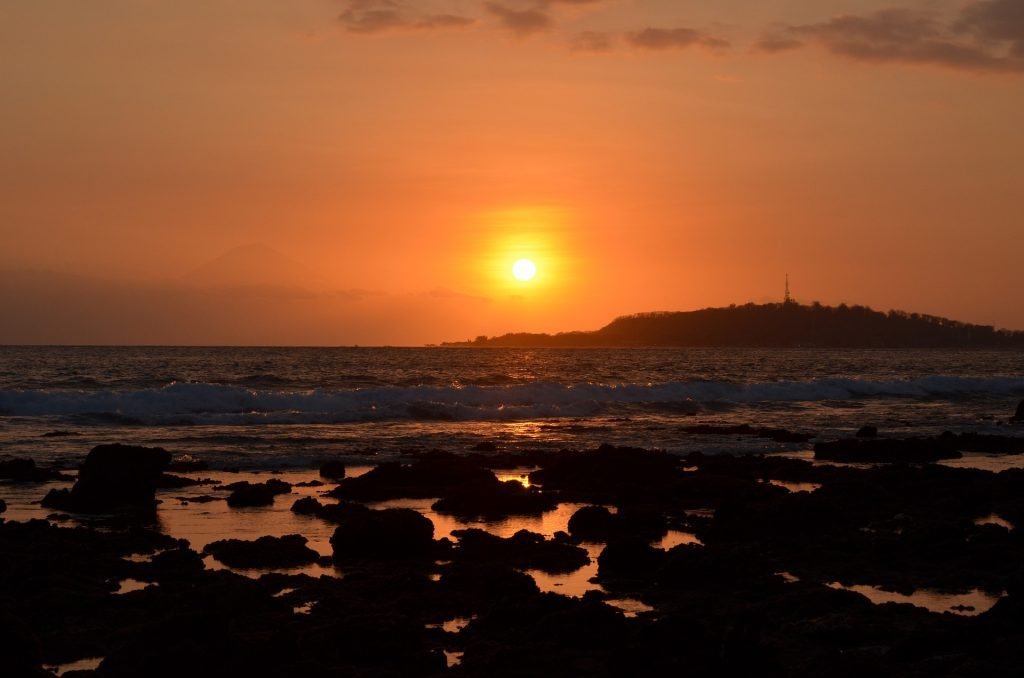 Typical tourist activities on Gili Air include surfing, snorkelling and relaxing. Stay safe by wearing a wetsuit and taking plenty of sun cream if you're going in the water. If you're staying on Gili Trawangan, don't try to swim back from Gili Air at night.
There is a small local community on Gili Air, which is mostly Muslim. As a result, tourists should exercise respectful behaviour – particularly towards women who are unlikely to feel comfortable wearing a bikini top.
The coral reefs at Gili Air are generally in better shape than those of the nearby Gili Islands, as there is a marine preservation program in place here. Gili Air hotels can be booked for around $100 a night, making it one of the more expensive Gili Islands, though still a good value option for those on a budget.
In addition to being one of the best budget travel destinations, Gili Air is also one of the most LGBT friendly.
5. Munduk
Munduk is a small village in the northeast of Bali. Munduk itself has about two thousand inhabitants and they live in more than 1200 homes. It is at an altitude of 1,000 meters above sea level and about twenty kilometers north of the city of Singaraja.
---
Bestseller Copper Water Bottles
Bestseller No. 1
Bestseller No. 2
---
Munduk is famous for its natural beauty and as a place to have a holiday, but also as a village with a long tradition. Munduk is an agricultural village where mainly rice and vegetables are cultivated. Nowadays tourists come to Munduk because the place has a lot to offer. From Munduk one can make nice walks and go hiking. From here you have a very good view over the valley below where you will see rice fields, small rivers and green forests. You can also enjoy a beautiful view from Munduk over Mount Agung with its 3000 meters, the highest mountain in Bali.
There are also three temples in Munduk that are worth a visit, including the Pura Bukit Dharma Lor temple (Temple on the Hill of Dharma). This temple is known as a place where the Hindu gods always listen. The temples are situated in beautiful natural surroundings and that is why it is a great idea to combine your walk with a view over the rice fields and nice temples.
Munduk is also a great place for yoga enthusiasts. There are many different packages that can be combined with a stay in this village and it is also possible to do yoga yourself. Munduk is a village with many activities and also an area where you can relax with your family or friends. There are many hotels in Munduk with all facilities, but it is also possible to stay in one of the private houses.
6. Monkey Forest in Ubud
Monkey Forest in Ubud, Bali is a great place for people of all ages. However, it may not be the best idea to bring really small children. The monkeys will play with your stuff, like cameras and bags, if you don't watch it carefully. Also, there are some steep bits and uneven walking paths.
The park itself is a great place to explore with lush green trees and fast-moving monkeys. At the entrance you can get food to feed the monkeys, however, this is not necessary. There are so many monkeys around it's easy to find some who aren't busy and will happily take food from your hand.
---
Bestseller Cupholder Bottles
Bestseller No. 1
Bestseller No. 2
---
The park also has a lot of other great attractions like temples and traditional Balinese buildings to explore. It's a great place to spend a few hours during the day. There is also a restaurant if you want something to eat as well as somewhere.
7. Kelingking Nusa Penida
A town on the island of Nusa Penida, off the eastern coast of Bali, Kelingking is a small fishing village at the southern tip of Nusa Penida and only one kilometer from the sea wall. The city has its own government with an elected mayor and it's managed by Kuinesos Foundation. Kelingking is located just south of Sanur on Nusa Penida. It's about a 20-minute boat ride from Sanur.
Written records about Kelingking are scarce. The name was first mentioned in 1878 by the Dutch researcher D.J. Meeus, who wrote that it is a village of fishermen, located opposite Chaweng Beach on the island of Ko Samui in Thailand and that its inhabitants then were still Buddhists. In 1930, a report on the island of Nusa Penida stated that Kelingking was an independent village.
As with other places in Indonesia, Balinese people live here together with immigrants from Java and the Lesser Sunda Islands. And like most coastal settlements in Bali, fishing is still one of Kelingking's main sources of income. In Kelingking, there is a kindergarten and a primary school. Furthermore, there are small shops, a mosque, and a community hall.
The people of the village earn their living from fishing and agriculture. They plant rice, maize and vegetables . In addition to that they breed pigs and chickens. Tourism is being developed very slowly, as most tourists who visit Kelingking are those who go on a trip to the nearby island of Nusa Ceningan.
Kelingking is an ideal starting point for trips around the island of Nusa Penida. Besides that, there are organized boat tours to the nearby islands of Bali and Lombok. There are also several diving schools in the village.
There are no real beaches in Kelingking, but there is a small beach located nearby at Teluk Nare and Nusa Penida Dive Center organizes diving and snorkeling trips to nearby reefs and wrecks.
The main industry is fishing, but there are some local businesses. There is a small beach just south of the local mosque. The main landmark is the imposing Kuinesos Foundation building, which hosts various traditional Bali dance performances.
Unfortunately, many buildings of this former fishing community were destroyed by the tsunami in December 2004.
8. Uluwatu Cliff
Blue ocean water and white sandy beaches make Uluwatu cliffs a perfect destination for tourists who loves surfing, diving, snorkeling, and other water sports. However, the main reason for tourists to visit Uluwatu cliffs is to visit the Pura Luhur Uluwatu temple. According to Bali Empire History, Pura Luhur is a Hindu temple that was built during the 11th century by an Indian Brahman, named Mpu Kuturan.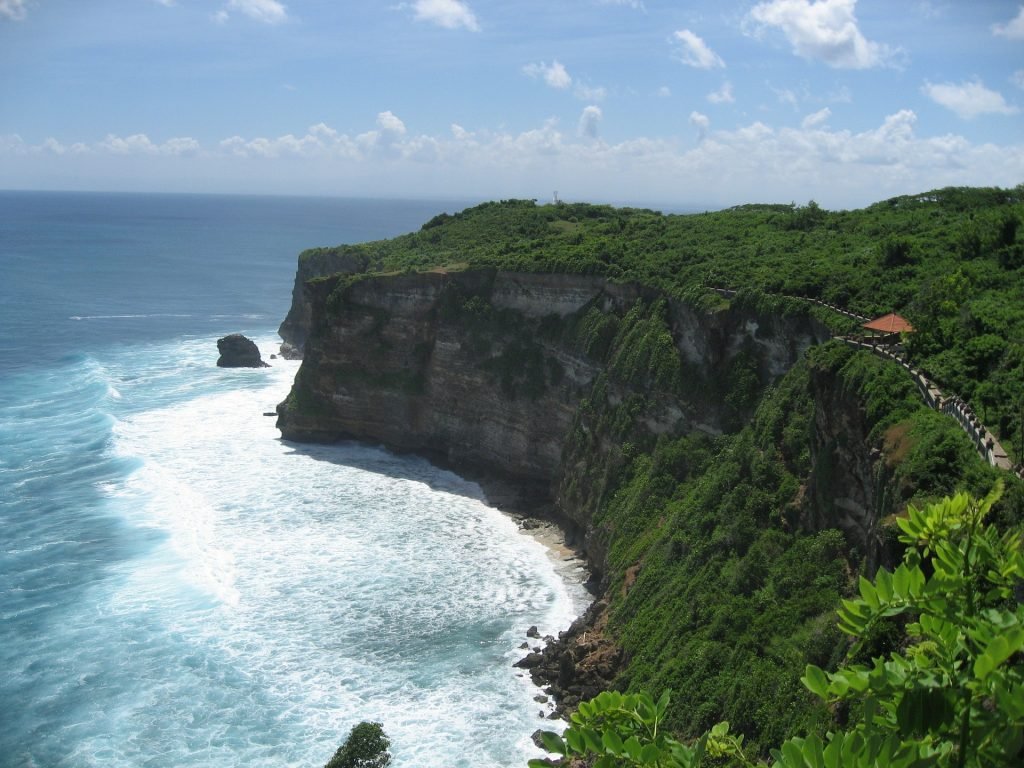 The view from the cliff is really beautiful. You can see a white sandy beach and ocean water under your feet. There are many local people who come to the Uluwatu cliffs to do some bird catch using a traditional fishing net called "Jala". But of course, visiting the Pura Luhur Uluwatu temple is still the main reason for many tourists to visit Uluwatu cliffs.
After that, you can also watch the Kecak dance performance at Pura Luhur which is a blend of Balinese culture and art. After watching the dancing show, you can finish your trip by enjoying some food in one of the restaurants around the Uluwatu cliff area.
9. Kecak Fire Dance
The Kecak Fire Dance is a traditional Balinese dance that originated from the Ramayana and is also based on the one-thousand-year-old Hindu epic called the 'Ramayana'.
It is performed at night on a stage beside palm trees by male dancers wearing their traditional Balinese clothes The dance starts with the drummers beating on their drums while singing the 'cak' sound in call and response style. This is the same sound that inspired the Kecak Fire Dance name. The men dance around a fire lit by one of the dancers. As the men dance, they become more excited, and while some of them become so consumed by the rhythm that they leap into the fire pit. Visitors to Bali should try to attend a Kecak Fire Dance performance.
The best time to see it is during the full moon when crowds of locals come to watch. During the year, there will be many opportunities of watching the Kecak Fire Dance, but Christmas and New Year's Eve are the most popular times.
10. Surfing in Bali
Bali is a popular destination for surfing in South-East Asia. While the waves and water can be very dangerous, they also provide some of the best waves in the world. The island's main source of tourism comes from surfers and other outdoor sports enthusiasts who want to experience Bali's rich culture and nice weather.
Bali lies around 50 km (30 miles) east of Java, Indonesia's most populous island. The two islands live in mostly symbiotic harmony; Bali provides rich volcanic soil and a land bridge to Java while Java provides Bali with its much larger workforce and more expansive economy.
Bali is 4-5 times smaller than the main island in Indonesia and has a population of around four million people, mostly in the western districts. The eastern district is largely unpopulated with most Balinese living along the coastline.
With over 300 kilometers (186 miles) of tropical beaches, Bali has plenty to offer outside of surfing as well. Popular activities include swimming, snorkeling, scuba diving, rock climbing, hiking, and other outdoor activities.
Compared to other countries in the region like Australia or Hawaii, Bali's surfing scene is relatively new. The first surfers came in the late 1970s when American missionaries brought their boards with them to the island. Bali has received much more attention in recent years due to its world-class waves, which have been drawing more and more surfers each year.
The waves vary a great deal depending on the time of year, location, and water conditions. Some surfing areas work perfectly in late March while others only provide ideal conditions from August to November. The northern Bukit Peninsula receives high winds during some months but works well throughout most of January.
Places for Surfing in Bali
The island's most well known surfing areas are Canggu, Sanur, Gerupuk, Uluwatu , Padang-Padang Beach, Balian Beach, Lovina Beach, Medewi Beach and Serangan. The last two offer "left" breaks while the rest provide mostly "rights". The Bukit Peninsula is also home to plenty of offshore islands, which are particularly popular with surfers because they provide great breaks in almost every month.
The most famous of these is the G-Land peninsula located on Java's southern coast. Some of the island's best "lefts" break over a wall that reaches up to six meters (20 feet) high. These waves are famous for how perfectly they curl, which makes them all the more dangerous to surf.
For beginners interested in surfing Bali's waves, there are plenty of surf shops along the coastline that rent boards and offer lessons. Because this is one of the best places to try surfing in Asia, expect to pay around US$150 per week and $20 per day for a surfing board.
Surfing in Bali is dangerous, as the waves can often reach heights of five meters (16 feet). The currents are strong; however, those that know what they're doing should be fine as long as they pay attention to lifeguards who monitor popular surfing areas like Uluwatu.
Best Things to do in Bali, Indonesia 11-20
11. Uluwatu Temple, Bali
The Uluwatu Temple Bali, Indonesia is a Hindu temple. It is located on cliffs overlooking the Indian Ocean. As of today, it is still in active use by Balinese Hindus and there are ceremonies held daily for which visitors are required to be dressed respectfully. The temple's history goes back more than 1,000 years. It has been built at the end of a steep limestone rock peninsula.
The Uluwatu Temple Bali, Indonesia is visited by devotees who want to leave offerings or make sacrifices. This may be done as an act of thanksgiving or in order to receive blessings for future endeavors. Devotees will often pray at sunset when they can watch the sun go down over the ocean. The site is known for its unique carvings, including bas-reliefs. This temple was constructed using the natural environment as part of its design. During certain ceremonies, a fire dance is performed as an offering to the gods.
12. Tanah Lot Temple
Tanah Lot Temple is a Hindu Balinese temple, located on the westernmost tip of island Bali in Indonesia. The sea at Tanah lot can be very dangerous when it comes to high tide. There are still Hindu communities but has become a tourist attraction. People all over the world will come to this temple to see it.
13. Seminyak
Seminyak is a beachfront city located in the western part of Bali, Indonesia. The town has two main streets lined with shops, restaurants, and bars. The streets are separated by a canal with small bridges crossing over them.
Most of the hotels and restaurants cater to Westerners as well as wealthy Chinese visitors. The town is popular for its nightlife scene which features live music, pubs, casinos, and nightclubs. Restaurants featuring international cuisines are abundant.
Bali's most popular shopping street, Jalan Laksmana, is located in Seminyak. It has cafes and restaurants as well as many retail shops which sell fashionable clothing and other items. Some of the shops are small boutiques originally owned by local people but have been taken over by multinationals.
14. Padang Padang Beach
Padang Padang Beach is a beach on the Bukit peninsula in South Bali, Indonesia. It is known for its leisurely afternoon surfing conditions and sunset views. There are several more popular beaches nearby such as Dreamland Beach and Double Six Beach which both have many more amenities available to tourists. The relative isolation of this beach has made it a destination for those seeking privacy.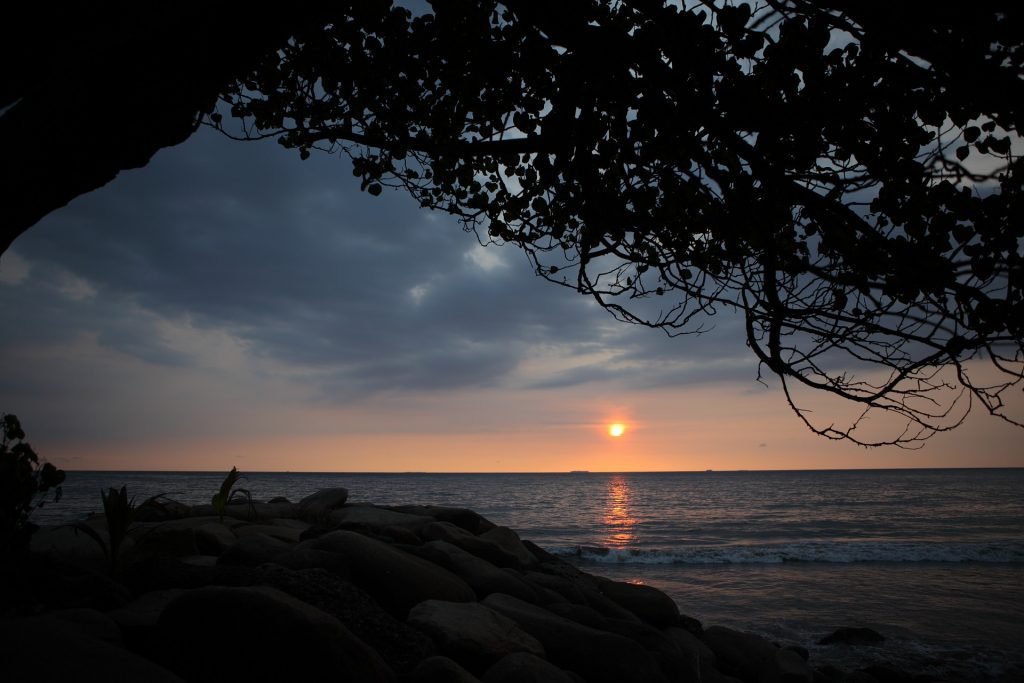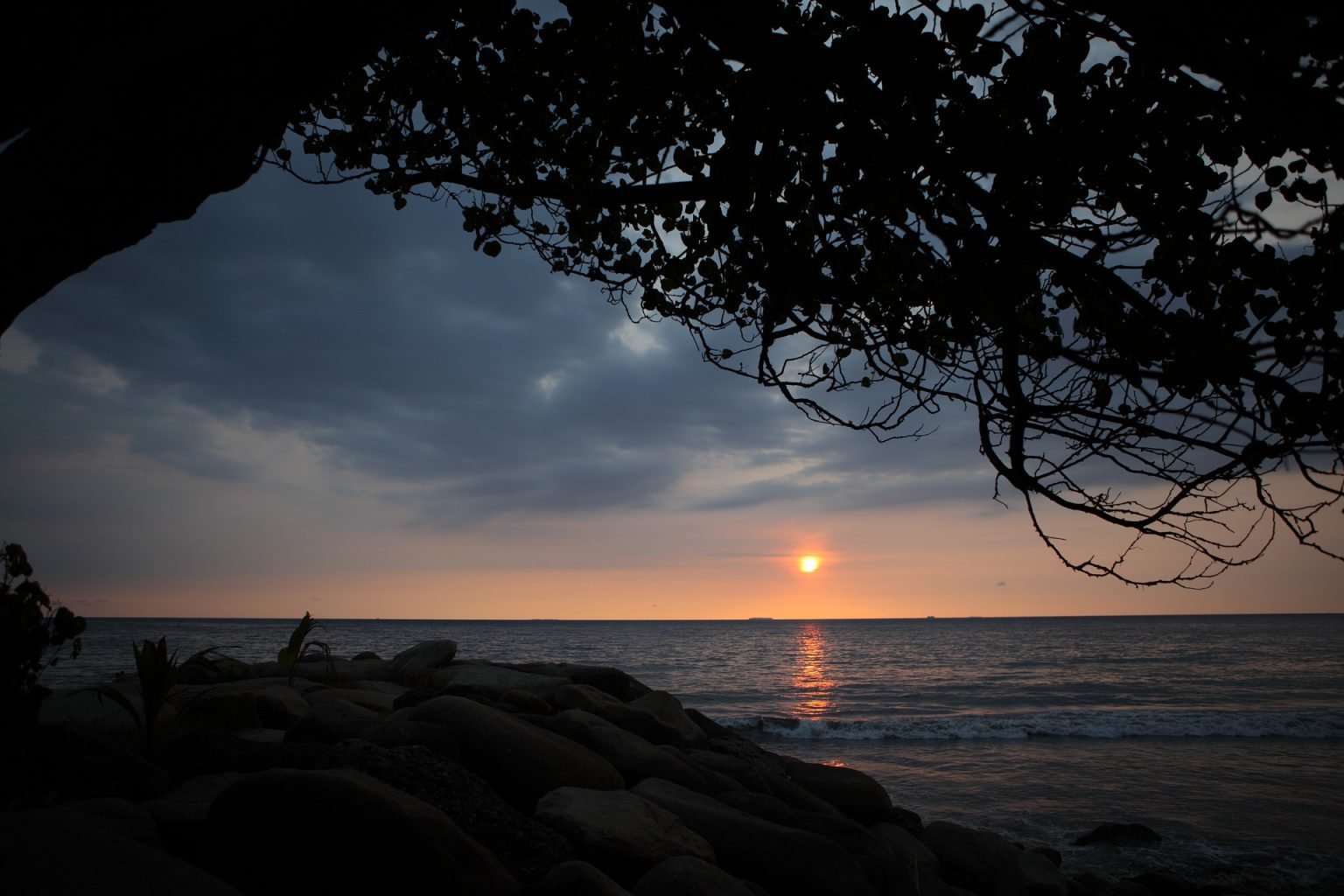 Padang Padang Beach has very clear water and as such is a good location for swimming as well as surfing. Since its opening in 2009, it has become popular with surfers and non-surfers alike. The waves that reach the beach are about six feet high and perfect for surfing lessons during the day or surfing after sundown. There are several surf schools located nearby for those who wish to learn how to surf here. Since the beach is located on a peninsula, surfing is possible for most of the day.
Padang Padang Beach has many surf competitions with prizes going to winners from all over the world. There is a restaurant and bar located on Padang Padang Beach which serves drinks and food to tourists who visit.
15. Mount Batur
Mount Batur is an active volcano located in the Kintamani region of Bali, Indonesia. Since 1847, Mount Batur has erupted eight times. The last eruption occurred on November 30th, 1990. Mount Batur gets its name from the Balinese word for oven because of its resemblance to one when viewed from the east.
During the winter months, Mount Batur is covered in vast amounts of thick fog. There are many Hindu temples surrounding the base of Mount Batur. The largest one is Pura Ulun Danu Batur.
Halfway up the mountainside, there is a large Buddhist monastery named Taman Narmada. It is a popular spot for sunrise views. Mount Batur supplies nearby cities with fresh water from its northern side via the Batur Natural Spring. This spring flows 18,000 liters of cold, clean, and clear spring water an hour. People also farm the grass growing on the mountain slopes for cattle fodder.
16. The Ubud Royal Palace
The Ubud Royal Palace is a large palace complex in central Bali. It occupies much of the center of the town, with two large courtyards, an ornamental lake, and various buildings containing ceremonial meeting halls and living quarters. The site has been the center of government for the Balinese kings since at least the 10th century CE; it is the seat of governance for the Ubud district and contains a museum detailing the history of Bali.
The palace is built around two main courtyards; each has ornamental gardens and large ceremonial meeting halls, such as the "bale kambang" (floating pavilion) and the "bale banjar" (council pavilion). The palace contains a number of structures that have been added over time. It has been repeatedly damaged by earthquakes and volcanic eruptions, notably in 1917 and 1994. In September 2009, the entire palace complex was seriously damaged by the Mount Agung volcano eruption but has since been fully restored.
The Ubud Royal Palace is the seat of governance for the Ubud district, which covers a larger area than Ubud itself. The palace contains a museum, detailing the history and culture of Bali from its prehistoric times to the modern day.
The rulers of Bali have resided in or near the town since at least the 10th century CE, moving their capital from place to place as the fortunes of war dictated. In the early 17th century, they abandoned their former capital at Gelgel near modern Semarapura and moved their seat to nearby Bedulu. According to Balinese history, a jataka story tells of King Udayana Warmadewa who moved his palace from Mataram in Java to Bedulu in Bali, after his daughter drowned at sea close to the shore off Gelgel.
Ubud was by this time a small hamlet, and the new royal palace was built in its present location in 1710. It is possible that it expanded then or in the following decade, as the Gelgel dynasty lost control of Bali. Local Balinese histories state that this new palace was occupied by all four of the island's kings between 1710 and 1780, although only the details of King Anak Agung Ngurah are known. The Dutch invaded Bali in 1794, the Balinese king fled to Gunung Agung, then to Klungkung. The Dutch found no palace there, just a court and priest. A second invasion of the island in 1846 resulted in the Dutch imposing a new Balinese ruler, Anak Agung Putu.
The Ubud Royal Palace was damaged by the 1917 Mount Agung eruption, and several of its original pavilions were destroyed.
17. Pandawa Beach
Pandawa Beach is located in Bali, Indonesia, and is a popular tourist spot. It has white sand and turquoise waters. There are lots of activities to do there such as hiking, horseback riding, canoeing, fishing, diving, snorkeling, and rock climbing
Pandawa Beach is one of the three beaches on the island of Bali where tourists can enjoy surfing. Pandawa Beach is near Lovina on the north coast of Bali, but it is not as developed as beaches such as Sanur and Kuta. Pandawa beach has a landscape formed from 'tuff' or volcanic ash. The beach is located in Pecatu village at the foot of Mount Agung, which is the highest mountain in Bali.
There are great views from Pandawa Beach and it is a popular sunset beach. You can watch the amazing view of nearby mountains while enjoying the sunset with a cocktail in your hand.
18. Elephant Cave, Bali
Elephant Cave is a cave located in Bali, Indonesia. The cave was created in 1960 by Balinese farmers who wanted to investigate their groundwater. Upon digging for water, they found the Elephant Cave instead. It was named after the mound of earth that formed when they tried digging into the wall of the cave. Elephant Cave is a tourist attraction in Bali, Indonesia that attracts around 1,000 visitors annually.
In 2016, the cave was turned into a haunted house for Halloween by the Elephant Batu Caves Group. The group built dead ends and creepy mannequins to make it more frightening for visitors. In order to create the haunted effect, they used flashlights to create shadows on the cave's rocks.
Elephant Cave is located in Bali, Indonesia. It can be accessed by foot from Batu Caves Temple. The cave encompasses around 0.7 hectares of land and is 12 meters high at its tallest point. Elephant Cave was created from farmers digging for groundwater, but instead finding the cave. It was given its name because of the soil mound that was formed from digging into the wall of the cave.
There are four ways to access Elephant Cave.
The first way is by stamping your ticket at Batu Caves Temple.
The second way is by walking from Batu Caves Temple to the cave, which takes around ten minutes.
The third way is through a cave on Batu Caves Road. However, this route is not recommended because it is very easy to miss the cave opening.
The final way is by rock climbing, but rock climbers are not allowed to climb on certain days or during festivals.
19. Amed
Amed is a small town on the east coast of Bali, Indonesia. It was hit by a tsunami from the Indian Ocean earthquake that killed over 100 people and destroyed the majority of the buildings in Amed. In 2006 it had about 5,000 inhabitants.
A few hours after the initial quake there were more earthquakes off-shore. The tsunami that followed reached heights of and caused massive destruction along the coast. The tsunami was detected as far away as Africa. Most of the people killed were in Amed, where hundreds of buildings collapsed or were swept out to sea. As of September 2006, more than 100 bodies had been recovered from around Amed but many were still missing.
20. Lovina
Lovina is a quiet seaside town in Bali, Indonesia. It is best known for its dolphin-watching tours. In Lovina, there is a small bay where many species of dolphins live. Visitors can get in a boat and travel out to the center of the bay, where they wait for dolphins to come up and breathe out of the water. They also spot some other marine life such as turtles, manta rays, and sharks. Another attraction is seeing traditional Balinese dances on nights when traditional Balinese music is played. There are also places to go fishing and riding horses along the beach. Lovina is a great place for tours because you get to see many different types of wildlife such as dolphins, turtles, manta rays, sharks, and more in one place.
The population of Lovina was approximately 24,000 in 1990. Today, there are approximately 5 to 6 million people in Lovina making it a major city in Bali. The economy in Lovina is mostly based on tourism.
Balinese food is known for its variety of seafood dishes because of the access to many types of marine life that live in the bay near Lovina. People who visit Lovina can enjoy Balinese cuisine and try many different seafood dishes.
Best Things to do in Bali, Indonesia 21 and beyond
21. Tanjung Benoa
Tanjung Benoa is a coastal area of Bali, Indonesia. Tanjung Benoa is located in the Nusa Dua district of southwestern Bali and within walking distance to the Ngurah Rai International Airport (Bali). The area was previously used as a mangrove swamp but has been reclaimed for tourism with an extensive canal and marina development and a resort and golf course. The area features a man-made canal, jetties, and peninsulas, as well as hotels and other recreational facilities.
The name Benoa comes from the Balinese word "beno", which means 'to load'. In common with many older ports in the region, it was used for loading and unloading ships. The natural shallows around the area were not suitable for large ships, so over time, a series of jetties and canals have been developed to create Benoa Harbour.
The Tanjung Benoa area is one of the main gateways to Bali, located on Bali's south side. It is about 45 minutes drive from Ngurah Rai International Airport of Bali. Benoa Harbour is popular for holding international yachting events and a favorite spot for a range of water sports.
The majority of the land in Benoa is being developed into tourist accommodation, mainly hotels. There are shopping malls, restaurants, and resorts that have sprung up in the area. The first hotel opened in Benoa was the Tanjung Benoa Bali which was opened in 1993. Also, Tanjung Benoa is popular for surfing, especially during the southwest monsoon between December and April.
For the past 20 years, a man-made canal has been developing in Benoa Harbour. The area is now popular for international yachting. The canal has become world-famous for hosting the PIMEX (Pacific Indonesia Marine Exposition) at Benoa every year.
Out of the list of the Best Things To Do in Bali, Indonesia, you can pick and choose which ones you want to cover depending on your preferences and how much time you have available on hand. We'd recommend doing all of them!
Bali is a beautiful place with a lot to offer – from religious temples to cultural immersion to relaxation at the beaches. Add the places mentioned in this article to your itinerary for your Bali trip.
For updated regulations and requirements, check out this site.
Read also: 18 Places You Must Visit in Seville, Spain
---
Note: The hours of operation, ticket prices, and admission criteria of museums, parks, etc. may change from time to time. For the most updated information, we recommend checking the official website of the attraction directly prior to your planned visit.
Categories: Asia | Africa | Europe | USA | Australia & New Zealand | France | Germany | India | Italy | Spain | Sports | Switzerland | Travel Tips | UK | Products | Download AI Trip Planner App
---