Want to enjoy a coastal gem with an old vibe? Port Orford is exactly that and much more. There are so many things to do in Port Orford, from soothing experiences to adventurous places, it has everything to make this your next destination vacation. Port Orford is a very small but picturesque fishing town that is located on the Southern Oregon coast- the mesmerizing place where mountains and forests come a long way to visit the sea. The place is considered the most westerly city in the continental US.
Fun Things To Do In Port Orford, Oregon (Jump To Section)
If you are thinking about what you can do in Port Orford, well, let us tell you that there is no lack of diverse places and activities to visit and partake in. Whatever you have on your wishlist, all are here in between Bandon and Gold beach. Do you want a spectacular seascape to soothe your mind? It is there. Want to cherish the awe-inspiring architecture of the victorian mansion? You will find it in here. If you like to hike, a mountain hiking trail is calling you here.
From ocean, lake, or river fishing to boating and kayaking, a perfect destination is waiting for you. Most importantly what will amaze you is you have no need to push your way through heavy traffic or any other busy footpaths. You can just simply enjoy the place with less traffic and panoramic vistas. Along with this, you can simply browse through local shops to quench your shopping thirst and visit art galleries to get acquainted with various new art forms. Do not forget to have a nice dinner in a local eatery to tickle your tastebuds.
So, what do you think? We are assuring you that your Port Orford tour will be unbelievable and it will stay forever in your heart.
But the matter is what to do when you are finally in a place with a short drive away from the ocean or a long mountain trail. Well, this article is what you need to organize your trip. We have listed some of the best things to do here. Let's check them out.
Fun Things To Do In Port Orford, Oregon
1. Battle Rock Wayside Park
Battle Rock Wayside Park is known as a very historical place in Port Orford where the Quatomah Native Americans fought Capt. William Tichenor's men in 1851. When you are stepping into this coastal area as your holiday destination, the first thing you should do is check out the Battle Rock Wayside Park. If you have a love for hiking, the place is waiting for you. Just go hiking the hill to the top of the Rock.
This place is famous for having beautiful and the most spectacular views from the top of the hill on the coast. If you are lucky enough, you will come across Grey whales that like to hang out in the cove area. In this area, a city-maintained Visitor Center and a restroom are present where you can collect detailed information about this Battle Rock Wayside Park.
There are lots of restaurants, gift shops, motels, art galleries, an antique store, and a bank just within the walking distance of the park. The place is also well known for the Jubilee fireworks where the volunteer fire department sets off what some consider the best display on the coast.
The park is also a natural amphitheater for visitors where you can simply sit and spend your time. Recently Oregon decided to change the name of Battle Rock Park to state Wayfinders Point. Not only that, the state's Department of Transportation (ODOT) installed a webcam to monitor the park and traffic flow.
When you are done visiting Battle Rock Wayside Park, just have a look at Redfish Rocks Marine Reserve and of course the starting location for the Wild Rivers Coast Scenic Bikeway. The Redfish Rocks Marine Reserve is known as the prime habitat for marine life where you can expect a variety of nearshore groundfish species, lingcod, wolf eel, greenling, urchins, and crabs.
Also, the Wild Rivers Coast Scenic Bikeway is there to amaze you. This is 60 miles which are anchored in the quaint fishing hamlet of Port Orford. Just have a cup of coffee and enjoy this calm and serene view. Though the route can be completed in just a day, you can take your time with several out-and-back rides.
2. Humbug Mountain State Park
This huge place named Humbug Mountain State Park is another surprising state park and campground that always attracts people. No doubt this place is going to be on your Orford checklist because of its dramatic headland that sits towering above the surrounding landscape. This place is situated six miles south of Port Orford, Oregon and the area of the state park is approximately 1850 acres.
Humburg mountain and forested hills are adorning this place and this is the reason, the weather is always soothing here. Tourists and local people love to spend a moment in this place to enjoy the warmest weather on the Oregon coast along with the mind ocean breeze. You will also love this place and the scenic beauty of Humbug mountain is something quite sumptuous.
It is also one of the tallest mountains in Oregon directly rising from the ocean. If you are someone who loves challenges, then you should not miss the 1730 feet up the hill by hiking. The whole hiking path will be covered with dense forest and of course, your calves are going to burn pretty soon after you set off. And here it comes to the challenging part. The west side of the hills is shorter and steeper. So you should try the other side when you are coming down from the summit.
---
Bestseller GoPro Selfie Sticks
---
On the downward side of the mountain, you can head to an old-growth temperate rainforest where you will find Douglas-fir, grand fir, Oregon myrtle, spruce, alder, and Western red cedar. The whole forest is decorated with natural waterfalls and creeks tumble. Fall in the forest covers and surrounds the place so densely that you may forget you are near a coastal area. You can also experience a whole new ecosystem, with a lot of potential to spot some local wildlife.
Apart from this, there are sandy beaches and a comfortable campsite. This whole adventurous journey of getting to the peak will be highly enjoyable.
3. Floras Lake Natural Area
Another unique, as well as charming area, is the Floras Lake Natural Area which is situated between Port Orford and Bandon on the Oregon Coast. This place is also on every tourist's bucket list.
Though the place is one of the least populated in the whole world, it contains a lot of natural life. The lake itself is separated from the ocean by a thin strip of dunes and vast meadows. This creates a whole new unique view and the environment is completely changed here. The beautiful beach over here runs for miles. It passes by sand cliffs, to the south almost as far as Cape Blanco State Park and north up to Bandon.
This area is also known as Floras Lake State Park which is entirely undeveloped, though the north end adjoins a county-run campground, beside the lake. There is a Blacklock Point which you should visit. This point is a grassy promontory between steep, rocky hillsides that drop down to a beautiful, unspoiled, dark sand beach, full of rocks. The overall beauty is glorified by the general remoteness and the contrast with the lush forest just inland and other varied plantlife.
---
Bestseller Copper Water Bottles
---
There is no such entry charge to the parking area which makes the place a good and vibrant destination for free camping, in a tent at the edge of the forest, close to the ocean.
4. Cape Blanco Lighthouse
One of the most eye-soothing views you can get in Port Orford is from this Cape Blanco Lighthouse. The lighthouse was originally built in the year 1870 and the site was covered by a dense spruce forest. Though the forest needed to be cleared. The whole structure was made of bricks that were found in the local areas.
The lighthouse helps all ships to keep a safe distance from reefs. Also, it helps to get the proper position of ships for navigation. This isolated historic lighthouse is Oregon's oldest one which is still operating light; also it is the most westerly lighthouse, the light with the highest focal plane above the sea at 256 feet.
Another fact that may amaze you- the lighthouse is the first one which was with a woman keeper named Mabel E. Bretherton. This place is now open to tourists from every corner of the globe. As a tourist, you can simply climb up into the working lantern room and see the historic lens. No doubt the height of this historic lens will always stay in your heart.
5. Cape Blanco State Park
One of the most important and remote state parks on the coast is Cape Blanco State Park. This tourist place is filled with a beautiful lighthouse, a bunch of historical walks, beach trails, horseback riding, biking, and of course the facilities of camping.
---
Bestseller Cupholder Bottles
---
This coastal park is located between Bandon Beach and Gold Beach. The Pacific view trail is an easy trail with great coastal views which is just 1 mile long. Another one is Cape Blanco North Shore Trail which you can consider a quick one. This trail will lead you down to the beach. After hiking through this trail, just walk and reach the Cape Blanco Coastal Trail which is 0.8 miles long. This trail is famous for watching birds and magnificent views over the coast.
Hughes house trail and Mouth of Sixes River Trail are also going to make you amazed. The overall place is also a great spot to base yourself to explore the area. A total of 52 electrical sites are present right now with full facilities of water, cabins, group camps, toilets, and hot showers.
6. Hughes Historic House
If you love historical places, this place is going to make you feel better. The Patrick Hughes House, also known as Hughes Ranch and the Historic Hughes House is one of the best landmarks in Port Orford. This is a lucky survivor of a large, prosperous ranch and dairy business operated by Patrick Hughes and the family. This building was built in 1898 on Cape Blanco in Queen Anne style.
Patrick and Jane Hughes arrived at Cape Blanco approximately at the time of the Civil War and settled in to make a living in this remote area. They started their lives by raising dairy cattle. After a huge struggle, they finally became able to afford an elegant 11-room Victorian-style house.
Right now, the Cape Blanco Heritage Society maintains the interior of the home and the organization offers tours to the public. While traveling, you will get excellent volunteers who are ready to help you. The whole house is now decorated with period furnishings, and the volunteers describe how the family lived and worked. As the environment of this house is beautifully restored, you can simply get a nostalgic vibe here.
7. Port Orford Heads State Park
The place Port Orford Heads State Park is going to be your next destination where you will find big views and rich wartime history. The park also contains the site of the Port Orford Lifeboat Station which was built in the year 1934 by the Coast Guard. This Lifeboat Station aims to provide lifesaving service to the southern portion of the Oregon Coast. This Lifeboat Station is now available for tourists and is operated by the Cape Blanco Heritage Society.
The mesmerizing views from this State Park can not be expressed in words. You just need to feel the beauty and luster of the area. In this place, you can enjoy Port Orford Heads Trail, Port Orford Lifeboat Station Hidden Stairs, Agate Beach Walk, and much more. You just need to spend your time here.
This place is worth visiting for an hour or two because of the dramatic offshore rocks and views from the upper trail to down the coast.
8. Port Orford Lifeboat Station Museum
Port Orford Lifeboat Station was built by Julius Yuhasz and Arvid Olson in the year 1934. The Lifeboat Station was constructed on a 280-foot-high cliff above Nellie's Cove. Within two years, a two-bay boathouse and breakwater had been built at the cove.
Later this place was decommissioned in 1970 and Oregon State University started using the place for marine research, fish genetics, and the effects of salt and fresh water on salmon. The Point Orford Heritage Society has now mentioned this area as a historical place. In 2000, a new museum was opened in the barracks building. The other five remaining buildings are restored as they were. You can enjoy the history behind this place in Port Orford. Just keep in mind the museum is open from April through October.
9. The Wooden Nickel
This place is also a tourist place which is located on the south coast of Oregon in beautiful Port Orford. And this is the home of the Myrtlewood tree. The Wooden Nickel has been running continuously for nearly 39 years. This place is a famous handmade gift shop where you can just stop and shop for yourself and your family. Don't forget to have a look at the process of crafting handmade gifts.
You will find quality crafted products in Myrtlewood, Maple, Redwood, and Port Orford Cedar, along with wax, satin, and gloss finishes.
10. Gold Beach
If you love to have a great view of a shipwreck and a sandy beach, you will find that in this Gold Beach along with a wild river as an extra. Though the place is not filled with the charm of fellow small towns, it has its own warmer way to welcome you.
The gold beach boasts a long stretch of sandy beach which is a great way to walk and of course beachcombing. The rough riverside is going to amaze you and its scenic waters may cool you down. You can also enjoy the whole way of the river through Siskiyou National Forest.
Also, visit local restaurants and shops. Count on caveats which are Woggy's Fish and Chips. You can also find good lunch options in Barnacle Bistro. Don't forget to count Gold Beach while planning for Port Orford.
11. Dinosaurs or Prehistoric Gardens
The prehistoric garden is a perfect place to get the combined essence of nature and science which makes it a must-see tourist attraction on the Oregon Coast.
The place is full of life-sized sculptures of dinosaurs and other prehistoric animals in a variety of psychedelic hues. You can simply imagine the prehistoric era in the present time. This area was started to develop in 1953 when late creator Ernest Nelson began sculpting size-accurate dinosaurs on his property. Later in 1955, the place was open to the public. The park will welcome you with a twenty-foot-tall concrete Tyrannosaurus. A total of 23 life-size dinosaur structures are there.
The largest sculpture in the park is the Brachiosaurus, which is an astounding 86 feet long and 46 feet tall. The creature's long neck rises from behind a wooden fence near the fanged Tyrannosaurus in the parking lot. Though all structures are now a bit faded, still these are exciting for tourists.
This place is Oregon's pre-freeway road scape where tourists stop by and they enter the area with an admission fee. Unarguably you should not miss this place to meet our prehistoric creatures who ruled the planet once.
Nelson, the artist died in 1999, and since then, his grandchildren are the owner and they run the business of this Prehistoric Garden.
12. The Fishermen's Memorial
The nostalgic place of Port Orford is dedicated to those who died at sea from this port. This area is decorated with a sheep's wheel, comfy seating areas, and a monument. The monument carries the names of those who died.
This whole area is framed with bricks and you will be amazed that bricks are donated by members of the port community. This nostalgic place was founded by the Port Orford Women's Fishery Network in the year 1996 and it took four years to create and open to the public. The Port Orford Women's Fishery Network is also known as "Fishermen's wives" in the local area. Other volunteer help was also given by the Fishermen's Association, tuba Bar-B-Q, etc. Every year, in August month, an annual get-together takes place here to offer heartfelt prayers for fishermen.
So what do you think? Just pack your bags and go out to this unbelievable travel destination where you can find the combination of mountains, lakes, miles of trails, and the sparkling blue ocean. Immerse yourself in mesmerizing natural beauty without the crowds. Also try water sports like windsurfing, kayaking, etc to make your holiday more memorable. This destination is going to be your favorite one within days!
Read more: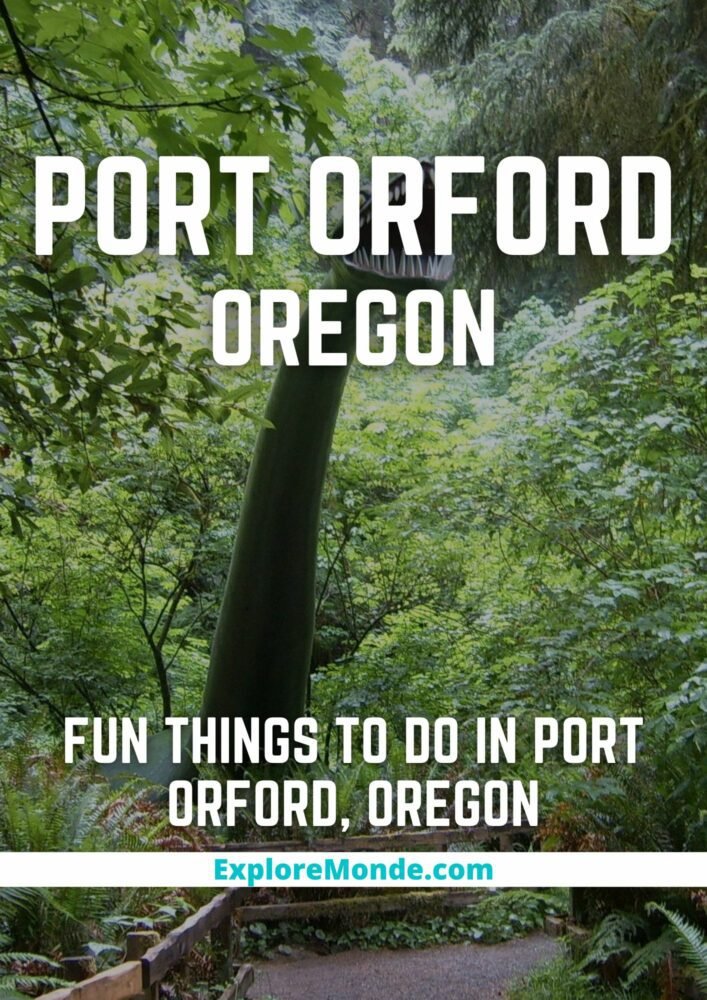 ---
Note: The hours of operation, ticket prices, and admission criteria of museums, parks, etc. may change from time to time. For the most updated information, we recommend checking the official website of the attraction directly prior to your planned visit.
Blog Categories: Asia, Africa, Europe, USA, Australia & New Zealand, France, Germany, India, Italy, Spain, Sports, Switzerland, Travel Tips, UK, Products
More From The Blog
---