Before we jump into our list of the best tattoo shops in Charleston SC, let's take a quick peek into the tattoo culture. We, humans, are as much Social Beings as our eagerness to be individual. Our pursuit of being unique and yet being a part of the herd is what led to so many traditions, norms, and expressions. We have found countless ways of expressing our individuality. Among them, one of the oldest forms is the tradition of getting tattoos.
A tattoo, as we all know, is a kind of body modification, which is done for various purposes. Nowadays, it is generally done for more decorative and aesthetic reasons. Earlier it was primarily associated with Headhunting, i.e, to showcase your wins, your catches in the war/fights, and your hunting abilities. It was also done by tribes for semi-religious to religious purposes. The oldest known tattoos were discovered on two mummies from Egypt, dated between 3351 and 3017 BCE. Thus, the tattooing tradition is as old as our society is.
There are various methods as well as various kinds of tattoos done for a variety of reasons. It is generally done, nowadays, for beauty modification and as a medium of self-expression and individuality. As far as the types of tattoos go, there are primarily 5 but not limited to them.
a) Subcultural connotation:- Tattoos that serve as rites of passage and find their root in old traditions, cultures, and norms. Mostly seen in tribal communities around the world.
b) Identification– It was primarily done forcefully in the past to mark out criminals.
c) Cosmetic:- It is becoming popular day by day now. To enhance the volume of eyebrows to cover thinning hair spots.
d) Functional:- These are done to serve a purpose other than just aesthetic.
e) Medical:- To cover help spot an accurate location for the repeated application of radiotherapy etc.
There are probably thousands of styles of tattoos depending on the ink, tool, method, way of tattooing, and, in general, the tradition it is inspired from. The content of the tattoo and the size of the tattoo is also a parameter for differentiation, for e.g – Traditional American tattoo, Japanese tattoo, color tattoo, micro tattoo, stick and poke, line tattoo, portrait tattoo, etc. Generally, tattoos are permanent but there are also temporary tattoos that are done for various purposes and last for about 1-2 weeks depending on a variety of reasons, such as sun and water exposure, quality of the tattoo, etc.
With basics out of the way, if you want to get a tattoo and you are in Charleston, South Carolina, or went there for vacation then, you should check out the list below of the best tattoo places where you can get your first or next tattoo. For people who don't know, in the state of South Carolina, it is illegal to get face, head, and neck tattoos so you won't be able to get these.
Here is the list of Top 10 Tattoo Shops in Charleston, SC you should check out:
Best Tattoo Shops in Charleston, SC (South Carolina)
1. Blu Gorilla
They claim to be the first Tattoo shop in Charleston, SC. They are voted as Charleston's Best by city paper readers for 12 years in a row. With a track record and accolades like that, you are in the right hands. Whether it is your first tattoo or your hundredth, they promise to make your experience smooth and give you the tattoo that you want. They do every kind of tattoo imaginable to you. Be it color or black and grey, micro or full back piece, a custom or a large selection of flash tattoo in their store. They will help you create a tattoo for you that is no less than an art. They operate at three locations:
A) Downtown Charleston on King street
B) Meeting Street
C) Goose creek
You can call or visit any of the three locations to make an appointment.
2. Broken Lantern Tattoo Studio
They have been in the business for more than 10 years now. They opened shop in 2009 and thus, are among the longest-running tattoo shops in Charleston. They offer a variety of styles of tattoos in custom pieces. They have a team of creative and experienced artists, who can execute styles like Japanese, Realism, Black & Grey, Floral, Mechanical, and American traditional. They offer you great quality work at a fair price.
If you are confused about what tattoo to get, what style, and the placement of it, then they offer In-Person Consultation as well. Traditional Japanese and Traditional American seems to be their forte but it doesn't mean they are in any way limited to these. The staff and artists are professional, accommodating, and dedicated to the craft. They are an experienced bunch who will make your tattoo-getting experience as smooth as possible and give you the tattoo you want. They offer Spray Tanning services as well. If you already have a tattoo, which requires a touch up then they offer this too. They are located at 1931 Belgrade Ave, Charleston, SC.
---
Bestseller GoPro Selfie Sticks
---
3. Upper Hand Tattoo Studio
They started in 2016, giving them an experience of over 7 years. They are a group of five highly talented artists dedicated to giving you the best quality out there. People who get tattooed there can't recommend them enough and goes so far as to say, "exceeded all my tattoo expectations". This tattoo parlor pays homage to the rich history of tattooing with a more traditional feel and casual atmosphere.
If you want a good experience as well as a tattoo that is more traditional in approach and feel then this is a great place to check out. They are friendly, and polite, and would give you honest feedback about the tattoo, its placement, etc. They do accept walk-ins all days but particularly on Saturday, they accept only walk-ins. One thing to keep in mind is they take only cash.
They don't do piercing and their shop minimum is 100 dollars. They are usually closed from Sunday to Tuesday and from Wednesday to Saturday, the timing is 12-8 p.m. They are situated at 1869 B, Sam Rittenberg Blvd, Charleston, SC.
4. Iron Lotus Tattoo Studio
They have more than 10+ years of experience, starting in 2010. They stress the quality of tattoos, for them the satisfaction of customers and the quality they deliver comes first. They take pride in their work and the establishment they run. They have a classy and comfortable studio where your tattoo experience would be nothing less than excellent.
They also strive to push and give you the best that is out there in the market. If you are looking to get Black & Grey, full Blackwork, Dot work, Full Color, and Neo-traditional then this is your ideal location. They are not limited to this only so do visit the shop and enquire.
---
Bestseller Copper Water Bottles
---
Their shop minimum is 100 dollars and they take only cash. They are located at 1921 Savannah Hwy, Charleston, SC.
5. Holy City Tattooing Collectives
If you are someone who is looking to get a fully custom piece from scratch, then Holy city Tattooing Collectives is an ideal choice. They claim to be Charleston's only fully custom tattoo studio. Their specialty is doing large pieces and custom-tailored tattoos. This shouldn't be taken as a limit as they take care of everyone and care about every piece of tattoo they do regardless of the size and complexity. This tattoo studio's artists bent can be gauged from their "Pepto- pink" colored walls.
They also issue Gift certificates so in case you wanted to surprise your loved one with a tattoo then you can give it to them. They are open on all days, though on Sunday they close 2 hours early at 6:00 p.m. They are situated at 1916 Savannah Hwy Charleston, SC.
6. Breakthrough Tattoo
They are a team of four experienced and dedicated tattoo artists who will make sure that you walk out with the vision that you came in. They offer services like Back pieces, Thigh pieces among others, and can do it in black and grey as well as color. If you already have a tattoo and are not happy with it, and looking for improvement and some touch then you should consider them. They offer cover-up services as well. From their colorful studio and thought-provoking art decoration, you would feel inspired and at home to get a tattoo that you would wear for your life.
They will give you a quality tattoo and people who visit have pointed out their excellent cleanliness, professionalism, and punctuality. They are open from 11 a.m. to 7 p.m from Monday to Thursday. On weekends, Friday and Saturday they stay open late till 9 p.m. On Sundays, they close out at 6 p.m.
---
Bestseller Cupholder Bottles
---
If you go to their official website then you can ask a question by inputting your name and email address. They are situated at 3025 Ashley Phosphate Rd, North Charleston, SC.
7. Yokai Tattoo Club
Their name means "good fortune and bewitching qualities" according to Japanese folklore. They are dedicated to making sure your vision comes true and you would walk out with a great quality tattoo. For them a tattoo is not just a medium of self-expression, they believe it is an art form and each tattoo is art.
They offer a free consultation so if you are on the edge and still haven't decided whether to get a tattoo or finalize a tattoo then a visit to them might just do the trick. They have a team that is capable enough to do a wide variety of tattoos, such as Japanese, Realism, Black & Grey, and American traditional to make a few. If you want to get a portrait then it is a good place to get one as they do good portraits as well.
They are located at 1316 Red bank Rd #3, Goose Creek, SC.
8. Oliver Pierre Tattoo Shop
If you are looking for more personal and one-to-one interaction with just one tattoo artist who is going to take care of you from consulting to doing tattoos then this is the right place for you. This is highly recommended for people who want to get their first tattoo. People are more than satisfied with his quality of work as well as the overall mood that he carries throughout the tattooing process.
He can do color as well as Black and Grey work. You can check out his portfolio and gallery of work on his official website to see whether you like his style or not. He doesn't take Walk-ins so be sure to make an appointment before going. He doesn't do piercings either.
The shop remains open throughout the week from 1:00 p.m. to 8:00 p.m. The shop is located at 135 Liberty Hall Road, Goose Creek, SC.
9. Red Kirin Tattoo Studio
If you are looking for a vibrant color tattoo or a meticulously detailed Black & Grey piece, a small tattoo, or a big piece, this tattoo shop has everything covered. They will make the entire experience comfortable and make sure that you walk out of the door with an amazing-looking tattoo that will not only look good but also get you tons of compliments.
All the staff as well as the artist are super friendly and accommodating. They hear your input and pay attention to what you demand. The music and the whole vibe of the shop are relaxing and welcoming. This is a great place to get an awesome tattoo at a fair price. Book an appointment in advance as they don't usually take walk-ins. They are situated at 1258 Red Bank Rd suite 101, Goose Creek, SC.
10. Charleston Tattoo Company
They established their shop in 2013, giving them an experience of over 9+ years. They focus on cleanliness, safety, and, in general, the type of environment in which you are getting your tattoo. They emphasize on details and making sure the lines are bold and your tattoos stand the test of time.
The artists are highly talented and extremely professional. They can do Black & Grey as well as color. They also offer piercing services. They do accept walk-ins but try to make an appointment in advance. Unlike many stores, they also accept credit cards. They are open throughout the week between 12:00 p.m to 8:00 p.m. They are situated at 792 Folly Rd, Charleston, SC.
How To Select a Tattoo Shop and a Tattoo Artist: Basics to Keep in Mind for the First-timers
Merely deciding that you want a tattoo is not sufficient. It can become quite a hectic and confusing task but you can do a few basic things to make sure you are on the right path. Since tattoos are not just body modifications but can be termed as art it is highly subjective what is good art and what is not but even in that, there are few things you can do to ensure you are covering the basics.
Now that you have decided you want a tattoo, you must first have a crude idea about what you are going to get. It doesn't matter whether you are sure about it at this stage or not. But having some sort of idea is a good starting point.
2. You might want to think about what style resonants with you, whether you want a traditional American, Japanese, Illustrative, Black & Grey, line work, or Color. You don't need to fix anything but you should have some idea about what you like and what you won't like to get. For this, you can use the internet, just Google these terms and see the examples there.
3. Next step is Internet research, the most crucial step. You can search about shops in your locality, read blogs such as these to get information or you can ask a friend who already has a tattoo. Search for any artists who are renowned for their work in your locality, which is close to what you want to have.
4. Go through the gallery of the shop and the tattoo artist and look for yourself. Look for styles and designs which are close to your idea.
5. Read a few testimonials, and look for their social media if they post their work on them. Note down the names of shops and especially artists whose work resonates with you. Take as much time as you want to, and try to connect with people through social media who have already gotten a tattoo from that shop or that artist.
6. After your initial research you must have a few options in your mind. Book an appointment with the shop/ artists. Many offer free consultations too.
7. Discuss your idea and what you want. Ask as many questions and get all inquiries out of the way. Depending on what you give your inspiration image to the artist, they might draw you something based on that or something entirely new based on your ideas only.
8. You don't need to finalize the first thing they draw, you can always ask them to change something, or add something. Discuss where you would want to get that tattoo and how big you want it. Do take the advice of your artist on this as almost every time they are right given they have been doing it for their whole life.
9. Do get the quotation of the design and ask about any other queries you might have such as the needles they use, the color, and safety measures they follow.
10. Finally, book the D-Day according to your schedule and your artist's calendar.
Few Basic Things to do on the D-day, if You are Getting Your First Tattoo
Getting a tattoo is a painful and tedious process. It can be less or more painful depending upon the placement, the size of the tattoo, and your pain tolerance level as well. Be prepared with a few basic things in your mind before going for a tattoo.
Always take a shower before going to the shop as someone is going to be extremely close and personal with you, so bodily hygiene shouldn't be a problem. Do use some form of body cologne or an After-shower.
Have the money handy or a credit card/debit card in case you want to pay via card.
Confirm with the shop and the artist before leaving the house for your appointment. It is better if you have a day off so that you can just focus on getting a good tattoo and not worry about work and other stuff.
Be prepared mentally for some level of pain. Take someone from your friends and family for moral support. Do ask the shop if you can bring someone. Generally, they don't allow a large group of people or children, so avoid taking too many people as well as children with you.
Wear clothes you are most comfortable with and you can sit in for a long duration of the tattooing process and try to be as still as possible. You can carry earphones with you to listen to some songs since it is a long process depending on the size of the work.
You can talk with your artist and ask about the progress that is not visible to you. Be mindful of not distracting your tattoo artist a lot since tattooing takes a lot of concentration, steady hands, and patience.
If it becomes overwhelming or you feel uneasy due to sitting long then you can ask for a quick little break.
After the tattoo is done, do ask about the tattoo aftercare from your artist, and don't forget to tip them well.
Last, a tattoo is a big commitment so be sure about it. Don't get something that is not personal and won't be relevant to you after a few years.
After everything being said, getting a tattoo is a very unique experience and it is something that can be your self-expression, it can create, mold, and transform your individuality. Discuss with your loved ones and take everyone's advice but at the end of the day, do what your heart says as this is a medium to express yourself.
Read more: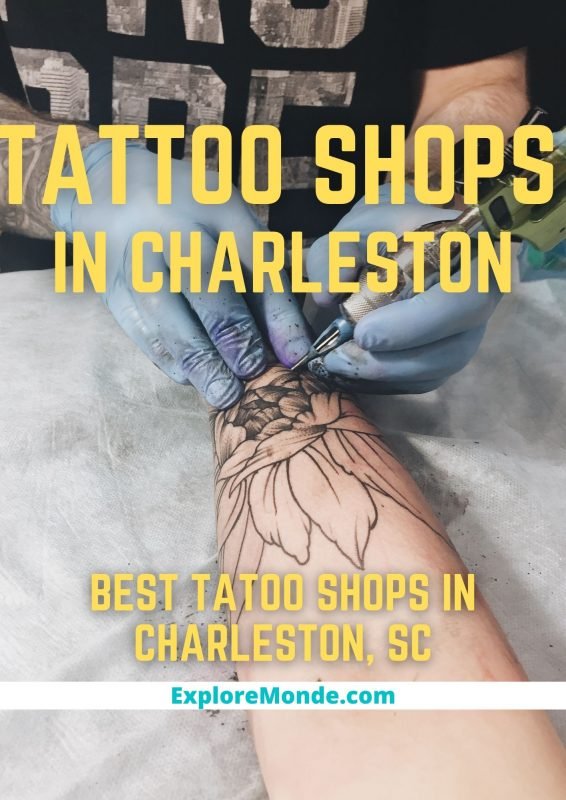 ---
Note: The hours of operation, ticket prices, and admission criteria of museums, parks, etc. may change from time to time. For the most updated information, we recommend checking the official website of the attraction directly prior to your planned visit.
Blog Categories: Asia, Africa, Europe, USA, Australia & New Zealand, France, Germany, India, Italy, Spain, Sports, Switzerland, Travel Tips, UK, Products
More From The Blog
---