Prague is a city that exudes romance. It's got an amazing history, gorgeous architecture, and stunning scenery. There are so many romantic things to do in Prague for couples; it can be hard to choose just one! So we have done the work for you and come up with 10 of our favorite activities – from walking around the old town listening to organ music in Staromestské Námesti, exploring communist-era buildings on Vinohradska Street, taking a boat ride on the Vltava River, to dining at an outdoor restaurant.
Have fun!
10 Super Romantic Things to do in Prague for Couples
1. River Cruise on the Vltava River
The Vltava River is the longest river in the Czech Republic, and it runs through the heart of Prague. A river cruise is a great way to see the city from a different perspective, and it can be especially romantic at night when the city is lit up.
There are few things more romantic than cruising down a river at night, with the twinkling lights of a city on either side. Add in some champagne and chocolates, and you have a recipe for romance.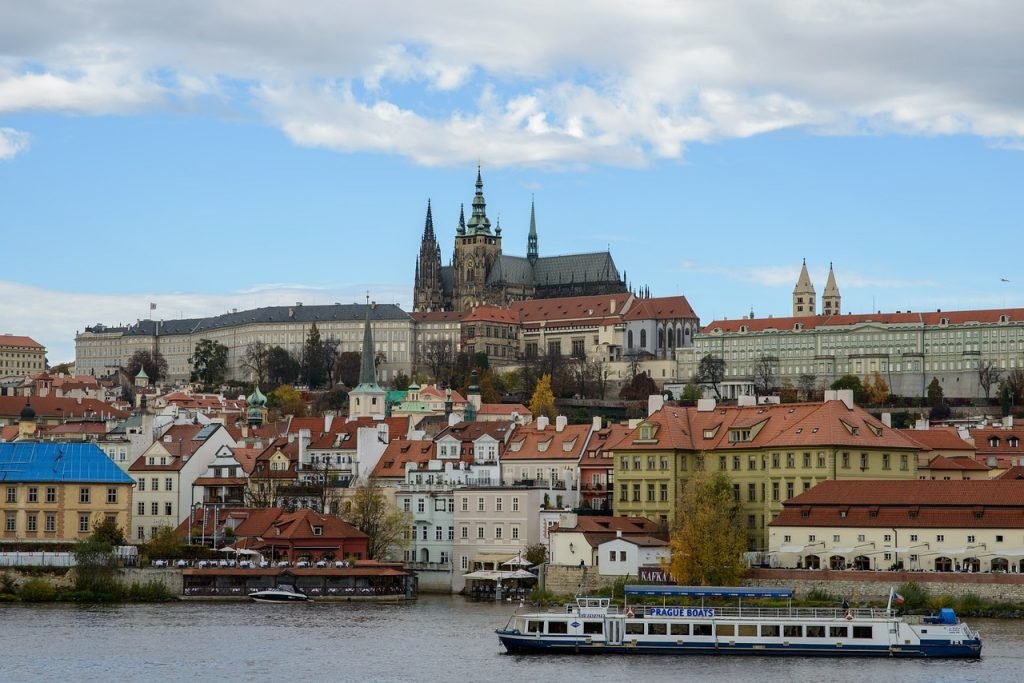 Most river cruises in Prague last around 1-2 hours, and they typically include commentary about the sights along the way. Some cruises may also offer music or other entertainment.
What could be more romantic than taking a leisurely boat ride down the Vltava River together? There are numerous companies that offer this service, so you can sit back, relax and enjoy the scenery as you float through the heart of Prague.
Cost: Prices for river cruises in Prague start at around $15 per person.
2. Feed the Swans
The swans can be found in the park near the Charles Bridge.
You will need to bring some bread or other food that they can eat. You can either hand-feed them or throw the food at them.
3. Sunrise Stroll on Charles Bridge
The best time to visit Charles Bridge is during the early morning hours. The sun rises at around 6:00 AM during the summer months and 7:00 AM during the winter, so plan your visit accordingly.
What to expect: Charles Bridge is one of the most popular tourist attractions in Prague, so expect it to be crowded, especially during peak times. However, the crowds thin out considerably once you get away from the main bridge area.
Tips: If you want to avoid crowds, we recommend visiting Charles Bridge during the early morning hours or later in the evening. If you do visit during peak times, be sure to take some time to explore the side streets and alleyways leading off from the bridge – they're often much less crowded than the main bridge area.
4. Walk Hand in Hand in Prague's Old Town
Walking hand in hand with your loved one is always romantic. But doing it in Prague's Old Town, with its stunning architecture and magical atmosphere, is even more so.
As you stroll through the Old Town, you'll pass by beautiful historic buildings, charming squares and quaint cobbled streets. You'll also get a sense of the city's rich history and culture.
The best way to reach the Old Town is on foot or by taking the tram. If you're coming from central Prague, take Tram 22 or 23 from Karlovo Namesti (Charles Square).
5. Cocktails at Hemingway Bar
Hemingway Bar is located in the heart of Prague's Old Town, just a few steps from Charles Bridge.
What to order: If you're a fan of Ernest Hemingway, you'll love the bar's namesake cocktail, which is made with rum, lime juice, and mint. If you're looking for something a bit different, try the Czech Mule, made with ginger beer and vodka.
Price: Cocktails start at around $10 USD.
6. Day Trip to Karlstejn Castle
Karlstejn Castle is located about 30 kilometers southwest of Prague in the Czech Republic.
The castle was founded in 1348 by Charles IV, Holy Roman Emperor and King of Bohemia. It served as a place to store the royal treasures, especially Charles' collection of holy relics. The castle is divided into three parts – the Imperial Palace, the Marian Tower, and the Great Tower.
There are many things to see at Karlstejn Castle including the Chapel of the Holy Cross where Charles IV's relics are kept, the Great Tower which offers views of the surrounding countryside, and the Imperial Palace which houses a museum with exhibits on medieval life.
The best way to get to Karlstejn Castle is by car or bus from Prague.
7. Romantic Stroll on Petrin Hill
Petrin Hill is located in the center of Prague, just a short walk from the Charles Bridge.
Wander through the park and take in the stunning views of Prague. Stop by one of the many cafes or restaurants for a bite to eat. Then, head to the top of the hill to watch the sunset over the city.
Petrin Hill is a great place for a romantic stroll. The views are simply breathtaking and it's a great spot to watch the sunset with your loved one.
8. Enjoy a Local Beer at Letna Beer Garden
Set in a large park with plenty of trees and grass, the Letna Beer Garden is a great place to relax with a beer and enjoy the views of Prague. There are several bars serving Czech beer, as well as food stands selling traditional Czech dishes.
The Letna Beer Garden is a great place to relax and enjoy the company of your loved one. With its scenic views and relaxed atmosphere, it's the perfect place to share a beer and some conversation.
Be sure to bring cash, as most of the bars only accept cash payments. Also, if you're planning on buying food from the stands, it's best to bring your own picnic blanket or chairs.
9. Old-Fashioned Romantic Medieval Dinner
In the Old Town Hall in Prague, you can have dinner in one of the most beautiful and historic sites in the city. The Old Town Hall is a Gothic building from the 14th century that has been beautifully preserved.
What to expect: You will be served a four-course meal by waiters dressed in medieval costumes. The food is traditional Czech fare, and you will be able to enjoy live music while you eat.
10. Brave the Ghosts & Legends of Prague
Brave the Ghosts & Legends of Prague on a tour. Prague is home to a lot of ghosts and legends. Hunting for ghosts is a popular activity in Prague. Ghosts are said to haunt the streets of Prague. The tour will teach you about the myths and legends of Prague through the ages.
When to Visit Prague as a Couple
Prague is a popular destination for couples, and the best time to visit Prague as a couple is during the shoulder seasons of spring and fall. The weather is milder during these months, making it more comfortable to explore the city. And, while Prague can be crowded during the peak tourist season in summer, it's more manageable during the shoulder seasons.
Weather: Prague has a continental climate, which means that it can be cold in winter and hot in summer. Spring and fall are the best times to visit Prague as a couple because the weather is more moderate during these months.
Crowds: Summer is the peak tourist season in Prague, so the city can be quite crowded during this time of year. If you're looking to avoid crowds, plan your trip for the shoulder seasons of spring or fall instead.
What are some of the best things to do in Prague for couples who want to relax and enjoy the city?
There are many spas located throughout the city that offer a variety of services. Some of the most popular include the Charles Bridge Spa, which offers massages and other treatments, and the Prague Castle Spa, which features a sauna, steam room, and Jacuzzi.
Restaurants: Prague is home to many excellent restaurants that offer a romantic setting for couples. Some of the best include La Degustation Bohême Bourgeoisie, which serves French cuisine in an intimate setting, and Kampa Park Restaurant, which overlooks the Vltava River.
Walking tours: There are several walking tours available that allow couples to explore Prague's historic center and learn about its culture and history.
Boat rides: A boat ride on the Vltava River is a great way to see Prague from a different perspective and enjoy some time together.
What are some of the best things to do in Prague for couples who want to experience the city together?
Walk around the city:
One of the best things to do in Prague for couples is to simply walk around the city and take in all the sights and sounds together. There is something incredibly romantic about strolling hand-in-hand through winding streets, stopping to admire the beautiful architecture or people watch from a cafe.
Picnicking in the park:
Another great way to spend time together in Prague is by picnicking in one of the city's many parks. Grab some food and drinks from a local deli or market and find a spot to relax and enjoy each other's company. If you're lucky, you might even catch a glimpse of the sunset over the city skyline.
Dining at a romantic restaurant:
For a more intimate experience, consider dining at one of Prague's many romantic restaurants. Many of these establishments offer candlelit tables, cozy fireplaces, and views of the city that are sure to set the mood for an unforgettable evening.
Visiting the castle:
no trip to Prague would be complete without visiting its most iconic landmark – Prague Castle. This massive complex sits atop a hill overlooking the city and offers stunning views from its various courtyards and towers. Be sure to explore it with your loved one for an unforgettable experience.
What are some of the best hotels in Prague for a romantic getaway?
1. The Augustine, a Luxury Collection Hotel, Prague
2. Mandarin Oriental, Prague
3. Four Seasons Hotel Prague
4. The Grand Mark Prague
5. Hilton Prague Old Town
What are some of the best restaurants in Prague for a romantic dinner?
1) La Degustation Bohême Bourgeoise: A must-go for any foodie, this Michelin-starred restaurant serves up modern Czech cuisine with a French twist. Located in a stunning Art Nouveau building, the setting is just as romantic as the food.
2) Kampa Park: This riverside restaurant has an idyllic location overlooking Charles Bridge, making it perfect for a sunset dinner or drinks. The menu features international dishes with a focus on fresh, seasonal ingredients.
3) Zlatá Praha: If you want to try traditional Czech fare, this is the place to go. The menu includes classics like roast duck and beef goulash, all cooked to perfection.
4) Alcron: For something truly special, treat your loved one to dinner at Alcron. This luxurious restaurant boasts an impressive wine list and serves exquisite French-inspired cuisine.
5) La Finestra: With its stunning city views and delicious Italian food, La Finestra is perfect for a romantic night out. The pasta dishes are particularly good, and there's also an extensive wine list to choose from
What are some of the most popular tourist attractions in Prague?
Wenceslas Square– A large square in the center of Prague that is home to many hotels, restaurants, and shops. It is also the site of several important historical events, including the Velvet Revolution that brought an end to communism in Czechoslovakia.
Petrin Hill– A park located just outside of the city center that offers visitors stunning views of Prague. Visitors can take a ride on the funicular railway or hike up one of the park's many trails.
Vysehrad Castle– A castle located on a hill south of the city center that was built in the 10th century. Today, it is home to a number of museums and art galleries as well as a beautiful cemetery with views overlooking Prague.
National Museum– One of Prague's most popular museums, located in Wenceslas Square, which houses collections documenting Czech history and culture from prehistoric times to the present day.
Jewish Quarter– An area located in Josefov that was once home to a large Jewish community dating back to the 12th century. Today, it is home to several synagogues, including Europe's oldest active synagogue, as well as Jewish cemeteries and museums documenting Jewish history in Prague.
Prague Castle– A castle that was built in the 9th century and has since been a symbol of the city. It is the largest ancient castle in the world and covers an area of 7 hectares. Visitors can explore the castle grounds, visit the cathedrals, and take in views of the city from atop one of its towers.
Old Town Square– The historic center of Prague where visitors will find many Gothic and Renaissance buildings as well as a number of museums, galleries, and shops. The square is also home to the Astronomical Clock, which dates back to 1410 and is one of the city's most iconic landmarks.
Charles Bridge– A stone bridge spanning the Vltava River that was commissioned by King Charles IV in 1357. It is lined with 30 statues of saints and is considered one of Prague's most beautiful landmarks.
What are some of the best places to go for a romantic date in Prague?
1. Old Town Square
2. Charles Bridge
3. Prague Castle
4. Petrin Hill
5. Kampa Island
What are the most romantic things to do in Prague for couples?
Final Words
Prague is a truly romantic city, perfect for couples looking to escape the hustle and bustle of everyday life. Whether you're planning a weekend getaway or a longer vacation, be sure to add some of these activities to your itinerary. And if you're looking for even more ideas, don't forget to check out our other blog posts about things to do in Prague!
Read also: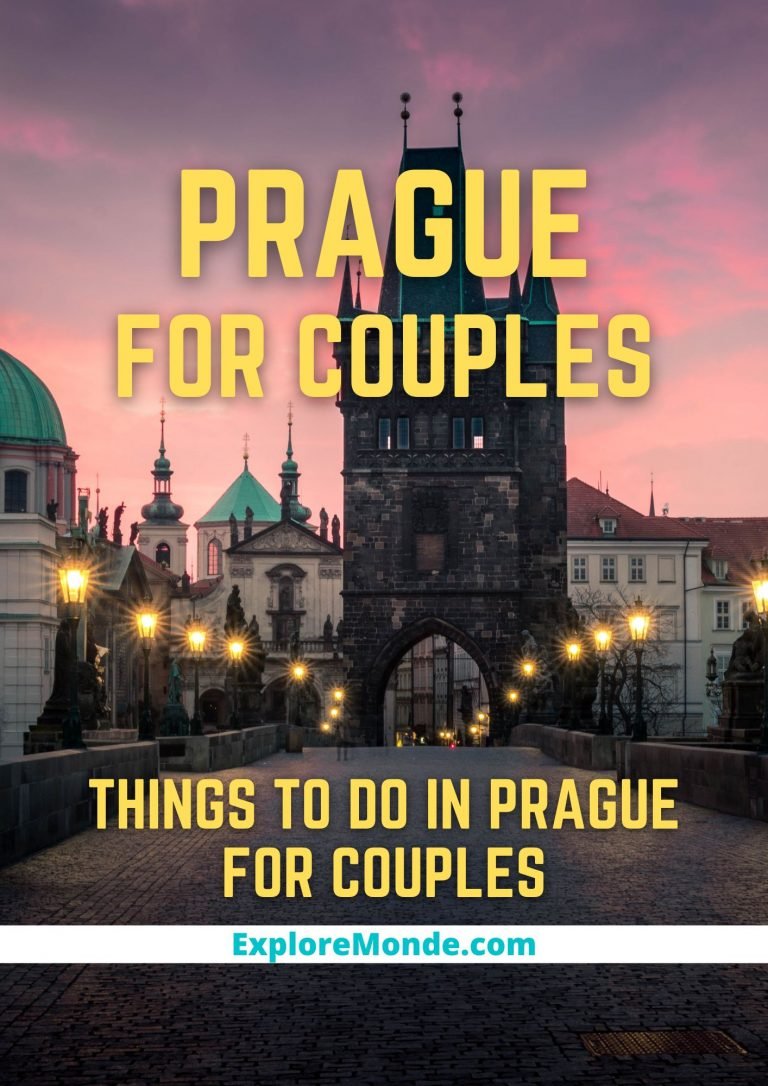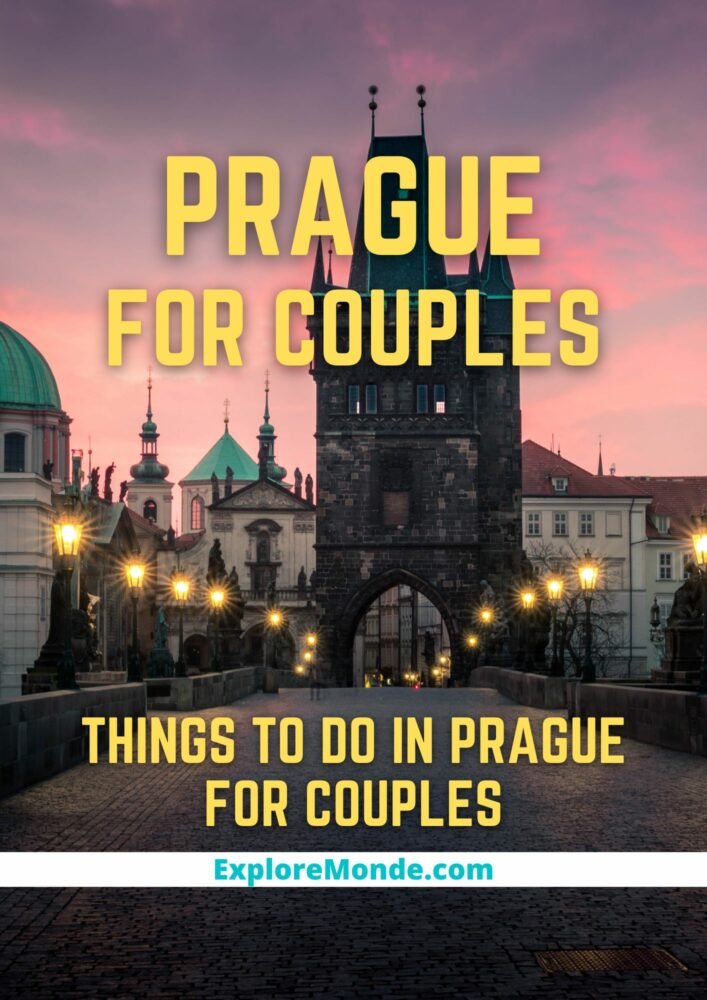 ---
Note: The hours of operation, ticket prices, and admission criteria of museums, parks, etc. may change from time to time. For the most updated information, we recommend checking the official website of the attraction directly prior to your planned visit.
Blog Categories: Asia, Africa, Europe, USA, Australia & New Zealand, France, Germany, India, Italy, Spain, Sports, Switzerland, Travel Tips, UK, Products
Fresh From The Blog
---