Atlanta is the capital city of the state of Georgia. It has a prominent part in the history of the USA. The city is famous for the World of Coca-Cola, Georgia Aquarium, and the National Centre for Civil and Human Rights. It also happens to be the city with the second most shopping spaces in the USA.
Best Clubs In Midtown Atlanta, GA (Jump To Section)
Atlanta is a fairly big city and thus has many areas which have their own unique identity. One such area is Midtown. It is known for its commercial activities and vibrant arts hub. Apart from this, the area has plenty more to offer for those who are willing to explore. It may not be known for its nightlife but it has a pretty vibrant, lively, and thriving night scene.
Whether you just happen to be in the area or you are staying in the area and looking for clubs to party then we have prepared just the right list for you. Here is a list of the 11 best clubs in Midtown Atlanta that you can check out the next time you want to party with your friends.
Best Clubs In Midtown Atlanta, GA
1. Domaine
This nightclub is one of the coolest you would find in Atlanta. This caters to the premier concert, entertainment, and nightlife experiences. It is a perfect place for those who are looking to go to a club with amazing lighting and production. The floor-to-ceiling digital screen behind the DJ booth is one of the most awe-inspiring features of the club.
Let the weekday grind drown out in this whitenoise… HAPPY FRIYAY #NERVOfam!!! See you at Domaine Atlanta, Prysm and Ayu DayClub this weekend 🇺🇸🥳🥳💯🔥💥 pic.twitter.com/s1TQbqh9jr

— NERVO (@nervomusic) April 22, 2022
The whole ambiance is dark, upbeat, lively and vibrant. The graphics displayed on the screen adds to the overall mood and feel of the club. This is an ideal place to enjoy a live performance by a DJ or an artist in an intimate setting. There is a bar counter too where you can sit and enjoy their delicious cocktails.
The staff are polite and always there to help you. The service, too, is top notch which only adds to the overall experience of the place. They always have some good artists playing so you are going to enjoy your time there. The bottle service is also great here.
If you want a little bit more space and privacy then you can book a VIP table here. They have a dance floor and options for outdoor seating as well. The food is also amazing and you have plenty of options available too. The club is for people 21+ years old. It remains open only on Thursdays, Fridays, and Saturdays from 10:00 p.m. to 3:00 a.m.
It is located at 1150 Crescent Ave NE, Atlanta, Georgia.
2. MJQ Concourse
If you are looking for a great time and a place with a great vibe and crowd where you can truly enjoy your time and dance your heart out then you should consider this place. This underground club is a relatively less expensive place, where you can find live performances by DJs and artists from different genres.
MJQ Concourse in Atlanta. pic.twitter.com/DUvWM986ZQ

— COSMO BAKER (@CosmoBaker) November 24, 2020
They also have dance parties so you can hope to bust out some moves on the dance floor. The place is high-energy and lively. The place itself has some cool graffiti on the exterior while the interior is practical and purposeful. The interior will give you the vibe of an industrial warehouse with amazing lights and production design.
The crowd is unpretentious, hospitable, and friendly where you can be yourself and enjoy the night without any judgment. The music is diverse and always engaging. There is a 10-dollar cover charge per person. The best thing about the place is that it is one of the hidden gems and lowkey places. They have a great beer selection and the drinks are reasonably priced.
The food options are limited but the taste is good. One cool feature of the club is they have multi rooms so different kinds of music are playing in different rooms. You have the luxury to pick and choose in one location. The place remains open from Wednesday to Saturday from 11:00 p.m. to 3:00 a.m.
It is located at 736 Ponce De Leon Ave, NE, Atlanta, Georgia.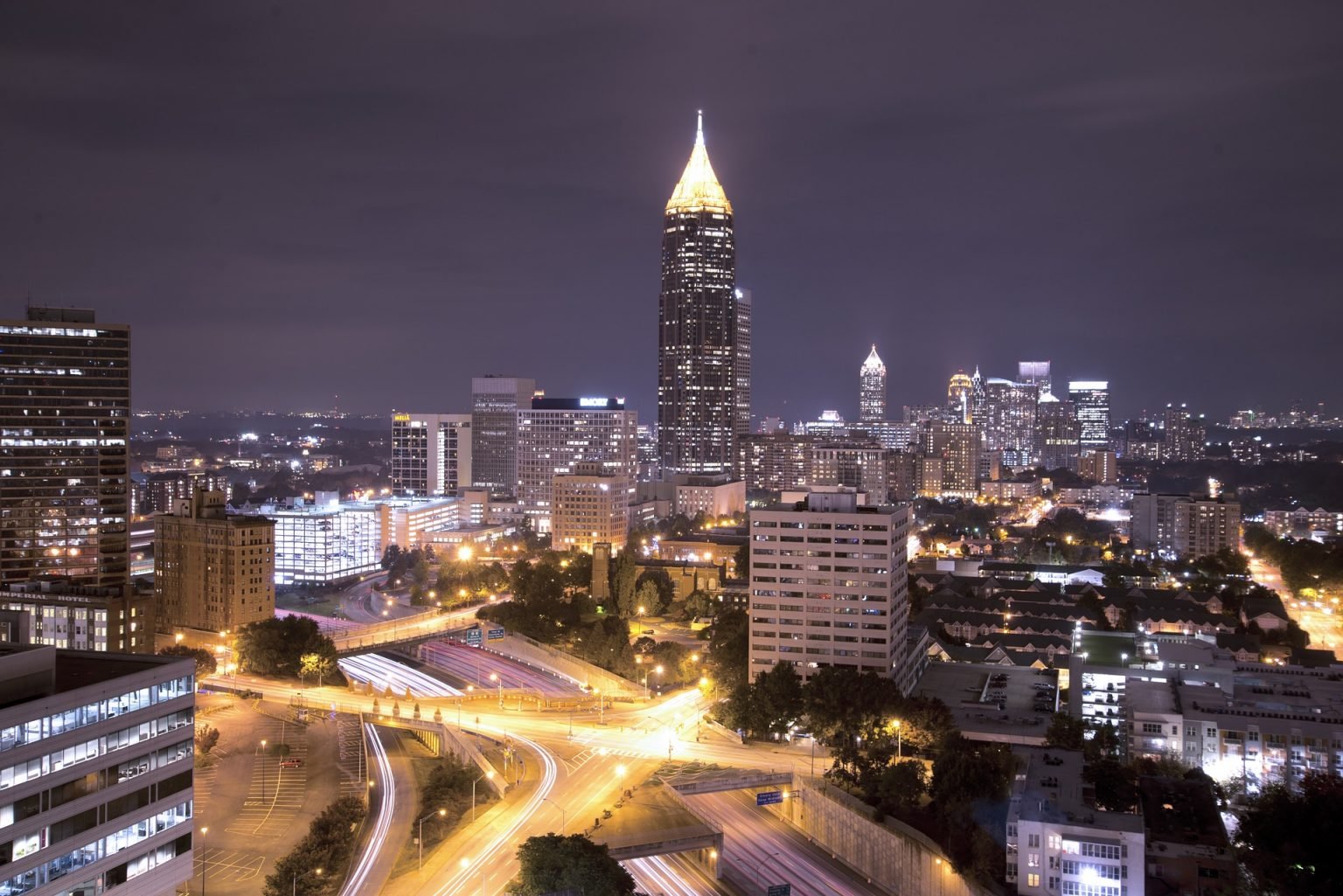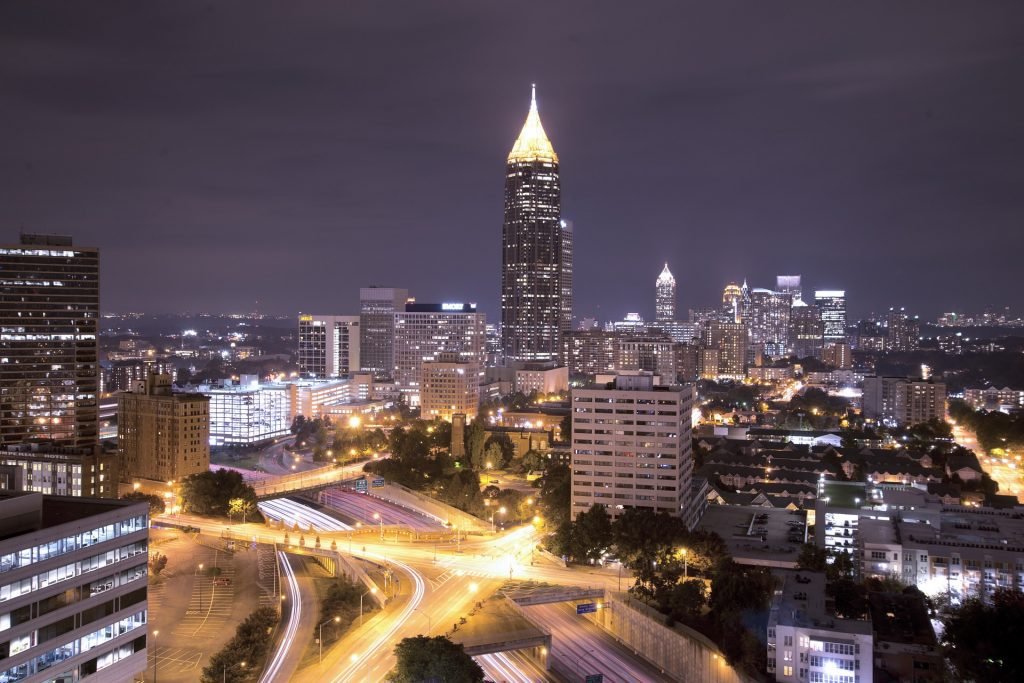 3. Koo Koo Room
This is an underground bar and lounge. The place has good mood lighting and chic decoration. The exposed brick walls and sophisticated furniture adds to the ambiance of the place. People who visit this place can't rave enough about the atmosphere and how lit the music was. The club has a DJ playing some amazing music ranging from mellow to club.
---
Bestseller GoPro Selfie Sticks
---
I'm laughing & dancing because when this becomes No1 around the globe don't say I didn't warn you! I wrote this record after a crazy night partying in ATLANTA at the Koo Koo Room w/ some of the BIGGEST Celebrities in this industry! I imagined what if this song was playing 🔥 🔥🔥 pic.twitter.com/hU7HvzhS4J

— Tray Chaney (@traychaney) June 14, 2022
Regardless of your taste in the music, you will enjoy it and have a great time. The bottle service available is also top-notch. Apart from this, you can also enjoy some amazing cocktails here. The bartender is also nice and friendly. This is an ideal place if you are looking to go in a group and not just dance to have a space to sit and enjoy in between too.
The customer service here is excellent and you will feel taken care of. The service is fast and the staff is also polite and friendly. The prices are also sensible, neither too low nor too high. They provide excellent service at a fair price thus it makes for a good choice if you want to have a good time with your friends and not break the bank either. The food options are limited but you will be satisfied with the variety. It stays open throughout the week from 10:00 p.m. to 3:00 a.m. apart from Sundays and Tuesdays.
It is located at 1140 Crescent Ave, NE, Atlanta, Georgia.
4. Bulldogs
The overtly simple and minimalist exterior of this small gay night spot hides a funky and groovy interior. This is a dedicated night for people who belong to the LGBTQ community. This is where you can meet people, socialize and have a fun night out with your friends.
The appetizer before the main course. 😉 #drankin 🥂 #PinkPunani 🍹😋#HumpDay 🐪 #BulldogsBarAtlanta #BulldogsAtlanta #BulldogsATL pic.twitter.com/kLBNDsSdFP

— Wayne Pittman, Jr. ♑💪🏿😈👅 (@Sony12Play) August 31, 2022
The place has a decor that seems to be retro at first look with the disco globe and strobe lights all over the dance floor. But soon you start appreciating the feel and vibes of the place. This is also a good place considering they are very budget-friendly and you don't have to break the bank to have a good time here.
---
Bestseller Copper Water Bottles
---
The bartenders are extremely friendly and polite. They engage with everyone while serving some delicious cocktails. The bar itself is classy looking. The service is top notch and all other staff are polite as well. The music, the drinks, and the vibe all together conjure a night that you are going to enjoy a lot. There is a certain cover charge for specific times of the evening and day. It stays open throughout the week from 4:00 p.m. to 12:00 a.m.
It is located at 893 Peachtree St, NE, Atlanta, Georgia.
5. Sutra Lounge
This is a perfect place for those who like to dress up for the evening and night outs. This is an underground spot that claims that they have a fashionable crowd as there is a certain dress code for the bar. The all-black exterior looks not only bold and beautiful but gives a touch of professionalism to the whole establishment.
#TurnUpUniversity The 1st Official Back 2 School Party. Limited $5 Tickets & $10 After. 10pm – 3am. Shuttles Leave Clayton State At 9pm. Exclusively At Sutra Lounge 1136 Crescent Ave Ne Atlanta Ga. pic.twitter.com/Kr7xs1nLVJ

— 💲K Will🥷🏾 (@King__Will) August 8, 2019
On the insides, the place is a balanced mix of the exposed ceiling, and a semi-finished industrial look with a classy and sophisticated bar adjoining a wooden staircase. The overall vibe of the place is welcoming and cozy. They have a dance floor and a DJ which plays amazing music.
One of their main highlights is the creative and delicious cocktails they serve. The bartenders are extremely talented as well as super friendly. Other staff at this place are equally polite and helpful. The service is excellent. Overall, you are going to love the mood, vibe, and ambiance of the place.
---
Bestseller Cupholder Bottles
---
There is hardly anything to complain about. It is open only four days a week. It remains closed from Sunday to Tuesday. During the rest of the week, it is open from 10:00 p.m. to 3:00 a.m.
It is located at 1136 Crescent Ave NE, Atlanta, Georgia.
6. Halo Lounge
This is one of the beautiful lounges in Atlanta. The dual-tone yellow and maroon on the wall and double heights rooms give it a chic, unique and sophisticated look. The bar is absolutely gorgeous and beautiful. You would love to sit at the bar counter and sip on some great cocktails. They serve delicious and unique cocktails among the popular and regular ones.
Brandy at the release party for her album "Full Moon" at The Halo Lounge in Atlanta, 2002 pic.twitter.com/nMGkA7qBmz

— BRANDY LEGION (@Brandy_Legion) March 5, 2022
Other seating areas are equally chic and beautiful. The ambient lighting and vibe of the place are unmatched. There is a small dance floor too. This place feels like an upscale joint where you would want to sit back, relax after a hectic weekend and enjoy your drink in a lively and vibrant crowd.
The service is professional and amazing to match the upscale vibe of the place. The staff are polite, friendly and helpful. There is a roster of DJs available so you would always have different but always good music playing. The bottle service is good and the food menu is also decent. The quality, as well as the taste, is also amazing. This is a small space but it has a great vibe and amazing service to elevate your experience.
It is located at 817 W Peachtree St, NW E-100, Atlanta, Georgia.
7. Truth Restaurant and Lounge
The is an upscale place that serves as both a restaurant as well as a lounge. The interior looks well put together and has great Ambient lights. The bar counter is long and big. It has amazing art behind the bar counter which is illuminated with pretty lights making it look even greater at night. The place is dimly lit, giving it a mysterious and cozy feel.
Join me This SATURDAY #BrunchDayParties Presents #RNBBRUNCHSATURDAYS @ TRUTH RESTAURANT AND LOUNGE – 1100 Crescent Avenue NE, Atlanta GA 30309 • Event Time 11:45am – 6:00pm. WE BRUNCH × DAY PARTY • Absolutely NO Cover w/ RSVP ONLY × Music By @DJLIONCHEF pic.twitter.com/UJaKGGwDm4

— Antonia Shanise (@Lil_Ugli) March 1, 2019
The strobe lights look amazing. The seating arrangement is also pretty nice and upmarket. The food here is excellent as they are not just a lounge so you won't have to worry about either the quality, quantity, or variety. Their menu has something or the other for everyone.
Apart from this, there is a small dancing area where you can enjoy the amazing music that they play. They also serve hookah for those who are into this or want to try it out, you can order those here. This is an ideal place for those who want to part with their friends, listen to great music, eat good food and have an amazing time in general. It is perfect for those, too, who want to primarily enjoy good food but want to dance a little bit too.
It is located at 1100 Crescent Ave NE, Atlanta, Georgia.
8. Blake's on the Park
They claim to be a straight-friendly gay bar where you can enjoy yourself with your friends regardless of what you identify as. The exterior looks upscale and sophisticated with curtains and plant pots. The exterior though leans pretty heavily on the neon lights, and plenty of ambient lighting. As a result, this looks pretty amazing and beautiful.
Blake's On The Park
Address: 227 10th St NE, Atlanta, GA 30309, United States
Visit them at https://t.co/Ju9CwwtlSJ
fb: Blake's On The Park
ig: @blakesatl
Twitter: @blakesonthepark
Phone: +1 404-464-7715 pic.twitter.com/0yiGOO0oYS

— Bar-Spots.com (@BarSpots) October 25, 2021
The exposed brick walls and pillars combined with a bar counter made up of wood give it a rustic feel. They have two bars, one upstairs and the other downstairs. Both are equally good. The place overall looks lively, vibrant and welcoming. They have a great selection of beer available so you can try something unique and different if you are in the mood for it.
Apart from beer, they do have other drinks available. You can order some delicious cocktails. The bartenders are knowledgeable, skilled and super friendly. They also have a decent-sized food menu too. The food portion is excellent and the pricing is fair. They have a dance floor too and the music that plays is equally fantastic. They have drag shows on Thursdays and Fridays so you can experience this too. It remains open throughout the week from 2:00 p.m. to 12:00 a.m.
It is located at 227 10th St, NE, Atlanta, Georgia.
9. Harlem Nights Ultra Lounge
This is one of the biggest night spots you would find in Midtown Atlanta. This is an upscale joint that has an area of 11,000 sqft. The exterior is plain and simple. The interior is what you typically expect of an upscale establishment. It is understated, minimalist, and practical.
Yeahh it's goin up!!! Oct. 8th, Harlem Nights Ultra Lounge, Atlanta GA 🚨 It's time to rock the city 🤘🔥🔥🔥 #FromNCToATL pic.twitter.com/ARhAbUkmhB

— Real (@1NCSavage) October 1, 2016
The place has amazing vibes with great ambient lighting and seating arrangement which offers somewhat more privacy than your usual bar and lounges. The popularity of the club can be understood from the fact that there are always people queuing up to get inside. The music here is also pretty nice and leans on the trap to hip-hop songs more.
Apart from this, they offer a great selection of beers and other drinks. You can also get some amazing cocktails. They have a separate dance floor and bar area. They also offer Creole cuisine and have their own signature wings. Their food menu has the most variety you would find anywhere. They have soul food, lobster, collards, seafood, and staple dishes like macaroni and cheese too.
The food here is nothing less than amazing. Overall, it is a perfect place to enjoy some great food and music with your friends. It remains open only three days a week, i.e, on Wednesdays, Fridays, and Saturdays. The timing is usually from 10:00 a.m. to 3:00 a.m.
It is located at 201 Courtland St, NE, Atlanta, Georgia.
10. Compound
This indoor/outdoor place is one of the popular locations in Atlanta. It is a dance club that has both indoor as well as outdoor seating and dancing arrangements. This is a great spot for those who are bored of the conventional underground cramped dance clubs, bars, and lounges. It offers a great alternative to those.
Kanye and Outkast at Waffle House after 2 Chainz's party at The Compound in Atlanta in 2015 pic.twitter.com/Y3eAv8LPsK

— Donda's Place (@dondasplace) October 26, 2021
The indoor area has a pretty amazing and unique art decoration covered with different graffiti-style paintings covering a few walls. The outdoor area is lit using only strobe lights and ambient lights. It is suitable for those who like to vibe with a crowd and feed off the energy of the crowd present as it gets pretty busy sometimes due to its popularity.
The bottle service is good and the cocktails are also excellent. The DJ plays mostly popular Atlanta music and other hits too. The bartender is great and serves amazing drinks. The food menu is pretty decent. The service and the staff are good too. This spot is one of the exclusive ones as it only remains open for one day a week, i.e, only on Saturday Nights. It stays open from 10:00 p.m. to 3:00 a.m. It remains closed on all other days of the week.
It is located at 1008 Brady Ave, NW, Atlanta, Georgia.
11. X Midtown (Ten)
This place looks like your typical bar. It has a minimalist but upscale exterior with an exposed brick wall and a big red Roman numeral X sign on it. The exterior brick structure gives it an understated but professional feel to it. It also has an outdoor seating area where you can sit if you don't want to feel cramped inside.
Tonight there's a #DragShow at X Midtown 👅👅👅#midtown #atlanta pic.twitter.com/pDMfTg9NiF

— Tristan hartman (@playgirltristan) April 22, 2022
The indoor area has a bar and some open space for people to stand and move about. The main defining highlight of the place is its Bistro-like Southern kitchen. The place is known for its fried chicken options. They are really popular. Apart from this, there are plenty of other things on the menu so even the pickiest person can find something or the other to eat
The place turns into a busy bar at night and the DJ sets the mood with some amazing music. The crowd is lively and upbeat. This is a perfect place for those who are looking to party with a younger crowd as it has mostly University students. There are also live performances so you can enjoy those too. They offer a decent selection of beer and other drinks. The bartender is friendly and serves some amazing cocktails. It stays open from Thursday to Sunday from 8:00 p.m. to 3:00 a.m.
It is located at 990 Piedmont Ave NE, Atlanta, Georgia.
To Sum Up
We hope you found our list of the best clubs in Midtown Atlanta, GA helpful. Be sure to hit them all on your next visit to the city of Atlanta. If you live in Atlanta, how many of these have you already been to?
Read Also: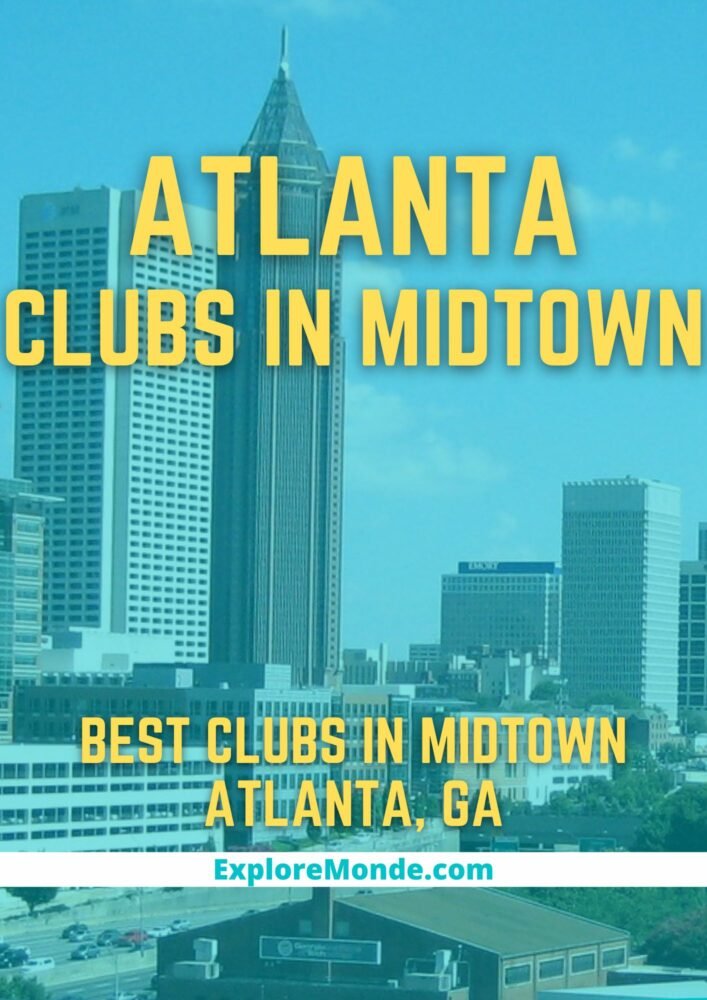 ---
Note: The hours of operation, ticket prices, and admission criteria of museums, parks, etc. may change from time to time. For the most updated information, we recommend checking the official website of the attraction directly prior to your planned visit.
Blog Categories: Asia, Africa, Europe, USA, Australia & New Zealand, France, Germany, India, Italy, Spain, Sports, Switzerland, Travel Tips, UK, Products
More From The Blog
---