---
This article has been reviewed by Laura and Sumeet, travel enthusiasts who have travelled to 40+ countries (follow on Youtube youtube.com/@Ciao.Namaste). Should you have any inquiries, please do not hesitate to contact at contact@exploremonde.com
---
Traveling with cats can be daunting, but it doesn't have to be! Pet guardians looking for the right way to take their furry friend on vacation will find this blog post packed with advice and tips. Meanwhile, read more to understand how to plan, what materials you need beforehand, and much more – ensuring your cat's comfort and peace of mind while away.
Learn how to travel with cats and minimize anxiety during car rides or plane trips so that everyone has an enjoyable time – even if one of you has fur!
How To Travel With Cats: Top 5 Tips for Traveling With Cats
When traveling with cats, the most important thing is to plan. Here are five essential tips for making your cat's journey as stress-free and comfortable as possible:
1. Get them used to a carrier
Before you take off on your journey, make sure your cat is comfortable in their travel carrier. Put it out in the home and encourage them to explore it. You can also place treats, toys, and a blanket inside for comfort.
2. Have the right accessories
Ensure you have all the necessary items, such as food, water, litter box, and waste bags. If your cat is sick or needs medication, pack these too! Maintain a routine to help keep your cat calm during the trip.
3. Consider the mode of transport
If you're traveling by car, make sure your pet is secured in its carrier and place it on the floor or in the back seat for added safety. If flying, research airlines that offer pet transportation and book in advance to avoid any last-minute surprises.
4. Visit the vet
A few weeks before your departure, take your cat for a check-up with their vet and ensure all vaccinations are up to date. Ask the veterinarian about any other health recommendations or procedures you should do before leaving home.
5. Minimize stress
Once you've arrived at your destination, try to keep your pet in the same environment as much as possible. Bring familiar blankets and toys for added comfort, and take them for short car rides or walks outside – this will help reduce anxiety and make it easier to adjust to the new surroundings.
Top 3 Cat Travel Water Dishes
When traveling with cats, it's essential to keep them hydrated! From collapsible water dishes and other standard portable options that are easy to pack up to spill-proof options for car rides – here is a list of the top three cat travel water dishes.
Need an affordable, reusable container for your cat's needs while on the go? Mxzone 3 Collapsible and Expandable Cat Water Dish can be as good! This handy little dish is perfect for fuzzy adventures – you can collapse it and attach it to a bag or belt with the included carabiner. The premium approved silicone bowl is BPA-, non-toxic, non-allergenic, and safe for all pets.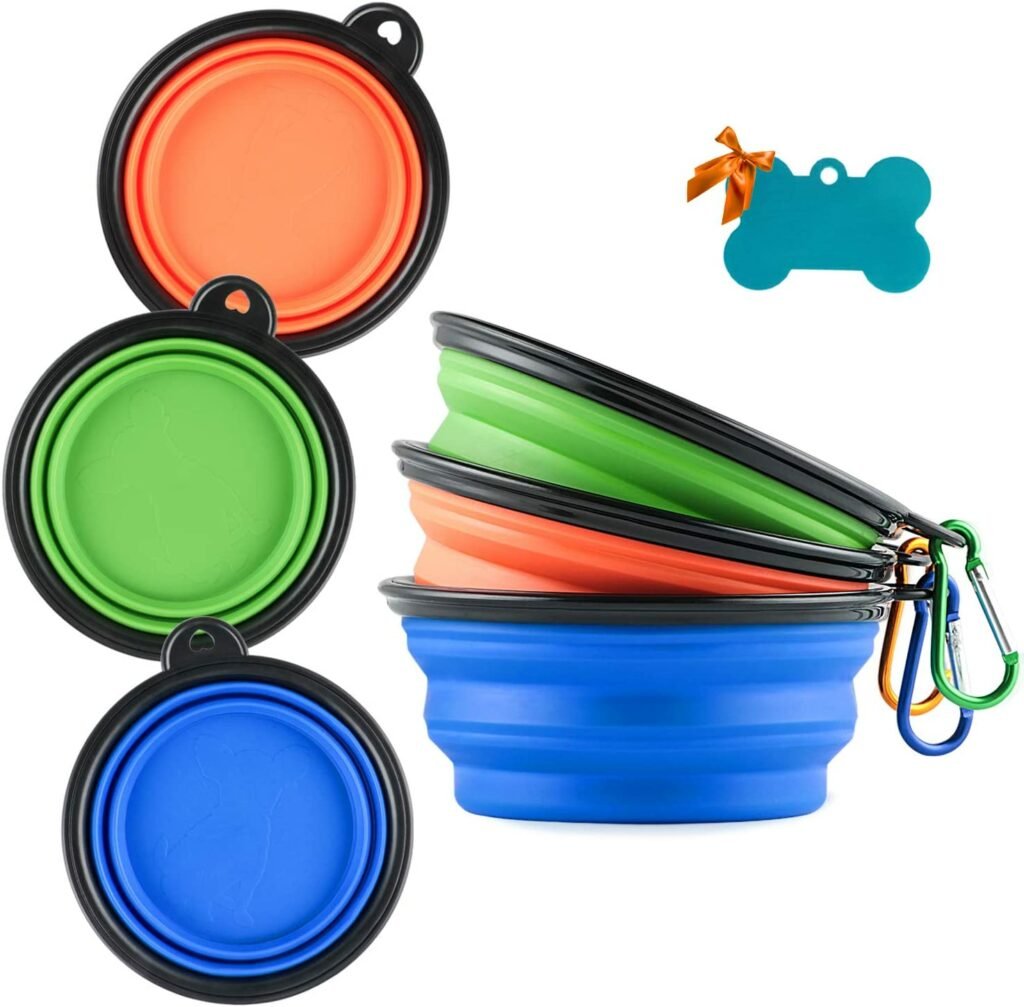 Plus, it can be wiped clean or rinsed off after every use! It even collapses nearly flat for easy storage in a pocket or glove box. The durable design ensures long-term use, making this an excellent investment you can rely on again and again.
Key features
Stress-free cleaning and storage
Foldable, expendable, and portable
Durable, premium-approved silicone
Bpa-free, non-toxic, and non-allergenic
Product weight: 2.12 ounces
Product rating: 4.7 out of 5
Link on amazon: https://www.amazon.com/mxzone-collapsible-silicone-foldable-expandable/dp/b07snnv2fz
Feed your beloved cat with comfort and style with the Dexas Popware Double Elevated Pet Feeder! This collapsible feeder combines convenience and portability with a fashionable design. With two one-cup capacity bowls, even the smallest cat has plenty of room for food, treats, or water. The entire feeder collapses for easy storage in tiny spaces as small as 1.5 inches tall when collapsed.
---
Bestseller GoPro Selfie Sticks
---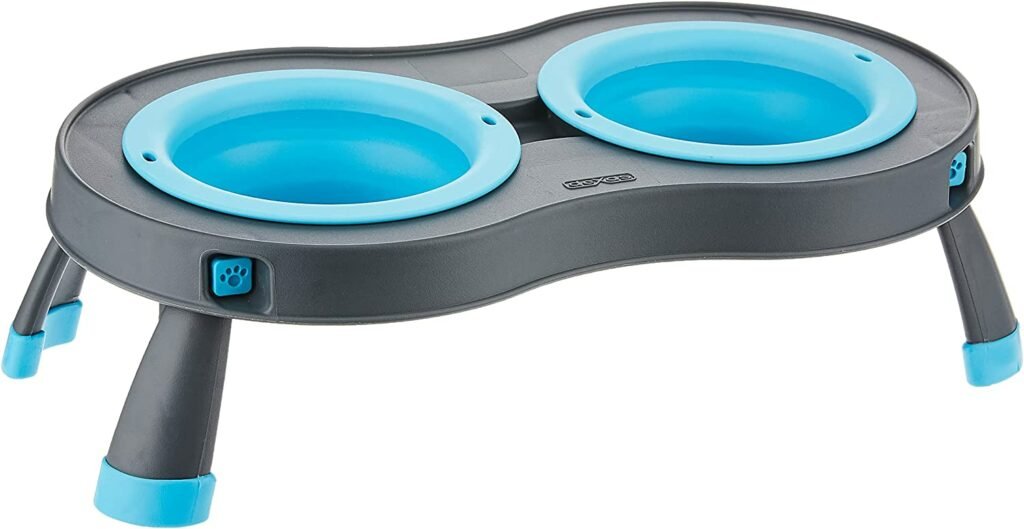 Its elevated position allows them to stand while they eat in a more comfortable posture which can improve digestion while preventing neck strain caused by eating from the ground. Plus, the removable bowl feature and foldable legs make it easy to take apart so you can easily clean each piece individually – both are safe to pop into a dishwasher after each use! Perfect for everyday use at home and on travel adventures like RV trips, camping excursions, or even boating trips!
Features
Two 1-cup capacity bowls
Removable bowl and legs feature
Foldable legs for easy storage
Dishwasher safe
Product weight: 12 ounces
Amazon link: https://www.amazon.com/dexas-popware-double-elevated-feeder/dp/b00wifn79q
Product rating: 4.5 out of 5
The Liusm 3-Pack Collapsible Pet Bowl with a free carabiner is the perfect companion for any pet on the go! The non-slip cat bowls are made of durable, premium silicone and come in a convenient 3-pack. Each bowl measures 5.11*3.54*2.16 inches and can hold up to 12 fluid ounces of water or 1.5 cups of food.
---
Bestseller Copper Water Bottles
---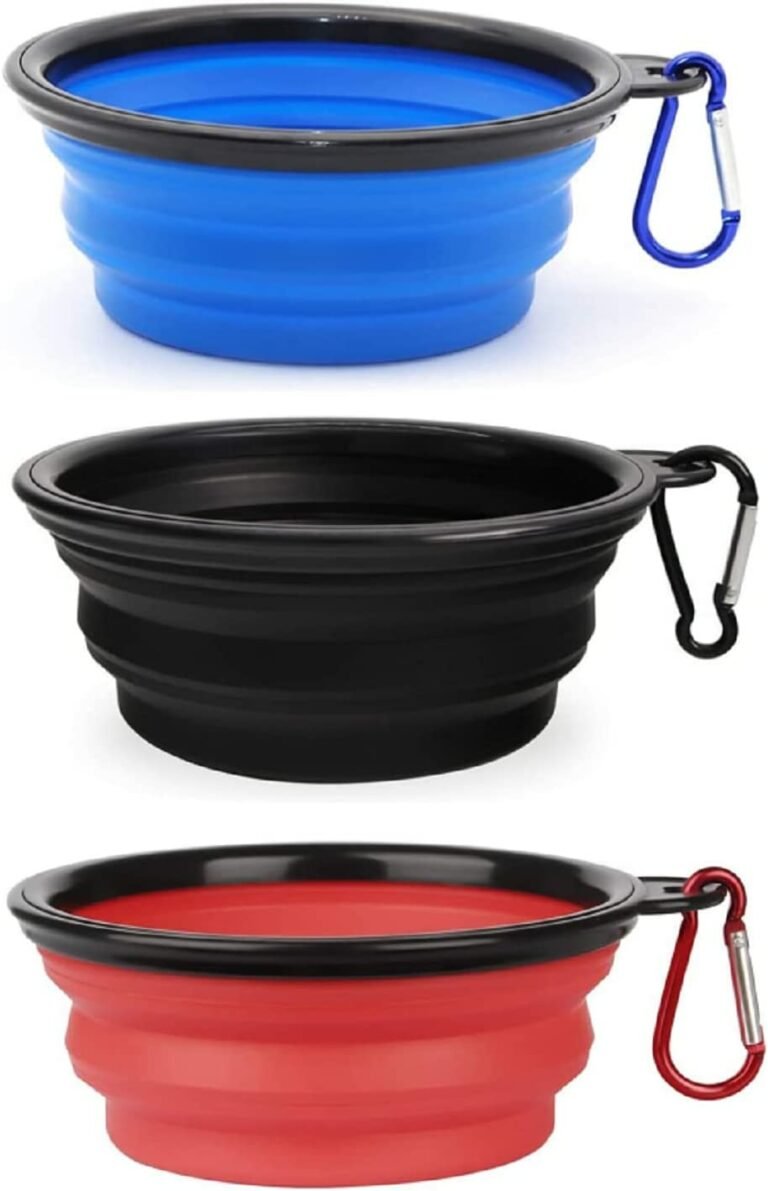 Much more comes in bright colors and complimentary carabiners; these pet bowls will bring personality to your getaways, from car travels, airlines, and hikes to beach trips! These pet food bowls are also easy to clean for an extra touch of portability and convenience. You rinse or wipe them down after use for a reusable option that everyone will love.
Key features
Collapsable 3-pack of pet bowls
Hold up to 12 fluid ounces of water
Non-slip silicone base
Free carabiner included
Product weight: 0.2 pounds
Amazon link: https://www.amazon.com/liusm-collapsible-silicone-expandable-carabiner/dp/b08fxbbnhv
Product rating: 4.7 out of 5
Top 3 Best Cat Carriers for Long-Distance Car Travel
Vceoa carriers create a perfect choice and just what you need! However, it would help if you referred to your cat's length and height before purchasing. Most importantly, mesh windows provide necessary ventilation and keep curious kitties inside the carrier.
---
Bestseller Cupholder Bottles
---
Meanwhile, this cat carrier Includes a secure top and side entry with locking zippers, ensuring safety while carrying handles that allow you to bring your bundle of joy quickly. You can also attach an adjustable shoulder strap for extra convenience or use it as a seatbelt when traveling, while a back strap allows you to fasten the carrier to your luggage.
Key Features
Mesh windows
Top and side entry with locking zippers
Features adjustable shoulder and back straps
Removable and hand-washable cozy fleece pet bed included
Product weight: 2.21 pounds
Link on amazon: https://www.amazon.com/vceoa-airline-approved-soft-sided-carrier/dp/b07zppsr2l
Product rating: 4.8 out of 5
Traveling with multiple cats became much easier with this One-For-Pets career box! With built-in straps that allow you to connect it safely to a seatbelt, no pet parent ever has to worry about their furry family is secure while on the road. Setting up and folding a flat is a breeze—it takes seconds!
You can use this shelter three ways: as two connected yet divided compartments, as a single ample space by unzipping the zip divider, or detached into two covers if needed.
Features
Dual-compartment pet shelter and travel carrier
Built-in straps for connecting it safely to a seatbelt
The pad cover is machine washable
Easy to assemble
Product weight: 7.55 pounds
Amazon link: https://www.amazon.com/one-pets-fabric-portable-shelter/dp/b00ngzub78
Product rating: 4.8 out of 5
All your journeys will be easy and seamless as you can count on this sturdy yet comfortable carrier to deliver your pet wherever they need. Not only does it come with four openings for easy access, but it also comes with two secure straps so you can adjust the size according to your needs with complete peace of mind.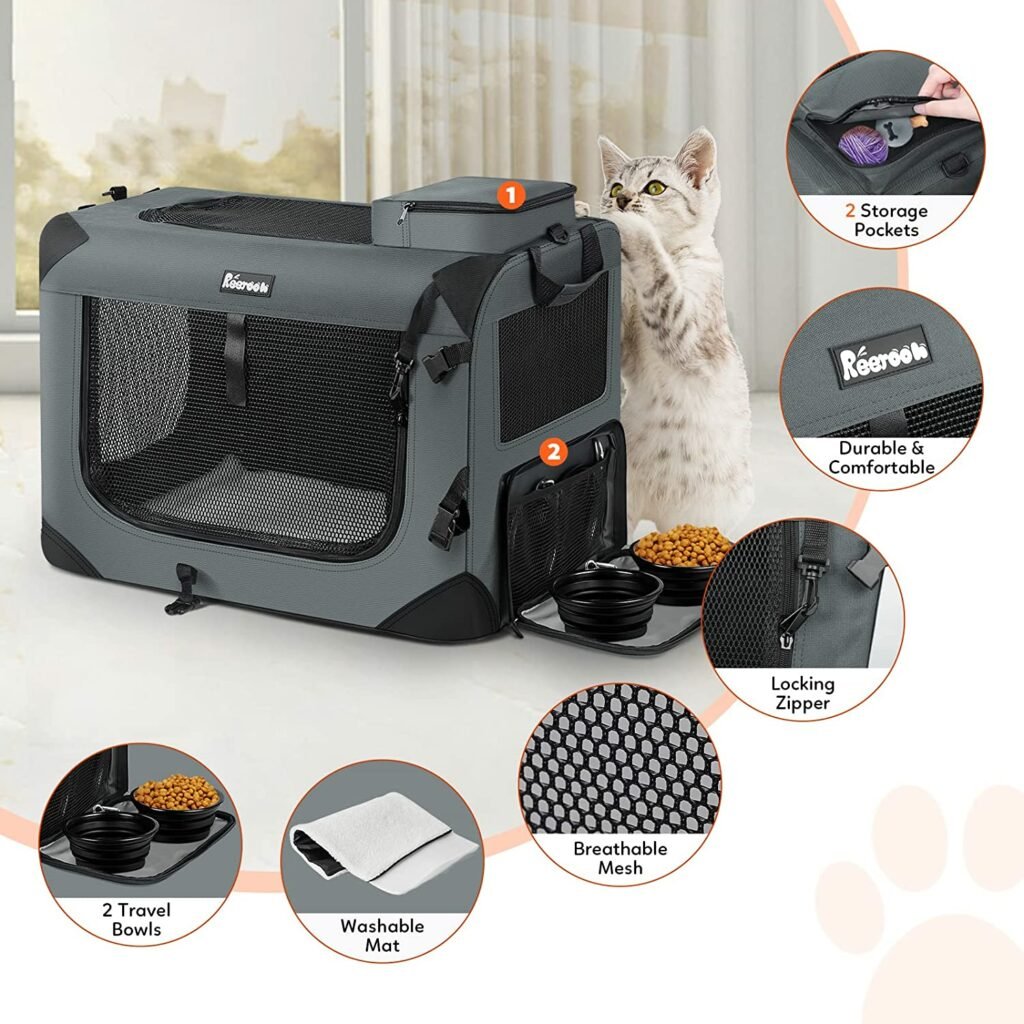 Plus, the large cat carrier comes equipped with a lightweight and collapsable structure, making storage a breeze when not in use! And if that wasn't enough, the soft-sided cat carrier features a soft pad and two separate pet bowls, so you are covered no matter what adventure awaits.
Features
Made from a 600d polyester
Four openings for easy access
Two secure straps
Lightweight and collapsable structure
Soft pad and two separate pet bowls included
Product weight: 6.17 pounds
Amazon link: https://www.amazon.com/reerooh-carrier-pockets-breathable-collapsible/dp/b0b3729tw7
Product rating: 4.9 out of 5
Top 3 Cat Travel Litter Boxes
Maohegou's collapsible cat travel litter box is the ideal solution for kittens and senior cats alike. With two switchable heights, 7″ or 2.65″, your new kitty will have no trouble adjusting to their new space – plus, it's big enough to fit cats up to 20 lbs! And since the litter box is shallow when folding up, it'll be a breeze for older cats to enter without any issue.
Never worry about traveling with a feline again – this collapsable design makes going on trips stress-free. Besides, the built-in litter moat ensures they won't scatter extra litter across the floor while they do their business!
Key features
Built-in litter moat
two switchable heights
collapsible design
Spacious for kitty and large cats
Weight: 2.76 pounds
Amazon link: https://www.amazon.com/maohegou-litter-kittens-senior-travel/dp/b09gf7y74j
Rating: 4.5 out of 5
Are you looking for convenient and stress-free cat trips? The Petisfam portable travel litter box is the perfect solution for you!
The stylishly designed litter box is lightweight and foldable. And features a handy handle that makes it easy to take along wherever you travel. Moreover, it also fits comfortably in your car's trunk or overhead bin on a plane. Dimensions of 19.7″ x 15.8″ x 5.1″ inches make it suitable for medium and large cats. And with a leak-proof zipper closure at the top, dirt and odors stay where they belong – inside the box!
For your convenience, when not in use, fold it down to the size of a regular wallet; easily stow it away until next time. This litter box is reusable and will look great no matter how long the journey is ahead!
Key features
Lightweight and foldable
Leak-proof zipper closure at the top
Dimensions of 19.7″ x 15.8″ x 5.1″ inches
folds down to the size of a regular wallet
Weight: 1.7 pounds
Amazon link: https://www.amazon.com/collapsible-portable-lightweight-leak-proof-sotrage/dp/b08hlvvqp3
Product rating: 4.6 out of 5
Is your cat in need of a new litter box? The Barrpet cat litter box with lid and handle! Crafted from super durable nylon fabric and featuring a flexible steel frame, this pet litter box is built to last – it won't cave around the perimeter. The wide application makes it incredibly versatile – you can put a mat inside and turn it into your pet's bed or house or use it as a storage box for travel camping.
Further, its scooped rim on the litter pan shields against litter scatters, and its zippered lid contained odors! Get your collapsible portable cat litter box today!
Features
Durable nylon fabric and flexible steel frame
Wide application
Zippered lid contained odors
Weight: 14.89 ounces
Amazon link: https://www.amazon.com/dp/B09B6VPSVK
Product rating: 4.6 out of 5
Conclusion
If you're planning a road trip with your cat, check out these top tips and products to make the journey as smooth as possible. From water dishes and litter boxes to carrier options, there is everything you need. Hopefully, you enjoyed this post and found it helpful. If you have any questions or comments, please leave them below. Happy travels!
---
Note: The hours of operation, ticket prices, and admission criteria of museums, parks, etc. may change from time to time. For the most updated information, we recommend checking the official website of the attraction directly prior to your planned visit.
Blog Categories: Asia, Africa, Europe, USA, Australia & New Zealand, France, Germany, India, Italy, Spain, Sports, Switzerland, Travel Tips, UK, Products
More From The Blog
---