The Live Music Capital and the home to Longhorn Cattles is the Lone Star state of USA, Texas. The first few things that come to your mind after hearing Texas might be its hot weather, cowboy boots, country music, booze, or Texan barbecue. It also happens to be the second-largest state by area as well as the population in the USA. Texas is known for its sweltering hot and muggy weather that reaches a temperature of over 100° F during peak summer. Due to its location in the south-central region and border sharing with Mexico, it has a rich, diverse, and lively culture. We all have heard about Southern chivalry.
Wait, are we ACTUALLY talking about the beaches near Dallas, Texas? After all, if someone was to say Beaches and Texas in one sentence, It almost sounds unnatural. Well, it is neither their nor your fault assuming the sweltering pit that Texas can become during the summer season. We might think Texas to be hot, and humid. Enough cattle ranch images, country music, chili, and barbecue have changed our perception. We forget the fact that it has a long-running shore on the Gulf of Mexico and thus has plenty of Marina as well as a Bay. There are many freshwater lakes as well, both natural as well as artificial.
Whether you are on a vacation there to see The Almost, Space center, or other tourist sites, or you are just looking to find new places for recreation around a water body, we just happen to have the list for you. Whether you wanna have a quiet day out with your family and kids, or experience full-on adventure trails with your buddies we have got you covered. With Texas heat, you would absolutely enjoy a day at the beach and feel re-energized, refreshed, and ready for more. So pack your picnic, don't forget your sunblock, and keep a bottle handy to hydrate.
Here are the 14 Best Beaches near Dallas, Texas you should check out for your next trip to the beaches:
Best Beaches Near Dallas, Texas
1. Little Elm Park — Little Elm
This beach is located along the western shoreline of little elm park, 45 minutes away from the city center. It provides a safe public swimming enclosed area free from boat traffic. It is an open sand play area so you can have a fun day out in the sand with your friends and family, enjoying the sun as well as each other's company.
Beach Bash 2019 in the books! A gorgeous day at Little Elm Beach Park! Our third annual event had 20 teams and was a huge success! @braswellhs pic.twitter.com/poUb3oZKTj

— Braswell Bengal Volleyball (@BengalVball) May 4, 2019
The list of amenities offered by them is long, such as a playground for kids, pavilion with grill(reservation required), Amphitheatre (reservation required), swim beach, athletic fields, hiking/biking trails, picnic areas, sand volleyball courts, etc. With so much to offer and being only an hour's drive away this place is a perfect beach day-out. They have something or the other to offer for every age group and people with different interests.
Whether you are looking to just enjoy the sun and be near the water or go on a trail on your bike, they have you covered. Few things to keep in mind, they don't allow any outside cooking/grill equipment, no glassware, no fishing, and no loud amplified sounds which would otherwise disturb people near you. They have wheelchair-accessible entrances and car parks as well.
2. Lynn Creek Park
It is 784 acres-vast waterfront park on the northwest shore of Joel pool lake. It is just 30 minutes away from Dallas. With long white sand beaches and adjacent picnic spots, you can take a dip into the water and sunbathe in the Texas heat. The white sand section is along with a grassy section with covered picnic tables when and if you think the sun is too strong.
Look at that pristine sand on the beach of Lynn Creek Park at Joe Pool Lake! A great place to visit any day of the week in Grand Prairie pic.twitter.com/ZhwBV826Yt

— Grand Prairie Parks (@GrandFunGP) June 16, 2017
The park has various amenities such as a swimming beach, a playground for kids, restrooms, showers, almost 100 picnic sites, group picnic pavilions, sand volleyball courts etc. They also have two boat ramps with eight lanes for those who want to explore deep into the waters. The sunsets are particularly picturesque here. The water is cold but refreshing, you are bound to have an amazing experience with everything Lynn Creek has to offer.
The park is open from March till September from 6 a.m. to 10 p.m. The park stays closed from October till February. The entrance charge is 15 dollars per vehicle with a maximum of 6 people and on holidays it is 20 dollars. It is located at 5610 Lake Ridge Pkwy, Grand Prairie, Texas.
3. Collin Park
It is one of the largest lakes In North Texas and a popular weekend getaway location for locals, lake Lavon. The amenities offered by them are Swimming, Swim Beach, Volleyball courts, RV Hookups, picnic tables, hiking, horse riding trails, a beautiful campground, Boat ramps, and much more.
You are bound to have a great time with so many things to do. You can chill at the beach or go on a trail with your buddies, there is something for everyone. One thing to keep in mind is that they don't allow pets. Other than this, you can have a great time swimming and enjoying the water with your friends and family. Whether you go with your partner or it's a beach day out with the kids, they will have a memorable time. You can relax by the lakeside, grill, swim and in general, relax. You can bring your boat or you can hire a boat. It is a perfect location for a lake trip.
The recreation area costs 3 dollars per vehicle, per person, and per trailer. Campgrounds will cost you on a per-day basis, RV sites with utilities will cost 38 dollars, and Tent sites for 25 dollars. It is located at Collin Park Marin, inc. 2200 St Paul Rd, Wylie, Texas.
4. Burger's Lake
If you are looking for a lake trip in a place that has more greenery to offer with a waterside as well, then you should check out this place. The park is spread across 30 acres and has a spring-cleaning lake of around 1 acre. It is a perfect location to go with your kids as there are certified lifeguards present at all times.
It has two sandy beaches for sunning and a lot of big tall trees for shade. They have over 300 picnic tables. For those who want to show off their swimming and diving skills, they have six diving boards as well. Apart from all this, they also have a 20-foot slide and a 25-foot trapeze. Be prepared for a fun day of lots of swimming and lazing around under the shades of tall trees.
---
Bestseller GoPro Selfie Sticks
Sale
Bestseller No. 1
Bestseller No. 2
---
For those who are always worried about the water, forget the tension as Burger's lake is completely chlorinated, filtered, and chemically maintained by a state-of-the-art purification system. The admission fee per person is 15 dollars for all. One thing to keep in mind is they don't allow alcohol inside the park. They also don't allow pets. It is located at 1200 Meandering Rd, Fort Worth, Texas.
5. Tickey Creek Park
With just an hour's drive from Dallas, this is a perfect location on Lake Lavon. It is a rather secluded spot on the northern side of the lake. It makes for a perfect distance for a drive from Dallas and where you can enjoy a day in a place that doesn't get busy or crowded often.
One great thing about this park is that they have one free 4-lane boat ramp so for those who want to explore the water and have a fun day out in the lake then you should consider this. They have covered picnic sites, swimming beaches, and restrooms available for public use. The park is extremely clean and the water is gentle so people of every age and degree of swimming ability can have a dip in the water without worrying too much.
This is one of those places where you can just unwind and relax without the hustle and bustle of the city noises and people. The park is open from April till September and the daily hours are from 6:00 a.m. to sunset. It is situated at 5099 County Road 952 Princeton, Texas.
6. Ray Roberts State Park
It has nine units in total offering a variety of things to do. It is a place where you can go and do just about everything. It has everything to offer. Just an hour north of the DFW metroplex, this is a great weekend getaway place as well as a place where you can do a little picnic and take a dip in the lake.
---
Bestseller Copper Water Bottles
Bestseller No. 1
Bestseller No. 2
---
This is the "beach" area in Johnson Branch State Park at Lake Ray Roberts. I remember just a few years ago the water had receded so much due to droughts and now it's completely flooded over pic.twitter.com/38ldqbfWHy

— Ryan Arendt (@SweatyButcher64) November 27, 2018
The full-service Lake Ray Roberts Marina is at the Sanger unit. Lone star lodge and Marina is at the Jordan Unit. They offer amenities like boat storage and repair as well. If you are looking to fish then it should be high on your list as you can fish in the 29000 acres of Ray Roberts Lake. You can fish without a fishing license from the shore or a pier in a state park.
Once inside you can do a variety of things such as camping, that too overnight, hiking, bike, riding your horse, rollerblading, backpacking, etc. Once inside you have a range of things to pick and choose from. The entrance fee is 7 dollars per person for one day. Kids 12 years and under are free. It is open daily from 8 a.m. to 5:00 p.m. It is located at 1399 Marina Circle Sanger, Texas.
7. Cider Hill State Park
With just a short drive of 20 minutes from the city center, this makes for an ideal location for a quick trip and unplug from the fast life around you. Spread across an area of more than 2000 acres you have ample space and possibilities to do a variety of activities both on land and on water.
You can hike and bike across 1200 acres of open trails. Do picnic, camp, and nature watching. One of the great features I'm sure you would like is the presence of a hot shower in every restroom. For the fishing lovers, you can fish in the 7500 acres of Joe Pool Lake for largemouth, black bass, crappie, and catfish. The entrance fee is 7 dollars for adults for day use and 5 dollars if you are feeling adventurous and want to stay overnight. Children 12 years old or below are free. They are open daily from 6:00 a.m. to 10:00 p.m. It is located at 1570 FM1382, Cedar Hill, Texas.
8. Granbury City Beach Park
If you are looking to spend some quality family time with your kids and would go to a place where there isn't anyone howling, partying, or consuming alcohol then this should be on your consideration list.
---
Bestseller Cupholder Bottles
Bestseller No. 1
Bestseller No. 2
---
Congratulations to @cityofgranbury! 🎉
Granbury's City Beach Park has been named one of the Top 10 Hidden Beaches in Texas. Our Lake Granbury office recently teamed up with the city to install buoys at the beach to keep swimmers safe in the water. Photo by the City of Granbury pic.twitter.com/rKZjxHjwSJ

— Brazos River Authority (@BrazosWater) June 5, 2020
Just over an hour's drive from downtown Dallas, you can relax on the white sandy beaches of the river Brazos. It is a perfect location for swimming and picnicking. You might wanna hurry, as the picnic pavilions are first come first serve basis. Since there is no entrance fee you can expect a little rush. The life jacket is available for everyone free of cost. You can play volleyball at the beach or go kayaking during summer. There is a splash pad for kids too.
There are certain things to keep in mind though, no dogs, glass, alcohol, or any kind of grill is allowed. You are not allowed to stay overnight also, unlike a few of our other options. It is open daily from 8 a.m. to 9:00 p.m. It is located at 505 Pearl St, Granbury, Texas.
9. Meadowmere Park
It gives you a great view of Lake Grapevine. It is known for its sloping sandy beaches and colorful playground for kids. You can also do camping at the lakefront. Spread across an area of roughly 8000 acres, one can do a variety of things such as fishing, recreation, boating, hiking, and much more.
🌟FEATURED PARK 🌟

✅ When you visit Meadowmere Park, you'll have many many acres to explore and even a swim beach area! 😍

🌊 You can even rent kayaks and standup paddle boards from @DFWSurf for floating out on Grapevine Lake. pic.twitter.com/gM0Jmsj4VB

— Grapevine Parks&Rec (@gograpevine) July 30, 2020
There are boat ramps available and you can rent cabins and boats as well. You can also tent and do RV camping. One of the main attractions is their floating water park, which is the largest in Texas, around 25000 square feet. You can also tent picnic pavilions so that you can spend some quality time with your friends and family without hassling for picnic spots and fighting for them. There are as many things to do in the water as on the land. It has something to offer to everyone. It is open from 8:00 a.m. to 8:00 p.m. The entrance fee per vehicle is 5 dollars. It is located at 3000 Meadowmere Ln, Grapevine, Texas.
10. Willow Grove Park
If you want to go to a scenic location and enjoy the sunset while you sit by the lakeside with your friends and family, then it is an ideal location for that. It offers exactly that, you can sit and watch the most majestic sunset, which colors the sky with all of its might. It is one of those locations which will make you fall in love with the sunset.
You can camp and fish there or just go there to relax and have a nice picnic. It will cost you 15 dollars per night for the primitive campsite along the Lakeshore. 25 dollars for an RV campsite which includes water and electricity hook-ups. Apart from this, the regular amenities include things like, volleyball, sandbox, swim area, picnic tables, and benches, etc. There is also a fishing pier. They allow consumption of alcohol but are limited to campsites and picnic areas. Open alcohol consumption along the trail system is prohibited.
They are open from 6:00 a.m. to 10 p.m. It is located at 800 E Hundley Dr, Lake Dallas, Texas.
11. Stewart Creek Park
Set on the shoreline of Lake Lewisville, this park offers camping, swimming, and trails all in one location. It is situated just a 40 minutes drive from the city center via the Dallas North Tollway. It is a recreational space spread across 65 acres offering a family-friendly location for picnics complete with rental pavilions and barbecue grills.
Stewart creek park artificial beach suitable for camping pic.twitter.com/uwUEKtr3Tw

— 김영종 MAYA🇰🇷🇺🇸 (@kyj1294) February 18, 2022
It has a variety of watersports to offer as well. Whether you just want to lounge at the sandy beachside, play volleyball with your friends, or try water sports like kayaking, it has everything. For people who want to RV camping, they also let you do this throughout the year. You can also camp here. It also has one of the cleanest beaches around Dallas Excellent for swimming and later enjoying the sunset. The tent camping is for 25 dollars for both residents and non-profit residents. RV camping will cost 35 dollars to the residents and 45 dollars to the non-resident. If you just want to visit during the day it will cost you 15 dollars.
It stays open from 7:00 a.m till 9:00 p.m. It is located at 3700 Sparks Rd, The Colony, Texas.
12. White Rock Lake Park
This is the most popular park in the area of Dallas as it is only 5 miles northeast of downtown Dallas. It has an artificial lake and a lot of greenery surrounding it. It is spread across 1015 acres and offers a variety of activities such as trails, hiking, piers, boat ramps, kayak concessions, etc.
Went for a ride in Dallas (while I left the van in a high traffic area 😈) and came across this amazing dog park and dog beach at White Rock Lake. What a great idea. pic.twitter.com/7yibLtLzAZ

— Rick Tillery (@ricktillery) June 29, 2019
It also has a dog park so you can take your furry friend with you. For people who are into history and learn even on a beach day out, there is a white Rock lake museum. There are rental pavilions available too. For people who are into bird watching, there is something for them too. The place is peaceful, calm, and beautiful where you can spend your day relaxing and listening to nature sing you a drowsy lullaby while you unwind. During sunset, the views at the lakeside are truly spectacular. It is located at 8300 E Lawther Dr, Dallas, Texas.
13. Pebble Beach Park
Another location which is around 50 minutes drive from the city center and offers a range of activities. It is a great spot to have a day off, go out to the beach, and have a picnic with your friends and family on the shore of Lake Lavon.
Some of the amenities offered are a swim area and covered picnic tables with BBQ grills. They have four-lane boat ramps which are free of cost to use by the guests. It has a laid-back, age-friendly vibe to it. Another good thing about this beach is that you can take your dog with you too. It is an ideal location if you want to spend a day at the beach and avoid crowds as it is calm and peaceful here. With lots of greenery and serene water, you are bound to feel in the lap of mother nature. There are no lifeguards though so be mindful of taking life vests. It is located at 13501 Co Rd 546, Nevada, Texas.
14. Surfside Beach
If you are looking for a weekend getaway and willing to take a drive then this should be on your consideration list. One of the biggest advantages of this beach is that it is open 24/7 for all.
The sunsets and sunrises are absolutely mesmerizing and breathtaking. Another bonus is that you will get ample privacy here on the beach. This is an alternative to Galveston island. Instead of crowds, you will be a part of a small community. You can take your vehicle straight to the beach and take your dog with you. The beaches are clean, the water is suitable for beginners and kids. If you want to surf then it is fun to surf here as well. A nice little family Friendly beach where you won't have to fight for space or withstand the noisy crowd. Best of all you can get a yearly pass for just 12 dollars. It is located at 206 starfish St, Freeport, Texas.
Read more: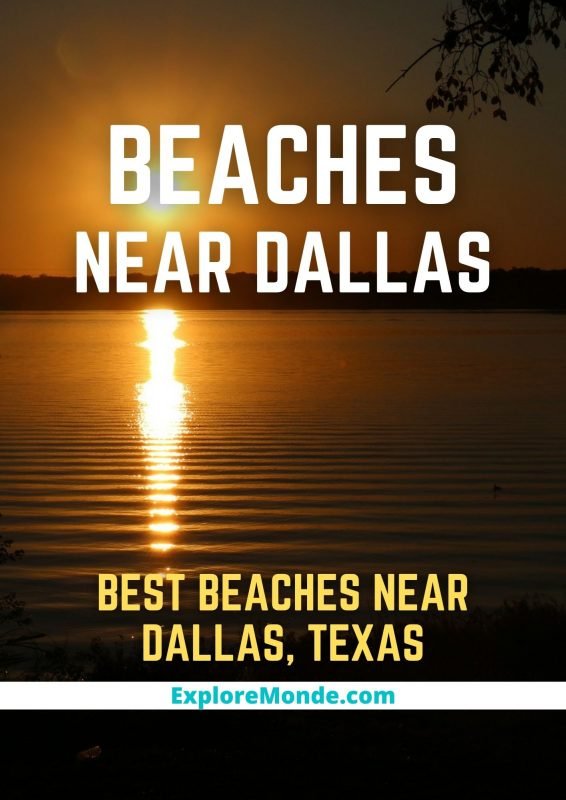 ---
Note: The hours of operation, ticket prices, and admission criteria of museums, parks, etc. may change from time to time. For the most updated information, we recommend checking the official website of the attraction directly prior to your planned visit.
Categories: Asia | Africa | Europe | USA | Australia & New Zealand | France | Germany | India | Italy | Spain | Sports | Switzerland | Travel Tips | UK | Products | Download AI Trip Planner App
---