Has it been a while since you have laughed your heart out? Well, we get so involved with our lives that we forget to just stop, enjoy the moment and have a good laugh from time to time. Visiting a comedy club is one of the best ways to enjoy an evening and truly laugh without a care.
Best Comedy Clubs in Nashville, TN (Jump to section)
If you are in Nashville, it is possible to explore some comedy clubs in the area and unwind after a hectic week. Wise people have said that laughter is the best version of therapy that is available to cope with our stressful and hectic lifestyle. Also, laughter is the best medicine to keep your stress at the bay. 
Comedy and, in general, laughter is known to be the most effective stress buster so whenever you get a little bit of time, you can simply consider going to a comedy club. Also, you can simply release your negative emotions with the help of satirical comedy shows. Comedy is also something that helps people to laugh in the face of problems of daily life. Apart from this, laughter and comedy can be effective mood lifters because these two reduce cortisol and make more space for happy hormones to rule your mind and body.
One place where you will find plenty of laughter, a happy mood, and an upbeat ambiance is a comedy club. It is a perfect place to go after a hectic week to unwind with your friends and family and truly enjoy the company of your loved ones over some cleverly written quips and delicious food and beverage.
Another fact is you can simply burn a few calories while laughing out loud. Ask how. Get up on your feet and go to your favorite comedy club near the neighborhood of Nashville. Of course, it is worth more than chilling with web series or online comedy sessions. Right? Besides, mind-triggering environments with new people can enhance your state of mind to a new level. Laughter also shifts perspective which enables you to see any situation in a more realistic way without a threatening light.
As laughter is contagious too, you can share your laughter with others and it will not half your enjoyment. It will double your happiness when you are surrounded by other people with laughter. Give your mind a small break and have a comedy eve.
Also, when you will go to attend a comedy club session with your favorite stand-up comedian, it will not be just laughing, you can engage your brain in a funny and chucklesome discourse as well. You can simply get a complex message through the comedy skit in a fun and bite-sized understanding.
Well, now that we have convinced you to go to a comedy club, you must be wondering what will be the best place to go. Fear not, we have done the research for you. We already have gathered a list of places that are always on the top of the list. If you are in Nashville or the area near it then you should give these Nashville comedy clubs a chance.
Best Comedy Clubs in Nashville, TN
1. Zanies Comedy Night Club
One of the best and most entertaining places to make your happy hormone run faster is Zanies Comedy club in Nashville. This club has been entertaining local people and others from different neighborhoods for nearly 35 years. This place is near 2025 8th Avenue South near the Gulch View neighborhood. Not only in Nashville, but this comedy club has also partner comedy clubs in Chicago, Rosemont, and St. Charles.
If you want a smoke-free comedy hunt, this place is exactly what you need right away. Lots of artists are there who already have performed on the stage of Zanies and every single day, young age stand-up comedians are coming here to make people laugh from the core of their hearts. This place can easily take care of you while you are exhausted after your super boring work schedule.
Artists like Big Jay Oakerson, Steve Trevino of Netflix, and Hannibal Buress of [adult swim] on Netflix have already made people laugh louder. Recently, Stone Cold & The Jackal, Joe Gatto, Dusty Slay's Grand Ole Comedy Show, and many more exciting events are there. What do you think? Want to get a reservation here? Just do it.
Address: 2025 8th Ave S, Nashville, TN 37204, United States
2. Nashville Improv
Our 2nd pick is Nashville Improve which is also quite famous around the neighborhood of Nashville. People love to enjoy a great comedy jam here. When nothing can make you happy, you can surely rely on a bit of improv. This place is famous for its unexpected comedy jam, and theatre with high-energy improv. You will be amazed, there were past performances like Kevin McDonald of Kids in the Hall and Laura Hall from Whose Line Is It Anyway.
Every performance is unique in its way. Another thing is tickets are very cheap so anyone and everyone can change a rough day into a funny one without breaking the bank. Also, you can get the same thrill of sporting events mixed with the dream of live theatre. After a long busy day, you can laugh without care while artists play, act, and sometimes do a lot of singing. It can be your jaw pain for laughter though! Never mind!
---
Bestseller GoPro Selfie Sticks
Sale
Bestseller No. 1
Bestseller No. 2
---
Address: 2007 Belmont Blvd, Nashville, TN 37212, United States
3. Third Coast Comedy Club
Another best and most fun-filled comedy club in Nashville is the Third Coast Comedy Club which is a mixed place for stand-up, improv & sketch comedy, plus beer, cocktails, and of course light bites. All nights are super crazy down at Third Coast Comedy Club. Podcast tapings, talk shows, and much more are there to tickle and make you laugh. This comedy club was the brainchild of Luke Watson and Scott Field. Both of them always wanted to create the biggest comedy community so that people can never be out of laughter. 
All the donors and other contributors of this comedy club made it possible to create a huge Comedy community where people can laugh unconditionally. Third Coast is also the new home for all young Nashville talents. Young comedians are providing a stage for all forms of comedy. Usually, 100 to 150 shows always take place in a session. So what do you think! Try a stroke of laughter luck here!
Address: 1310 Clinton St #121, Nashville, TN 37203, United States
4. The Redneck Comedy Bus Tour
If you think that sitting in one place and laughing out loud are not just your things, try this unique Redneck Comedy Bus Tour. Literally, you can laugh your way through Nashville, Pigeon Forge, and Branson. From the Country Music Capital of the world to Dolly's Hills ride to the heart of the Ozarks on this 2-hour fun-filled ride- all are covered in this long bus tour. Also, the ride is not very pricey because it is for all.
---
Bestseller Copper Water Bottles
Bestseller No. 1
Bestseller No. 2
---
Standard coach seats are for 40 bucks whereas Old-timers 60 and over are for 35 bucks. Also, being a Redneck is easier with their redneck clothes. Drinks and fixings are allowed on the ride too. The Redneck Bus boards at two different locations, the Nashville Palace and the Whisky Bent Saloon. The morning tour is 2 hours long and the afternoon tour is 90 minutes. Kids are also welcome to join this fun-filled ride in Nashville.
5. The Comedy Bar
Well, here is our other pick that is Comedy bar which is a perfect stand-up comedy venue inside Hard Rock Cafe featuring local & national acts right off Broadway, with a show entrance on 2nd Ave. Without any hesitation, this place is going to be a safe bet for a fun night out. This comedy bar is ready to serve you some much-needed laughs. Not only that, but also the bar is taking care of people with great guest service, quality food/drinks, and of course the best comedy.
This place is also famous for date nights or group outings. Lots of people also come to this place to enjoy bachelorette parties, birthday celebrations, and corporate outings for groups from 2 to 200. Even if you want to have a hot, enjoyable pizza while laughing out for a comedy show, you can simply order it here. So, make this your next comedy destination.
Address: 100 Broadway, Nashville, TN 37201, United States
6. LOL Nashville
Another favorite Nashville place is the LoL Nashville which is a prominent comedy club in Nashville. This place performs hilarious comedy shows and every show is unscripted. The only thing comedians do is collect suggestions from the audience and create a new joke to spread laughter. The crew behind LoL Nashville are Sandra Partridge, Ryan Citrino, Mark Neglia, Whitney Wolanin, Patrick Long, Mike Garvin, Margaret French, Luke Watson, Leigh Truemper, Kim Herrmann, and others who are ready to cater to you with the best possible comedy session ever in your life. Just check out the place and consider giving it a try.
---
Bestseller Cupholder Bottles
Bestseller No. 1
Bestseller No. 2
---
Address: 1310 Clinton St, Nashville, TN 37203, United States
7. The Diner Detective
The diner detective – the name says it all. If you are on the hunt for a perfect place to dine in and catch a fun show as well, then this place is the one for you. Your experience will be completely different from any other. The diner detective offers an amazing and fun-filled murder mystery show paired with a tastebud tickling four-course plated dinner. What is more important is from the very beginning, all the actors are hidden in the audience and they are not even dressed in costume.
The most interesting fun fact is anyone can end up being part of the show, including you too! The diner detective will arrange the whole show in such a way that a crime will occur, hidden clues will be revealed, and all Detectives will help everyone try to crack the case. In the end, there is also a prize ceremony for the detective who will give the best answer before the killer is unmasked. Isn't it funny! This place has a ticket for $72.95 per person.
A fully stocked bar is available in the diner detective during the show. And no need to tell, that the bar is filled with a wide selection of beer, wine, and cocktails. This place is also famous among people to celebrate birthdays, anniversaries, graduations, group events, holidays, Valentine's Day, marriage proposals, and much more.
Address: 700 Cool Springs Blvd, Franklin, TN 37067, United States
8. Brown Brothers Comedy and Entertainment Production
Another fun-loving place with comedian hunts is Brown Brothers Comedy and Entertainment production, which will provide you with the ultimate fun and thrill. The place is full of all young Nashville talents to make your jaw hurt badly, by laughing of course. Whatever you want to make your day special, you can simply get that here like funny friends, comedy, music, food, wine, and everything you wish for.
They are the pioneers in creating a surrounding that can be enjoyed with family and friends. Brown brothers are bold, they are fun-loving, and sometimes silly too. But together the idea brings a deep and passionate love of wine and comedy. You can get long-lasting positivity while enjoying wine and comedy.
Address: Northcrest Ct, Nashville, TN 37211
9. The East Room
Last but not least, the East Room is here to give you the ultimate comedy club experience. Not only a comedy session, but you can also enjoy music concerts too. The East Room has been growing as East Nashville's favorite place to see up-and-coming local and touring talents. This place is also offering free open mic comedy every Tuesday night. Also, every second Saturday of the month, a unique and cheerful event takes place- the monthly Dance Night- Fascination Street. The East Room hosts concerts for a massive range of genres from artists such as The Thing with Feathers, Glass House Point, Morning Buzz, and others. Do not hesitate to book your tickets while roaming around Nashville.
Address: 2412 Gallatin Ave, Nashville, TN 37206, United States
Wrap Up
Laughter is something very special that draws people together in ways that maintain healthy physical and emotional changes in the body. We all know that in our childhood days, we used to laugh thousands of times a day because there was no stress in our life. But when we all become adults, life tends to be more serious and laughter more infrequent. So right now, it is necessary to get a daily dose of laughter to make yourself healthier and stronger in every aspect.
So what are doing here still now? Come on. Stop thinking so hard! Let Nashville comedy clubs tickle you with their funny words and flow in the laughter world with a dose of improv, sketch comedy, stand-up, and more at some of the hottest comedy clubs and tours.
Read more: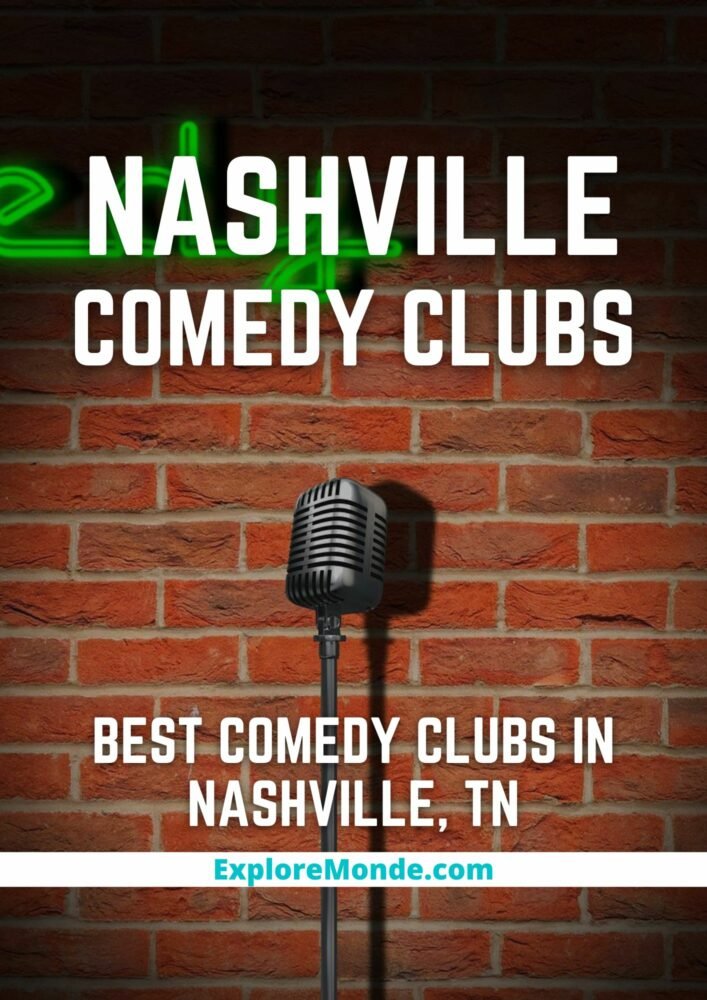 ---
Note: The hours of operation, ticket prices, and admission criteria of museums, parks, etc. may change from time to time. For the most updated information, we recommend checking the official website of the attraction directly prior to your planned visit.
Categories: Asia | Africa | Europe | USA | Australia & New Zealand | France | Germany | India | Italy | Spain | Sports | Switzerland | Travel Tips | UK | Products | Download AI Trip Planner App
---