---
This article has been reviewed by Laura and Sumeet, travel enthusiasts who have travelled to 40+ countries (follow on Youtube youtube.com/@Ciao.Namaste). Should you have any inquiries, please do not hesitate to contact at contact@exploremonde.com
---
If you are looking for a large water bottle then you are at the right place. We bring you the best large water bottles that have a large capacity [up to 32oz and 40oz] and also can fit most cup holders. These bottles are made from high-grade premium materials which are durable.
Almost every day while driving my car to the office, or anywhere else, I need a beverage next to me. Finding the water bottle that fits right in the cup holder of my car feels like a victory. While most small-medium bottles fit easily in cup holder, finding a large one that does, is difficult. Hence we bring you a list of the best large water bottles that are designed to fit in cup holders of cars and trucks – so you can enjoy your beverage while you drive!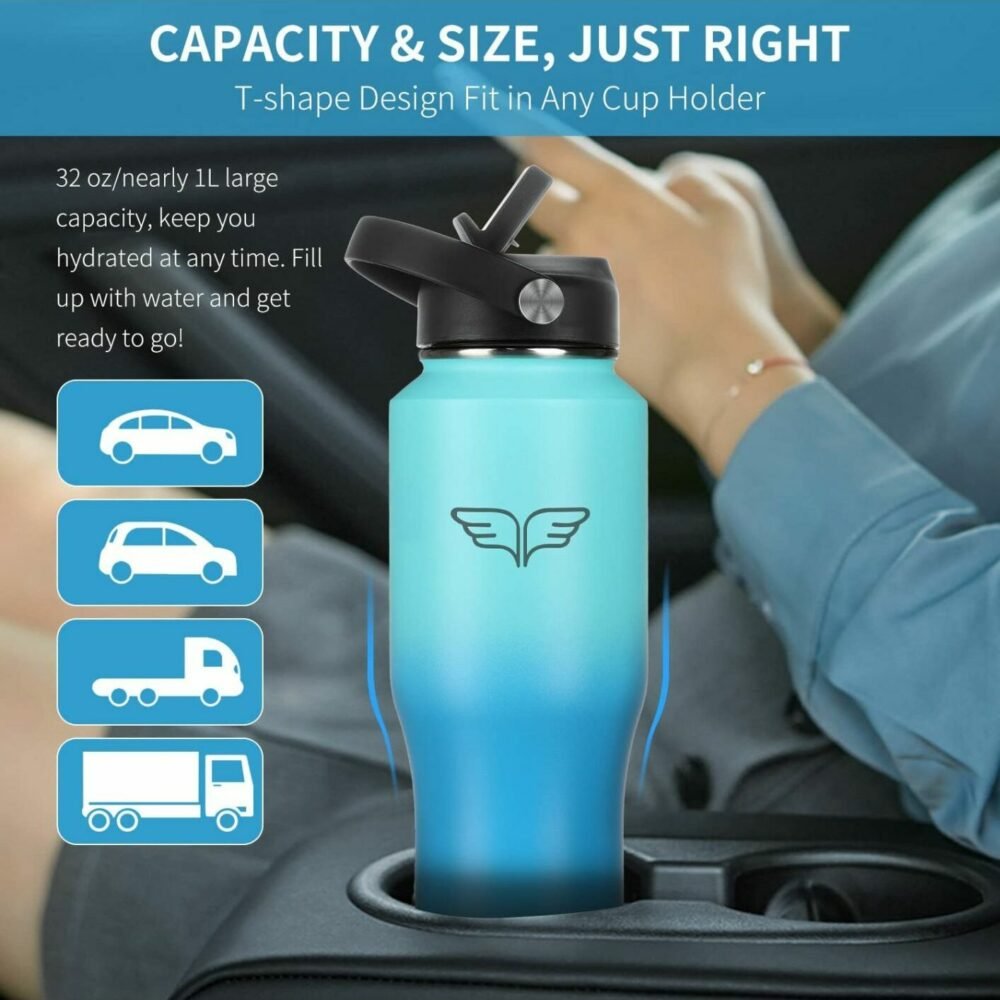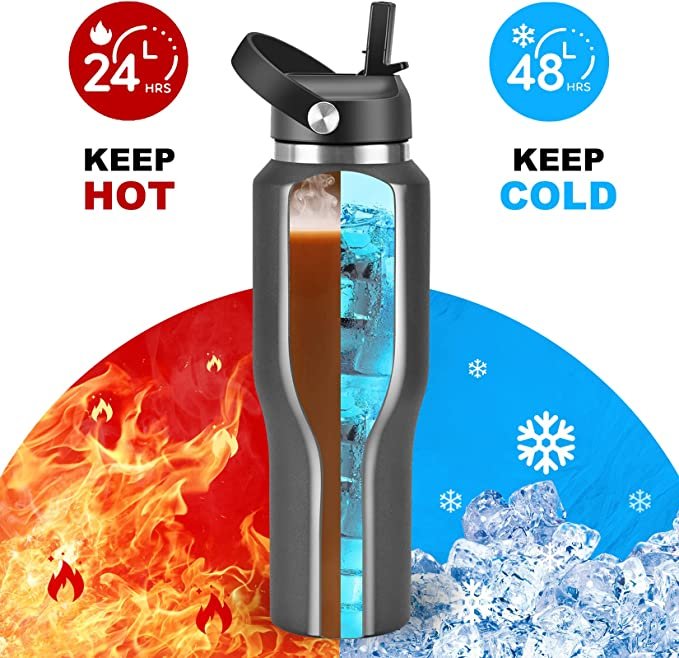 Best Large Water Bottles That Fit In Cup Holder
The following are our top best picks for the water bottles that fit in cup holders are listed below:
The COKTIK 40 oz Insulated Tumbler Cup is made of high-quality 18/8 stainless steel and is free of BPA and toxins.
The electro-polished interior ensures pure and clean-tasting drinks every time.
The tumbler comes with three 100% leak-proof lids: a straw lid, a splash-proof straw lid, and a flip lid, and includes two straws and cleaning brushes.
The double wall insulation and powder coat make the tumbler sweat-free and keep drinks cold for up to 12 hours and hot for up to 6 hours.
The tumbler is designed to fit in most standard cup holders, making it perfect for on-the-go use during workouts, hikes, road trips, and other outdoor activities.
Each tumbler comes in a nice package and can be shared as a gift with friends, family, teachers, colleagues, and sisters.
The tumbler comes with a worry-free lifetime warranty and professional customer service.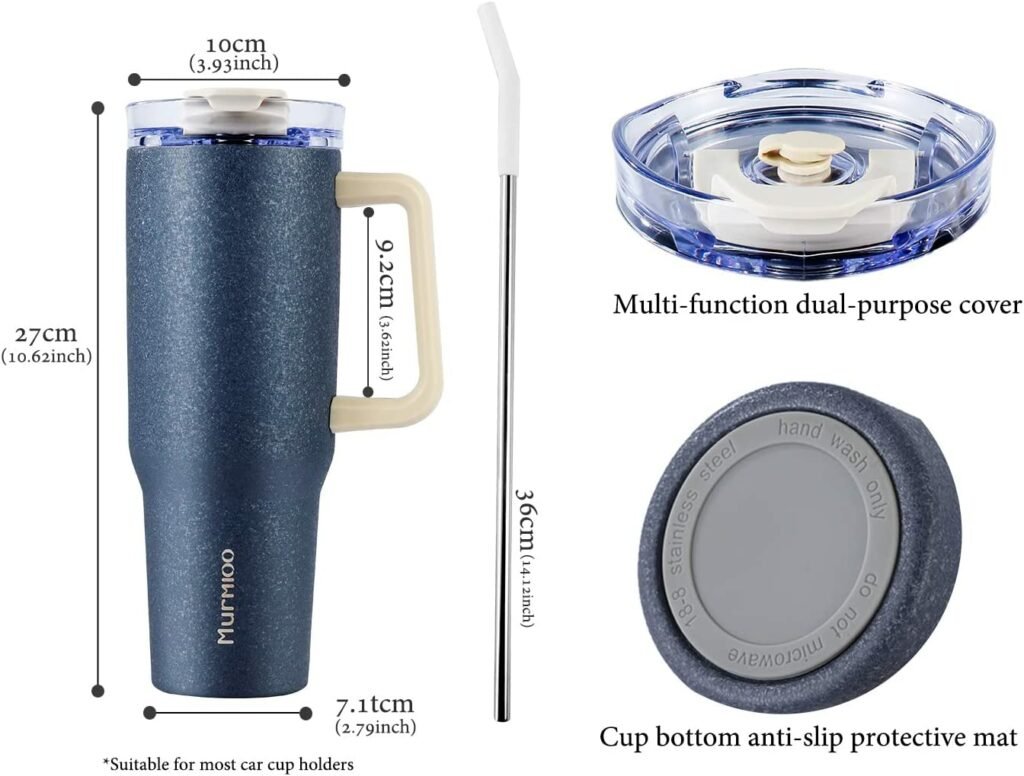 Murmioo stainless steel water tumbler is made of high-quality materials and has a durable and colorful finish.
It is easy to clean with a large diameter, does not retain stains or odors, and is BPA-free.
The travel coffee mug lid offers two drinking methods: direct drinking and straw drinking, making it convenient to sip, drink or swallow.
The tumbler is leakproof, sweatproof, and can keep drinks hot for 6 hours and cold for 12 hours.
It is also equipped with an anti-skid silica gel at the bottom to reduce the risk of sliding and tipping of the cup.
The large capacity tumbler is portable and suitable for most car cup holders.
The special welding process of the handle makes it more firm and convenient to hold, reducing pressure on the hand.
Murmioo's reusable water bottle is made of 18/8 stainless steel, which is durable and BPA-free, including a reusable ss straw to reduce plastic waste.
Protect the planet with Murmioo's eco-friendly reusable water bottle.
The water bottles made by SENDESTAR are made for the most challenging outdoor activities. They rely on customer experience while creating new products to satisfy the needs of consumers.
The water bottles are made of insulated, 18/8 food-grade stainless steel. They don't hold smells from past drinks like the plastic bottles may do and these are extremely rust-resistant. There is no BPA in any SENDSTAR bottles or lids. Additionally, they will last for many years, allowing you to reduce household waste with each refill.
It comes in several different sizes, including 12 oz for children, 25 oz with a wide mouth, and 32 oz of a T-shape thin design bottle. They offer 40 oz, 64 oz, and 87 oz for adults.
Key features:
It can fit any standard cup holder.
The SENDESTAR water bottle can be used for outdoor activities and has a large vacuum capacity.
This water bottle is made of the best grade 18/8 stainless steel, which is completely resistant to oxidation and corrosion. Using a double-walled vacuum insulation container, you can keep liquids hot for ten hours or cold for twenty-four hours.
The two BPA-free lids included with the SENDESTAR 32oz thin water bottle can be changed at any time. Easy and convenient drinking is made possible by the flexible straw lid's broad spinning handle.
These universal lids work with the majority of wide-mouth bottles as well as Hydro Flask, Simple Modern, Takeya, and HYDRO CELL.
It comes in handy during your workout, walks, or school.
You will receive a single SENDESTAR 32 oz water bottle, one each of a spout lid, a flex straw lid, two straws, and a straw brush. They also offer a lifetime warranty and helpful customer care.
You can either get a full refund or an exchange if for any reason you're not completely happy with the water bottle.
On your long travel, you may bring 945ml of water with you in a 32oz Uchiers T-shape Water Flask bottle without having to worry about running out. Always stay hydrated and fresh!
The 32oz insulated water bottles provide 48-hour ice preservation and 24-hour heat retention. 2.3-inch-wide openings were used in their design to make it simple to put ice cubes in the bottles and clean them.
The insulated water bottle is composed of 18/8 stainless steel, which is 100% BPA-free and non-toxic. It won't ever rust or have a metal flavor. An external part is of powder coat, which can prevent sweat and keep moisture away from getting on your bags or desktop.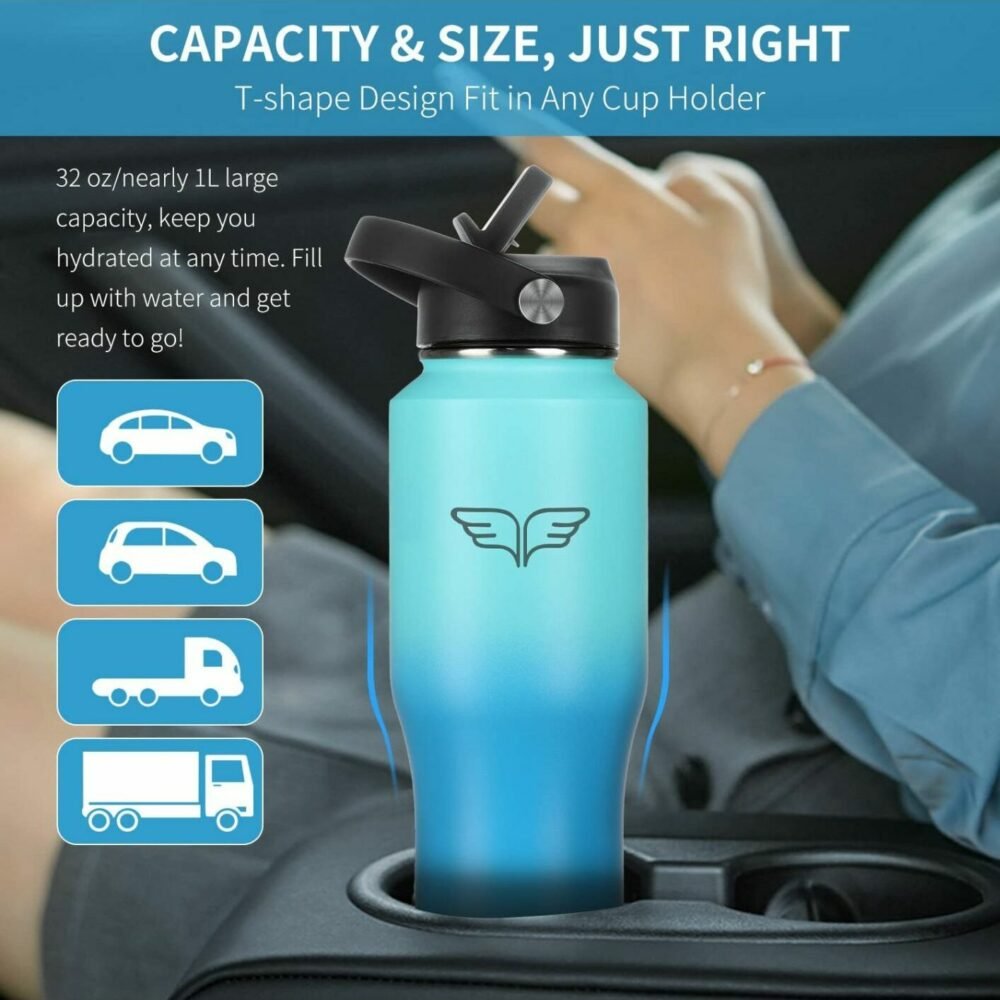 Key features:
Your needs are the focus of the Uchiers straw lid bottle. There are no caps to obstruct your view while driving, so all you have to do to drink is flip the straw top up, sip, then flip it back down.
The spout lid is ideal for improved drinking while engaging in other indoor or outdoor activities.
You will receive 1 Uchiers 32 oz. Water Bottle, 1 Spout Lid, 1 Straw Lid, 2 Straws, 1 Straw Brush, and 1 Uchiers Water Bottle.
They offer a worry-free lifetime guarantee and helpful customer support.
If for any reason you are not completely happy with the Uchiers, they will give you a full refund or an exchange!
The triple haul cap protects from spillage while you are traveling in a cab or going out for an outing. Double-wall vacuum insulated 26oz water bottle lets you keep your water cool or your beverages hot. It has a dura coat color that won't fade or crack. This stainless steel bottle of water can fit in most standard cup holders.
Key Features:
The dura coat color is made to last, this won't fade, crack or peel.
With its 3-finger grip and leakproof design, the TripleHaul Cap shields your daypack or truck cab from spillage.
Until the very last sip, this double-wall vacuum-insulated water bottle will keep your water cool or your coffee hot.
Even in the most difficult situations, the 18/8 stainless steel structure holds up.
Dimensions for the water bottle are 9 1/2 in. in height and 3 in. in diameter.
It fits most of the standard cup holders' sizes.
The 22-ounce Cupture Action Bottles were developed specifically to go with you on your outdoor adventures. To ensure that your beverage doesn't pick up any undesirable flavors, the interior of the bottle has been electropolished. The incredibly simple-to-use lid may be locked in place, and the cover over the spout protects the mouthpiece from dust. The outside temperature is maintained by the double-walled vacuum insulation, which has little impact on your beverage. Stay cool and hydrated even in the summer.
Key features:
Made of food-grade, BPA-free stainless steel, this double wall vacuum insulated bottle prevents sweating and keeps beverages hot or cold for up to 12 hours.
It fits most bicycle water bottles and car cup holders, so you can carry your favorite drinks with you everywhere you go.
It comes with a handle and a secure locking flip-open lid.
It comes with a handle and a secure locking flip-open lid. It is easy to transfer and simple to handle.
More stability is provided by the soft rubber padding, which also lessens noise from surface impact.
It has a leak-proof spout lid that makes it simple to sip or pour with one hand, and a secure hinge lock keeps the cover out of the way while you're drinking.
This water bottle comes with a handle and an internal straw that can be cleaned easily in the dishwasher. Swig leakproof water bottle keeps the water hot for 3+ hours and Cold water for 24+ hours. The slim water bottles fit in most standard cup holders in cars and other vehicles. This water bottle is perfect for trips to the beach, pool, gym, hiking, or camping.
Key features:
The vacuum-sealed, double-walled copper-plated stainless steel water bottle is made of thick, 304-grade 18/8 stainless steel.
Easy to carry handle with internal straw.
The brand-new Flip + Sip cap is leakproof and has a handle, and a built-in straw.
The water bottle can be cleaned easily in the dishwasher.
All Swig Life insulated water bottles, lids, and bases can be cleaned in the top rack of the dishwasher.
The slim water bottle is cup holder friendly and fits in the majority of regular automotive cup holders. The ideal water bottle for excursions to the gym, beach, pool, hiking, or camping.
The bottle is long-lasting and made of stainless steel. Since it is vacuum insulated, the contents are kept at the right temperature for hours, ensuring that your ice water stays cold and you can stay hydrated all day. Additionally, the insulation keeps the bottle easy to carry and prevents moisture from forming on its outside.
Key features:
The 20 ounces may fit within the reusable water bottle, which is 11.17 inches tall.
Stainless steel 18/8 is used to create a sturdy water bottle. All components are entirely free of BPA and safe for food use.
Cold drinks stay colder for longer in the insulated bottle, while hot drinks stay hotter for longer. Additionally, the vacuum insulation stops outside condensation from growing.
A silicone gasket on the screw-on lid keeps it in place securely and guards against leaks. The water bottle fits in car cup holders and may be worn as a backpack or on the back.
The vacuum insulation and copper plating lining of the stainless steel bottle provide it a better ability to maintain the same temperature, keeping your drinks hot for a half-day or cold for an entire day. A better insulation condensation is provided by vacuum insulation with copper plated liner. An organized exterior ensures that a hand or bag can be taken that is dry and clean.
Steel water bottle's exterior is clean matte powder-skinned, enhancing its ability to expand by elasticity, stand firmly, and guarantee a more comfortable and relaxing hold.
---
Bestseller GoPro Selfie Sticks
---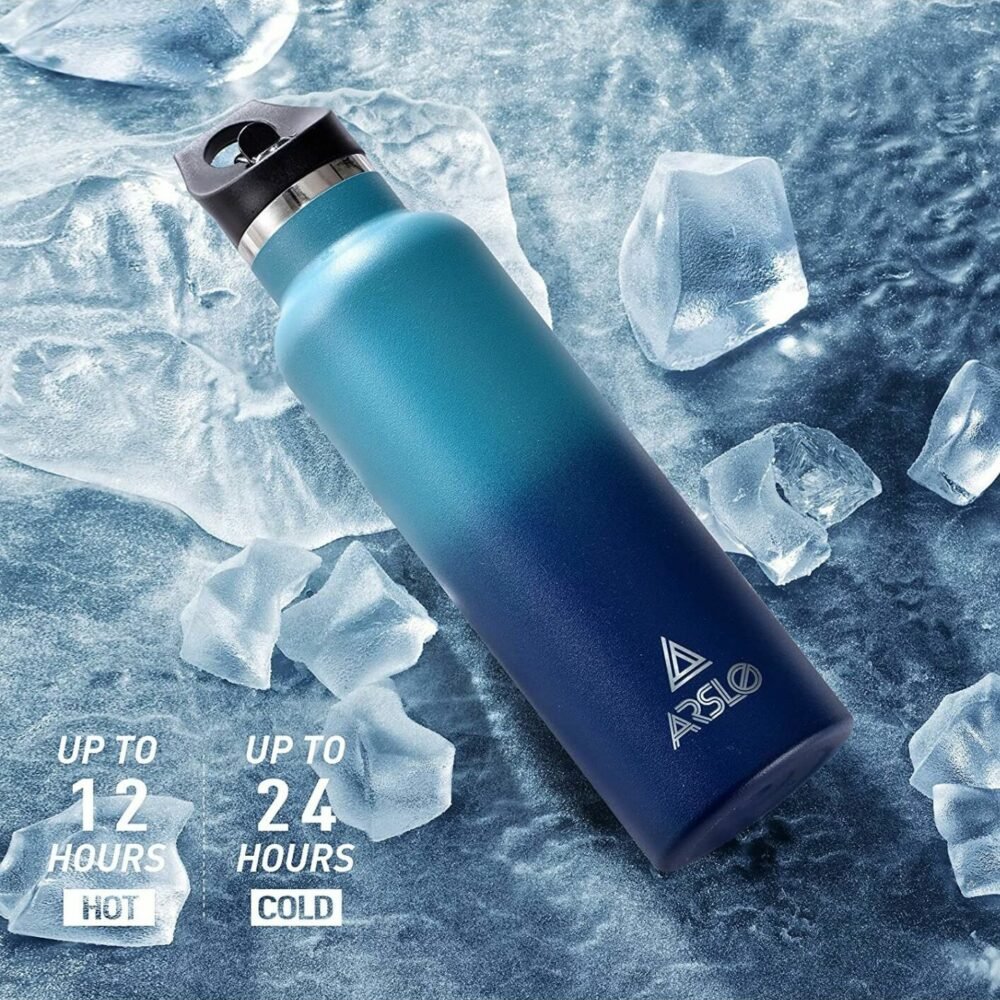 Key features:
The premium high-quality 304 stainless steel used in the Arslo water flask passed the FDA test and is completely resistant to oxidation and corrosion.
Two well-liked monochromatic color gradients and color clashes were chosen for the insulated water bottle. The anti-slip carbon coating surface protects the metal flask bottle from paint loss and scratches, ensuring a firm grip.
There are many sizes and colors for vacuum-insulated bottles. One straw lid, handle lid, two straws, and one straw brush are included.
Two types of lids are available for standard water bottles: a handle lid with a filter so you won't have to worry about ice falling into your mouth and a straw lid. To stay hydrated while on the go, use the drinking spout on The Straw Lid, which swings up and down.
The Iron Flask is constructed of 100% BPA-free, non-toxic 18/8 stainless steel. It will never rust or have a metal flavor. Wash the bottle only with soapy water. A typical exterior treatment is powder coating. It guarantees that you will stand out with a tough and beautiful bottle. They will give you a full refund or an exchange if, for any reason, you are not completely happy with the Iron Flask.
It comes with three different 100% leak-proof lids with each Iron Flask. The Iron Flask is sweat-free because of its small mouth double wall insulation! It can keep your beverage Hot for up to 12 hours or Cold for up to 24 hours.
Key features:
You can keep your beverage Hot for up to 12 hours or Cold for up to 24 hours.
Iron Flask has a small mouth double wall insulation.
If you are not satisfied you will get a full refund or an exchange.
With the MagSlider Lid, you can take a hot beverage on the move without worrying about spills. The closeable drink lids use magnets for smooth opening and closing, and they have a clear lid so you can always see if you need to take the top off. This feature makes them different from other closeable drink lids. The MagSlider can be removed, washed, dried, and then put back on the YETI Slider Lid, it makes cleaning simple. Like the rest of the Rambler accessories, the MagSlider Lid is spill-free & dishwasher-safe.
Key Features:
These Ramblers include a YETI MagSlider Lid as standard equipment, the only drink lid that secures water or other beverage using magnets to not spill.
The Ramblers have a No-Sweat Design, are BPA-free, and are dishwasher safe.
These double-wall insulated tumblers are made of an 18/8 stainless steel body, this will let your drink stay at room temperature.
The YETI 20 oz. Rambler Tumbler is 6 7/8 in tall and features a 3 1/2 in. wide lip.
All YETI tumblers are made to fit in cup holders with a standard size.
This water bottle is manufactured by Aqua Flask. It is a large water bottle with a big capacity of 30 ounces. It is made from high-quality stainless steel. This kind of stainless steel will not rust or corrode. It comes in a classic black color with a matte finish. It is powdered-coated black.
Key features:
This large water bottle is constructed of durable insulated stainless steel.
This water bottle does not condensate or sweat at all. It is very easier for you to carry this water bottle.
It has a carrying clip.
As this water bottle has a wide mouth, it can fit ice cubes in it.
It is free from BPA.
Love your existing large water bottle? Consider a cup holder expander!
The water bottle won't shake when you're traveling at high speeds, and it will be simple to remove. You can adjust the knob according to the holder upper space's size. It fits a variety of cup sizes and taller bottles.
---
Bestseller Copper Water Bottles
---
The diameter of the upper space can increase from 2.6″ to 6.3″. These products are able to hold oversized bottles or mugs because of their three-blade heights and deeper gaps. Additionally suitable with many large fast food cups with a diameter of 2.6 to 6.3 inches and most brands of bottles.
The insert's diameter can be adjusted from 2.6″ to 3.9″ to fit a variety of car cupholders. For easy base expansion or contraction, just adjust the bottom knob. It fits a variety of vehicles, and cars, including golf carts, motorbikes, RVs, and trucks.
After installing the cup holder, tighten the base to the car by turning the bottom knob clockwise. To ensure safe driving, You can adjust the upper space by sliding the upper knob to meet various water cup sizes.
Featuring a modern appearance design, the material has been upgraded to be strong and long-lasting. It includes a silent rubber component on top and raises the height of three blades. This car cup holder is for protecting large water bottles and containers.
Key features:
Depending on the size of the upper space, you can adjust the knob. It works with taller bottles and a range of cup sizes.
The cup holder's three-blade heights and wider gaps allow it to accept large bottles or cups.
A range of car cupholders can be accommodated by adjusting the insert's diameter from 2.6″ to 3.9″.
The upper space's diameter can rise from 2.6″ to 6.3″.
It has a cup holder and an additional extender. The extender can be used for large water bottle holder or a snack dish. To save space when not in use, the extender can be folded into a built-in cupholder.
Compatible with the majority of mugs in addition to large 20/24/30/32/40 Oz Nalgene bottles, snack, fry, Yeti, and Hydroflask.
---
Bestseller Cupholder Bottles
---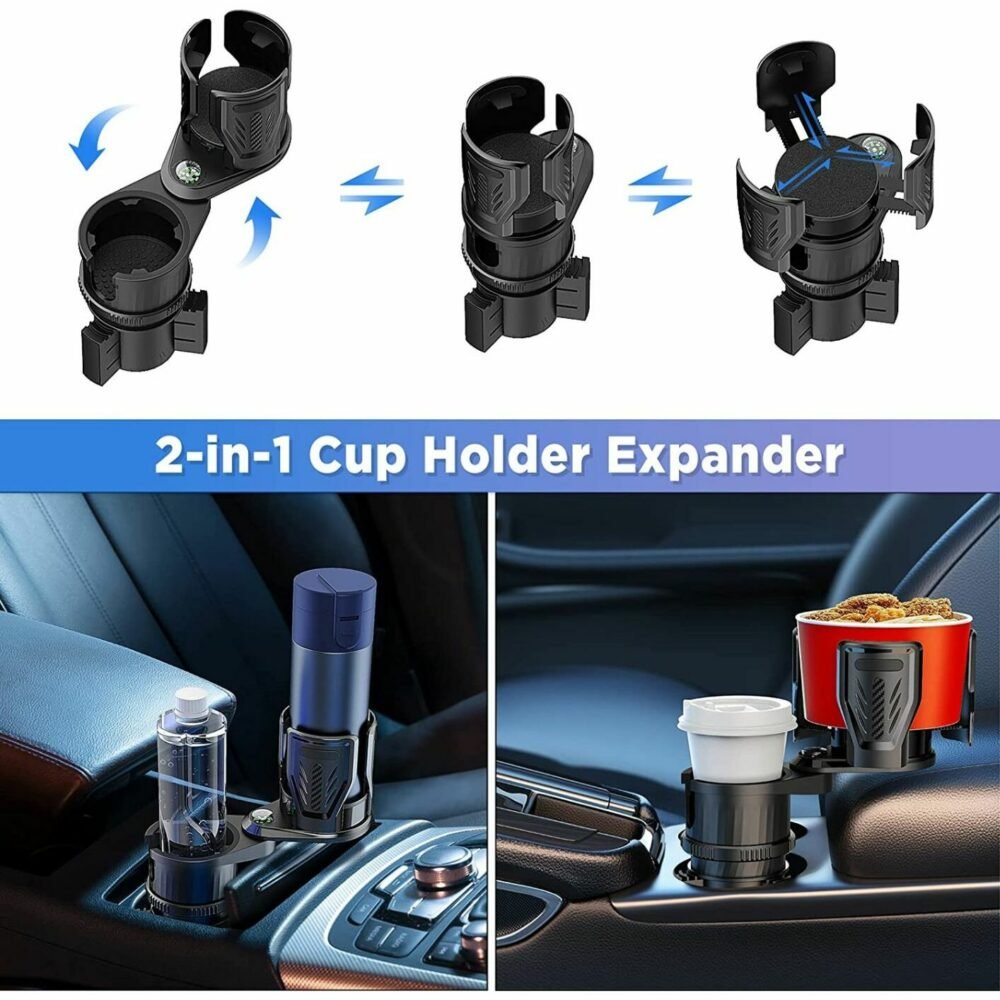 Key features:
The strong and shockproof design prevents drinks from spilling out when braking or turning.
Universal cup holder adapter for seats, cars, trucks, RVs, and other vehicles.
The dimensions of the cup holder are 2.6-4 inches.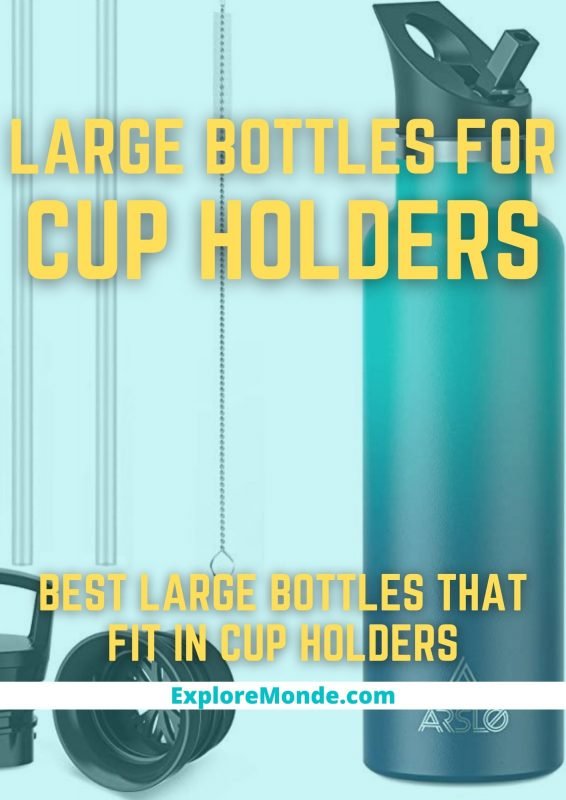 ---
Note: The hours of operation, ticket prices, and admission criteria of museums, parks, etc. may change from time to time. For the most updated information, we recommend checking the official website of the attraction directly prior to your planned visit.
Blog Categories: Asia, Africa, Europe, USA, Australia & New Zealand, France, Germany, India, Italy, Spain, Sports, Switzerland, Travel Tips, UK, Products
More From The Blog
---