---
This article has been reviewed by Laura and Sumeet, travel enthusiasts who have travelled to 40+ countries (follow on Youtube youtube.com/@Ciao.Namaste). Should you have any inquiries, please do not hesitate to contact at contact@exploremonde.com
---
Jacksonville is a city located on the Atlantic coast of Florida. This is the most populous city in the state of Florida. The city has the largest urban park system in the US. The city has a variety of attractions for people of all ages and interests. There are plenty of activities to do on land as well as on water.
Free Things To Do In Jacksonville (Jump To Section)
The city has all types of terrain and offers a lot of variety when it comes to things to do and places to explore. The city is endowed with treasures of natural beauty as well as plenty of significant history. Whether you like art, fairs, museums, or nature trails, you will find almost everything and some more.
Whether you are visiting for just a few days, a local or actually coming here for a vacation, Jacksonville has enough variety and fascinating spots for you to explore. It is said that to actually explore a place fully, you need to see what it has to offer without you spending a single dime. With that in mind, let's check out this list of the 13 best things to do for free in Jacksonville.
Free Things To Do In Jacksonville
1. Riverside Arts Market
This is a unique place. It is a lively market held only on Saturdays underneath Jacksonville's Fuller Warren bridge. It is a mix of farmers' market and art fair. You will not only find fresh produce, meat dairy, and pantry goods from local farmers and vendors but you will also get to see what the local artists have to offer. You will find an array of unique art for sale in this market.
Today at Riverside Arts Market in Jacksonville was truly special. Of all the shows I have played here, this was one of my favorites of all. A wonderful audience as always and it was so good to have some of my dearest friends with me! Thanks for a beautiful day! pic.twitter.com/PQr7UEBHpP

— Donna Frost (@DonnaFrost12) August 7, 2022
You will also get to enjoy live music as there are many local artists performing too. The ambiance and the vibe is chill, lively, and a bit laidback. You can peruse the shops and see what attracts your attention. There are many good options available in the market too so you can grab a bite to eat if you feel hungry. It makes for an ideal location to find something unique.
This market is well organized. There will be a lot of people but at no time will you feel crowded. The market timing is from 10:00 a.m. to 3:00 p.m.
It is located at 715 Riverside Ave, Jacksonville, Florida.
2. Timucuan Ecological and Historical Preserve
This one is for nature lovers. It is a US National Preserve in Jacksonville. This public preserve is fairly big in size as it is spread over an area of 46,000 acres. It consists of wetlands, waterways, salt marshlands and other habitats. It is situated in northeastern Duval County. The place is absolutely gorgeous. The whole preserve is covered with greenery and scenic trails.
Looking for some great birding? Round Marsh is a quick walk in the Roosevelt Area in the Timucuan Ecological and Historical Preserve near Jacksonville. We saw several birds in the area including an osprey. #FindYourPark #LoveFL #OnlyinJax pic.twitter.com/YJOIUh2dfS

— Wander-Filled Life (@wander_filled) February 19, 2018
There are waterways too where one can kayak and swim. The beach area is one of the most prominent locations to hang out for people inside the preserve. You can come with your friends and family and have a day out on the beach.
People who are into physical activities can hop on one of the trails and challenge themselves. The trails are clearly marked and well maintained too. It is an ideal location for those who want to spend a day in nature and relax by the beach. You can also do fishing here. All the relevant information is available on their website. It remains closed on Mondays and Tuesdays. For the rest of the week, it remains open from 9:00 a.m. to 5:00 p.m.
It is located at 12713 Ft Caroline Rd, Jacksonville, Florida.
3. Kingsley Plantation
This is a historic plantation that is no longer functional but remains as evidence of erstwhile tradition, history, and time. It was named after an early owner named Zephaniah Kingsley, who spent 25 years here. The estate is fairly large, spreading over an area of around 60 acres. The land is covered with lush green grass which makes the whole area more beautiful.
Saturday's visit to the Kingsley Plantation on Fort George Island in Jacksonville, Floria. pic.twitter.com/hgav4NoKAY

— David Jackson (@cocoaflorida) July 4, 2022
The older structures and buildings are there but they no longer have the furniture and other amenities inside them. There are a lot of informative signs all over the estate. You can read and get a more holistic idea of the place and history of the plantation in Jacksonville and, in general, Florida.
There are also audio tours available. This is an ideal location for those who want to spend some chill time walking around in a green and calm environment. On top of this, you will also get to learn a lot about the fascinating history behind it. It remains closed on Mondays and Tuesdays. For the rest of the week, it remains open from 9:00 a.m. to 5:00 p.m.
---
Bestseller GoPro Selfie Sticks
---
It is located at 11676 Palmetto Ave, Jacksonville, Florida.
4. Cummer Museum Of Art & Gardens
What would you get if you combine a beautiful garden and an art museum together? Well, what you would get is something absolutely breathtaking. It is a museum, which was founded in 1961 after the death of Ninah Cummer. She donated her personal collection for the creation of a new museum. The museum preserves Cummer's home and estate as an art museum.
Such a gorgeous place! (@ Cummer Museum of Art and Gardens in Jacksonville, FL) https://t.co/xOUuc0vsUK pic.twitter.com/A2ia2bwLnp

— Thomas Ferrer, SHRM-SCP 🚀🌚🌴😎 (@thomas_ferrer) July 26, 2022
This is an ideal place for those who love art and want to visit a scenic place where you can enjoy art exhibits. From different styles and eras of paintings to magnificent sculptures, you will get to see a variety of exhibits here. The garden is nothing less than the art itself. The view of the river from the garden and through the garden walls is captivating.
This place will give you a lot of Instagram-worthy photo locations. This is one of the "must go" recommended places. It remains closed on Mondays and for the rest of the week, it is open from 11:00 a.m. to 4:00 p.m.
It is located at 829 Riverside Ave, Jacksonville, Florida.
---
Bestseller Copper Water Bottles
---
5. Jacksonville Arboretum & Gardens
This is a great spot for those who just want to spend their time around greenery and nature. It is a botanical garden. It is developed with the purpose of creating a unique natural attraction on a city-owned 126 acres of land. The garden is fairly big. The grade has a lot of greenery which is natural as well as maintained and curated by human intervention too.
This weekend! Visit the Jacksonville Arboretum & Botanical Gardens for live painting and sketching demonstrations, guided tours, delicious food trucks, kids activities and live music! More info:https://t.co/y8sVxpKH7I pic.twitter.com/UhiBIPCReW

— Scenic Jacksonville (@ScenicJax) May 14, 2022
It has several seating areas throughout the garden. There is a small lake present too. The garden is calm, serene, and relaxing. There are many artistic sculptures exhibited throughout the place. You can see a lot of beautiful flowers and other flora varieties too. It makes for an ideal location to have a picnic with your family. There isn't much crowd too so you feel cut off from the chaos of the city.
This is like a safe haven where you can come to unwind after a hectic week. There are plenty of trails where you can walk, run, jog, etc. People also take their dogs with them so it is a pet-friendly space. It is a perfect place to enjoy a calm and relaxed hike. It remains open throughout the week from 8:00 a.m. to 7:00 p.m.
It is located at 1445 Millcoe Rd, Jacksonville, Florida.
6. Friendship Fountain
This is the most recognizable and famous attraction in Jacksonville. It is a large fountain with amazing lighting. It is located in the St Johns River at the west end of Downtown Jacksonville's Southbank Riverwalk attraction. When it was opened, it was the world's largest and tallest fountain.
---
Bestseller Cupholder Bottles
---
Friendship Fountain
Jacksonville,Florida pic.twitter.com/ws9BbTMfJu

— Teresa Mummert (@TeresaMummert) May 9, 2015
This is a great place where you can just sit and be with your thoughts. If you have kids then you can bring them here, they can run around while you can just sit back and enjoy the calm and relaxed environment of the place. The water fountain is large and it has a calming effect on people.
The fountain combined with the light show is pretty mesmerizing to watch when it gets dark. There are lots of benches around it so you can sit back and enjoy the sight. There are plenty of restaurants nearby. You can almost smell the muffins from the nearby bakery. This is also a perfect place for couples too.
It is located at 1015 Museum Cut, Jacksonville, Florida.
7. Southbank Riverwalk
You must have gone for walks around a scenic trail in a preserve or a national park. This offers something unique. It is a 1.25 miles long paved promenade along the St Johns River. It offers an amazing view of the city and the city skyline too. The sunsets from this place are absolutely mesmerizing.
📍Southbank Riverwalk, Jacksonville, FL pic.twitter.com/Pwg99ZNAg6

— Leah Shields (@LeahShieldsNews) August 31, 2022
You can come here for a walk, a light run, or just a stroll to view the city and enjoy the scenery. There are plenty of benches along the way too so you can sit and catch a breath or just come to sit and enjoy the picturesque sunsets. People also come for a walk at night for the scenery. It is also a great place to do some workouts. The walks at the promenade can be particularly calm and relaxing.
There is a variety of art present too. Local street artists perform regularly. You would find local vendors selling a variety of food and drinking options. You can grab a bite to eat if you feel like it. It is a public space thus it remains open 24 hours a day.
It is located at 1001 Museum Cir, Jacksonville, Florida.
8. Fort Caroline National Memorial
It hosts the visitor center for the entire Timucuan Preserve. It is a sixteenth-century fort. It was an attempted French colonial settlement in Florida. It is located on the banks of the St. John's River in present-day Duval County.
Fort Caroline National Memorial in #Jacksonville #Florida part of the @NatlParkService #blackandwhite #blackandwhitephotography #travelphotography #nationalparks pic.twitter.com/AyqNNUiCQN

— Kat, With Cats (@Georges_Bidet) August 28, 2022
It is a good spot to visit not just because you will find relevant information about the Timucuan Preserve but also because this place in itself has enough things to offer for those who want to explore something historic.
Here, you will find stories of exploration, survival, religious disputes, territorial battles, etc. This place has enough fascinating history and trivia attached for you to give it at least one visit. You will also find stories of the first contact between Indians and Europeans. The fort is beautiful with lush green gardens and old structures.
Those who are visiting Timucuan Preserve should definitely make time to give this place a visit and enjoy a part of history that is little known. It remains closed on Mondays and Tuesdays. For the rest of the week, it remains open from 9:00 a.m. to 4:30 p.m.
It is located at 12713 Fort Caroline Road, Jacksonville, Florida.
9. Tree Hill Nature Center
This is a nature reserve in Jacksonville. It is situated just 5 minutes from downtown. It is home to more than 51 acres of preservation land. This is a perfect place to go with your kids. They are going to love it. The whole preserve is lush green with untamed nature and abundant flora. The place is calm, refreshing, and soothing.
Tree Hill Nature Center is a wilderness preserve protecting an urban wilderness area containing sensitive plants and animals. The center consists of three different ecosystems representative of those found in Jacksonville and offers visitors three interpretive nature trails. pic.twitter.com/hWaxLdV4Uu

— Yash Marathe (@ymarathe) March 13, 2022
They promote environmental awareness and conservation through various hands-on educational programs oriented toward kids. They have 7 walking trails and a hands-on kids museum featuring Florida's natural history, butterfly and hummingbird garden, and tons of many more things.
This is a place where kids won't only enjoy but learn valuable lessons in an engaging and fun way. They have a goat petting area too. Technically, this is not a free spot. But the entry charge is nominal at 5 dollars for adults and 4 dollars for seniors and students. For kids, you would have to pay 3 dollars. They remain open from Monday to Saturday from 8:00 a.m. to 4:30 p.m. But the last admission is accepted at 4:00 p.m.
It is located at 7152 Lone Star Rd, Jacksonville, Florida.
10. Karpeles Manuscript Library
It is one of the fifteen Karpeles museums in the US. One fascinating thing about these museums is that all of them are housed in repurposed old buildings. This one is no different. The building is a fine example of Neoclassical architecture. The exterior is elegant, classy, and sophisticated. It has that old building aura and charm. The architecture of the building, in itself, is something to behold.
The Karpeles Manuscript Library is one place you wouldn't want to miss when visiting Jacksonville. For more on this story click the link below ⬇️https://t.co/0cGHfQvxQI pic.twitter.com/uCDn7ibNXY

— AssuredNews (@AssuredNews) September 21, 2019
The museum houses original historical documents and manuscripts among various other things related to history. The primary goal of the museum is the preservation and educational presentation of the writings of great scholars, authors, scientists, etc.
This is a perfect place for those who like fascinating things and want to know about history. There are plenty of unique and interesting exhibits that you would love. There is also a section called oddities, where you would find some strange but rather fascinating things related to history.
Those who like knowing about history and strange trivia would absolutely love this place. It remains open throughout the week apart from Sundays and Mondays. For the rest of the week, it stays open from10:00 a.m. to 3:00 p.m.
It is located at 101 W 1st St, Jacksonville, Florida.
11. Museum of Contemporary Art
This is an art museum that features changing exhibition galleries along with permanent works. The museum is adequately big so they have plenty of exhibitions for you to see and enjoy. This is a cultural institution of the University of North Florida.
Larry J. Davis has original work featured in the Jacksonville, Florida Museum of Contemporary Art. This amazing first painting is Gowns for the Gala. #originalart #theperfectgift #artlastsforever #artmakesahome #artmakesyouhappy pic.twitter.com/ScIDrBNKkw

— Allison Sprock (@asprockfineart) August 11, 2022
Their motto is that access to art can be transformational and unlocking creativity can open minds to endless possibilities. The museum is well curated and the halls are spacious. The exhibits are unique, creative, and beautiful.
They bring a new collection of exhibits of local and other artists. The artwork is thought-provoking, beautiful, and inspiring. They also have a dedicated area for children where they can know about art and learn new things.
This is an apt place for those who take an active interest in photography, painting, and other art forms that can be displayed. They remain closed on Mondays. For the rest of the week, they remain open from 11:00 a.m. to 5:00 p.m.
It is located at 333 N Laura St, Jacksonville, Florida.
12. Jacksonville Baldwin Rail Trail
This is perfect for those who want to get involved in some outdoor, physical activities. It is a 14.5 miles asphalt trail that extends from northwest Jacksonville to Baldwin. It has three separate paths where you can do a variety of activities.
PSA re: The Jacksonville-Baldwin Rail Trail! There has been an interference w/survey work at the rail trail that could cause a delay in the completion of the project. While enjoying the rail trail, please do not disturb the surveyors or the equipment. Thank you for your patience. pic.twitter.com/5jHYJl7oii

— JaxParks (@jaxparks) September 9, 2022
There are separate paths for hiking, jogging, in-line skating, or cycling. Another path allows you to do some off-roading activity on a bike. There is another trail that allows for horseback riding. The trails are well marked as well as well maintained. This is a perfect location for doing a variety of activities in one spot.
On the trail, you are going to see a lot of flora and fauna. Some of them include turkeys, alligators, hawks, rabbits, coral snakes, etc. One good thing about this trail is a majority of the trail portion is shaded so you don't have to worry about direct sunlight and heat.
Midway along the trail is the camp Milton Historic Preserve rest area. You can catch a breath or simply sit for a while. The endpoints of the trail are Imeson Road in Jacksonville and Brandy Ranch Road/CR 121 in Baldwin. There are plenty of parking options available at both endpoints.
13. First Wednesday Art Walk
This is a rather unique and exciting thing. On the first Wednesday of every month, at James Weldon Johnson Park, you can enjoy a variety of art forms here. This has been a Continuous tradition since 2003. The aim is to showcase the talent of local artists.
This takes place at three hubs. James Weldon Johnson park is one of them. The other two include The Jessie DuPont center and Vagabond Flea at the breezeway.
Happy #ArtWalkJax Day!
Join #DTJax tonight for First Wednesday Art Walk from 5-9 p.m. downtown #Jacksonville pic.twitter.com/po727Fd9zS

— Wayne Hogan (@waynehoganjax) August 3, 2022
You can browse the area and witness live performances, exhibits, and vendors selling some unique artwork and handicrafts. You can grab a bite to eat from there and enjoy the performances and other things while sipping on some beer. This is a good spot if you want to spend some lazy hours in the downtown area while enjoying the performances of local artists.
The list of local artists for each meeting is given beforehand on their website. The list is pretty long so you have a lot of artists performing. This is one of those unique experiences that you should try first before knocking it. The time is 5:00 p.m. to 9:00 p.m.
Read Also: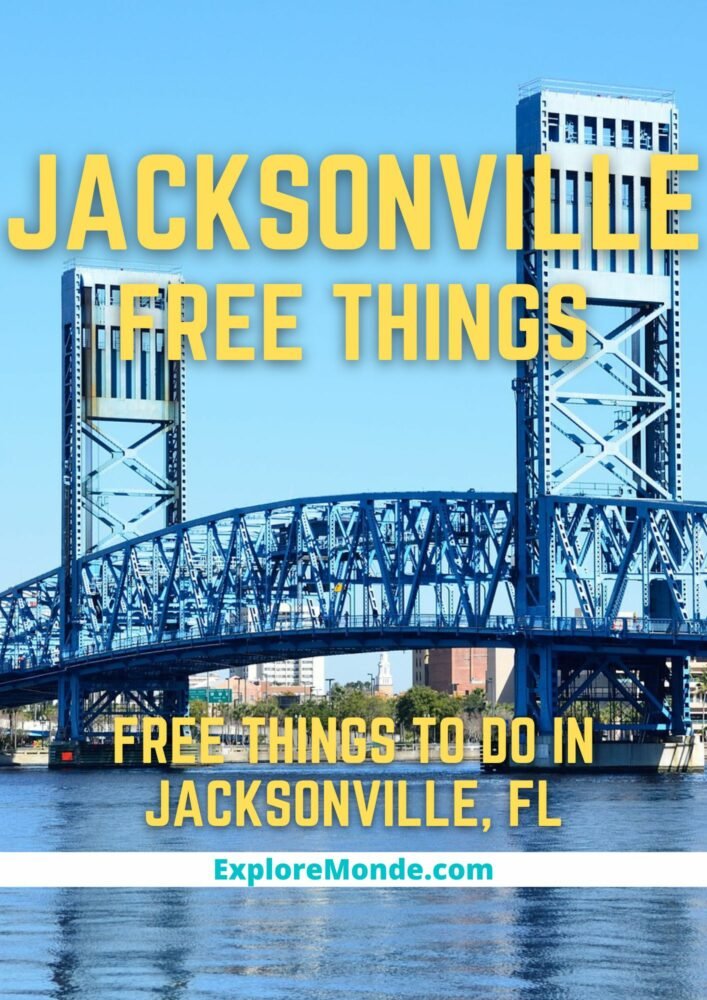 ---
Note: The hours of operation, ticket prices, and admission criteria of museums, parks, etc. may change from time to time. For the most updated information, we recommend checking the official website of the attraction directly prior to your planned visit.
Blog Categories: Asia, Africa, Europe, USA, Australia & New Zealand, France, Germany, India, Italy, Spain, Sports, Switzerland, Travel Tips, UK, Products
More From The Blog
---