From plenty of outdoor recreational activities to rich history and plenty of museums, Tallahassee is a perfect place for people to take on nature and get involved in various outdoor activities. The name Tallahassee comes from a Muskogean Indian word, which means "old fields" or  "old Towns". True to its name, the city has plenty of heritage, history, and culture. One can witness untamed wild nature as well as beautifully landscaped gardens that are straight from some fairytale movie or a book. Tallahassee has something to offer to everyone, regardless of your interest, you are going to find numerous enjoyable, fun, and unique things to see, witness, and experience.
Book An Experience in Tallahassee
If one wants to return to nature, relax and observe wildlife in its truest form, Tallahassee has countless challenging as well as easy trails to choose from. The place is perfect for people who love nature and want to spend some time outdoors. That being said, there are plenty of other activities you can do too. Whether you are looking for what the city has to offer without you spending big bucks or just looking to explore the city holistically, we have compiled a list that has something for everyone.
15 Free Things To Do In Tallahassee
Here is a list of 15 free (or really cheap) things that you can do while you are in Tallahassee, which is for sure going to be a lot of fun. 
1) Tallahassee Museum
It is a 52-acres lakeside site featuring wildlife, numerous nature trails, period exhibitions, and much more. If you are looking to spend a day in nature and learn about it while having fun then this is the spot for you. The area is filled with greenery and is beautiful. You can watch a lot of animals and learn about them. They have very unique and interesting dinosaur sculptures made from car parts. For those who are looking for some adventure and thrill then there is a zip-line which you can do.
It's a dinosaur! An Allosaurus skeleton made entirely from old car parts. At the Tallahassee Museum.#throwback #laptoplifestyle #solopreneur pic.twitter.com/8Lfrd6Bwko

— Kent Stuver (@KentStuver) July 2, 2021
There are many nature trails that you can walk or hike. There are also cafes inside if you ever feel the need to grab a bite, which you are going to do given the vast expanse of this outdoor museum. It stays open from 9:00 a.m to 5:00 p.m from Monday to Saturday. On Sunday, it is open from 11:00 a.m to 5:00 p.m. It is located at 3945 Museum Drive Tallahassee, Florida.
2) Cascades Park
This is a 24-acre park along the stream of St, Augustine Branch in Tallahassee. It is a beautiful park which has something for everyone. Large open green areas where you can lay and have a picnic with your friends and family. Ample space for kids to run around and have fun. They have a Veterans Memorial as well. There is a splash park for kids so if you are going with kids then they are sure going to enjoy their time. If you feel like eating something then no need to worry as there are numerous restaurants and coffee spots as well.
Tallahassee sky over Cascades Park as the storm moves out & cool weather moves in!! pic.twitter.com/dv39mIJvCQ

— Senator Gary Farmer (@FarmerForFLSen) September 30, 2020
It is a perfect place for those who are just looking to enjoy the outdoors and have a relaxing, laid-back time with their friends and family in a beautiful green area. They also allow you to bring your dog with you but the dog needs to be always on a leash. It has an overall peaceful ambiance. The best part is that it is open 24 hours. It is located at 1001 S Gadsden St, Tallahassee, Florida.
3) Florida Historic Capitol Museum
With more and more awareness about personal rights and political activities, these types of places become even more crucial for everyone to visit. It is a museum with political artifacts, photos, and various other historically important things from the standpoint of politics. This historic government building also offers interactive exhibits as well. It is a great spot for people interested in knowing the history of Florida. Those who aren't keen can also visit for the great views of Tallahassee from the top floor of the new building.
The Florida Historic Capitol Museum has re-opened to the public after being closed for over a year pic.twitter.com/rQyoSkbz4o

— Tori Lynn Schneider (@photoriphy) May 17, 2021
The people in the museum are polite, friendly, and knowledgeable. They answer all your curiosities and questions. There is a gift shop as well in case you want to buy a souvenir. It is open from Monday to Friday from 9:00 a.m. to 4:30 p.m. and on Saturday, from 10:00 a.m. to 4:30 p.m. It is located at 400 S Monroe St, Tallahassee, Florida.
4) Tallahassee St. Marks Historic Railroad State Trail
This is a perfect location for those who are into outdoor activities and want to spend their time in nature staying active. This is a paved 16-mile trail that offers many opportunities for recreational activities, including jogging, hiking, biking, etc. This trail lets you go from Florida's capital to the Gulf of Mexico; the coastal community of St. Marks.
Florida Park Service clearing #Tallahassee-St. Marks Historic Railroad State Trail. Should be clear by tomorrow from trail head near Capital Circle to 9-mile mark at Wakulla Station. pic.twitter.com/Xh9sSy3gPQ

— Jeffrey Burlew (@JeffBurlew) October 13, 2018
You can do mountain biking, wildlife viewing, rollerblading, walking, running, horseback riding, etc. You are free to have your little picnic in the picnic pavilions as well. You can also bring your dog with you here. With so many things to do, you are bound to have a great fun day out in nature. This is especially good given the majority of the trail is covered with tree shades so you don't feel the heat of the sun and at the same time, you can spot some wildlife as well. There are bathroom stops along the way so you don't need to worry about it too. It is open 24 hours so you don't need to worry about opening or closing. You can accommodate this in your plan accordingly. It is located at 4778 Woodville Hwy, Tallahassee, Florida.
5) Mission San Luis
This is technically not free but the place is really good and you should visit this at least once. It is also not expensive. The entry fee is nominal at 5 dollars. It is a beautiful history museum showcasing Florida's Apalachee-Spanish living history. It is fairly old and the structures are gorgeous and well maintained. The old architecture, things displayed, and galleries of photos all are excellent and certainly, not to be missed.
FSU archaeologists investigate history of 17th century Spanish Mission San Luis – located in Tallahassee ⛏️ https://t.co/uiGGnOGpDc pic.twitter.com/JaBBamwZJ9

— Florida State University (@floridastate) July 12, 2018
You can walk through the village with people dressed up telling you about their area. And if you like something then you can buy things made by them in the gift shop as well. The church is magnificent and beautiful. This experience will give you a lot of knowledge about Florida's early Spanish Colonial history. They are also pet friendly so you can take your dog with you as well. It is open from 10:00 a.m to 4:00 p.m. It is closed on Mondays. It is located at 2100 W Tennessee St, Tallahassee, Florida.
6) Tom Brown Park
This is a fairly large park spread over an area of 255 acres. A perfect place for those who have kids with you. The park has an array of recreational activities to offer such as several playgrounds for kids, big slides, 4 baseball grounds, mountain biking trails, picnic spaces, etc.
Pure fun for disc golfers! Hole A, Tom Brown Park, Tallahassee, 240ft through the trees, 20ft drop to the basket! pic.twitter.com/ogfUDtJHdn

— Ray Oldakowski (@roldako) June 15, 2016
This place also has a lake so even if you don't want to do any activities, you can just lay and have a relaxed day away from the noise and tension of the city. They also have a dog park so you can bring your dog with you. There are ample things for kids to keep them not only busy but have a great, fun day at the park.
---
Bestseller GoPro Selfie Sticks
---
They also have softball fields, tennis fields, and open spaces to play soccer as well. You are bound to have a fun time doing various activities here in the park. The park is open from sunrise to sunset. It is located at 443-557 Easterwood Dr, Tallahassee, Florida.
7) Lake Ella and Fred Drake Park
If you want to spend a rather quiet time and relax in a place that is calming and soothing then you should consider going to Lake Ella. One more good thing about the place is the ease of reaching here as it is located in the central part of Tallahassee. The lake area is spread across 12 acres. There are pathways around the lake where you can stroll, jog, do a little running or just walk with your partner and have a conversation with them. You can also bring your dog with you as this is a pet-friendly place.
The 7th Anniversary of Food Truck Thursday is happening tonight at Lake Ella! #Tallahassee #TLH #ihearttally pic.twitter.com/uRcxEqh63d

— Mike Bonfanti (@sweeteabourbon) April 19, 2018
The lake is pretty and you can see ducks, geese, and turtles. There are few benches and porches to sit and enjoy the serenity of nature. It is especially scenic when the fountains are going. There are a few shops near the lake area where you can buy food and odd items as well. It is a perfect place to unwind and have a walk while enjoying a cup of coffee. It stays open for 24 hours. It is located at S Lake Ella Dr, Tallahassee, Florida.
8) Alfred B Maclay Gardens State Park
This place is absolutely stunning. It is a masterpiece of floral Designs, this garden features picturesque brick walkways, secret gardens, a reflective pool, walled gardens, and hundreds of camellias and azaleas. This beautiful garden was first planted in 1923. There is Lake Hall which provides opportunities for various activities such as swimming, boating, canoeing, kayaking, etc. This place is technically not all free but the entry fee is nominal at 5 dollars.
#MorningBeautiful at Alfred B. Maclay Gardens State Park, a serene urban oasis in #Tallahassee, FL.
Love the mixture of designed gardens and seemingly wild vegetation. pic.twitter.com/1otnIYp3eH

— Xenia Kaepernick (@XeniaKaepernick) February 18, 2020
You can also have picnics in the pavilion at the who reside. The garden is breathtakingly beautiful and you can get a lot of Instagram-worthy photos. It has so many scenic locations and spots that nowhere you sit, you are bound to be mesmerized by nature and scenery. There are various trails available too for various activities. It stays open from 8:00 a.m. to 8:30 p.m. It is located at 3540 Thomasville Rd, Tallahassee, Florida.
---
Bestseller Copper Water Bottles
---
9) St. Mark's Lighthouse
It is the second-oldest light station in Florida. It is on the east side of the mouth of St Marks River, on Apalachee Bay. The place is gorgeous, calm, and serene. The blue clear sky, clean water, greenery, and the lone white tower amidst it, create an absolutely scenic view straight out of a romantic movie. This is a perfect place for couples to have a great evening, strolling along with the shore hand in hand and watching the picturesque sunset.
Apart from the scenic beauty, the place holds so much historical significance such as important battles. You can watch the birds, lie on the beach, and unwind. There are numerous nature trails available also. It is a perfect place for people who are nature lovers and want to truly feel unspoiled nature, nature in its truest form. You would have a fun, relaxing, and amazing day here. It is located in St Marks, Florida.
10) Knott House Museum
This is an old house which is turned into a museum. The house was originally built in 1843 by a free black builder. It was later turned into a museum with circa 1928 furnishings. The building's old architecture is certainly beautiful and it is well maintained as well. All the rooms are shown how they used to be in the past. The dining room, the study, and the bedroom all look rustic and certainly transport you to the old days. The guides are knowledgeable and will give you all the relevant trivia. They are good with groups also.
Today is the annual Emancipation Day Celebration at the Knott House Museum in Tallahassee! @JohnRileyCenter pic.twitter.com/GrMm8wL5uL

— Viva Florida (@VivaFlorida500) May 20, 2013
All the old things and furniture would give you a sense of the past, and you would learn a lot about the statehood of Florida and, in general, American history. Though it is a small place, it is totally worth the visit due to its well-preserved and showcased historical heritage of the place. It is situated at 301 E Park Ave, Tallahassee, Florida.
11) Tallahassee Automobile Museum
This is a place that you won't come across often when you think of places to explore and visit. It is a huge collectibles car museum where you can see tons and tons of cars. Whether you are a fan of cars or not, you are going to love this visit. Even the non-car-loving people are going to enjoy the place equally. From old retro classics, limited editions, rare, and movie set pieces, the museum has all and much more to offer. The owner of the museum is a passionate person named DeVoe Moore. Apart from some amazing-looking cars, there are also collections of case knives and pianos too.
---
Bestseller Cupholder Bottles
---
This Saturday only, kids 12 and younger can explore more than 150 rare, historic, and unique vehicles ranging from Batmobiles to 1960s muscle cars at the Tallahassee Automobile Museum! More info: https://t.co/RCOn2WpMoe #iHeartTally pic.twitter.com/GP8BbNHVXK

— Visit Tallahassee (@Visit_Tally) October 19, 2017
If you are not so much into cars then fear not, there is a great collection of police badges and guns too. There are model ships, motorcycles, and sports memorabilia too. The place has some amazing cars and unique things on display. Regardless of whether you are a car fanatic or not, you will love the visit and it is a place not to miss solely because of the unique collectible things. One more great thing about this place is that more or less you can get really close to the displayed items including cars. The place stays open from 8:00 a.m. to 5:00 p.m. It is situated at 6800 Mahan Dr, Tallahassee, Florida.
12) Dorothy B. Oven Park
This is a perfect place if you are looking for a cozy little space amidst nature. The park is not that big but it is very beautiful. It is well maintained as well. The park is spread over an area of 6 acres. It also includes a 1930s manor house with antique furniture. It also has a rather stunning landscaped garden. It is a perfect little hidden gem where you can go and have a quiet time, away from the crowd, noise, and worry. You can either drive by or just park your vehicle and have a stroll with your friends or partner.
Elf Night takes place this Thurs. at Dorothy B. Oven Park. Come see Santa, Mrs. Claus and their crew of elves. pic.twitter.com/Tjtld5IXq4

— City of Tallahassee (@CityofTLH) December 15, 2014
The place is perfect to have a picnic or just sit, relax and hear the birds chirping. You get a little exercise if you feel like it. It is a perfect mix of untamed wild and landscape with an ample variety of exotic flowers. The place looks exceptionally stunning on Christmas. There are plenty of tables and benches around for you to just sit back and observe nature. It goes without saying that the place is beyond Instagram-worthy. It is open throughout the week from 7:00 a.m. to 11:00 p.m. It is located at 3205 Thomasville Rd, Tallahassee, Florida.
13) Museum Of Florida History
This one is for museum lovers and for those who love to know and learn about the history of a place, people, and things. The museum offers a comprehensive insight from prehistoric times to recent prominent events and the history of Florida. The museum is very well organized, informative and interactive. You will be greeted by knowledgeable and friendly students who will.be more than happy to answer your questions and queries. All the other museum staff and people in charge are polite and helpful.
All sunny at the Museum of Florida History. ☀️ pic.twitter.com/oKAo47Y6wq

— Aerial Tallahassee (@aerialtlh) July 12, 2021
From old canons to bone remains and tribe artifacts, it has so many unique and engaging exhibits that you would want to stop and learn about the exhibits. There are plenty of dioramas, informational exhibits, and a replica of a ship you can walk through. It has something for everyone, be it an adult or a kid. It stays open from 9:00 a.m to 4:30 p.m. It is located at 500 S Bronough St, Tallahassee, Florida.
14) Lake Talquin State Forest
The sheer size of the place in itself is enough reason for you to visit. This is a park situated just a bluff above Lake Talquin's southern shore. It is spread over an area of 12000-acres. This park offers outdoor activities for all ages, so even if you have elderly members, you can make sure they are part of the fun and actively involved. The park is a perfect place to observe Nature, wildlife-viewing, and bird watching. The place is technically not free given its 3 dollars per vehicle entry charge but that is nominal and coffee costs more than that these days.
About 45 seconds of the Fort Braden Trail at Lake Talquin State Forest outside of Tallahassee. In case you need a little outdoors today. pic.twitter.com/rYJAP1dUwM

— Jeff VanderMeer (@jeffvandermeer) June 15, 2020
The park has plenty of picnic pavilions where you can enjoy a relaxing day out in nature. There are various trails including 1.2 miles long footpath, which is an easy walk for people of all ages. You can also do fishing, canoeing, and kayaking here. The park stays open from 8:00 a.m. to 6:00 p.m. It is located at 14850 Jack Vause Landing Rd, Tallahassee, Florida.
15) Miccosukee Canopy Road Greenway
If you are looking to have a rather quiet time to yourself and walk among nature while you gather your thoughts and get away from the chaos of the city, then it is a perfect choice. This is a 6 miles long canopied trail where you can do various activities such as hiking, jogging, cycling, and horseback riding. The wide graveled trail is perfect for some light stroll as well as playing with your kids. This is a wonderful place to get outdoors and enjoy nature. The trail is not that demanding and perfect for people of all ages.
While we recommend social distancing at this time, our more than 3,000 acres of trails are still open & offer a great option for hiking & biking! Why not try out the trails at Miccosukee Canopy Road Greenway or Orchard Pond Greenway? #LeonCountyParks #trailahassee pic.twitter.com/CbDaGktLH2

— Leon County, FL (@LeonCounty) March 19, 2020
The canopy provides shade throughout the trail which is no less than a blessing. You feel like walking in the wild. There are two entries, east, and west. The west is not suited for low-riding vehicles. You can pack a picnic and a blanket to enjoy the ample greenery of the place. There are various restrooms, a moisture sprayer, and a dog water station available as well. The place stays open from 6:00 a.m. to 9:00 p.m. It is located at 5600 Miccosukee Rd, Tallahassee, Florida.
Read more: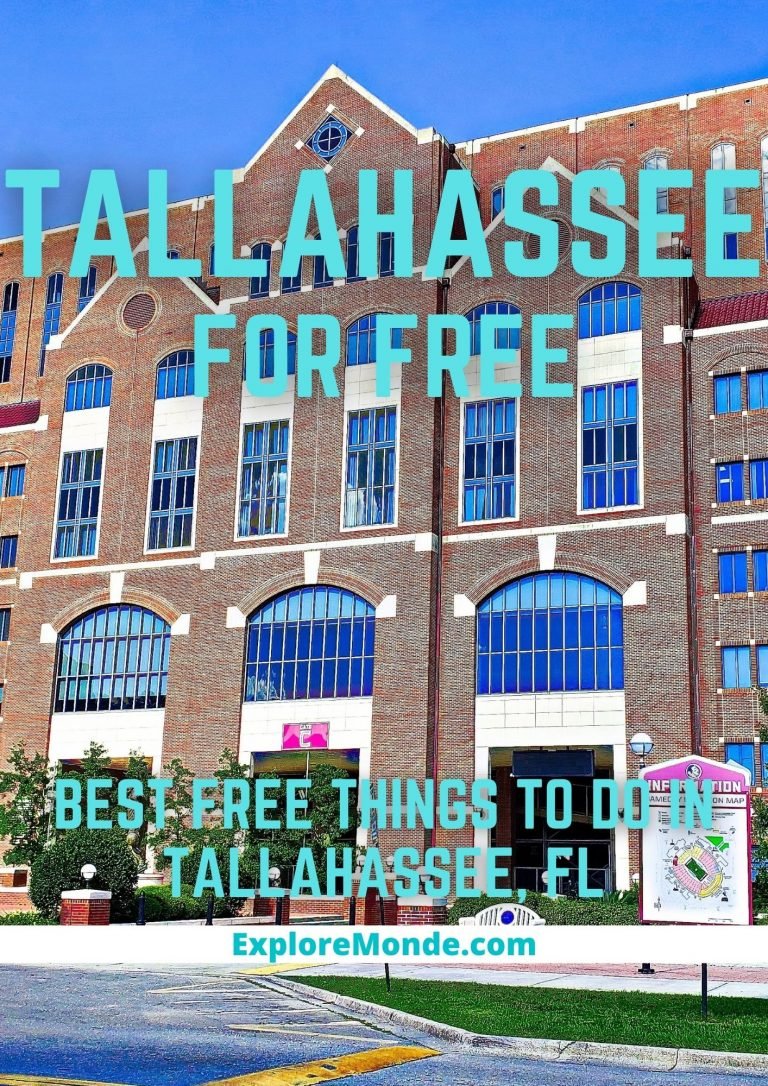 ---
Note: The hours of operation, ticket prices, and admission criteria of museums, parks, etc. may change from time to time. For the most updated information, we recommend checking the official website of the attraction directly prior to your planned visit.
Blog Categories: Asia, Africa, Europe, USA, Australia & New Zealand, France, Germany, India, Italy, Spain, Sports, Switzerland, Travel Tips, UK, Products
More From The Blog
---