---
This article has been reviewed by Laura and Sumeet, travel enthusiasts who have travelled to 40+ countries (follow on Youtube youtube.com/@Ciao.Namaste). Should you have any inquiries, please do not hesitate to contact at contact@exploremonde.com
---
Amsterdam is a dream destination for travelers. It is a beautiful city with an attractive history and vibrant, young atmosphere which draws in people from across the globe.
Best Things to do in Amsterdam 1-10 (Jump To Section)
Amsterdam is full of famous art galleries, ancient buildings, cute cafes, and great outdoor activities. The city is best explored on foot or by bicycle. The central part of the city is small enough to cover on foot but it is more fun to explore Amsterdam with a bike. If you are not used to cycling in busy traffic then look for a rental shop that offers electric bikes, these are more suitable for city traffic than regular bikes.
If you are looking to just enjoy Amsterdam and its most famous features then it is best to buy a public transport day pass. This train/metro/bus ticket gives you all-day access to public transport and can be bought at most stations and most newsstands in the city center.
Best Things to do in Amsterdam 1-10
Here's a list of the 24 best things to do in Amsterdam:
It's a rainy day in Amsterdam. But the canal cruise are still going on by solar power. pic.twitter.com/nsyDiHxuda

— Joop van Klooster Crideen Amsterdam (@joopklooster) June 8, 2022
1. Begijnhof Garden
The Begijnhof is a public garden in the center of Amsterdam. It was created by Hendrick de Keyser, with inspiration from the gardens of Rome and Florence. The name originates from an old beguinage (a convent for unmarried women) on its site that existed until the 17th century when it was closed down because it had become too small to meet demand. Later, during Napoleon's occupation, part of the grounds became his headquarters while he planned to invade England through Holland
#tbt #begijnhof #garden inside #Amsterdam #center… #flower #traveling #goodday #instahol… https://t.co/5VPcwfQBPC pic.twitter.com/V85awiGH2a

— Matteo Marchionne (@marchions) July 27, 2016
The tranquil garden and courtyard are situated just a few meters from the hustle and bustle of Kalverstraat. It's peaceful, with views over the restored medieval houses on one side and an interior courtyard on the other.
The garden consists mostly of grassy areas and flower beds around several buildings including a church where there are statues representing various aspects such as love or peace. The Begijnhof is one of Amsterdam's most famous landmarks. The buildings are now part of the Begijnhofkerk and the Begijnhof-Museum.
2. Blijburg aan Zee Beach
Blijburg aan Zee Amsterdam is one of the most popular beaches in Europe. The beach is situated on an island just off the coast, and it's known for its cleanliness, beautiful sand, and clear waters. It also offers great views over Rotterdam from all around so you can relax while watching ships pass by or enjoy some sunbathing with your loved ones. There is a beach bar that you can visit to enjoy some refreshments and buy snacks, but you will also find a few restaurants nearby.
Urban Beaches: Blijburg Aan Zee | Although not situated inside the city center, it still is considered as Amsterdam's one true urban beach https://t.co/grRtR5AWWa pic.twitter.com/5pP6S5I0MB

— MeetJasmin (@meetjasmincom) March 10, 2018
Blijburg is located on the artificial island of IJburg, which is just a short tram ride and a walk from the center. The beach is open all year round, so it's great for swimming even when the weather isn't at its best.
3. The Red Light District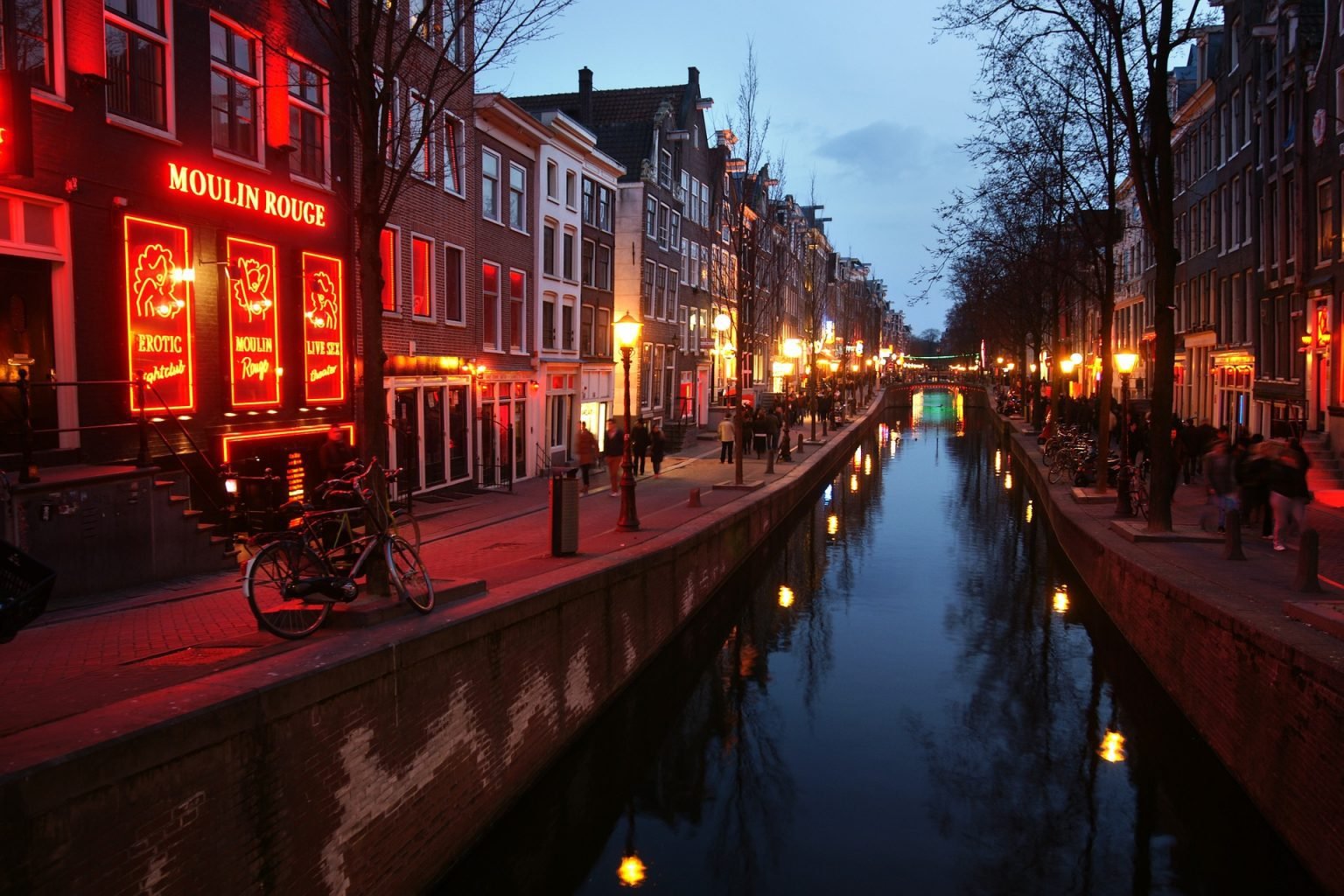 The Red Light District is in the heart of Amsterdam and it is a place where you can see sex workers operating behind red-lit windows. There are more than 300 prostitutes working here and they are mainly from Eastern Europe and Africa. Many tourists visit this district because they have heard of the famous window girls and they want to see what they look like in person. You will also find many souvenir shops, erotic theaters, cafes, and coffee shops in the area.
4. Breweries and Microbreweries
When in Amsterdam, make sure to check out some breweries and microbreweries. You can also consider joining a brewery tour!
How can we talk about Amsterdam and not mention a tour of Heineken? For beer enthusiasts, this could be a great experience while in Amsterdam.
According to their website, The Heineken Experience is a brand experience within Heineken®'s oldest brewery, in the heart of Amsterdam.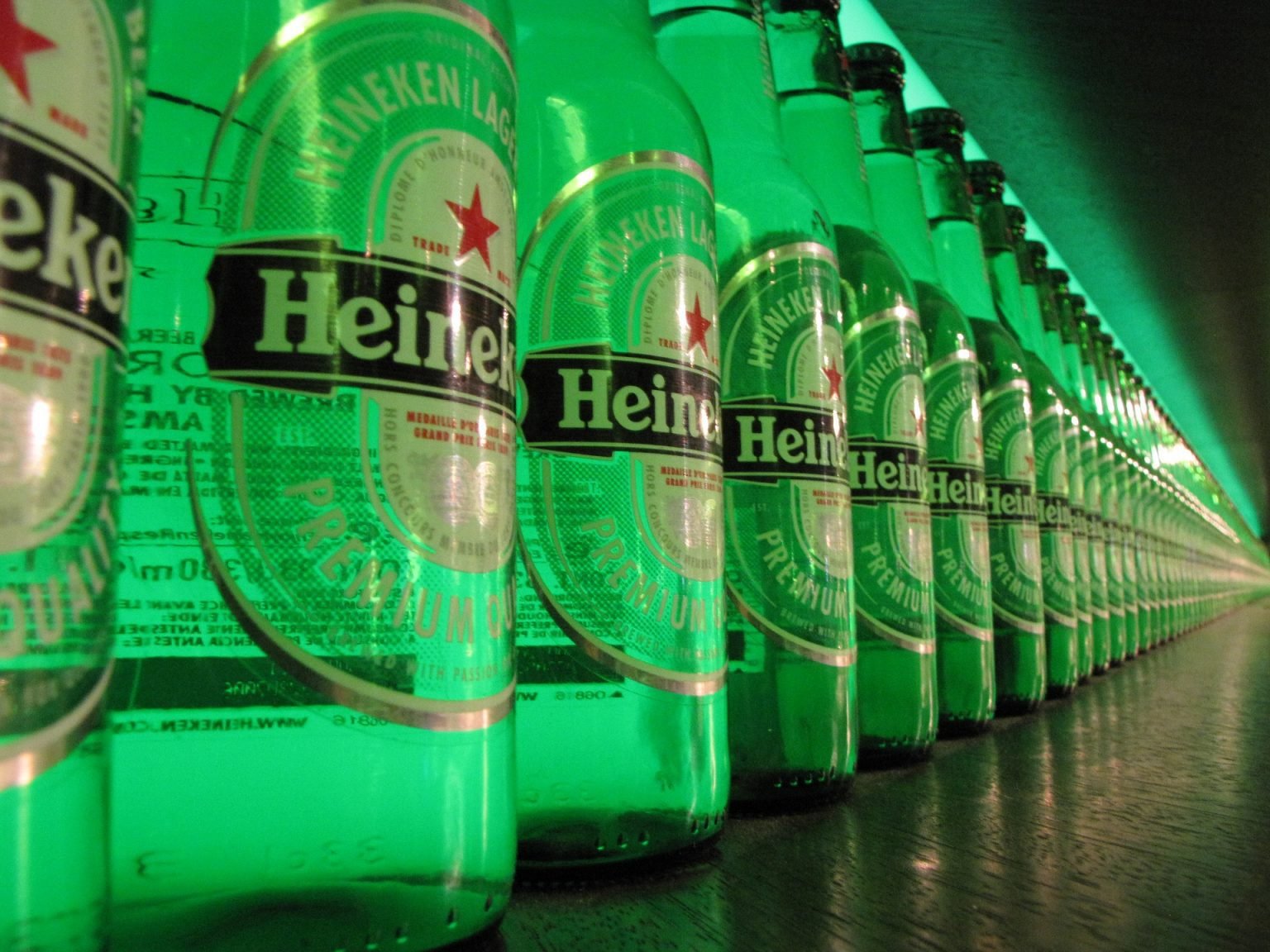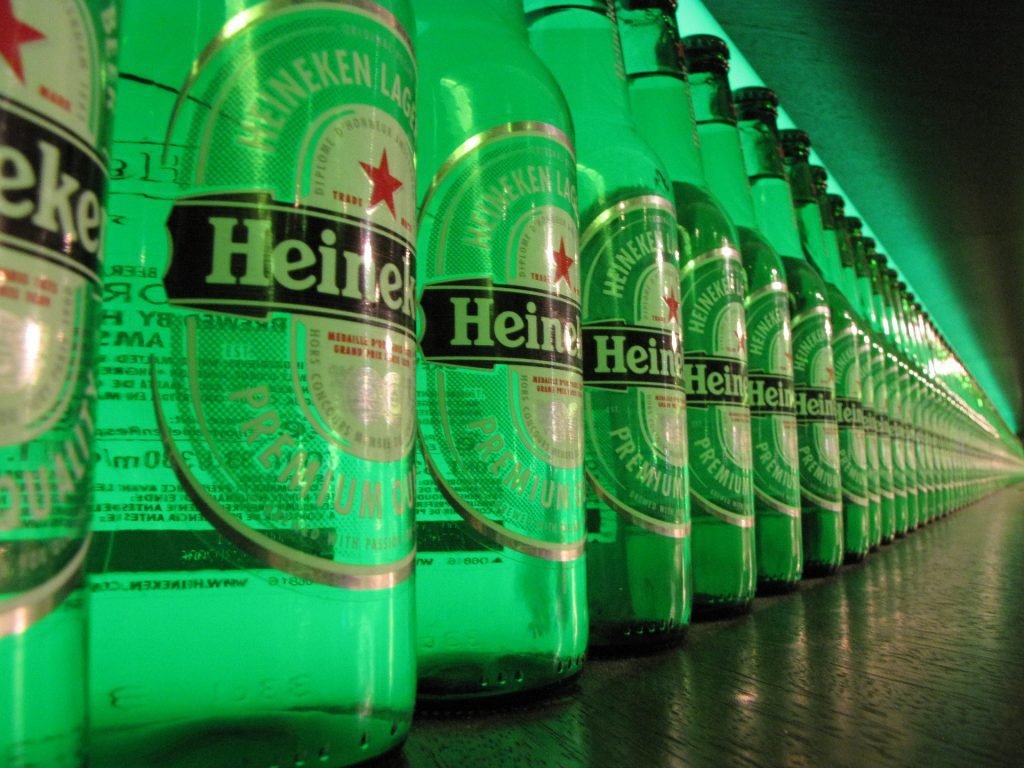 In 1988 Heineken had to close down the former brewery, because they needed more space. Today, the historical building serves as a venue where you can learn all about Heineken® heritage, the brewing process, innovations, sponsoring, and the story behind the star. You can also learn about the best way to taste and enjoy the Heineken® beer.
---
Bestseller GoPro Selfie Sticks
---
Brouwerij 't IJ Microbrewery
Brouwerij 't IJ Microbrewery is a brewery in Amsterdam, Netherlands. The company was founded by Bart de Graaff and his wife Joanna Degenaar in 2008 as the first microbrewery to open its doors on the Dutch side of the canal belt. It specializes in Belgian-style beers which are brewed with natural ingredients such as wild yeast from barrels previously used for sour red wine production.
They've been brewing excellent blonde beers, pilsners, and IPAs for decades. Grab a seat on the terrace when you visit in warmer weather because beer tastes best there, at least according to us.
De Prael Brewery
The De Prael is a Dutch brewery that was founded in Amsterdam more than 25 years ago. The original products of the company were pilsner and dark beer, which were produced for consumption on the premises. The brewery is most famous for its brandies and fruit beers, which are produced from recipes dating back to the nineteenth century.
Molenbeekbloesem Brewery
Molenbeekbloesem Brewery is a brewery located in Amsterdam, Netherlands. It was founded by Jopke van der Linde and his wife Astrid Maljers with an aim to produce Belgian-style beer with natural ingredients. The company's first product was a dubbel called Molenbeekse dubbel, which was followed by other three brews: Molenbeekse tripel (a tripel), Molenbeekse wit (a white beer), and Molenbeekse bruin (a brown beer).
5. The Community Kitchen De Peper in OT301, Amsterdam
The community kitchen De Peper is a place where people can come and cook, eat and share ideas. There are different types of workshops that take place in the kitchen: cooking classes, yoga classes, or other activities. The events vary from week to week but they always have something new for you to try out!
---
Bestseller Copper Water Bottles
---
The idea behind this project was born when one of the founders had just moved into her own apartment after living with her parents for years. She wanted to make sure she didn't lose touch with what it means to live together as a family so she started hosting dinner parties at home every Friday night which became very popular among friends who were all interested in food experiments.
A community kitchen is a place where people can come and cook, eat and share ideas. It's a place where you can learn how to cook or improve your cooking skills. The community kitchen is also a place to hang out, talk, and meet new people.
The kitchen is always free for everyone!
De Peper has developed into an international organization with projects in Amsterdam, Berlin, and London. De Peper Amsterdam has been nominated for the Dutch Design Awards as well.
6. Westergasfabriek Park
Westergasfabriek Park is a public park in the Amsterdam district of De Pijp. The Westergasfabriek, originally built as an oil refinery by Royal Dutch Shell, was converted into a museum and cultural center after it closed down operations in the early 2000s. It consists mainly of exhibition halls and galleries with works from artists such as Vincent van Gogh or Rembrandt to name just two.
---
Bestseller Cupholder Bottles
---
A walk in the park. #westergasfabriek #westerpark #Amsterdam pic.twitter.com/YCI49yeli8

— 4ꟽꞞ4H (@tupakamrah) November 6, 2016
The history behind this place is fascinating because its transformation from one thing to another has been unpredictable but very effective for both cultural and business reasons according to many experts. The story of the Westergasfabriek is told through its architecture and through exhibitions.
The museum is a hub of activity and a place to visit. There are many concerts, lectures, film screenings, parties, and other events taking place here.
There are many things to do in Westergasfabriek Park Amsterdam. You can go for a walk, relax on one of the benches or enjoy an ice cream from one of the stands that line this park's pathways. There is also a playground and plenty of space to run around as well as some statues scattered throughout it all so you have something interesting to look at while your children play! The best part about visiting this area though is that there are tons of great bars and restaurants nearby too making it easy for everyone in your group (or even just yourself!).
7. De Pijp
De Pijp is a vibrant and young area. It is very popular with visitors because of its many restaurants, great shopping, and close proximity to the city center.
Car free area in De Pijp, Amsterdam.

Lots of green, low speeds, vehicles only allowed for handicapped and loading/unloading of goods. Great place 😍 pic.twitter.com/9TjHCbL2bw

— Henrik Lundorff (@bicivikingo) April 8, 2022
De Pijp has many places to eat. There are lots of Turkish, Greek and Chinese restaurants as well as Italian and French ones. There are also lots of hip bars where you can enjoy a drink or two with your friends in a very relaxed setting. If you feel like it, you can even play pool! The atmosphere in these bars is always very friendly and relaxed.
One must-see place in De Pijp is the Albert Cuypmarkt (Albert Cuyp Market). This market has been here since 1887 but it was rebuilt as an indoor market after the Second World War. In 2008 the market was once again rebuilt and now consists of several floors where you can find food from all over the world, clothes for men, women, and children as well as flowers for your home or as a gift.
8. Amsterdam-Noord
Amsterdam-Noord is a new area and therefore it is not very well known to people who live in Amsterdam. It is like Amsterdam but different. The atmosphere is relaxed and quieter than in other areas of the city, there are lots of trees and parks, very good shopping facilities and it is very close to the city center. It has an excellent tram connection to the rest of the city and it also has a ferry that can take you to the IJburg area which is another part of Amsterdam that was built on an artificial island in the IJ lake. The ferry ride takes about 10 minutes and it costs about 2 euros for a return ticket. IJburg was built after World War II but as Amsterdam-Noord was built later, many houses are very modern as well as some hotels, restaurants, and bars.
There's something so delightful about cycling home through Amsterdam-Noord, indifferently sober, after drinks with friends. pic.twitter.com/WVwvd3KML5

— evilrooster (@evilrooster) June 7, 2022
If you want to visit Amsterdam-Noord you can start your journey at Central Station where you will find tram lines 9 and 16. If you want to continue your journey by metro you can take metro line 51 (direction Diemen Zuid) which will take you to Amsterdam-Noord Station.
9. Amsterdam-Zuidoost
Amsterdam-Zuidoost is a very modern area in Amsterdam with many high-rise buildings, apartments, and hotels. It is close to the A10 motorway and is also close to Schiphol Airport. It has excellent shopping facilities as well as restaurants, bars, and cafes. You can visit Amsterdam-Zuidoost by taking metro line 51 (direction Diemen Zuid) which will take you to Amsterdam-Zuidoost Station or you can take tram line 7 from Central Station.
10. EYE Film Institute
The Eye Film Institute is a Dutch film institute and school for filmmakers. It was founded in 1998 by the Amsterdam municipality, with support from other partners such as the Fonds voor de Volkskunst (FVKO) and Eurimages.
EYE Film Institute in the #Netherlands, #Amsterdam pic.twitter.com/bwDjQ54s4v

— Amsterdam (@AmsterdamEyes) May 11, 2016
The Eye has an international reputation for its unique approach to filmmaking education: it's not about teaching students how to make movies, but rather about learning more deeply what cinema means today through hands-on experience within diverse fields like documentary or animation; this way they can discover their own cinematic voice later on. In addition to that, there are also many opportunities available at EYE where young filmmakers can get involved in various projects related to production or post-production work.
There is a film museum and educational institution that features an extensive collection of films from around the world, as well as special exhibitions. The institute also offers classes in filmmaking for children and adults, and workshops on topics such as digital media production or independent cinema.
Best Things to do in Amsterdam 11-20
11. De TonTon Club
Ready to be a kid again? Hit up De TonTon Club in Amsterdam. They have three locations where adults can play arcade games, Mario kart, pool games, or jump in a huge ball pit. They have more fun options so that the adults can relive their childhood through games and other "kid" activities.
#Amsterdam #Travel #Lifestyle TonTon Club Oost: binnenkort spelletjes en de beste Japans/Amerikaanse gerechten in… https://t.co/AuYG7Cc4eZ pic.twitter.com/JcnV77INry

— bedrijfsadres.asd (@BedrijfsAdres) October 20, 2017
All three locations have different focuses. In the original, central club they focus on fun, in the second one they focus on Air Hockey and tabletop games, in the last one, they focus on food and drinks.
12. NDSM Wharf
The NDSM Wharf (Dutch: NDSM Werf) is a former shipyard in Amsterdam, Netherlands. It was established by the Dutch East India Company as one of its three main wharves on the IJ waterfront and served to build ships for trade with Asia.
Artists studios NDSM Wharf Amsterdam. pic.twitter.com/i6xYqkvLEu

— Andrew Malone (@andrewdmalone) November 21, 2019
Later, it became part of Koninklijke Maatschappij de Schelde which was built up until World War II using both drydocks and slipways along the river frontage at this location. After that time, more modern facilities were constructed elsewhere but much remains from before then including some old buildings overhanging where new apartments are now being built.
It's located next to the IJ river and can be reached by walking through Central Station or taking one of many boats that travel up and down the river. The area around NDSM Wharf has been inhabited since at least the 15th century when it was mentioned as "Nyen Duytsman" on maps from this period.
Today you'll find some great cafes, restaurants, bars, and shops here with lots of local people enjoying their time out in this lively part of town. So grab your favorite beverage and explore the neighborhood!
13. Albert Cuypmarkt
Albert Cuypmarkt is a market square in the city of Amsterdam, Netherlands. It's been around since the 17th century and hosts many different events throughout the year. The Albert Cuypmarkt was originally built as an outdoor produce and meat market with stalls on both sides of what is now called "the long side" (Van Baerlestraat) and "the short side" (Spuistraat).
Dutch snacks shown for the tourists in Amsterdam Albert Cuypmarkt last saturday. Ever tasted a Frikandel Soeciasl, broodje criquet or kaassouffle. And of course Bitterballen. pic.twitter.com/LOVQaGGELG

— Rob te Nijenhuis, lobby, write and influence 🇺🇦 (@eigenwijze39) April 4, 2018
In the market, there are many stalls selling various goods from clothing to food. There is also a lot of street art and graffiti on the buildings that line this popular tourist attraction in Amsterdam.
In addition to these things, you can find an abundance of flowers for sale as well as all types of fruits and vegetables sold by both local vendors and international producers such as organic produce imported from Spain or Belgium.
14. Flevopark Park
Flevopark is an urban park in the center of Amsterdam, Netherlands. It was designed by landscape architect Corjan Leijten. The name Flevopark refers to both a geographical area and its location within that area as well as a pun on 'Flemish' (Dutch). Its shape resembles the outline of Belgium which led many people to believe it had been named after one of Belgium's provinces or cities before being corrected.
In the #park #flevopark #Amsterdam #canon #canonnederland #nature #photography #animal #birds #crow #coot #water It's almost #spring… 😍🌞 pic.twitter.com/SjHdJl1Z9x

— Amir2000.nl – Amir Darzi (@amir2000) February 17, 2018
It is located at the junction of Leidseplein, Kalverstraat, Westerstraat, Reguliersdwarsstraat and Spui. It is bordered by the Nieuwmarkt canal on the east side and by a shopping mall (Nieuwmarktbuurt) on the west side. It is close to Centraal Station and can be reached easily via tram or bus.
The design concept was to create an urban park that would be a place of relaxation and meeting for people from all walks of life. The area was previously covered with streets, houses, and buildings including a large church that was all gradually removed during the 1990s to make way for shops and restaurants. In its current form, it comprises an open grassy area surrounded by paths that run through it, several small lakes and fountains as well as several seating areas.
Flevoparkbad is a public pool located in this park. It is considered to be one of Europe's finest outdoor swimming pools.
15. Ons' Lieve Heer Op Solder
Ons' Lieve Heer Op Solder is a Dutch Protestant Church in Amsterdam. The church was founded by the French Huguenot congregation of Amsterdam, who had been forced to leave France during the reign of Louis XIV because they refused to convert from their faith.
Please sign a petition to maintain funding to the wonderful Amsterdam Museum Ons' Lieve Heer op Solder, a 17th c merchant's house containing in the top three storeys a clandestine Catholic church. 1/2 pic.twitter.com/uOCGZVa99d

— Rembrandt's R👀m 🖌 (@RembrandtsRoom) August 9, 2020
The Church is located on the Spui, a small canal that runs through Amsterdam's red-light district. In the 19th century, it became known as "the French Church" because of its congregation of French Huguenots who fled religious persecution in France.
It was built with an octagonal design that resembles St Paul's Cathedral in London which has also served as its model for many years since then. The church was built in the Dutch Baroque style, with a large central dome. The interior is decorated with paintings by the French artist Jean-Baptiste de Champaigne.
During the French Revolution, the church was closed and converted into a warehouse for wine and spirits. Later, it was reopened as a Protestant church and has been used for this purpose ever since. The church is now an active Protestant church.
16. Canal Tours in Amsterdam
Amsterdam is a city that has been known for its canals since the Middle Ages and, today, these canals are still an important part of life in Amsterdam. There are many different canal tours available to visitors who want to learn more about this unique feature of their town or just have fun learning how they work.
The classical facade of Artis zoo, Amsterdam.

Lovely pic.twitter.com/Z83je25CbA

— The Aesthetic City (@_Aesthetic_City) April 13, 2022
A popular option is one called "The Living Room Canal Tour," which takes passengers on a tour through the houseboats along one particular section of the waterway. The company offers three other types: "Amsterdam's History" (which takes you past famous sights like Rembrandt House), "Dutch Culture & Customs" (a look at Dutch society from 1600-1800) and finally, there's also another type called 'Viking Tours' where guests will be able to visit two Viking ships docked near each other on both sides of the central station.
17. Artis Zoo, Amsterdam
There are a lot of great things to do in Artis Zoo Amsterdam. You can see animals from around the world, and there is also an aquarium with over 5,000 species of fish and other aquatic life on display. There's even a reptile house where you can watch snakes slither about!
If you want to take your kids for some fun family time then visit the zoo's playgrounds or petting farm which has goats, sheep, pigs, and more that will love being scratched behind their ears by little hands.
18. Boat tour to Vuurtoreneiland Island
The boat tour to Vuurtoreneiland is a unique experience for visitors to Amsterdam. The trip takes about 45 minutes and starts with an easy cruise through the canals, before arriving at one of the most beautiful parts of Amsterdam: this part is known as "The Golden Bend." From there you will sail out into open water where you will be able to see all of Amsterdam's skyline from its distance.
In addition, every now and then during your journey on board, they stop by at some nice spots along the way so that everyone has time to take photos or have a break when needed! In total it's possible for up to 6 people per boat – but if more than 8 people show up they might need another group boat instead!
19. Foodhallen, Amsterdam
The Foodhallen is a food court in Amsterdam, Netherlands. It is located in the city center of Amsterdam, close to the Central Station. It is a very popular place for tourists and locals alike. The Foodhallen has a wide variety of restaurants and cafes, as well as a supermarket. The Foodhallen also has an outside area where people can eat outdoors.
About Last Night At #Foodhallen #Amsterdam #iamsterdam #Foodie #Foodbanks 🙌🇳🇱 pic.twitter.com/TVwkS1hAtj

— Sarah & Kris – JetSettingFools (@JetSettingFools) December 28, 2019
There are many different types of restaurants available at this location including Indian, Mexican, and Japanese cuisine as well as Dutch foods like herring sandwiches and stroopwafels.
The Foodhallen is open every day from 10:00 to 22:00.
20. Vondelpark Park
Vondelpark is the largest park in Amsterdam with approximately 20,000 trees and 1.3 km² of green space. It has been called "the lungs of Amsterdam" because it helps to regulate air pollution levels by absorbing carbon dioxide from the atmosphere during photosynthesis and releasing oxygen back into the environment as a result. The Vondelpark was designed by landscape architect Jules Olieslagers who also created many other public parks across Europe including London's Hyde Park, Paris' Tuileries Garden, and Vienna's Ringstrasse Gardens among others.
Attracting 10 million visitors per year, #Vondelpark is #Amsterdam's largest and most famous municipal park. 💚 #amsterdamcity #holland #netherlands #travelphotography #travelblogger #photo #love #travel #photooftheday #photography #park pic.twitter.com/90ncBXO2Na

— Annarita Zito (@AnnaritaZito) June 1, 2022
The park is named after the Dutch poet Joost van den Vondel. It has been a popular recreational area for the city's residents for decades now. The Vondelpark is home to many different types of trees, including tulip trees, chestnut trees, and lime trees. There are also many different types of flowers in the park including tulips, daffodils, irises, hyacinths, and roses.
The park also has a large number of benches where people can sit down and relax. There are also many different types of sculptures throughout the park including statues of famous Dutch painters like Rembrandt van Rijn as well as sculptures by famous sculptors like Auguste Rodin.
Best Things to do in Amsterdam 21 and beyond
21. Vincent van Gogh Museum
Vincent van Gogh Museum is the largest and most comprehensive collection of Van Gogh's work. The museum has a permanent exhibition in two galleries, including many early paintings from his years as an art student at the Academy of Fine Arts, The Hague; some 150 watercolors he made during his first stay in Paris with fellow artist Paul Gauguin; more than 200 drawings by him and others that he owned or collected while living there; approximately 100 oil paintings on display spanning six decades of Vincent's life (from Saint Bavo Altarpiece to Sunflowers); eight self-portraits painted throughout this period – three earlier portraits made when Vincent was still working under Theo van Gogh's tutelage and five later ones when Vincent had established himself as a leading figure among artists.
Vincent Van Gogh's museum in Amsterdam! I need to go to this place ASAP!😨 pic.twitter.com/MPdoS6ItJj

— Mohammed Fahad Kamal (@mfk600) August 22, 2019
In addition to these works are also displayed other significant pieces such as:
The painting 'Sunflowers' which was sold for $53 million dollars
Van Gogh's last letter – "I am so poor" was written just days before committing suicide.
The museum also houses a collection of works by Vincent's brother Theo, including a number of paintings and drawings from the period when he was an art student in Paris.
The museum is located in the former Stedelijk Museum building, designed by architect Gerrit Rietveld.
22. De Negen Straatjes (The Nine Streets)
The Nine Streets is a street in the center of Amsterdam, which has been turned into an outdoor museum. It presents nine different themes such as art history, Dutch daily life, and culture from other countries.
We found you a deal from @FlyTPA to #Amsterdam for $499!

De negen straatjes (Dutch for "the nine streets") is one of the most picturesque neighborhoods in Amsterdam. Get ready to snap a few photos, do a little shopping and cozy up in a cute cafe. https://t.co/LkwsFgS6SG pic.twitter.com/eHSbAndtzD

— CheapFlightsFromTPA (@cheapflightstpa) October 29, 2018
The first theme starts with Rembrandt's painting "The Night Watch" at number one on the left side of De Negen Straatjes (The Nine Streets),
while numbers two through six are dedicated to paintings by Jan Steen ("Winter Landscape"), Jacob van Ruisdael ("View over Haarlem"), and Gerrit Dou who painted his own self-portrait called "Self portrait".
Number seven focuses on textiles including tapestries designed for royalty or high society members that were created during the 18th century and up until today.
Eight shows objects related to witchcraft; some items have survived since medieval times like witch hazel sticks used for protection against witches' spells but others date back even further like ceramic figurines found near Gouda dating back before 600 AD.
The last theme is the Dutch East Indies (Indonesia) and presents objects from the colonial era.
Here you can find many bars, restaurants, and shops that provide visitors with an authentic experience. The best way to explore this area is by starting at Dam Square (Dam) where all roads lead into each other so it's easy to get lost!
23. Anne Frank Museum
The Anne Frank House is a museum in Amsterdam dedicated to the life of the Jewish diarist Anne Frank, who wrote about her experience during World War II while hiding from Nazi persecution with her family and four other people. The house was used by members of the Dutch resistance as an office. After liberation, it became one of two museums on Prinsengracht Street, which has since been called Museum Square because both institutions are located there.
The Anne Frank museum in Amsterdam is chilling…a must see. I hope to God we learn from our past. Thanks @Jennabenna24 for the tickets!! pic.twitter.com/oMPvkDrsFG

— Pete Marek (@PeteMarek) May 7, 2022
The museum is located in the building where Anne Frank and her family lived from 1942 to 1944. The museum is a reconstruction of the house, with an exhibition hall and a small theatre. The exhibition hall contains the original furnishings, including the bookcase where Anne Frank hid her diary, as well as photographs of the house and its residents. The small theatre shows a film about Anne Frank's life every half-hour.
24. Rijksmuseum Museum
The Rijksmuseum is one of the largest museums in Europe and has a collection that includes works by Rembrandt, Vermeer, Frans Hals, Vincent van Gogh, Jacob van Ruisdael, and others. The museum also contains important collections of Egyptian antiquities and other Asian artworks. It was founded as the "Museum to Display All Dutch Masterpieces" when it opened its doors in Leidse Square under temporary premises before moving into its current building.
Nature-inspired ceiling lights at rijksmuseum (Dutch national museum), Amsterdam. pic.twitter.com/pMvvBRyyP8

— Avi (@amessica1) August 27, 2020
The museum is located in the building where Rembrandt lived from 1639 to 1656. The museum is a reconstruction of the house, with an exhibition hall and a small theatre. The exhibition hall contains the original furnishings, including the bookcase where Rembrandt kept his collection of drawings and prints. The small theatre shows a film about Rembrandt's life every half-hour.
Out of the list of the Best Things To Do in Amsterdam, you can pick and choose which ones you want to cover depending on your preferences and how much time you have available on hand. We'd recommend doing all of them!
Amsterdam is a spectacular city that has so much to offer. Plan your next trip to the Dutch city and check all the places and things to do mentioned in this article.
Some useful tips for your Amsterdam trip:
– Look into a public transport day pass. It costs a reasonable amount and is good for all public transport in the city of Amsterdam
– A bike is a fun alternative to walking or using public transport. If you are not used to cycling in busy traffic then look for a rental shop that offers electric bikes, these are more suitable for city traffic than regular bikes.
– Be sure to visit some of the local areas for a taste of real Amsterdam culture. Jordaan, De Pijp and Amsterdam-Noord are great places to explore.
– Take time out of your sightseeing schedule to enjoy the beautiful canals, picturesque streets, and amazing architecture. It is important not to miss these iconic features of Amsterdam.
– Try some traditional Dutch food when you are in Amsterdam, there is a huge variety to suit every taste.
– Amsterdam hosts many events throughout the year, some popular ones include Kingsday, Gay Pride, and World Press Photo Exhibition. Check out the City of Amsterdam website for more information.
– If you are visiting during the summer make sure to check out one of the many outdoor festivals that Amsterdam holds. The biggest ones include Kingsday and the Gay Pride Festival which draw in hundreds of thousands of visitors to the city.
– If you are looking for a cultural experience then head to Rijksmuseum or Van Gogh Museum, both are world-class exhibition centers with excellent collections of art on display.
– Always ask a local person or a shopkeeper if you are unsure of which direction to walk in, they can give invaluable advice and directions that will help you get around this beautiful city easily.
– Most attractions in the city center offer free entry, so make sure to check out what is on offer and save yourself some money.
– Most of the restaurants in Amsterdam are casual places where you simply order your food at the counter and eat there or do takeaway. If you would like to dine in a proper restaurant, make sure to book ahead as these fill up fast.
– Make sure to check out such as Vondelpark or Amsterdam Museum, both are great places that offer a place of relaxation in the heart of the city.
There is so much to do and see in Amsterdam that you could spend weeks exploring all that this amazing city has to offer. If possible then stay for two weeks minimum so you don't miss out on anything!
Read also: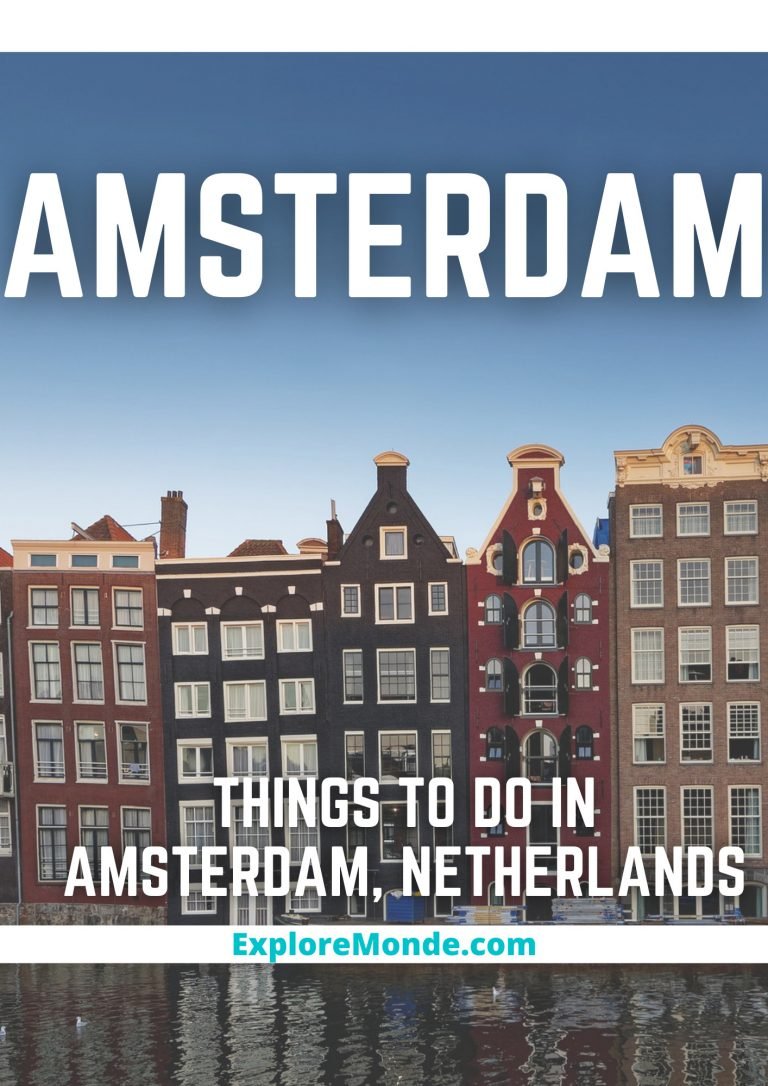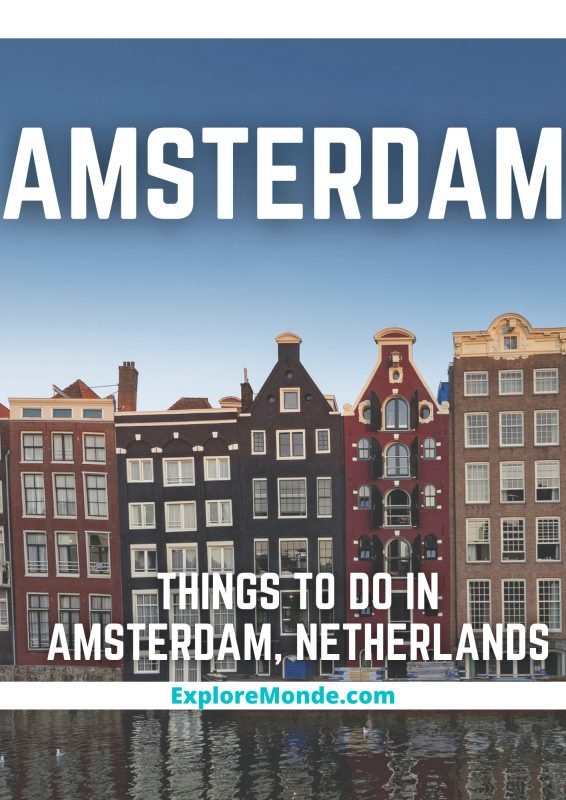 ---
Note: The hours of operation, ticket prices, and admission criteria of museums, parks, etc. may change from time to time. For the most updated information, we recommend checking the official website of the attraction directly prior to your planned visit.
Blog Categories: Asia, Africa, Europe, USA, Australia & New Zealand, France, Germany, India, Italy, Spain, Sports, Switzerland, Travel Tips, UK, Products
More From The Blog
---