There might be some churches that are only for one religion of believers. But if you are visiting Albany Oregon then you can visit freely any churches. These churches are ideal for everyone irrespective of their age, color, and gender. It does not matter what your religious background is, when you visit these churches you feel like a part of the community. There are many ministries, programs, and events that are organized by these churches.
Best Churches in Albany, Oregon (Jump To Section)
Some of these events are ideal for every age group while others might be divided into subgroups. You can also get to know their motives and why they are created. In some of these churches, you can even take your meals and snacks and enjoy a good time.
Everyone finds a place for themselves in these churches that make them feel complete. It does not matter what your mood is, happy, sad, confused, or scared, if you visit a church it will truly offer you peace of mind and changes the way you reflect on yourself.
People from every background and religion are welcomed in these churches. The staff members, authorities, and pastors help people in every manner they can and they give them knowledge on how to become better on the right path. Many types of music by the choir are also organized here. Prayers, as well as worship, are held regularly in these churches, even on Sundays.
Here are some of the best churches that you can visit in Albany Oregon.
Best Churches in Albany, Oregon
1. United Presbyterian Church
One of the most popular churches in Albany is the United Presbyterian Church. It is a popular tourist spot too. Everyone is welcomed warmly in this church. People come here to pray and wish for one another. This church unites everyone.
It also offers many styles of music such as passionate reverent, traditional hymns, and contemporary music. Everyone is allowed equally to participate in every kind of music. There are several programs for children that are organized by the church authorities. Children's ministry, community service, youth group, missions, nursery, etc. are also frequently organized here.
2. Valley Christian Center Foursquare Church
Valley Christian center foursquare church offers a community that welcomes people from all backgrounds. People from all generations come here to visit happily. People from different backgrounds come here with one thing in common-they all pursue god. Everyone loves and respects each other in the community. People and authorities of this church believe in the holy spirit as well as the power of the gospel.
People share stories related to growth, struggle, and god. Everyone who visits here believes that there is a savior that gives a new life and comes to their rescue when needed. The environment of this church is very friendly and calm. If you are seeking peace when in this town then you should visit this place for sure. This is one of the best Churches in Albany.
---
Bestseller Drones
Bestseller No. 1
Bestseller No. 2
---
3. Dever-Conner Community Church
Dever-conner community church holds the group of common people. People from all religious backgrounds and races come to gather here to form a common group. People come and gather here to pray and hold to god and god's word through Jesus Christ. You get a peaceful and calm vibe in this church. It is the perfect destination for you when you want to escape from stressful weekly routine life.
Many programs are organized in this church by the authorities. For example, youth groups, adult education, nursery, children's ministry, community service, and many more are organized by them. Two types of music are celebrated in this church. These two kinds of music are contemporary and traditional hymns. It is a small-sized church and is just like a missionary church.
English and Spanish are the most common languages that are spoken and used for communication here. People who come here love to sing to God. They pray to God and for one another. Everyone loves each other in this church and it does not matter whether you are Christian or not, if you are in this church you are considered to be one with the grace of God.
4. First Assembly of God
If you love spiritual communities and peaceful performances and talks then you might also like to visit the First Assembly of God Church. There are massive crowds on some weekdays but still, everyone can find a place to sit, enjoy and pray. There are many music styles and dance performances that are offered by this church.
Young adults are one of the typical and common programs that are organized here. Everyone is welcome here, whether they are men, women, and kids. Everyone who visits this church and takes part in religious activities is considered to be a man of God.
---
Bestseller GoPro Selfie Sticks
Sale
Bestseller No. 1
Sale
Bestseller No. 2
---
5. Oak Creek Christian Center
People from every community are welcomed very humbly at the oak creek Christian center. Here authorities and people are committed as well as inspired to lead other people to have a growing relationship with Jesus Christ.
Worships and prays are also held in this church on Sunday mornings. If you are in the town and want to visit a church, you can visit the oak creek Christian center even on Sundays.
6. Knox Butte Baptist Church
If you like to visit baptist churches then you might as well visit Knox Butte Baptist Church. This church was built in 2004 and has had many visitors since then. A team of 2 staff members handles this church. Everyone who visits this church is a man of god and regards one another that they are also men of God.
You can also bring your snacks and dinner to the church and eat them in peace. Ham, as well as turkey, is also provided by the church. It is a small church which is very neat and clean. Everyone is welcomed wholeheartedly in this church.
7. First Christian Church
If you want to visit a non-denominational church then you can visit the First Christian Church. Many types of musical worshipping and prayers are done in this church in several music styles. Many typical programs are also organized here. If you would visit the First Christian church, then it is for sure that you will get a sense of peace and calm.
---
Bestseller Copper Water Bottles
Bestseller No. 1
Bestseller No. 2
---
Everyone who comes to this church follows the commands of Jesus. Immigrants, tourists, non-Christians, and all other people regardless of religion, age, race or background are welcomed here. Even if you have never visited a church and want to visit one, then this might be one of the options for you to do so.
8. Eastside Christian Church
If you want to visit a family church then you can also visit the Eastside Christian Church. People of all religious backgrounds are allowed in this church. This church is a non-denominational type of church in Albany where there is only one God and everyone prays in front of him.
Everyone who visits this church respects one another and realizes their motives in life. They get self-realization about why they are men of God and why God created them. Even tourists are also welcomed in the Church.
9. Hope Church
The pastor of this church is very kind and amazing. If you want to visit a friendly church then you can visit Hope church. You can also become a member of this church if you want to attend special events in which only members are allowed. People of every age are allowed in this church. The staff, as well as visitors of this church, is very friendly. People share their stories and motivate each other.
If you want to find the purpose of your life and the goal of your existence then you can partake in all sorts of spiritual and religious activities in this church, which may help you get some insight and enlighten you. People from every religion and background are allowed here. All the visitors to this church believe in God. They do not believe in a certain religion, they believe in only one God and worship him. You can also visit this church on Sundays.
---
Bestseller Cupholder Bottles
Bestseller No. 1
Bestseller No. 2
---
10. Neighborhood Church
The Neighborhood Church is very warm as well as welcoming. More than anything, they believe in purity in people's hearts. It tells you how your heart is reflected in your body's actions and outward behavior. You will get a chance to meet some of the most amazing people here. These people would be strangers at first but then they will become an important part of your lives and church routine as well.
There are many classes as well as programs that are organized by the authorities of this church. Kids truly love to spend their time in this church. The message or aim of this church is directly passed on every time- we are one. This church is also open on Sundays. You can visit this church regularly. Even if you are not a Christian still you are welcomed in this church wholeheartedly.
11. Willamette Community Church
If you want to feel closer to god then you might also visit Willamette community church. This church helps you to get closer to yourself as well as god. People here help each other to grow confidence and have a motive in their lives. You can also help someone even if they do not believe in god. They can get to know why they are on the search and what is their goals. If you want to make any confession then you can also do that and the pastor and other staff authorities will help you to learn from your mistake and how to move on from them. Many programs and events are organized in this church.
There is no barrier to either entry or worshiping in this church based on race, color, and religion. There is also a men's ministry in this church. Here all men can learn how they can improve themselves to become the person that God intended them to become. Also, there is a women's ministry in this church. These ministries make women understand and give them knowledge about their strengths and what they are in the eyes of God.
There is also a youth community in this church. This community is ideal for high school as well as middle school. Here students can learn how to grow their spiritual maturity. Other communities at this church include Willamette kids. This community is ideal for kids up to grade 5. This community helps kids to know about the love of Christ for them. Another community in this church is prime timers senior adults ministries. This community is ideal for people who are above 55 years old. There is also a worship ministry in this church. This ministry is all about worship and prayer. They include singers as well as musicians that perform in the events and programs that are organized in this church.
12. Riverside Baptist Church
People who thrive to know and hear the truth straight from the word of god and looking for a community can visit the Riverside Baptist Church. This church is based on born-again as well as saved people who believed in the death of Jesus Christ on the cross. They know and realize the sacrifice of Jesus when he paid for the sins of other people. This church is the perfect place for you if you are looking for outreach, support, learning, and worship. The main goal of this church and its community is to build a spiritual life. It tells the importance of Jesus Christ and how you can make time for him in your busy life.
This church is currently small and can fit around 70 people. Visitors and other tourists are happily invited to this church. The staff members understand the curiosity of new visitors to this church so they also have a list that tells new visitors what can they expect in this church.
The minimum time required to attend one event is 60-75 minutes. You will enjoy the rich tradition and heritage of hymns as well as modern works. Most of the singing in this church is done with the help of a piano. People can wear anything they want in which they feel comfortable. This church also offers free child care services for children up to 4 years old. There is also a well-staffed nursery in this church. Other kids up to 5th grade are allowed to participate in age-specified classes. They are also allowed to join services with their parents.
There are a variety of ministries as well as programs for diverse groups of people with different needs. Some of them are Flashpoint, Youth Groups, Young At Heart, etc. Flashpoint is a night children's ministry program. This program is ideal for 1-grade students to 6-grade students. This is a free program that also offers services of the bus to kids who are not able to come to the church due to a certain reason. While young at heart is ideal for people who are above 55 years old. Other communities include men's prayer breakfast and a dedicated group for women called women's creation and study.
Conclusion
we have covered some of the best churches in Albany Oregon. You must explore these places and enjoy a peaceful time and try to find your inner self and maybe find some sort of support and mental fortitude in this chaotic and busy lifestyle. Visiting these churches provides a much need break from your challenging life and gives you clarity and peace of mind. A few hours of weekend visits is enough to add happiness to your life.
Read more: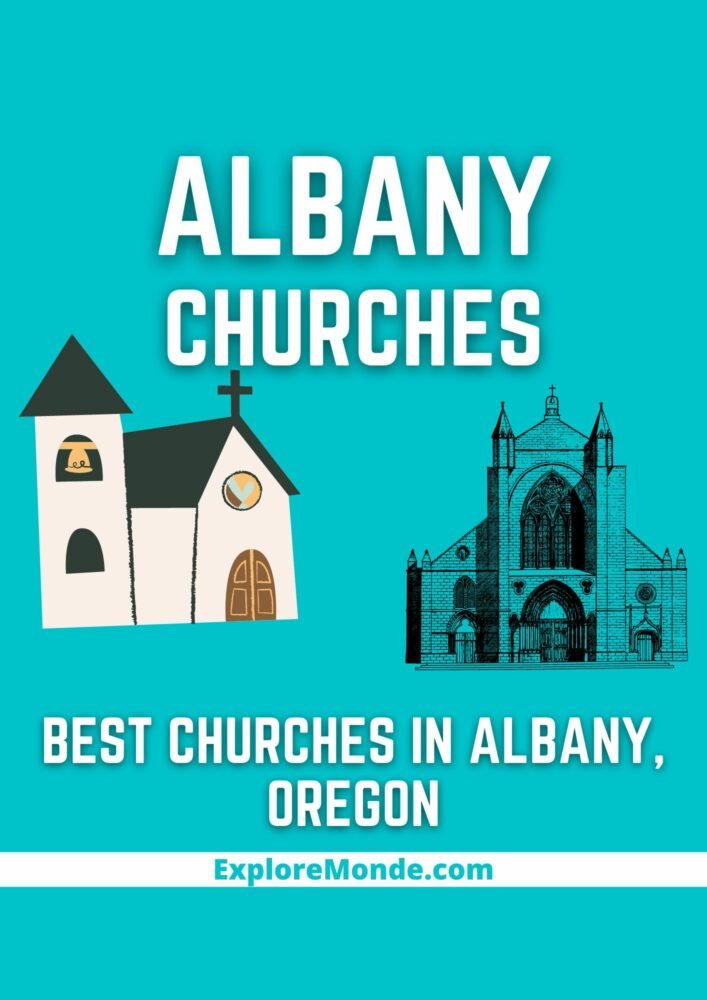 ---
Note: The hours of operation, ticket prices, and admission criteria of museums, parks, etc. may change from time to time. For the most updated information, we recommend checking the official website of the attraction directly prior to your planned visit.
Categories: Asia | Africa | Europe | USA | Australia & New Zealand | France | Germany | India | Italy | Spain | Sports | Switzerland | Travel Tips | UK | Products | Download AI Trip Planner App
---