Seville is the capital of Andalusia. It is located in southern Spain and has a population of about 700,000 people. The city has many beautiful buildings that are open to visitors, including La Giralda, Seville Cathedral, and Alcazar Palace. The Plaza de España is a popular attraction because of its unique architecture inspired by sixteenth-century monuments in Italy. It was built at the site of Seville's 1929 World's Fair.
Getting to Seville takes less than an hour by plane or train from Madrid and about two hours by car or bus from Barcelona. There are also multiple daily flights arriving from other European countries.
Seville is known for its beautiful architecture and has been listed as a UNESCO World Heritage Site since 1987.
Sevilla FC, the city's premier football team, was founded in 1890.
The Palacio de Exposiciones y Congresos is the biggest convention center in Andalusia, located within Seville's city limits.
There are plenty of things to do in Seville depending on how long you plan to stay.
Here's a list of the 18 Best Things to do in Seville, Spain.
Best Things to do in Seville, Spain 1-10
1. Royal Alcazar Palace
The Royal Alcazar Palace is a palace in Seville, Spain. It was originally built in the middle of the 9th century and has since been altered many times over the years, with the latest renovation taking place at the beginning of the 20th century.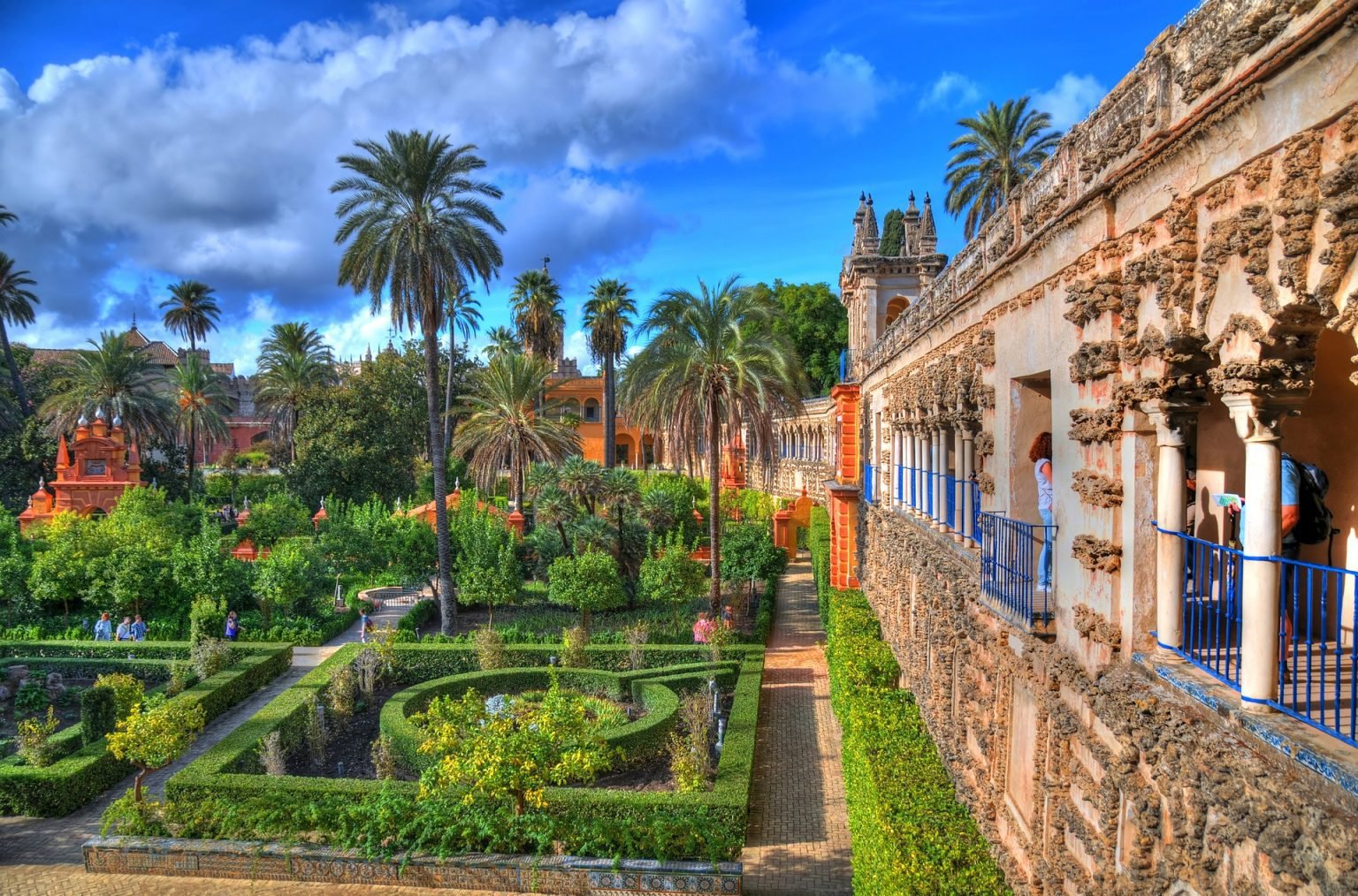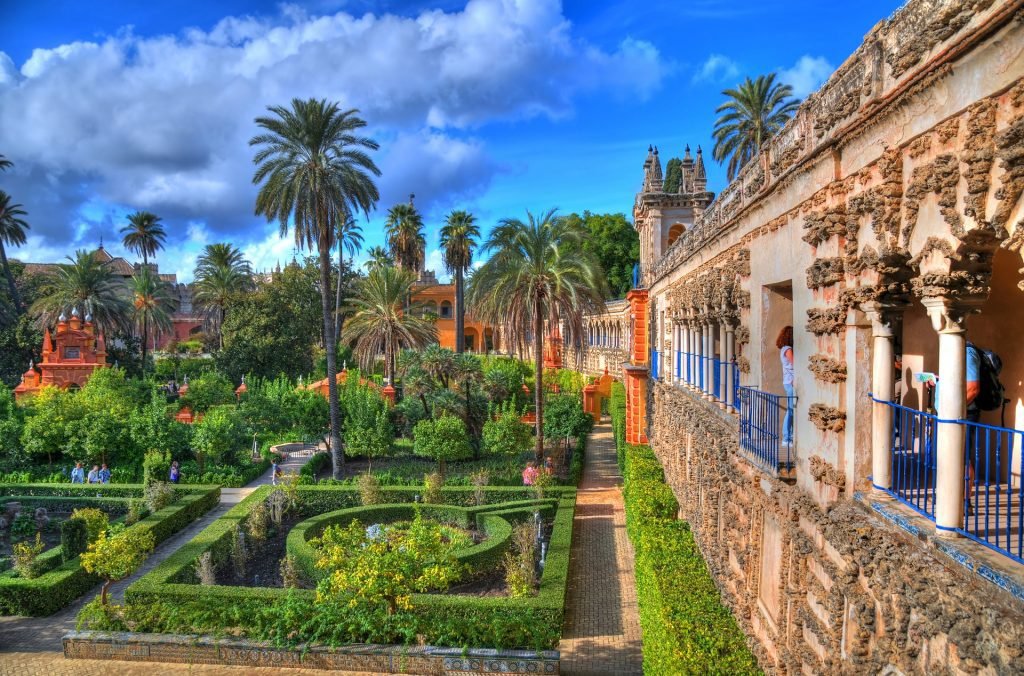 The Royal Alcazar Palace is situated within walking distance of one of Seville's most famous plazas: Plaza de Espana.
The palace is open to the public and has many gardens and courtyards that visitors can tour around.
Art exhibitions are also shown regularly in this palace.
How to reach Royal Alcazar Palace, Seville, Spain:
By car – Take the A4 road from Madrid and follow the direction to Cádiz. Take exit number 179 towards Seville Este/Aeropuerto. Turn right onto Avenida del Litoral, and continue straight until you reach Avda. Abades, turn left onto this avenue, then turn right on Via de las Palmas which will lead you to the palace.
By train – The nearest train station is Santa Justa Station. From there, you can take buses lines 6, 7, 10, or 11 to get to the palace. Alternatively, it is also possible to walk for about 20 minutes by following Calle De La Montera straight to the palace.
By plane – The nearest airport is Sevilla International Airport. Taxis are available to take you directly to the palace.
What activities can be enjoyed in Royal Alcazar Palace, Seville, Spain:
– Architecture and history tours for adults and children with explanations given by guides that will take you through various rooms of the building.
– A visit to the Palacio de Don Pedro, another palace on the premises where you can learn about the history of Seville through paintings and furniture displayed. – A tour of the surrounding gardens with views of Triana Bridge and the Triana neighborhood.
– Art exhibitions are hosted in various rooms of the building.
2. Giralda Bell Tower
The Giralda Bell Tower is one of the most important landmarks in the city of Sevilla, Spain. The name 'Giralda' originates from Arabic, which means "weathervane". It now stands as a bell tower but was previously used as a minaret. It has also been included among the UNESCO World Heritage Sites since 1988.
The term 'baroque' is used to describe a style of art that emerged in Europe, particularly in the 17th century, and was quite popular throughout the world. The Giralda Bell Tower is a prime example of its design as it features intricately designed pillars, balconies, and windows. Each side of the tower has unique designs carved on it.
The Giralda Bell Tower was originally built in the 11th century by Al-Hakam II, who ruled over Cordoba while Seville was under the control of the Emirate of Córdoba. However, after Al-Hakam's death, his son Hisham II tore down the tower and built a new one. The current tower is primarily of the Mudéjar architectural style which has European, African and Arabic influences.
The Giralda is open to tourists for €7.50 per adult. There are 150 stairs that lead up to the top of the tower. Visitors can take a lift for €1 if they do not wish to walk up the stairs. Art exhibitions and fresh produce markets are held within the Giralda Bell Tower during special seasons.
---
Bestseller GoPro Selfie Sticks
---
3. Casa de Pilatos
"Casa de Pilatos" is a national monument in Seville, Andalusia, Spain. It was built by the Jesuits. In 2007 it was declared by UNESCO a World Heritage Site within the category of "Works of Public Art and Cultural Landscapes".
How to reach Casa de Pilatos:
Casa de Pilatos can be reached by bus, taxi, or walking. It is recommended to take the bus since it will allow visitors to admire the cityscape of Seville on their way there.
What to do when you are in Casa de Pilatos:
Casa de Pilatos is located in the heart of Seville. Visitors are recommended to visit nearby attractions such as Plaza Nueva, Cathedral of Seville, Archivo de Indias and Alcázar.
4. Bullring of Seville
The Bullring of Seville, Spain is known for its history filled with bullfighting. It was built in 1874 and has been active ever since. For over 100 years, the arena hosted various kinds of fights including hand-to-hand combat, which were popular events up until 1929 when animal welfare laws prohibited it.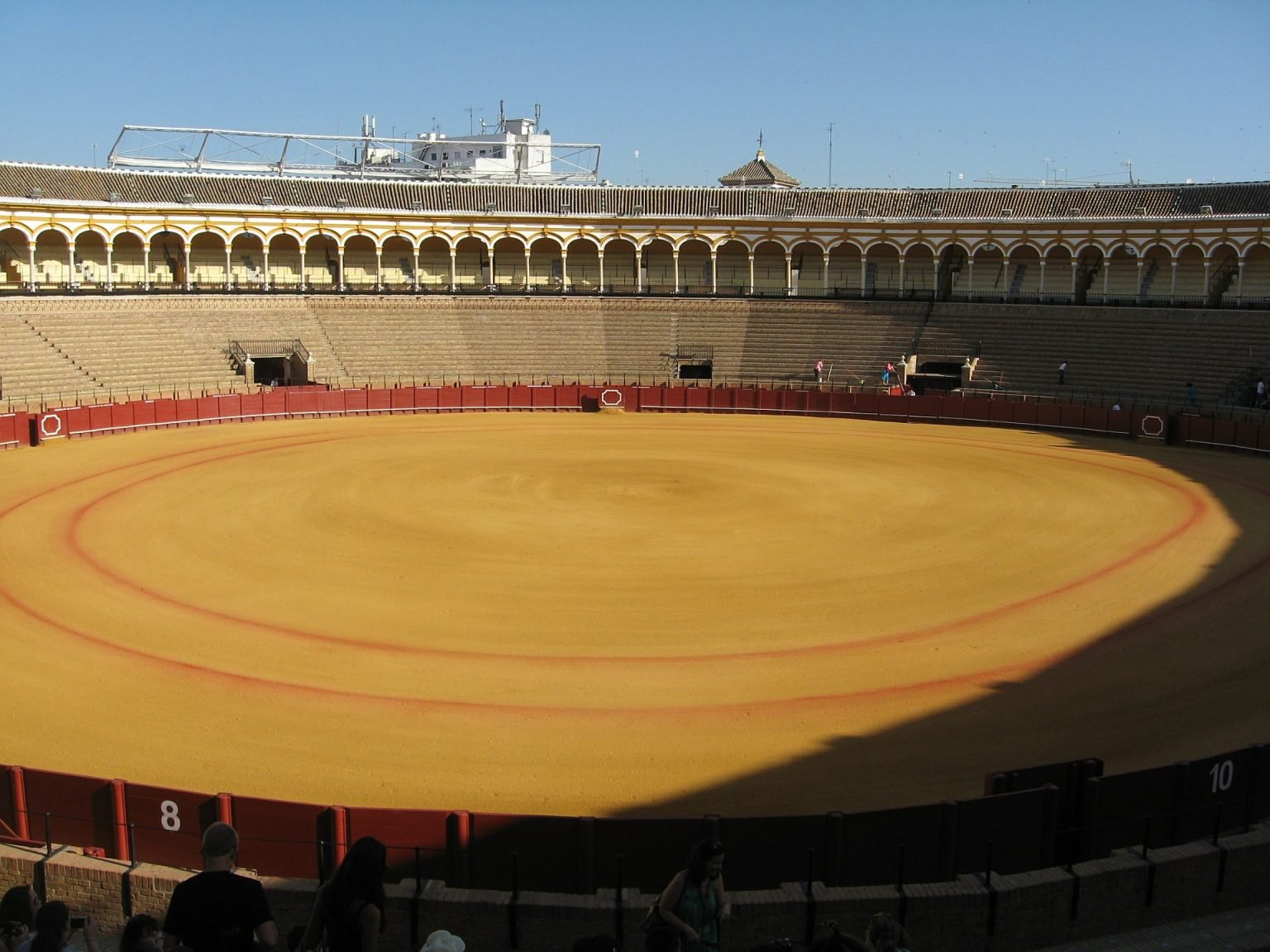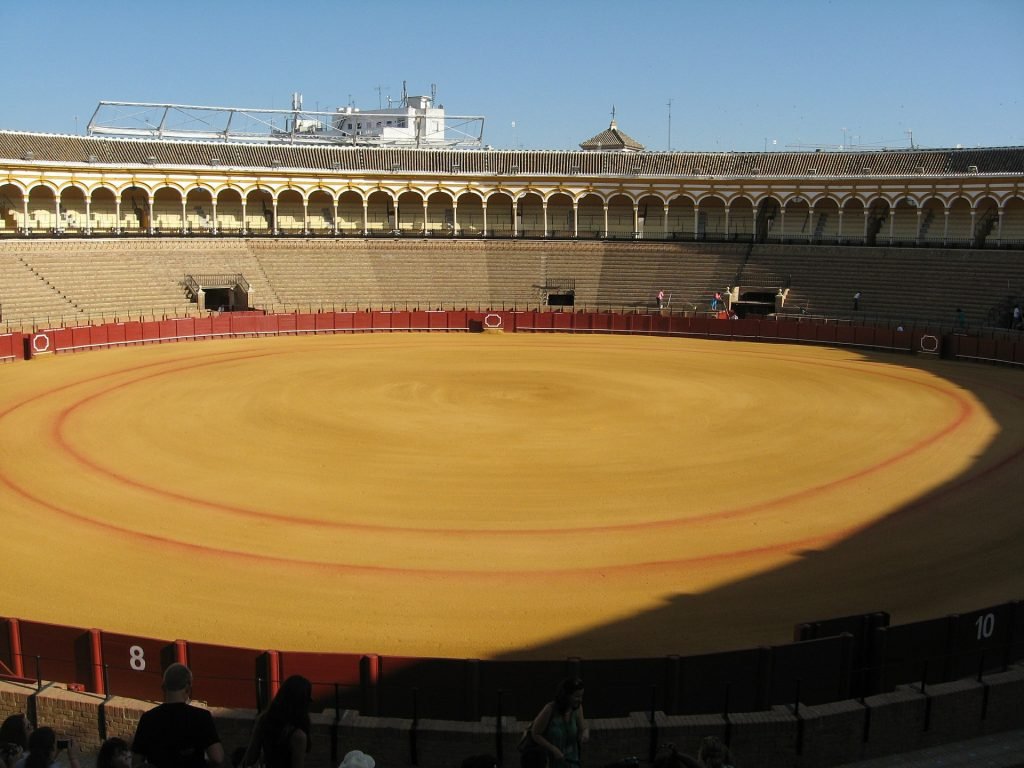 The arena is large enough to fit around 10,000 people. However, the maximum capacity is set at only 9,500 due to the rules requiring that no spectator shall be allowed into the ring until all of five minutes after a fight begins when any vacant seats must be filled.
---
Bestseller Copper Water Bottles
---
In today's date, there are still regular fights in which bulls are killed when they are not fighting. The arena is the only one in Spain where this practice still takes place and has received much criticism from different international organizations for using animals in activities that cause them pain and suffering.
How to reach:
There are various forms of transportation you can take to get there including driving or taking a bus. Once you arrive, there are guided tours to go on and other forms of entertainment including shopping and eating.
What activities to do:
There are various events happening daily so check ahead about what might interfere with your plan if any.
1) The bullring was built in 1874 by architect Luis Dubois Castañeda.
2) The maximum capacity of the arena is no more than 9,500 people.
---
Bestseller Cupholder Bottles
---
3) There are tours in which you can learn about the history of bullfighting and its significance to this particular area.
5. Torre de Oro
Torre de Oro is a historical building from the thirteenth century in Sevilla, Spain. It has been renovated several times and it now belongs to the city council of Seville. The tower was built as a watchtower, but today it serves as a museum for archaeological findings. It's located on the banks of the Guadalquivir, which is why people use it as a reference point for navigation.
Torre de Oro can be reached by bus numbers 5 and 29. One should take the bus to Sevilla del Córdoba avenue. It's also possible to reach Torre de Oro by car or bicycle since there are parking lots available on the streets surrounding the tower.
Visitors are allowed to walk up the 112-meter high tower. It takes about half an hour to get to the top, but people have to be aware that it's 90 meters high on average because of renovations and other changes in its structure throughout history. The entrance fee is 3 euros per person. There are also guided tours offered at a price. There is a restaurant inside the tower, as well as other shops and a cafeteria where the visitors can buy drinks and snacks.
Torre de Oro also has an archaeological museum that holds many findings from Roman times in Seville. The entrance fee is 5 euros per person. In addition to that, it's possible for individuals to rent out the tower for events or celebrations, at a price of 50 euros per hour.
Visitors are advised to visit Torre de Oro during the weekends in order to avoid queues. However, it's possible to visit the tower even on weekdays when there are no guided tours offered. People can enjoy panoramic views of Seville from the top of the tower. It's also possible to climb down instead of up since there is an elevator available for this purpose. The previous two activities are free of charge.
Torre de Oro is open on weekdays from 9 am to 7 pm and on weekends from 10 am to 8 pm. Guided tours are offered on Saturdays and Sundays at 11 am, 3 pm, and 5 pm. The archaeological museum is open from 10 am to 8 pm every day of the week.
6. Plaza de España
The Plaza de España is a square in central Madrid, Spain. The square lies between two large streets: the Calle de Alcalá and Paseo de la Castellana. The plaza is one of the largest plazas in Madrid and occupies 8 hectares (almost 20 acres).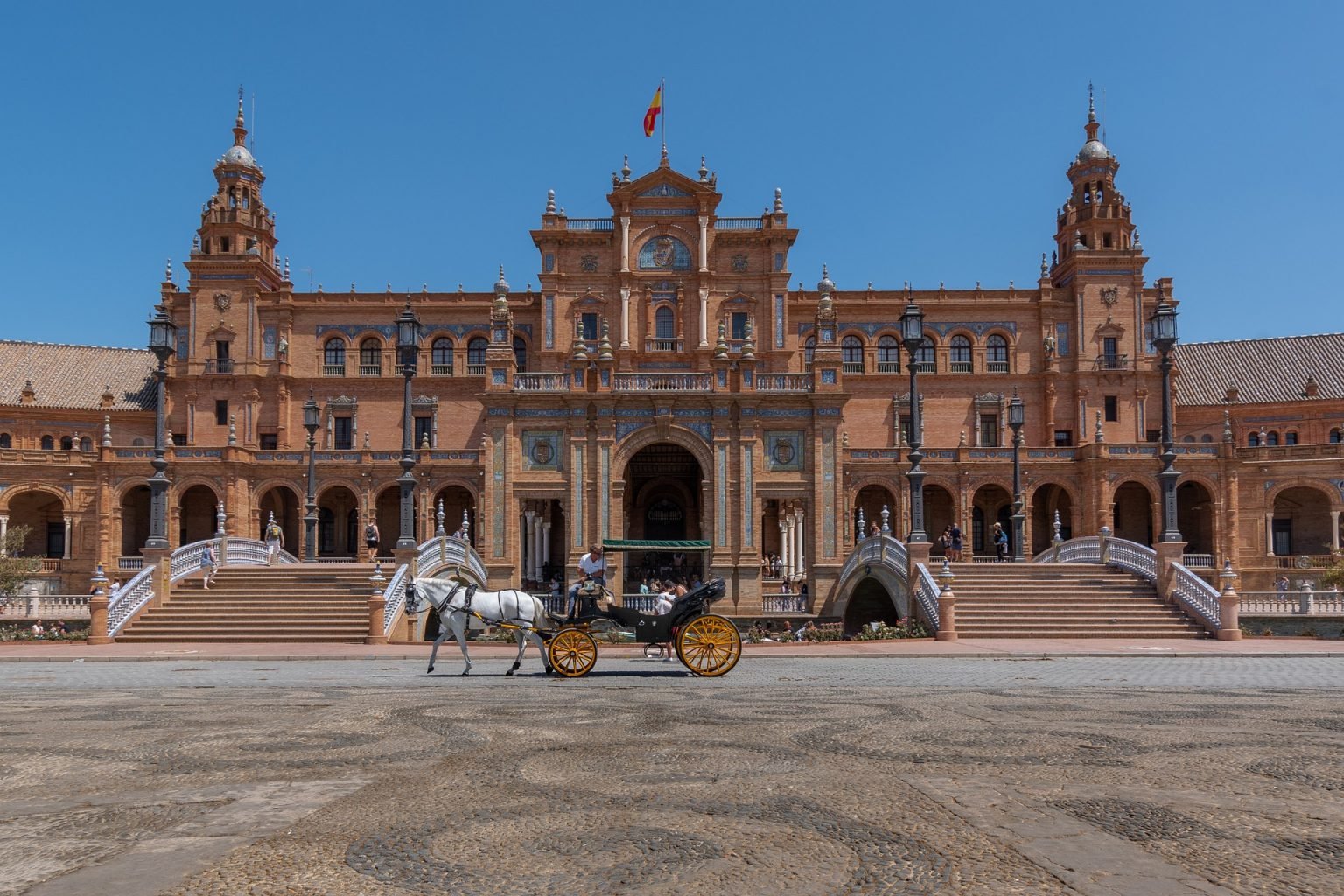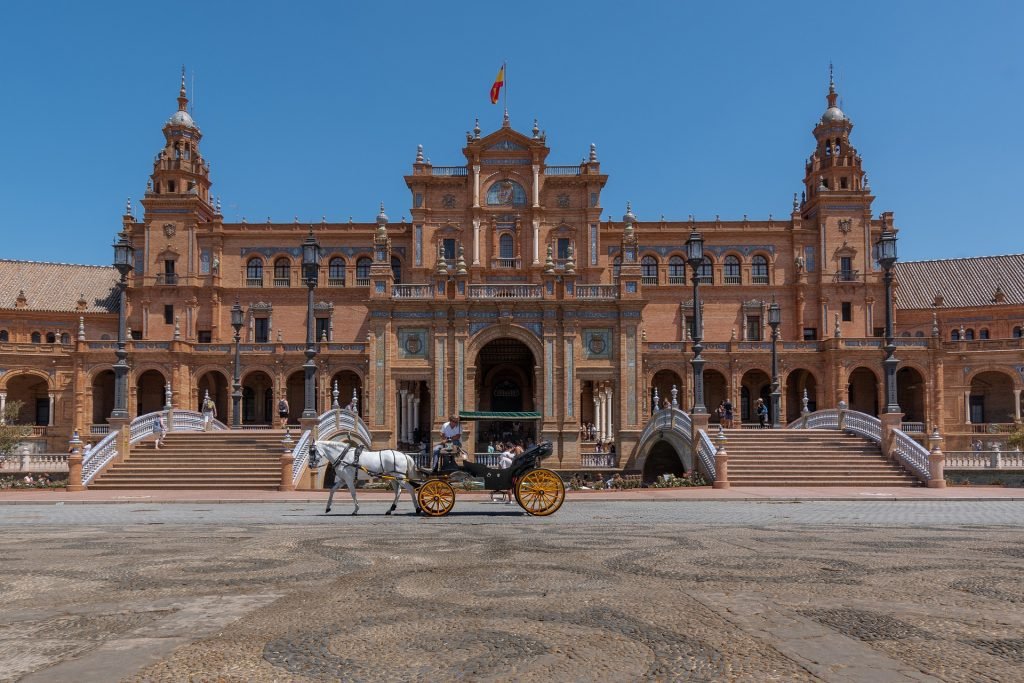 How to reach Plaza de España (Seville):
The nearest metro station is "Nuevos Ministerios". There are regular city buses, suburban buses, and trains connecting Plaza de España with multiple destinations. A good place to start your journey is the Plaza de España metro station. The plaza can also be reached by car, but it's best if you leave your vehicle away and explore Madrid on foot or by public transport.
What to do:
You can visit the monument, just outside the plaza, of Cervantes. Despite its immense size, the plaza also offers you a place to rest on one of the many benches or to have lunch at one of the square's three restaurants.
7. Maria Luisa Park
Maria Luisa Park is a large and popular park in Seville, Spain. It is named after Maria Luisa de Parma, the wife of King Ferdinand VII. The park was designed at the beginning of the 19th century by Charles III and finished by Ferdinand VII around 1845 taking as a reference to the English landscaping style parks like Regent's Park.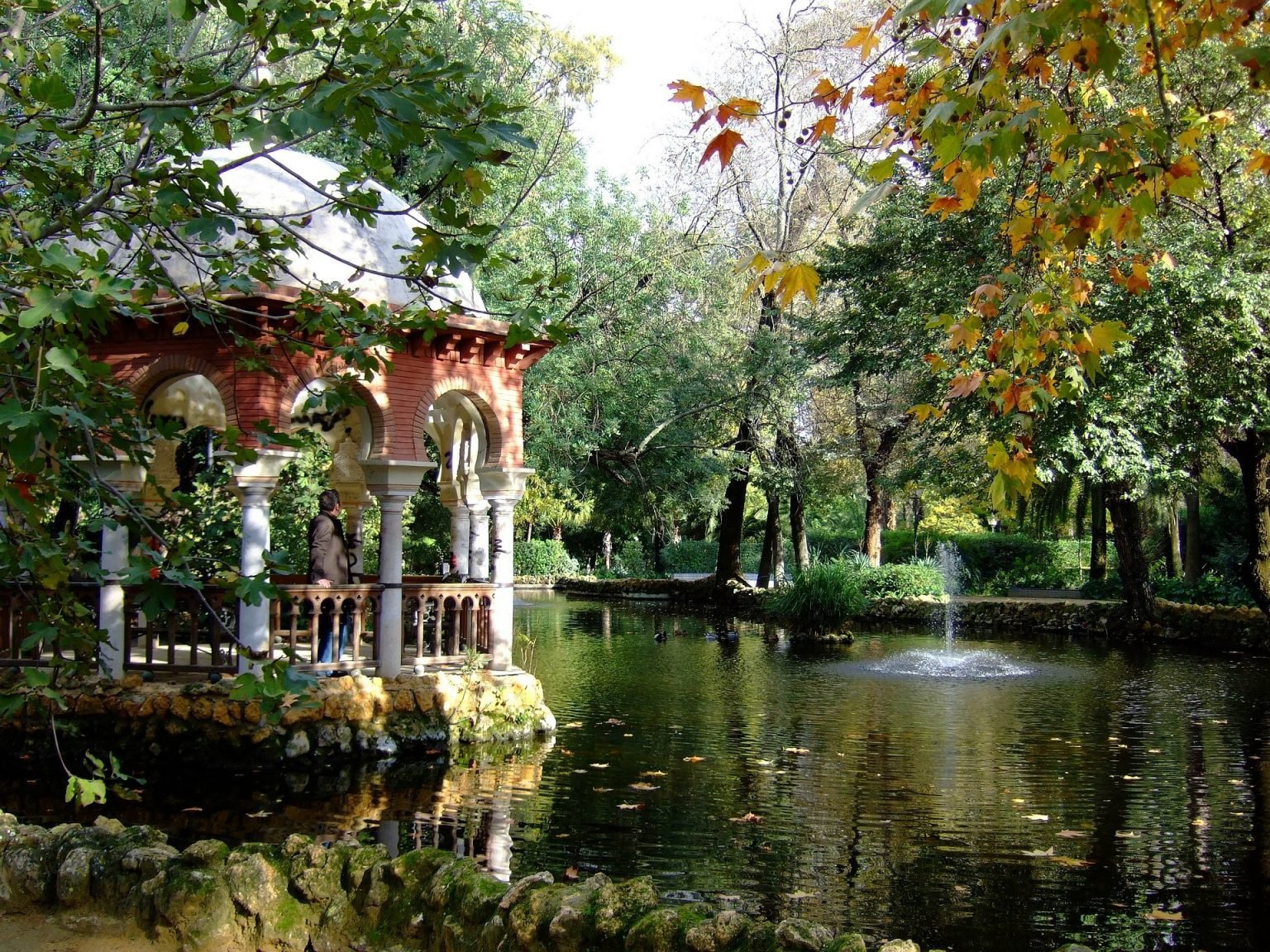 It is a large green space in the city center, with avenues and statues of mythological figures, as well as fountains and ponds. The main entrance is at Plaza de España square. In its southeastern corner is located the Maria Luisa watchtower from which you can enjoy wide views of the park. The park has numerous pedestrian paths and roads, and it is often used as a venue for concerts.
Another large and very active part of the park is the so-called "Oasis", which is composed of pine groves with resting spaces and ponds. At its edge, there's a lake where you can rent rowing boats. The park also includes a zoo.
How to reach:
The park is located in the heart of Seville, next to the Maria Luisa Park Carousel and Plaza de España square. You can easily get there by bus or taxi from any part of town. There are also plenty of public parking areas nearby (P1-P3, P10, etc.)
What activities to do:
There are many recreational areas in the park suitable for rest, reading, or any other leisure activity. You can also rent rowing boats at the lake (in summer). There is a light railway departing from Plaza de España, located on one of the park's side roads; it was opened in 2011 to make the park more accessible for people with reduced mobility.
The zoo (Zoo de la Ciudad de Sevilla) was built in 1785 by Charles III and it is one of the oldest zoos in Europe. It features 2000 animals of 220 species living in habitats that reproduce their natural surroundings, including an aquarium, a monkey island, and enclosures for elephants or large cats.
8. The Archivo de Indias
The Archivo de Indias is important for the history and culture of Seville, Andalusia, and Spain. It is also the main institution for historical memory in Seville and holds historical evidence of America from 1492 until 1820. The archive has a total of 2.5 million pages ranging from public records, and personal correspondence to drawings and maps. The archive also has a large collection of paintings, engravings, and sculptures.
The Archivo de Indias is located in Seville, Spain on the Avenida de la Constitución. It is open to the public for research purposes on working days except on national holidays. There are restrictions on physical access due to its fragile state. There are also deadlines for researchers to request papers, depending on the time frame which they originated from.
The archive is also known as the 'Nation's Treasure'. It was declared a Historical-Artistic Monument by Real Order in 1928 and was then put under the order of the Ministry of Education and Culture.
The Archivo de Indias is one of the most significant collections in Spain. It holds papers from the discovery, conquest, colonization, and independence of America. The documents were gathered by Bartolomé de las Cases when he was secretary to Christopher Columbus. He also became a chronicler because he wrote about his journey with Columbus to discover America in his book 'Diario del Viaje 1492-1493'.
Manuel González Jiménez is known to be the founder of the Archivo de Indias in Seville. He was also a historian who donated his vast collection of historical information when he died in 1980. The archive is housed by Manuel González Jiménez Foundation. The archive is also known to have a large collection of paintings, engravings, and sculptures.
9. Triana
Firstly, Triana is the oldest neighborhood in Seville. Additionally, there is a Catholic church and monastery named after St Bartholomew (parish church of Santo Bartolome de la Borda). Lastly, the famous painter Murillo was buried here. He was born on November 7th, 1617, and baptized two days later at the church of Santo Domingo el Antiguo.
It is located on the south bank of the Guadalquivir River and is divided into three parts: Triana (historic town), Isla de la Cartuja, and Santa Cruz.
Everything you need to know about reaching and doing activities in Triana is covered here.
Getting to Triana:
You can reach it by bus, train or the metro from the city center. However, there are no parking lots near all three parts of Triana except the one belonging to the university hospital.
Activities in Triana:
Triana has a rich culture and tradition. It is famous for its flamenco shows, bullfights, and festivals. There are also a lot of bars and restaurants with a wide choice of fresh fish and traditional tapas.
10. Santa Cruz
Santa Cruz is a small coastal city to the west of Seville, Spain approximately 56 kilometers away. It can easily be reached by car in an hour and is small enough that it could be visited on foot or by bicycle. There are points of interest throughout its historic district and along its waterfront which makes for a very scenic and pleasant experience. There are several galleries, restaurants, and hotels within the city walls and it has many points of interest along its waterfront.
Bar Bodega Santa Cruz
Bar Bodega Santa Cruz is located at Calle Consolacion 12, Seville, Spain.
Opening Hours: 8 PM – 4 AM Tuesday through Saturday, closed on Sunday and Monday.
Located in the northern neighborhoods of Chueca and Malasaña, this intimate bar is a place for live performances and concerts of local artists. The drink selection includes over 300 different types of tequila, whisky, and gin.
The menu includes a wide range of "mezcals" and whiskies. Most drinks are priced around 8 euros. There's also a taco stand outside where you can grab a quick bite before heading over to the bar.
You can check out upcoming events on their Facebook page or website. You can get the schedule of local concerts, bands playing at the bar, and DJ sets.
How to reach Bar Bodega Santa Cruz
The closest train station is Chueca. It's about a ten minute walk to Santa Cruz street where the bar is located.
Best Things to do in Seville, Spain 11 and beyond
11. Romeo and Juliet Balcony, Seville
One of the most famous Romeo and Juliet balconies is located in Seville, Spain. The original balcony was built over 300 years ago with only one purpose: to allow Romeo to climb up for a dramatic entrance into the story.
Now, tourists come from all over to visit the balcony that is now considered a landmark. It was once believed that Romeo arrived via a ladder that offered easy access, but in reality, the window to gain entry into this famous balcony is very vertical. People have fallen to their deaths trying to sneak in late at night. There are now iron bars around the windows for safety purposes.
This iconic balcony can be found at a hotel called Hotel Reina Victoria. The original building was constructed in 1908 and is named after Queen Victoria of England. The balcony itself, however, has been there for much longer than the hotel.
12. Feria de Abril
Feria de Abril is a traditional celebration, held in the southern Spanish city of Seville during the week leading up to Easter Sunday. It is one of the biggest and most famous fairs in Spain.
Visitors come from all over Andalusia as well as neighboring provinces such as Cadiz and Malaga to buy and sell goods and food and watch or participate in the abundant amount of colorful parades, and other events such as bullfighting. Be prepared to walk a lot!
The city center is decorated with flags and flowers creating a wonderful atmosphere full of excitement. Streets are packed with people who wear their traditional Andalusian clothes; dresses for women and shirts and trousers for men.
In the streets, there are numerous stalls of goods such as clothes, food, and others. In some of them, you can taste local food such as "pinchos morunos" (small pieces of meat on a skewer), roasted or fried pork, or "turron", a typical Spanish nougat made of almonds, honey, and sugar.
You can see horse riders every night making a show called "Cabalgata de Reyes" (Kings' ride). The horses wear traditional clothes matching those of their riders who are kings or queens from the story of the Three Wise Men visiting Jesus Christ. The parade starts in Plaza Nueva where children gather to go and buy sweets from the Kings.
The Feria de Abril lasts for nine days; seven days of celebration, and two days of rest (although many people continue celebrating during these days). It is celebrated in Seville between April 5th and 14th every year.
How to reach:
-Train: There are some trains ("cercanías") departing from the Santa Justa train station to Triana, El Porvenir or La Maestranza. It takes around 20 minutes.
-Bus: If coming from Madrid, there are some buses leaving from the Estación Sur de Autobuses.
What activities to do:
-Visit the city center and try some typical food.
-Watch the "Cabalgata de Reyes" (Kings' Parade).
-Enjoy bullfighting or one of its many variants like "novillada", "a bandaril", etc.
-Listen to live music at the bars and drink "ponche" (sweet liquor made of fruits, alcohol, and varied spices).
-Watch some flamenco shows on a different night.
13. Seville Cathedral and "La Giralda"
Seville Cathedral was built in the Gothic style in 1401. The cathedral is known for its Royal Chapel, where Christopher Columbus' remains are kept along with those of other Spanish monarchs. La Giralda, a minaret-like tower originally from the Almohad mosque which once stood on the site, is now considered the city's icon.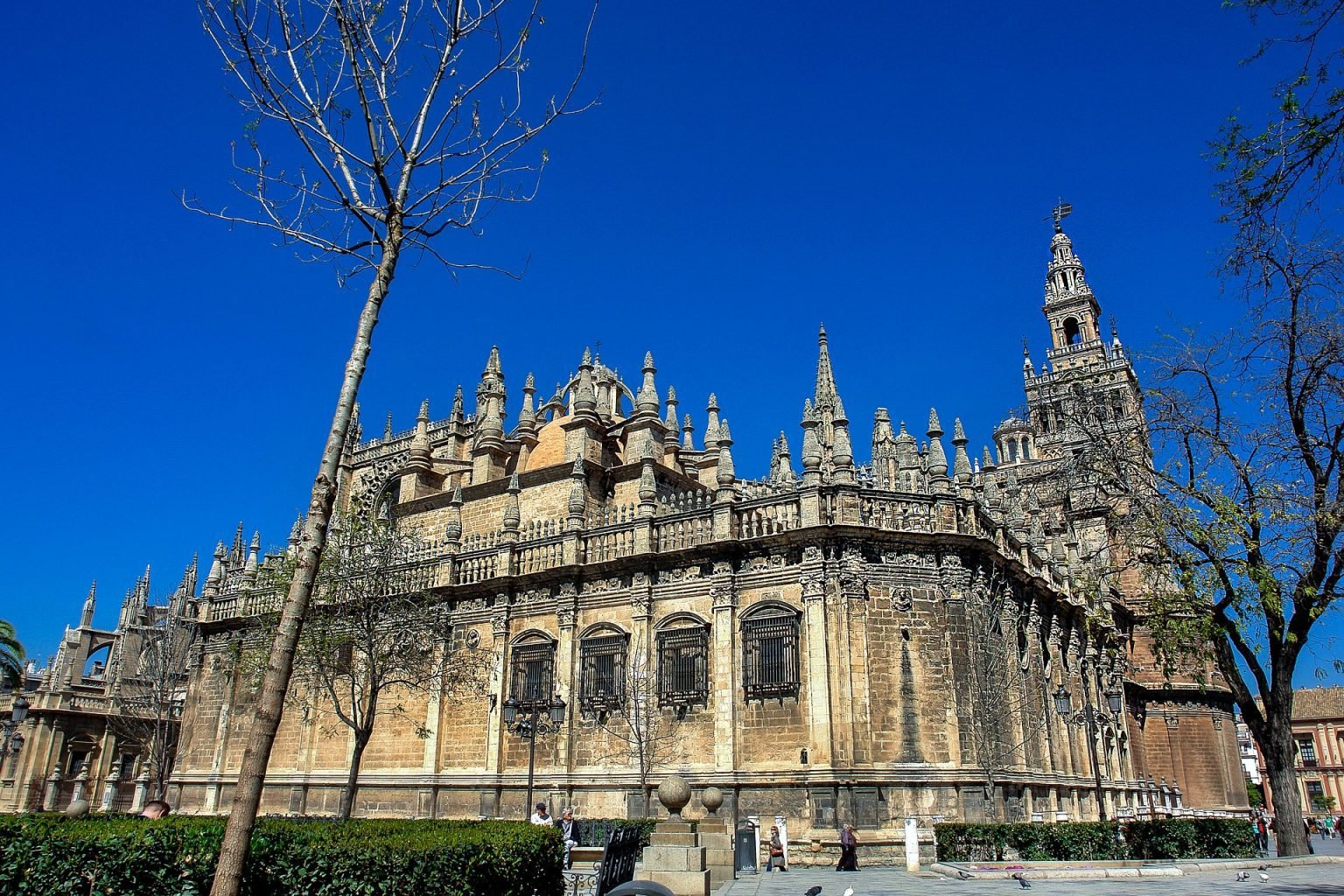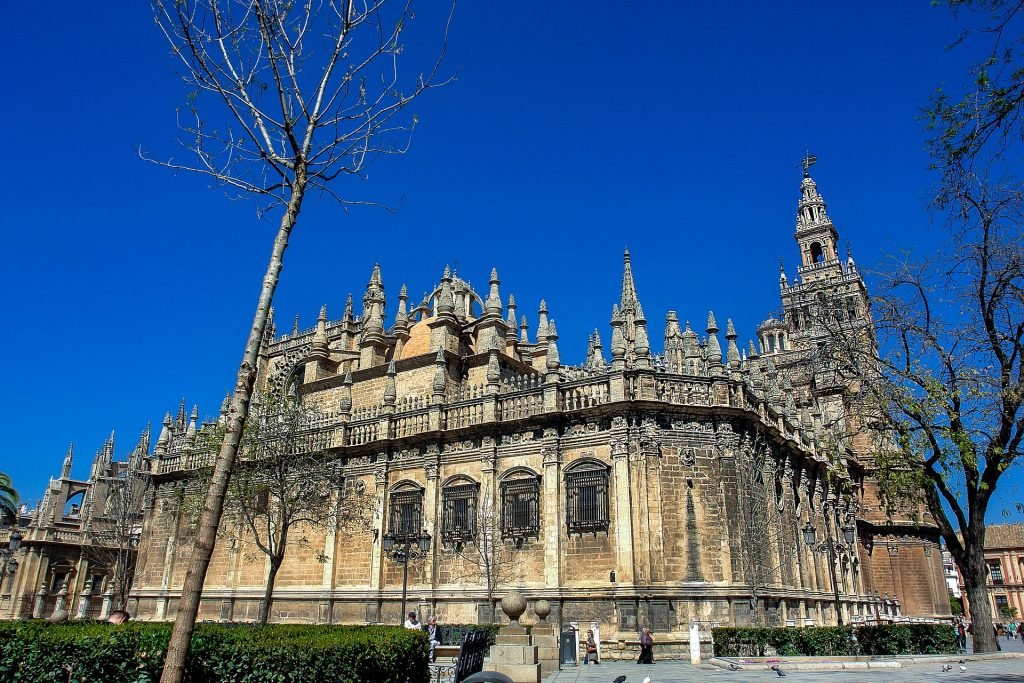 The Cathedral and "La Giralda" can be reached by public transportation, either by bus or train. There is a lot to do in the surrounding area, such as taking a boat tour on the Guadalquivir River or visiting Artisan Market Triana.
14. Casa de Pilatos
Casa de Pilatos is located in Plaza de Pilatos, Seville, Spain. It was commissioned by Pedro Enríquez Afán de Ribera. It was built in 1527 to house the Roman sarcophagus of Pilate (from which the name 'Casa de Pilatos' is taken). It contains many fine examples of mudéjar stucco work, including the depiction of Christ washing the feet of his disciples. Visitors can reach it by car, bus, and train.
15. Basilica de la Macarena, Seville
The Basilica de la Macarena in Seville, Spain is the home of a famous statue known as Virgen de la Esperanza Macarena. It has been called La Macarena since the 16th century (after the neighborhood where she is housed). It's also known as Our Lady of Hope, Virgen de la Esperanza Macarena. The Basilica de la Macarena is in the historic center of Seville and is near the river. It's a ten-minute walk from the Alcazar and the cathedral.
The Basilica de la Macarena was originally built in 1504, but it burned along with much of Seville in a great fire in 1738. It was rebuilt in the Rococo style by architect Manuel del Castillo, who also created the facade of La Giralda. The dome of the Seville cathedral can be seen from the church's bell tower.
The Maiden is known as the Queen of Seville, and her feast day each April is an important event in the city. In the 18th century, a college for priests was added to the church as well as a museum of religious art and a school for orphaned girls.
Today the Basilica de la Macarena is both a museum and a church. The shrine of La Virgen de la Esperanza Macarena is housed here, with five masses daily.
There are various activities in and around the Basilica de la Macarena as well as entry fees. There are also paid tours offered to see the church and its museum.
16. Iglesia Colegial del Divino Salvador (Church of the Collegiate Savior)
The Iglesia Colegial del Divino Salvador (Church of the Collegiate Savior) is a former Jesuit church in Seville, Spain. It was the main church of the Society of Jesus in Seville and one of the largest Jesuit churches in the world. The church is named after Jesus, Savior of the world.
How to reach: You can take a taxi there because it's near other parks and attractions. It's located in the city center of Seville, which makes it easy to get around by foot or public transportation.
17. The Palacio de la Condesa de Lebrija (Palace of the Countess of Lebrija)
The Palacio de la Condesa de Lebrija (Palace of the Countess of Lebrija) is another great tourist location in Seville, Spain. It was built during 1772-1774 by the architect Francisco Romero the Younger. The building has a neoclassical style and represents one of the first modern buildings of this type to appear in Seville. It is located on Lebrija Street and was declared a Spanish Historical Heritage Site and National Monument in 1931
How to reach:
The Palacio de la Condesa de Lebrija can be accessed via bus, metro, or walking from the center of Sevilla. There are public buses that run frequently and stop close to the palace (Buses: 4, 22, and C4. Metro: Nuevo Triunfo).
Activities:
Tourists can visit the Palacio de la Condesa de Lebrija on a tour or on their own. There is no admission fee but it is suggested to make an appointment before arriving.
18. Guadalquivir
The River Guadalquivir is an integral part of the history of Seville, with evidence of human settlements along its banks dating back to 3000 BC. The Guadalquivir is one of only three navigable rivers in Spain, along with the Tagus and Ebro rivers. The Guadalquivir originates in the Sierra Morena mountains in Córdoba, before flowing north through Andalusia and merging with the Odiel river, which meets it at Palos de la Frontera.
You can take a boat trip or a kayak and view the monuments of Seville from the water, and appreciate the beauty of this place.
Out of the list of the Best Things To Do in Seville, Spain, you can pick and choose which ones you want to cover depending on your preferences and how much time you have available on hand. We'd recommend doing all of them!
Seville is a beautiful place, with plenty to offer to travelers and tourists. Make sure to add it to your travel wishlist on your next trip to Spain.
For the latest information on timings and ticket prices, check out this site.
Read also:
---
Note: The hours of operation, ticket prices, and admission criteria of museums, parks, etc. may change from time to time. For the most updated information, we recommend checking the official website of the attraction directly prior to your planned visit.
Blog Categories: Asia, Africa, Europe, USA, Australia & New Zealand, France, Germany, India, Italy, Spain, Sports, Switzerland, Travel Tips, UK, Products
More From The Blog
---