The Grand Duchy of Luxembourg is a small country in Western Europe that offers its visitors many different things to see and do. The capital of this European country, also called Luxembourg City, is where most tourists head straight for but there are plenty of other wonderful places lying further away from the capital, some of which are well worth visiting.
Best Things to do in Luxembourg 1-10 (Jump To Section)
The stunning capital is home to European Institutions and has a unique blend of cultures. The historic heart of this town has its share of museums and galleries but also offers lovely churches, markets, and walkable streets to explore. Visitors can also enjoy wonderful food, drink, and nightclubs here as well as colorful flowers decorating the streets in summer.
Luxembourg is surrounded by beautiful nature, which means there are plenty of outdoor activities to take part in for those who like exploring. Those seeking a city break will also find Luxembourg offers lots of exciting things to do and see.
Visitors looking for places to visit outside the capital can head northeast towards Echternach to see the stunning, ornate 10th-century gothic cathedral there. The town square in Echternach is also surrounded by medieval houses that are now home to restaurants and bars.
Further north-east still lies Vianden, another wonderful Medieval town with castle ruins overlooking the River Our which flows through it. There are plenty of outdoor activities to enjoy here in the countryside, too.
Finally, visitors may want to head southwest from Luxembourg city towards both Trier and Remich, where they will find old Roman towns with notable architecture that can be enjoyed by sightseers before heading back towards the capital.
Here's a list of 26 things to do in Luxembourg.
Best Things to do in Luxembourg 1-10
1. Old Quarter of Luxembourg City
The Old Quarter of Luxembourg City is a not-to-be-missed attraction for those visiting Luxembourg. In the center of the old town lies the Adolphe Bridge, built in 1902 and named after Grand Duke Adolphe, which is also a famous meeting place for Luxembourgers. The bridge offers a beautiful view across the Pétrusse Valley to its more famous sister bridge, the Grand Duchess Charlotte Bridge, or viaduct as it is known locally.
There's no better place to begin exploring #beautiful #Luxembourg City than in its #historic Old Quarter. Designated a UNESCO World Heritage Site in 1994, the city's ancient fortifications made it one of the most important of #Europe's cities. #Explore – https://t.co/NJeUtcOKHi pic.twitter.com/xT2QehugNC

— Save A Train (@SaveATrain) June 7, 2019
The Old Town of Luxembourg is mainly enclosed by a large meander of the Pétrusse river and steep hillsides. It's best to explore on foot as you will be able to enjoy all the shops and cafés at your own pace. There are many cafés to choose from, but for an authentic Luxembourg, experience try Bistrot de la Gare or Taverne Henri IV (for more information visit the website of each establishment).
The Old Town is home to a number of museums including the Museum of Modern Art which occupies a grand building designed by the architect Charles Arendt. The museum features a huge collection of modern art from the 1920s onwards and is open till 10 pm on Wednesdays to Fridays, making it the perfect place to visit after dinner.
The Old Town also has its own Christmas market, taking over Place Guillaume II from late November until the beginning of January. Like many other European cities, the Luxembourg Christmas market is a time for locals and tourists to spend some quality time together. Many Luxembourgers enjoy bringing their children to see Santa Claus at the market whilst enjoying a mulled wine or hot chocolate. The atmosphere at this winter wonderland is utterly enchanting with its sparkling lights, pretty market stalls selling gifts, and tasty treats.
2. Adolphe Bridge Luxembourg
Adolphe Bridge lies across Alzette River from Martyrs' Square in central Luxembourg City. In 1982 it was rebuilt as a road bridge and is the only access to the historic town center for all heavy vehicles. In 2001 Adolphe Bridge won an international architecture prize.
It has been classified as a national monument since 2003. The bridge also has a protected view from the L'Estrange Monument which lies on the opposite bank of the river.
Luxembourg Adolphe Bridge,named after the Duke of Luxembourg who personally laid the first stone in 1900 pic.twitter.com/niLOuDkf3J

— Baluteanu Anka (@AncaBaluteanu) February 3, 2016
In January 1940 Adolphe Bridge was blown up by Luxembourgers in an attempt to stave off the advance of the German troops during their invasion of Luxembourg. The bridge was quickly rebuilt after the liberation of Luxembourg in September 1944.
In August 1982, Adolphe Bridge became a road bridge again, with widened carriageways for two lanes of traffic each way and sidewalks on both sides. The new bridge differed markedly from its predecessor as it had no supporting beams beneath, which allowed more light to reach the lower part of the bridge. At that time, it was also decided to rename Adolphe Bridge after Grand Duke Jean, who had just died.
With an average of 50,000 vehicles using it daily in 2011, the bridge was recognized by Luxembourg's administration as being substandard for modern traffic needs and underwent renovation during most of 2012. The renovation involved the replacement of the bridge's side railings, as well as a general refurbishment to improve street lighting and road signs and to make it more accessible for cyclists. It was reopened in September 2012.
The Herzog Monument is a modern bust of Grand Duke Adolphe atop a 35-foot pedestal on the site of the former Klosterberg. This location is where Grand Duke Adolphe's body was laid for two days after he died in 1905, while his funeral procession was making its way from Lucca, Italy back to Luxembourg. The statue also commemorates the first shot of World War I which happened nearby on 2 August 1914.
3. National Museum of History and Art
The National Museum of History and Art (Museums of the Castle) (Luxembourgish: 'Nationalmuseum fir Geschichte un um Hiljeleg Virun allemandesch Andeeler'), abbreviated to MNHA, is a museum located in Luxembourg City, in southern Luxembourg. It is dedicated to displaying artworks and artifacts from all historical eras of Luxembourg's history. A variety of collections are displayed on three floors covering a surface area of 16,000 m² over five wings on the third floor and first floor. The museum is situated on 15 Eichelsheim Terraces, in the northern part of the city center, north of Boulevard Roosevelt.
As priceless as the paintings and artifacts contained within its walls, the building that houses the National #Museum of History and Art is one of the most photographed in #Luxembourg City. – https://t.co/NJeUtcOKHi pic.twitter.com/kaZYFyoahq

— Save A Train (@SaveATrain) July 30, 2020
4. The Bock Casements, Luxembourg City
The Bock Casements are a unique site in the heart of the capital, one that truly reflects Luxembourg's past and present. The casements form part of an underground network that was used for military purposes by Germany during WWII.
These sturdy steel structures have survived five wars since they were first built at the turn of the 19th century. The Bock Casements offer visitors a fascinating insight into the history, architecture, and geography of Luxembourg City. Every year thousands of people come to tour the casements that are now open to the public for guided visits.
One of the most dramatic photos you'll take in #Luxembourg City will be of the Bock Casements (Casemates du Bock), the ruins of the old fortifications that once protected the city. #Explore – https://t.co/NJeUtcOKHi pic.twitter.com/QTWBxk0zSH

— Save A Train (@SaveATrain) July 31, 2020
Visitors can undertake an underground journey along 14 kilometers of tunnels clad in steel armor plating comprising 1,200 casements, through which flowed water from the Pétrusse valley to supply the city with drinking water.
The casements are located inside what is known as Luxembourg's Inner Courtyard, a protected site comprising several hectares of landscaped parkland that offers an excellent view across the city. At certain points – such as near the Saint-Esprit chapel – the casements are exposed to the surface.
The first casement was built in 1887, with further additions made in 1899 by another company that was taken over by Mannesmann who completed the construction work between 1901 and 1905. The walls are 1.8 meters thick at their base and are piled deep into the ground, with the casements arranged in a herringbone pattern so as to strengthen each other. When World War I broke out, the casements were used by the military and also served as a shelter for civilians. During World War II they were used by German troops and then became a popular hideout for illegal radio enthusiasts after the liberation of Luxembourg. The facilities were opened to the public for the first time in 1962 and drew more than 100,000 visitors between 1970 and 1975.
The casements' continuous development and transformation since then have enabled them to become a unique tourist attraction: their museum exhibition is full of traces from history as well as testimony to Luxembourg's present-day culture and architecture. A new exhibition, opening in May 2009, will enable visitors to discover the history of the casements.
Many people enjoy visiting historical places as a way to learn about their ancestors and where they came from. The Bock Casements are a key place for learning about Luxembourg's past being that it was used as a shelter during World War II and was also used to hide radios during the war. The Bock Casements were fully restored and opened to the public in 1962 and now offer guided tours of the underground tunnels that lie within.
These tours last about an hour and give visitors a chance to know about how these tunnels came about through wars, as well as a view of displays that showcase the culture and architecture of Luxembourg. There are also activities for children who visit so they know more about their country's past.
5. Grand Ducal Palace, Luxembourg City
The Grand Ducal Palace, or Palais Grand-Ducal, is located in the historic center of Luxembourg City in southern Luxembourg, near Place Guillaume II. Since 1859, it has been the official residence of the country's grand dukes and duchesses. The Luxembourg City Tourist Office sells tickets for visiting Grand Ducal Palace.
Background Information
A fortress was built on the present site in the 11th century by Count Siegfried, a vassal of the Holy Roman Emperor. Although not documented, it is assumed that this medieval castle steadily grew over time to include a larger residential area. The fortress was largely complete in 1530 when more extensive additions were planned and executed by William I, Duke of Nassau, who was the first ruler of Luxembourg to live there.
During and after the 17th century and into the 18th century, it took on a more stately appearance with tall towers, new fortifications, and gardens. In 1742, an artillery workshop was established in one of these towers – today it is known as "L'Annonciade" – to produce cannons for the fortress. This installation ceased production in 1790 when Luxembourg was under French rule.
After the defeat of Napoleon's troops at Waterloo, by 1815 it had become clear that Luxembourg would be ceded to the Netherlands and that Dutch king William I intended to make extensive renovations to the fortress. However, due to economic restraints and political reluctance, these plans fell through. Since it would no longer be possible for William I to accommodate his court in Luxembourg's castle (a family tradition that had endured since 1643), he now planned a palace on an adjacent site.
This new "Palais du Bardo" (so named because construction was initiated during the carnival of 1823) became the prime residence for two decades. However, under William II, it could no longer serve as a permanent seat and in 1859 his successor, William III expanded the "Palais Grand Ducal".
6. The Walls of the Corniche
One of the best ways to see Luxembourg City is through its remarkable skyline. Visitors to the city can enjoy a breathtaking view from Cloche d'Or, overlooking Place Guillaume II and its fountain. The panorama reaches across the picturesque Grund district with over 40 towers visible from this vantage point. Another great option is to take a walk around the Corniche, which follows the rock wall surrounding much of the old town.
The walls were built between 1859 and 1867 by an English architect named Sir Henry Jones. He envisioned a city that would be protected by powerful fortifications to prevent future wars with France or Germany, just like the ones Luxembourg had endured in the past. The walls are five kilometers long, with seven gates that were used for daily life in the city at the time.
Today, the walls have been transformed into a promenade offering beautiful views of the river and surrounding areas. Visitors will see how much the city has changed since the 1860s along this walk, including cafes and modern buildings popping up around the area.
7. Place Guillaume II
Place Guillaume II is a large square in Luxembourg City, in southern Luxembourg. It was named after Grand Duke William IV of Luxembourg, who reigned between 1797 and 1841.
16 most popular tourist attractions in Luxembourg
5 Place Guillaume II, Luxembourg City pic.twitter.com/ZdxyCWh5WC

— Helena Ereditsh Dr (@ereditsh) August 24, 2019
The north side of the square features an ornate building housing the formal reception rooms where the Grand Ducal Family receives high-ranking officials and holds state dinners. The southern side has a much simpler building – the Hôtel de Ville – which is the headquarters of Luxembourg City's administration and hosts exhibitions.
At the center of Place Guillaume II is a large statue depicting Grand Duke William IV, who was King of the Netherlands and Grand Duke of Luxembourg before he died in 1849. During the Dutch period, he increased Luxembourg's territory by adding the village of Château-Lafitte and nearly all of what is now Belgian Luxembourg to his realm. He also served as Duke of Luxembourg until his death, after which royal authority was transferred to Otto von Bismarck.
8. Grand Duke Jean Museum of Modern Art (MUDAM)
The Grand Duke Jean Museum of Modern Art (MUDAM) is Luxembourg City's museum for modern and contemporary art. The art nouveau building was erected between 1900 and 1903 as the first steel structure in Luxembourg; it was then used as a university until 2006 when MUDAM moved into the premises.
The lovely Grand Duke Jean Museum of Modern Art, abbreviated to Mudam, is a museum of modern art in Luxembourg City by architect I.M. Pei.. pic.twitter.com/DPEDHu14zT

— Arch Journal (@ArchJournal) July 1, 2017
The works shown at the museum are selected by guest curators, who change every other year. The museum has shown the works of Yves Klein, Andy Warhol, Roy Lichtenstein, and Gerhard Richter among others. It also organizes exhibitions on specific topics that reflect current interests within the world of modern art.
MUDAM houses an extensive collection of works by Luxembourg and international artists, covering a period from the 1960s to the present. A new structure designed by city architect Charles Arendt was built for the museum in 1989 on the Bock promontory. In this modern space, visitors can admire paintings created after 1945 as well as some media art pieces scattered throughout the building. Around 120 works are on display at any one time.
MUDAM is located on the Bock, a promontory with stunning views of the old town and its fortifications. The building houses three separate exhibition spaces. The collection contains works by, among others, Pierre Alechinsky, Lucio Fontana, and Lawrence Weiner.
MUDAM is housed in the first steel skyscraper, a landmark of Luxembourg City. The structure was erected between 1900 and 1903 as the first steel building in Luxembourg. From 1970 to 1973 it served as the university library before being restored by city architect Charles Arendt. MUDAM reopened in 2006.
MUDAM has hosted an installation by the French artist François Morellet; his work was subsequently purchased and is now part of the permanent collection.
Since 2006, MUDAM has organized a series of exhibitions each year on a specific topic and worked with guest curators to introduce the themes to visitors.
MUDAM's collection is regularly expanded with works by major contemporary artists from Luxembourg and from around the world. In 2015 the exhibitions "Landmark" by Adel Abdessemed and "Inner Voices" by Jan Vercruysse were featured in MUDAM's program.
In 2016, MUDAM successfully worked with guest curator Raphaël O'Meara to present a major solo show of the Berlin-based Austrian artist Erwin Wurm's work, "Once I dreamt a man could fly…".
MUDAM regularly works with contemporary artists; it also hosts an annual workshop for young artists and organizes lectures and conferences exploring current issues in modern art.
MUDAM organizes several temporary exhibitions each year. The focus of the collection is on post-1945 art. Art by Luxembourg and international artists can be discovered in three exhibition spaces on two levels; works include paintings, photographs, video pieces, and installations.
MUDAM's new acquisitions are presented annually in a collection exhibition; this event started in 2007.
MUDAM regularly presents major solo shows of contemporary artists, such as François Morellet (1995), Pierre Alechinsky (1998), Jan Vercruysse (2002 and 2012), and Adel Abdessemed (2015).
The museum also organizes historical retrospectives, including one on the artist Louise Bourgeois, which ran from 2013 to 2014.
The museum is open every day except Tuesdays and major holidays.
For further information visit MUDAM's website.
9. Echternach
Echternach is a city in eastern Luxembourg, known for its abbey and the traditional carnival that takes place every February. It is named after the creek Eisenach, which flows through it.
🏛 It was sunny time in Luxembourg city, but Echternach was like in a middle of a big but gentle cloud. I was thinking about these Romans who were certainly homesick about the clear blue sky beyond the Alps.☁️☀️☁️ pic.twitter.com/Sl5GTMwwSx

— 🔥TimeTravelRome (@TimeTravelRome) November 26, 2020
Geography: Echternach lies at the heart of one of Luxembourg's most beautiful areas, the Mullerthal. Despite its small size, Echternach is a town of many facets: there is a well-maintained nature reserve in the center of town and a museum dedicated to local history in what was once a convent in the outskirts.
Echternach has had a monastery since at least 698, which was originally established by St Willibrord, a Christian missionary from Northumbria. The monastery was destroyed in 882 by the Normans and was only restored in 1028. Since then it has been destroyed several times but has always been rebuilt.
Today, Echternach is home to around 5500 people who live in 90 settlements spread across an area of 12.89 square kilometers (5 sq mi).
It is home to several administrative and educational bodies such as the communal administration, primary and secondary school boards, a school of music and dance as well as a university center for adult education.
10. Benedictine Abbey Luxembourg
Benedictine Abbey is an Abbey in Luxembourg City, in southern Luxembourg. It was founded by St. Willibrord, the patron saint of Luxembourg in 698 and lies close to the westernmost point of continental Europe.
@VisitLuxembourg
Neumünster Abbey is a public meeting place & cultural center, located in the Grund district of Luxembourg City in southern Luxembourg. After the original Benedictine abbey on the Altmünster Plateau had been destroyed in 1542, the monks built a new abbey… pic.twitter.com/YBs22fmf7f

— World (@MickaelWorld) November 26, 2021
The abbey, which has been inhabited by Benedictine monks for over 950 years, is one of Luxembourg's most important cultural heritages. It houses some rare books, some dating back to the early 16th century, as well as picturesque Gothic paintings on parchment.
The abbey was originally built as Saint-Willibrord Church, dedicated to Saint Martin and Saint Peter, but burnt down in 1797, during the French Revolutionary Wars. After Napoleon's defeat at Waterloo, the Congress of Vienna awarded Luxembourg to the Netherlands, and so it was decided to build a new church in honor of Saint Benedict instead. The building was designed by Pierre Bourla. Construction started on 20 August 1817 and ended with its consecration on 1 July 1827.
The abbey's close proximity to the European institutions in Brussels has made it popular with politicians, who often attend services at the church when they are visiting Luxembourg. Among its notable past visitors were Jean-Claude Juncker, Queen Beatrix of the Netherlands, and Grand Duke Henri of Luxembourg.
There is also a museum of local history in the abbey, run by the "Fondation Abbaye".
Today the abbey is a popular venue for marriages and concerts. It is also home to a namesake choir, which sings Gregorian chant and has made several recordings. A cross-border EU youth group operates from here: Jeunesse BorderWays.
The abbey is listed as a national monument of Luxembourg. It has been classed as Wallonia's major heritage site by the Walloon Region.
Louis XVIII of France gave the monastic buildings to Belgium in 1820, thus ending their religious use. They have served since then as a seminary for the diocese of Namur.
On 22 March 2010 fire broke out in part of the building. The roof was almost totally destroyed, but the much more significant basilica and cloisters were not affected by the blaze. Despite much damage to ceilings and other interior fittings caused by water from firefighters' hoses, the abbey's famous organ, from the workshop of Merklin-Schütze and with more than 8000 pipes, was saved. As a result of the fire, the diocese had to move its seminary elsewhere. The government has bought part of the old monastery to house refugees.
Best Things to do in Luxembourg 11-20
11. Luxembourg City History Museum
The Luxembourg City History Museum is a site in Luxembourg that opened to the public in 1988. It was founded to commemorate Grand Duchess Charlotte who established the city's fortifications in 1859, three years before she came to the throne. The permanent exhibition includes several rooms depicting various periods of history while outdoor areas show life during various time periods.
Latin word of the day:

vis, -is f. = strength

Roman Jupiter Column depicting Hercules, 2nd-3rd c. AD.

Luxembourg City History Museum. #Latin #Vocab #Learning #ReliefWednesday pic.twitter.com/c0k8JCNvCm

— Digital Maps of the Ancient World (@DigitalMapsAW) April 28, 2021
The museum is housed in the building that served Luxembourg's City Hall from 1443 to 1521. The museum offers multiple permanent exhibition spaces, including "Tower Rooms" which explains the history of Luxembourg City by showing its development between 1888 and today. One of the key exhibits includes a model of the fortress city in 1640. There are also temporary exhibitions held at the museum, often related to other museums in Luxembourg.
The museum is open from Tuesday until Sunday and closed on Mondays. It is located near the Grand Duchess Charlotte Bridge and the Philharmonie Concert Hall, near their intersection which forms an amphitheater-like area.
12. Bourscheid Castle
Bourscheid Castle is a castle in the commune of Bourscheid, in north-eastern Luxembourg. It was built between 1844 and 1852 by Baron Frédéric de La Harpe to replace an earlier fortress from 1390 on the same site and was restored in 1932 by Maurice Harben. The English architect Edward Blore also contributed to the restoration.
View From Top
The Bourscheid Castle,Luxembourg pic.twitter.com/GbQbYn4Ik1

— The Modern Monk (@bookworm_monk) August 6, 2021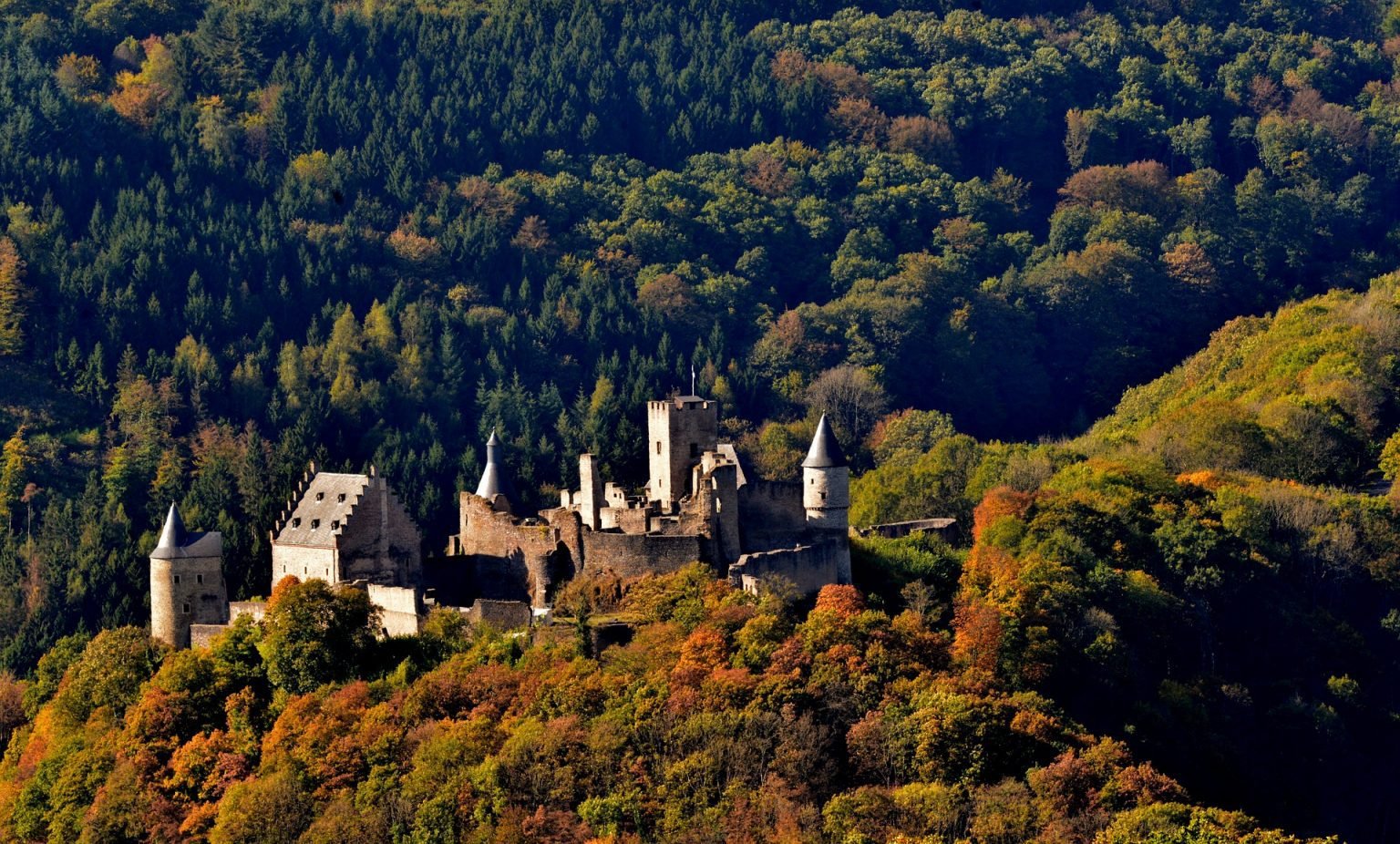 You can request a guided tour, or if you prefer to go it alone, self-led audio tours are available at Bourscheid Castle.
13. Mondorf-Les-Bains
Mondorf-Les-Bains is a commune and town in south-western Luxembourg. It is part of the canton of Remich, which is part of the district of Grevenmacher. The commune consists of an old manor known as "the Baths" (French: "Les Bains"), where thermal mineral waters are still used for bathing. The countryside in the area is considered to be particularly beautiful, and it is very popular with tourists.
Mondorf-Les-Bains is situated on the river Moselle, close to the border between Luxembourg and Germany. As a result, there are two bridges connecting the two countries across the Moselle at Mondorf-Les-Bains, one French and the other German. On the Luxembourg side of the border, there is an access point to the popular Kirchberg recreational area, which includes amongst other things a golf course.
Mondorf comprises the village itself (also known as "Mondorf-Les-Bains"), together with two small hamlets, "Belval" to the west of the village, and "Strassen" to the east.
To its south is Ehnen ("Aÿ"), while Wasserbillig ("Bettembourg") lies to the northeast. Grevenmacher is to be found about 2 kilometers (1 mile) to the north-west, and Mersch about 3 kilometers (2 miles) to the south.
In 2001, Mondorf-les-Bains had a population of 1,939. This makes it by far the largest town in the Canton of Remich and accounts for over half of its total population of 4,600.
The commune has its own coat of arms. The upper half shows the front of a bull's head, while the lower half consists of three silver towers on a blue background, representing the "Bains" manor. This commune has several interesting buildings to visit, such as its Church. It lies in Mondorf-les-Bains, 1 km (0.6 miles) away from "Les Bains" manor.
The Church of St Michael and All Angels (Église St-Michel-et-All Angels) in Mondorf-Les-Bains dates back to the 13th century. It has an impressive high tower with a Renaissance portal dating from 1585. The church is situated at the top of Rue de la Conférence, opposite the communal school. For a long time, it served as the parish church for an area covering Mondorf, Ehnen, and Hautbellain, but since 2003 the neighboring village of Strassen has also become part of this parish district.
The commune has an Industrielle-Chimique factory which was inaugurated in 1912, it produces many products like soda ash, sodium carbonate, and potash. It is now owned by the Solvay Group (previously Union Chimique Belge). The chemical industry remains a major employer in the area.
Towards the end of the 19th century, Mondorf-Les-Bains experienced a tourist boom because of its natural mineral water springs whose beneficial effects were believed to be particularly helpful for people with nervous or rheumatic complaints. This generated an increase in demand for accommodation and other facilities that went along with the spa. The thermal baths are still in use today, run by the government's Department of Public Health.
The whole area has become very popular with tourists and is one of the most important touristic attractions in Luxembourg. It is particularly popular for its outdoor activities including walking, golf, cycling, etc.
Mondorf-Les-Bains is home to the largest outdoor leisure and watersports centre in Luxembourg, located on the Moselle (river). The complex features boat trips on the river, canoeing, windsurfing, etc., in addition to bars and restaurants.
This commune has an interesting international school called "Collège Mondorf". It is a private, international school run by the European School of Luxembourg Society (ESL). With over 800 students from more than 50 different nationalities, it is one of the largest schools in Luxembourg.
14. Esch-sur-Sûre
Esch-sur-Sûre is situated in Luxembourg just across the border from France. The town is often called Esch-sur-Sûre, Canton Esch to distinguish it from other places named "Esch" but this causes problems as there are different local boroughs that go under the name of Esch.
Esch-sur-Sûre is situated on the Sauer/Moselle where it borders France, just across from the French town of Bourglinster. The French city of Metz is just 20 minutes away by car or train and there are good road connections to Luxembourg City and to the cities of Brussels, Cologne, and Paris.
Esch-Sur-Sûre Castle in Luxembourg gets its name from the town it is located in https://t.co/yAG0OJ8gsp pic.twitter.com/CMinwXbrZc

— Lady of the Castles (@KasteelVrouwtje) April 2, 2022
It is located in a charming valley in Luxembourg's Moselle valley region. The whole area has been designated as part of the UNESCO world heritage for its unique, topographical, and cultural features. The town itself is situated on a steep hill that rises from the river in the south, giving it a beautiful view over the Moselle valley.
Its proximity to France and ease of transportation has meant that Esch-sur-Sûre is becoming more well known as an attractive place for people to visit for short holidays, weekend breaks, or even longer stays. The area is well served by hotels, holiday apartments, guest houses, and well-appointed homes that offer a variety of accommodations.
Some notable features in Esch-sur-Sûre include:
Esch-sur-Sûre's main attraction is the "Caves". The caves were created by people quarrying stones to build houses in the town itself. It takes about half an hour to visit all of them.
The town itself is worth a visit. There are some imposing civic buildings, the "Bibliothèque municipal" library for example and there are examples of typical Luxembourgish architecture that hark back to Esch-sur-Sûre's days as part of the commune of Alzingen.
In the center of Esch-sur-Sûre is a war memorial and a fountain, known as the "Fountain of Justice" which was erected in 1905 to commemorate 100 years since Napoleon's defeat at Waterloo. The grandeur of this work can be judged by its imposing architecture and by the ornate designs on the sides of the memorial.
The town has three religious buildings, two Roman-Catholic churches, and one Protestant church which is functionally part of the United Church of Luxembourg. The Church of Notre Dame was built in 1751, though it replaced a much older Romanesque building. It stands 47 meters high and contains an impressive nine bells inside its large bell tower. The Church of the Ascension dates back to 1900, while the Church of Saint Michael was built in 1912 in a neo-Gothic style.
The town has several interesting buildings which are worth looking at, including the "Mairie" or Town Hall Building which was built in 1859 and has a tall tower above the front door. There are also several private homes that are worth looking at, including "Côtes Castle" built in 1746 by the infamous Balthazar Alexis II de la Trémoille, Prince of Talmont.
Another major feature is an impressive viaduct crossing over the River Sauer which was built in 1848. The viaduct was built to carry the main forest road between Esch-sur-Sûre and Mersch under the railway line that had been constructed in 1857. It has twenty arches, each with a span of fourteen meters.
15. Upper Sûre Natural Park
Upper Sûre Natural Park is a protected nature reserve in northern Luxembourg. The park has an area of 151.8 km² and was founded in 1981 to protect the upper Sûre River and its surroundings, and is managed by the "Service Public de Wallonie".
🚗 to Luxembourg & explore the Upper Sûre Natural Park. The lake is perfect for swimming. 📷Tristan Schmurr via Flickr pic.twitter.com/vgYhZ8h0RM

— Eurotunnel Le Shuttle (@LeShuttle) July 30, 2016
The site includes forests, cliffs, thermal baths, and various dams which regulate the flow of water between Luxembourg and Belgium, as well as a small section of the border with Belgium. Attractions include the Belvaux-Büderich Castle, which is now used as a nature museum, and the source of the Sûre River.
The castle was built in 1868 on top of an old Roman building but was destroyed in 1970. It was rebuilt in 1981 and now houses a nature museum.
The source of the river is located nearby, at the bottom of a 50 m high cliff, making it an unusual site for Luxembourg. Upper Sûre Natural Park has Europe's largest system of sand caves; three of them are open to the public (Lorentzweiler, Kautenbach, and Rondefontaine).
16. Walferdange
Walferdange is a commune and town in southern Luxembourg. It lies close to the borders with both Belgium and France, on the other side of which lie the towns of Comines and Lille, respectively.
Did you miss #Schueberfouer 2020? Come to #Walferdange! 😊#Luxembourg pic.twitter.com/PwHCaRbvRe

— SmejiciSeBestie (@Bestie_se_smeje) October 17, 2020
The history of Walferdange goes back as far as 1120 when a small church was dedicated to St. John the Baptist. A convent of nuns was later founded, and the town has been linked with the establishment of several monasteries.
At least as early as 1536, the village had a Parish church dedicated to Saint John the Baptist. The present building was built in 1775 after a fire destroyed its predecessor. It contains vaulting dating from 1640 to 1641 and a baroque altar from the 17th century.
In 1864, Walferdange was linked to Luxembourg City by rail, which led to a surge in the growth of the town's population. In 2001, the town had a population of 3,009 people.
The commune is administered by Wasserbillig. However, Walferdange itself has a town council with eleven members, including a mayor and his deputy. The current mayor is Alan Ansen-Smith.
Walferdange has one secondary school, the Lycee Technique Walferdange (LTW). It provides adult education classes in French, German, English, and Portuguese.
The commune's "marché aux puces" is held every Monday morning in the car park beside the recycling center. In addition to this, a "flea market" is also organized twice a year from May to October.
The Commune of Walferdange has a single railway station, which lies on both the international Line 50 and the national Line 70.
17. Walferdange Castle
Walferdange Castle is in the Walferdange commune in the south of Luxembourg. It was built by monks from the Clairefontaine Abbey as a summer retreat in 1660. It passed into the ownership of Prince Henry, who then sold it to Auguste d'Hardivillier.
16 most popular tourist attractions in Luxembourg
11 Walferdange and its castle pic.twitter.com/Nrcvwc1g5k

— Helena Ereditsh Dr (@ereditsh) August 24, 2019
Walferdange Castle is located at a height above the town and was built by the monks of Clairefontaine as a summer retreat in 1660. In 1845, the castle passed into the ownership of Prince Henry, who then sold it to Auguste d'Hardivillier. The castle was acquired by Baron Augustin Edouard de Walckiers in 1893.
The castle is built in a square formation, with turrets at each corner and a tower-like projection on each side, giving it an appearance somewhat resembling that of a fortified church. Prussian troops set fire to the château during the Battle of Walferdange in 1835, but the outbuildings survived. The original, northern section of the building was destroyed in a fire in 1868, but it was rebuilt between 1873 and 1880 to plans by the Belgian architect Charles Thirion.
In 1935, Grand Duchess Charlotte turned the château into an old people's home ("Elderly People's Home of Walferdange"), which it remained until 2001 when the government decided that the cost of renovating the old building was not justified by operating it as a home.
The castle is now privately owned and, together with its outbuildings, has been restored. The interior has been converted to accommodate a restaurant, a wine shop, a gift shop, and offices for the European School of Luxembourg I.C.L.. The tower houses residential accommodation.
Walferdange castle is listed as a "Monument Historique" by the Ministerial decree in 1997 and is open to visitors on pre-arranged tours.
18. Notre-Dame Cathedral
Notre-Dame Cathedral (French: Cathédrale Notre-Dame de Luxembourg, German: Kathedrale St. Nicolaus) is the Roman Catholic cathedral of Luxembourg City. It is the country's most important religious building and one of its most significant landmarks.
Love it when music does this. The Notre Dame Cathedral in Luxembourg. pic.twitter.com/7j0VtXuyv2

— Rufus Wainwright (@rufuswainwright) July 15, 2018
It was originally built as a Romanesque church in the mid-12th century and has been altered several times since then. The dedication of the cathedral to the Virgin Mary suggests that it was founded as a parish church, which is supported by archeological evidence showing that a sizeable Roman settlement existed in the immediate vicinity. In 1023, Prince-Bishop Notger gave the site on which the cathedral was built to Saint-Mathieu Abbey for the construction of a priory, which suggests that an even earlier church building must have existed on or near the present site.
Luxembourg City has three cathedrals. The cathedral was rebuilt and considerably expanded under the supervision of Prince-Bishop Nicolas Ludolf (1695–1719) and his successors. Its interior was largely restored to its original baroque appearance in the 19th century, with the addition of numerous sculptures and paintings.
The cathedral is an integral part of the 'Rue Notre-Dame', the old town's main thoroughfare, which it dominates on its west side. Notre-Dame Cathedral has been the seat of Luxembourg's Roman Catholic archbishop since 1790 when French revolutionary troops took control of the city. The building is a national monument of Luxembourg and one of its most important landmarks. It has been the parish church of the old town since then.
19. Larochette
Larochette (Luxembourgish: Lärschte) is a commune and town in northern Luxembourg, in the canton of Wiltz. The small community lies along the river Mess across from the French town of Bouvelinghem and has historically been an agricultural center producing mostly dairy products. With a population of nearly 800, Larochette is the second-largest commune of Wiltz canton. In 1976, Luxembourg hosted the 9th European bowling championships in Larochette.
🥾🥾The secret hiking way, near to the castle of Larochette Luxembourg..🇱🇺🇱🇺& Bayfield, Wisconsin 🇺🇸🇺🇸 pic.twitter.com/ggNPaDnu6Z

— Monica (@monica_beer1) July 18, 2020
Larochette also has an important history as a print center. Between 1798 and 1814 it was home to a Revolutionary printing press that produced national documents for use by the French government. The first books printed in Luxembourgish were created here, and the first poem was published in Luxembourg's Moselle Franconian dialect.
Larochette has several attractions, including a lavoir dating from 1892, an 18th-century mill, and a statue of St. Willibrord. The town also hosts two annual folk music festivals "Viri hëlleft hou" and "Viri an der Feier". These celebrate the local architectural traditions, and the famous Wiltz Carnival, respectively.
The commune is one of several villages that make up the municipality of Larochette.
Larochette is well-connected to the Luxembourgish national rail network, which reaches all stations in the commune. The town has a station on line 50, which runs from Pétange via Differdange and Steinfort to Wiltz. There are also regular bus services that run through Larochette.
The road network in Larochette is made up of a mixture of designated local roads and other, county roads. The A6 motorway runs roughly parallel to the national rail network which passes through Larochette, with both lines crossing each other in the commune.
Larochette has two main factories – one for dairy products, and another for metalworking.
The administrative center of the commune is Larochette Castle. The castle was built in 1769 by Baron François-Henri de Francken during the reconstruction of Wiltz after it had been destroyed by fire during the Seven Years' War. It has undergone many changes since: an additional story was added, and it has been converted into a Maison de retraite. Larochette Castle dates from the early 18th century. The battlements and a Gothic chapel were added by the baron of the castle in 1769.
A watermill was built in 1695 and is partially preserved today.
The "Cave de Larochette", which is located near the village of Bollendorf, has been designated as an official "Caveau de Fromage" by the Eco-Organic Farming Association.
The "Foire Agricole et Artisanale", a major agricultural and craft fair held annually in or near Larochette, was started in 1887 by Baron François-Henri Francken. It takes place every year on the first Sunday of August.
The "Foire de la Fédération des Agricultrices" was started in 1889 by Baroness Hélène Francken, and takes place around the third Sunday of June. It is now held jointly with the agricultural fair.
Larochette has three churches, which all bear Saint Willibrord's name. The current parish church of Larochette was built in 1868 and has a spire that can be seen from all over the commune.
The village is also home to the Centre Culturel de Rencontre Abbaye des Prémontrés, which is housed in an old monastery. It contains a library and a collection of slide shows and films.
The village has a nice cafe and restaurant: "L'Ecusson".
There is also an official touristic office that can be found near the entrance to the castle.
The "Gaststation" is a gas station located in the village of Bollendorf, just north of Larochette. The Gaststation has been completely refurbished, and now includes a shop that specializes in beer and wine imports from Luxembourg, France, Belgium, and Italy.
20. Berdorfsf
Berdorfsf is a German-Speaking part of Luxembourg. Berdorf is located along the Moselle River in the south of the country, near the border with Germany. It lies between Esch-sur-Alzette and Ettelbrück. It is known for its open-air museum located, which was founded in 1977 by Charles Munger and Guy Géfosse. The museum is home to around 130 traditional buildings, including windmills, farming equipment, and homes recreated based on studies of historic documents.
Berdorf is the site of the "Centre culturel de Rencontre Abbaye de Neumünster". The center's goal is to foster an understanding of Luxembourgish traditional music and culture. The city also hosts an annual folk festival, which was first held in 1995 by Art et Loisirs as a way to preserve the city's traditional music.
There are four windmills in Berdorf.
The Bletterbach Mill is open for tours and is located on a hill overlooking downtown Berdorf and the Luxembourg-Germany border. It can be visited on weekends from May through September.
The Lambert Tower was built around 1774 and has been restored to working order. It can be seen in the town center.
The Rosenberg Mill is in ruins, but can still be visited on a hilltop just outside of Berdorf.
The Peiffer Mill was destroyed by fire in 1893 and has not been restored.
The Berdorf Historical Museum contains over 400 years of artifacts depicting traditional Luxembourgian life. Many of the items are on display in the "Centre Culturel de Rencontre Abbaye de Neumünster". The museum is located next to the windmill Bletterbach.
The historic Kautenbach Church is also located in Berdorf. The current structure dates back to 1799, but it was originally built in 1490. The church is still home to several religious celebrations, including Easter Mass in the Luxembourgish language.
The annual folk festival takes place every year in the town square, celebrating traditional Luxembourgian music and dance. The first festival was held in 1995 by Art et Loisirs as a way to preserve Luxembourg's traditional culture.
There are several trails leading through the forests that surround Berdorf. One of these, called the "Sentier des Sept Châteaux", can be accessed from the town square. The trail is actually seven castles, each of which is named for an animal.
The "Maison de la Nature" provides information on Berdorf's natural history and surrounding environment, including the Mullerthal Trail. It also organizes nature walks in the area during the summer months.
Every year, an Easter Egg decorating event is held by the Berdorf Tourism office. The decorated eggs are displayed in downtown shops for visitors to see.
The "Centre culturel de rencontre Abbaye de Neumünster" offers courses and events related to traditional Luxembourgish music and dance. It also houses an art gallery.
The "Musée du Bletterbach" documents the traditional windmill's history and the family who owned it for over two centuries. It is located next to the mill itself, which can be visited on weekends from May through September.
Best Things to do in Luxembourg 21 and beyond
21. Vianden Castle
Vianden Castle is a castle near the town of Vianden in Luxembourg. It is more accurately a large chateau or 'schloss' than a true castle and is built around a large courtyard with two projecting corner towers, and there are several outlying buildings such as stables and barns.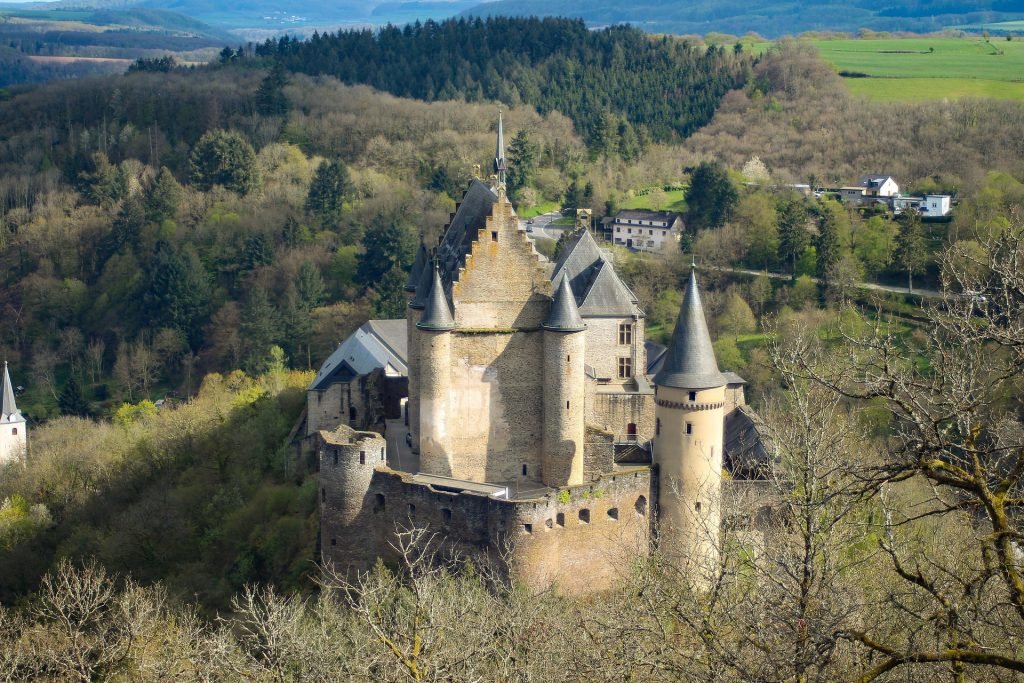 The original castle was built between the 11th and 13th centuries, but it was destroyed by fire at the end of the 17th century, and only the foundations survived. The present structure was built between 1869 and 1881 as a replacement for its medieval predecessor.
Today it is open to visitors. It contains a collection of historic weaponry dating from the 15th to 20th centuries.
22. Parc Merveilleux
Parc Merveilleux is a beautiful place located in the town of Echternach, in the country of Luxembourg. People from all over visit this amazing park to see its unique landscaping and natural elements. It is a wonderful site that gives visitors a feeling of serenity and tranquility as they take it all in. It is a perfect place for a relaxing stroll or just to stop and take in the extraordinary beauty of this park.
Looking for some activities with kids in #Luxembourg this weekend? The "Parc Merveilleux" in #Bettembourg opens its doors this Saturday. Definitely worth visiting…#visitluxembourg #visitredrock

📷 Parc Merveilleux pic.twitter.com/riXhgkiH1P

— Visit Luxembourg (@luxembourginfo) March 23, 2018
People from all over come to Parc Merveilleux at Echternach, Luxembourg for many different reasons. For some, they come because it is a beautiful place with lush greenery and landscaping that makes them feel as if they are on top of the world. For others, they come because it is a place of quiet and serenity where the hustle and bustle of life dissipate as soon as they enter through the main gates. There are many people that simply come for the wonderful pictures that can be taken by those who visit this park. Such beauty has been found here that professional photographers even come to capture the moments and memories of this amazing place.
Everyone in Luxembourg knows about Parc Merveilleux at Echternach, Luxembourg. One does not have to live in the area long before they realize that there is a road whereby all who live along it know that on Tuesdays and Saturdays during certain hours, one will have to slow down or even stop just so they can take a moment to enjoy the beauty of this wonderful park. Everyone knows that there is something magical about this place and it is a sight that should always be given a chance, even for just a few moments, to appreciate its beauty.
When one looks at the pictures from Parc Merveilleux in Echternach, Luxembourg it is no wonder that people from all over come to visit this place. It has become a symbol of the country itself and many people, they consider it to be one of their favorite places on Earth. There are some, though, who come because they know that if nothing else, they can feel like they are on top of the world as soon as they enter through the gates. For many people, Parc Merveilleux at Echternach is simply a place where life is quieted and serenity surrounds them like an embrace. It has become known to all in Luxembourg that there is something special about this park and therefore it is always best to visit on a Tuesday or Saturday so one can enjoy it for themselves.
23. Luxembourg City Center
Luxembourg City Center is the oldest and the only city in Luxembourg. The place offers a very beautiful sight of ancient architecture with tall towers, incredible form, and fine materials. One can't but admire such grandeur and wealth of history that is embedded in each building there.
There are also numerous churches and palaces, as well as some other landmarks like Palais Ducal, St. Michael's Fortress, Notre-Dame Cathedral, Bock castmates, and the very heart of Luxembourg City – Grand Ducal palace which is considered to be one of the most impressive landmarks in the area.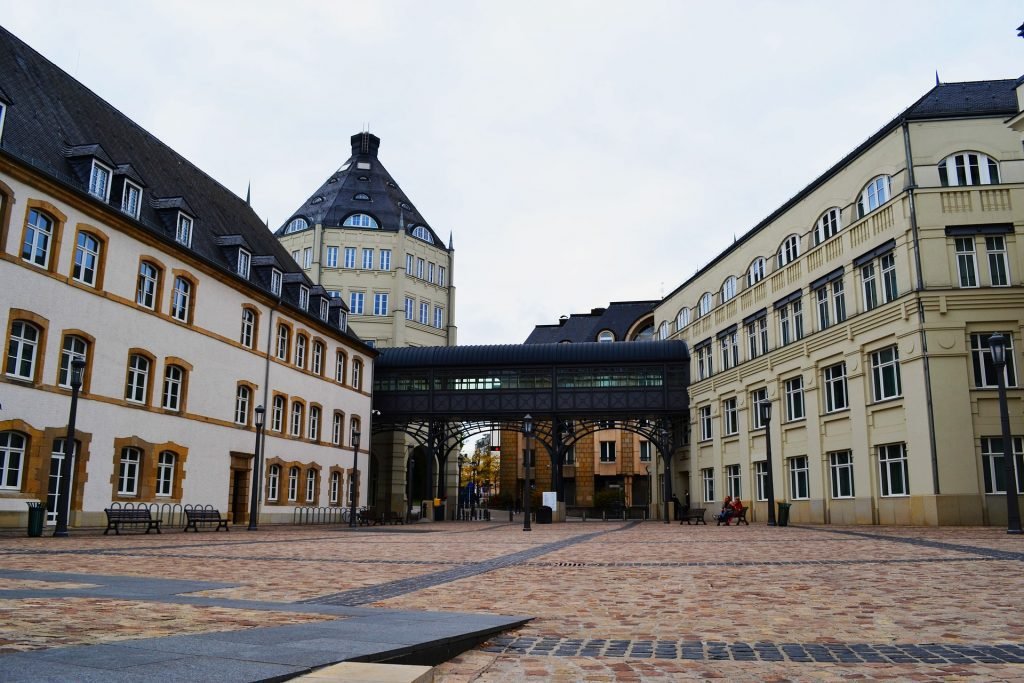 The center also houses a great number of museums and galleries where you can find original works from old and modern artists. Museums include the National Museum of History and Art, the Mudam – Musée d'Art Moderne Grand-Duc Jean, The Villa Vauban, and many others.
Luxembourg City Center is a must-see site for all history lovers and photographers who are looking for a challenge to capture this wonderful ancient but still so lively place on camera.
24. Mullerthal
Mullerthal in the east of Luxembourg is a limestone ravine with many trails, cliffs, and caves. It's definitely worth a visit for hikers who enjoy nature, views, and sudden discoveries.
The most popular path starts at Holleischen, a tiny village on the road from Echternach towards Ingeldorf. The route through Mullerthal is about 18 km long, with views of cliffs ("schiefer") and little gorges. Some people are brave enough to climb the rocks, but it's dangerous! Please enjoy the rock formations without harming them.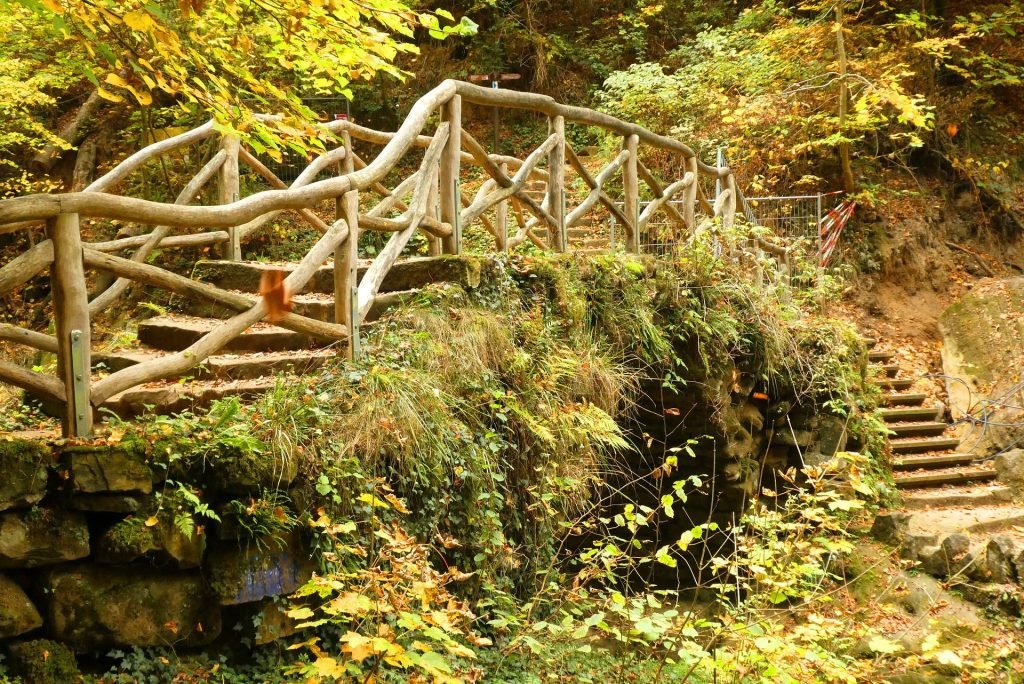 Mullerthal is also known for its numerous caves which can be visited by hikers or spelunkers. Some caves are open to the public. The most famous one is "Gouffre Berger" which requires a somewhat adventurous climb.
Famous people have visited Mullerthal, like Luxembourgian poet Michel Lentz who wrote a poem about the Mullerthal Trail.
25. Shopping in Luxembourg
There are several different places to shop in Luxembourg. The main shopping areas in Luxembourg City center: are Boulevard de la Pétrusse, Avenue John F Kennedy, and Boulevard Roosevelt.
There are many malls and large department stores; the main ones are La Belle Etoile (shopping center), Galeries Lafayette, and Cloche D'or Shopping Center. There are over 40 designer boutiques in the capital such as Louis Vuitton, Coach, Bottega Veneta, Jimmy Choo, and Balenciaga. The Luxembourg fashion industry is among the most dynamic in Europe. The Grand Duchy's two large commercial events of the year are the Lux Style Awards and the Luxembourg Fashion Awards.
Luxembourg is regarded as one of Europe's leading shopping destinations internationally. It has an eclectic mix of international brands, luxury department stores, family-run boutiques, and local design talent.
26. Dining in Luxembourg
Luxembourg has many great restaurants to choose from. Some of the best places to eat in Luxembourg are located in the capital, but there are also good restaurants to be found all over the country.
One of the most popular places to enjoy meals is "Au P'tit Resto", which offers traditional dishes like beef carbonade and roast chicken. The restaurant is known for its friendly service, cozy atmosphere, and reasonable prices.
Another great Luxembourgish restaurant is the "Auberge De L'Ill", where specialties include veal liver, calf foot casserole, and tripe stew. All dishes are prepared with fresh ingredients from local farms and served by amiable waitresses in traditional dress.
"Au Vieux Saint-Quentin", located just outside Luxembourg City, is a cozy restaurant that serves French food at affordable prices. The menu features dishes like cabbage stuffed with meat and seafood, which are best enjoyed on the outdoor terrace.
"L'Armoire" is known for its excellent grilled food and mouthwatering desserts. The restaurant is located inside a picturesque country manor on the outskirts of Luxembourg City, and it offers an extensive choice of wines to complement meals.
Another great upscale restaurant in Luxembourg is "Le Bistro", where delicious international cuisine is served in an elegant setting by well-trained staff. The restaurant is situated inside the Radisson Blu Hotel Luxembourg City, where guests are also able to enjoy a luxurious spa and swimming pool.
"Le Petit Resto", located in Hollerich, serves both French cuisines at affordable prices, including dishes like camembert flambéed with cognac and steak tartare. In addition to French dishes, the restaurant also offers a variety of international cuisine.
The "Château du Lac" is one of the best restaurants in Luxembourg if you are looking to escape from everyday life for an afternoon or evening. The restaurant is located inside a historical building that was once used as a summer residence by Grand Duke William IV. It offers a variety of delicious international dishes, and it has a great view overlooking Lake Luxembourg.
Both skilled chefs and foodies will enjoy the many fine-dining experiences to be found in Luxembourg's best restaurants. The next time you visit this lovely country, make sure to stop by one or more of these popular establishments for an unforgettable meal.
Out of the list of the Best Things To Do in Luxembourg, you can pick and choose which ones you want to cover depending on your preferences and how much time you have available on hand. We'd recommend doing all of them!
Read also:
---
Note: The hours of operation, ticket prices, and admission criteria of museums, parks, etc. may change from time to time. For the most updated information, we recommend checking the official website of the attraction directly prior to your planned visit.
Blog Categories: Asia, Africa, Europe, USA, Australia & New Zealand, France, Germany, India, Italy, Spain, Sports, Switzerland, Travel Tips, UK, Products
Fresh From The Blog
---