Tattoos are more permanent than most other things in life. We are listing 8 tattoo shops in Destin that can help you get the tattoo of your dreams.
Best Tattoo Shops in Destin, Florida (Jump To Section)
Now that you have made up your mind that you want a tattoo, the next thing to do is find a good tattoo shop with some amazingly talented tattoo artists who are going to make your dream tattoo a reality. If you are searching for a tattoo shop in Destin, Florida then you are in luck. We have compiled a list of the best tattoo shops in Destin, Florida.
The tattoo shops in Destin, Florida listed below are places where you may get your tattoo without worrying about design, allergies, hygiene, or any other issues that may emerge:
Best Tattoo Shops in Destin, Florida
1. Atomic Frog Tattoo Shop in Destin
This tattoo shop in Destin provides tattoo art not only traditional way but also in modern techniques and any form of ink you would want. Apart from this, they offer other types of body art plus piercing with different metals to choose from as well.
They have experienced tattoo artists with an average experience of more than 20 years. They make sure that your overall tattoo experience is unforgettable. They don't compromise either with the hygiene of the place or the quality of the tattoo.
If you are a tattoo freak and your kid also wants to get one, don't you worry. This tattoo shop in Destin offers henna tattoos that are natural and not harmful in any way to the skin. So you can take your kid here along with you for a henna tattoo!
They are the only studio in the neighborhood that offers Titanium Jewelry of the highest quality. Titanium, opals, silver, gold, and other high-end body jewelry are available at this tattoo shop as well.
2. Destin Tattoo Company
This is one of the premium tattoo shops in Destin that provides high-quality tattoos and piercings. All of this is performed in a clean and friendly environment by highly qualified staff. Their artists are trained in all forms of tattooing and piercing, as well as flash and custom designs, which are executed with the highest quality materials and precision as well.
Their piercing artists are well experienced and love what they are doing. They will always make you feel welcomed and they will inform you well about aftercare and piercing methods. They pay personal attention to every client to make sure they get a unique experience.
The most important thing about piercing is using sterilized needles and maintaining hygiene. All these things are well-taken care of in this tattoo shop in Destin. If you are someone who is interested in tattoo art or piercing, then you can also apply to work with this studio.
Book your appointment here.
3. Old Milwaukee Tattoo Company
This is the tattoo shop in Destin where you will get everything you ask for. You get personal attention from their artists and they will suggest what is best for you. They are very professional, communicative, and skillful. Most importantly, this is among the most hygienic tattoo shops in Destin, Florida.
Getting something permanent on your body is a big decision and it's important that your artist understands what you actually want. This impacts drastically the end result. Artists of this tattoo studio give a personalised attention to their clients, and listen to them carefully to understand what their clients actually want and what will suit them the best.
They do all kinds of tattoo styles such as traditional, color, black and white, airy, and so on.
---
Bestseller GoPro Selfie Sticks
Sale
Bestseller No. 1
Bestseller No. 2
---
In the case of piercing, they will also tell you the pain level especially if you are a first-timer. They have a variety of metals, sizes, and shapes to choose from.
Overall for a personalized experience, you can definitely visit this tattoo shop in Destin.
4. Custom Concepts Tattoos and Designs
The important feature of this tattoo shop is that you can take free consultations from their artists. So, if you are someone who wants to get inked but doesn't know where to start, Custom Concepts is the place you should head to.
Even if you have your concepts clear about what you want on your skin, or what you want to pierce, their artists will still let you explore more options and will suggest more. And you might just end up finding something better than you had thought of.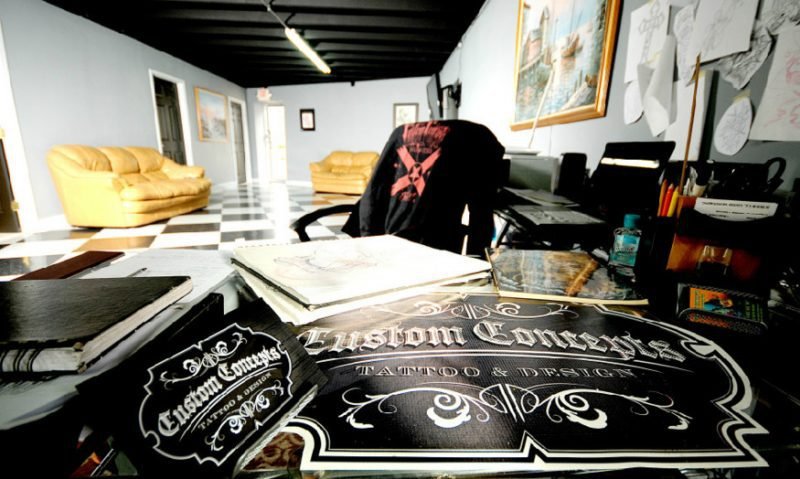 They also guide you with the aftercare for tattoos. They give you a thorough knowledge about it so you can take care of your inked area well. They are also available if any issue arises after you get inked.
---
Bestseller Copper Water Bottles
Bestseller No. 1
Bestseller No. 2
---
This tattoo shop is operating in the area successfully for more than 17 years, serving its clients with the best experience. They are open till 9 pm, but on weekends (Friday and Saturday), they are open till late at night. So you can go to this place whenever you want to.
5. Alan's Cool Ink
This tattoo shop has been giving its services in this area since 2001. They had their shops in England and Germany since 1976. Needless to say, it is one of the most experienced tattoo shops in Destin, Florida. They provide a clean and modern family-run studio experience with a great assortment of body art and jewelry here at the shop.
They can create custom items in any size or design, and they have well-considered alternatives for hiding prior tattoos or scars. This tattoo shop also provides laser hair removal and skin rejuvenation procedures in collaboration with a qualified specialist to ensure that the clients get the results they desire.
They provide a wide range of laser treatments for tattoos, wrinkles, and acne scar removal. Laser removal methods are much cheaper than any other alternative treatments like plastic surgery, skin grafting, and so on. This tattoo shop deals in these other services as well:
Laser Lipo
Cavitation
Skin Rejuvenation
Acne scar treatment
Lipo Vaccum
Tattoo Removal
Before going for these treatments you need to take a free consultation from their professionals by appointment where they examine the skin area and give you proper suggestions. They use cutting-edge technology to provide their patients with safe and effective therapy.
---
Bestseller Cupholder Bottles
Bestseller No. 1
Bestseller No. 2
---
This tattoo studio deals in different types of piercing as well. You can get any body part pierced, from your ears to your genitals! Yes, you heard it right! Any body part can be pierced with the immense care taken by the piercing artists. You just have to be above 18 years of age to get your sensitive areas pierced.
Their piercing artists are well experienced and they do it with hands for precision and accuracy. Most piercings, use medical-grade standard initial jewelry manufactured by PTFE. For sensitive body parts, they use and also sell lightweight and flexible titanium jewelry.
6. Mercy Tattoo Studio
There are two well-experienced and professional artists in this tattoo shop that have specialized in fine line tattooing, black and grey tattoos, dot-work, sacred geometry designs, and other styles of tattooing. One of their artists can also perform cosmetic and reconstructive tattoos after surgery or medical treatments.
Check their tattoo portfolio here.
With the great variety found here, they are always booked and busy. This makes them difficult to entertain walk-in customers. So make sure you give them a call first and check for availability. They also have certain etiquette to be followed to save time and make the most out of it.
They don't tattoo minors and sobers. You can check their etiquettes here.
7. Good Karma Tattoo Studio
After working for 17 years in this industry, Albert, the owner of this tattoo shop, decided to open his tattoo studio. The quality of tattoos done at Good Karma Tattoos Studio is held to exceptionally high standards, and their artists are picked appropriately.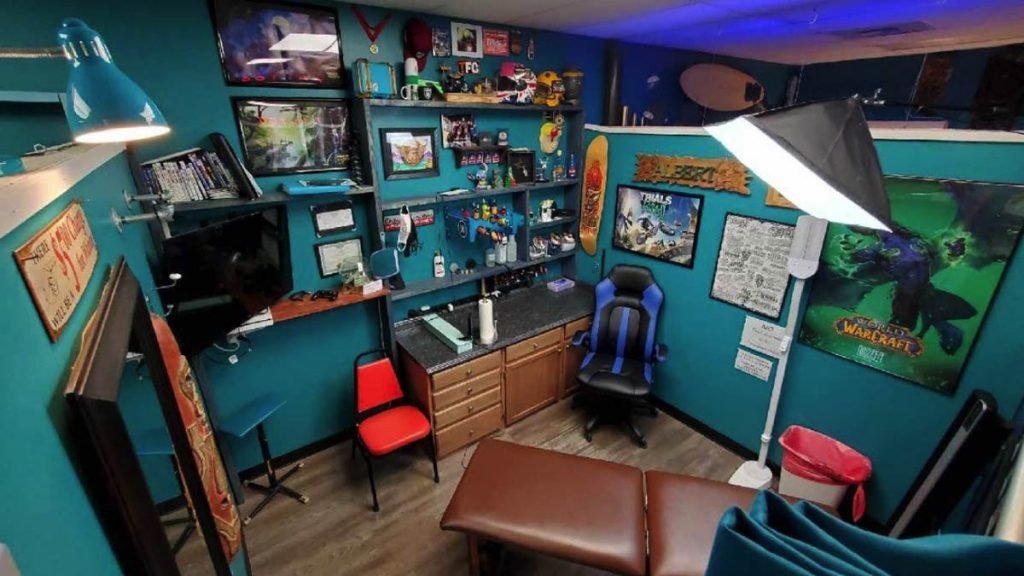 The staff at Good Karma Tattoo Studio encourages open communication with clients so that they leave satisfied with both their tattoo and their experience at the store.
Their artists are very welcoming and communicative and ensure all the hygiene measures to ensure the safety of their clients.
They have three tattoo artists named Albert, Barry, and Tyler. You can book your consultation with them to decide which tattoo to get and they will also suggest with better ideas to make your experience extraordinary. Their consultation charges are 50$ and the session lasts for 45 minutes. You can book your consultation session with any of the artists here.
8. Island Ink Tattoo Shop in Destin
High-quality tattoos and piercings are performed by highly qualified artists in a clean, welcoming setting. Island ink tattoo shop is located at a very convenient location that is easily accessible by anyone, hence they are always busy. It is advisable to book an appointment prior or book a consultation session beforehand to avoid any inconvenience.
They're the sole tattoo store on the entire island. They have a large number of competent and pleasant body piercers and tattoo artists. They seek to provide a welcoming environment for their guests as well as a memorable experience while on the island.
All of their artists are of professional caliber and would gladly assist you in designing your tattoo or addressing any questions you may have about getting a body piercing.
This tattoo shop specializes in classic tattoos, cover-ups, photo realism, portraits, and a variety of other creative forms accessible in today's tattoo business.
Services they offer are- Permanent makeup, tattoo art, and piercing.
You can get permanent cosmetics, such as permanent eyebrows, lip color, and eyeliners. The shop offers a wide variety of tattoo art including traditional, old, and new schools, tribal, color tattoos, portrait tattoos, and much more. They also provide touchups and can customize designs, especially for you!
They have excellent experienced piercing artists who can help you get the best piercing. They use classic high-quality piercing jewelry and ensure high standards of safety.
Visit this tattoo shop in Destin for your next tattoo!
The Bottom-line!
Tattoos are one of the most permanent things you would get in your life. Messing your tattoo is very common and a disaster at the same time. To eliminate this issue, finding a proper tattoo artist who is experienced is very important.
We have listed 8 tattoo shops in Destin that give you personalized services such as communicating about the design you want, artists suggesting better options, or making you understand the pros and cons of the design you are getting.
Tattoos and piercings come along with proper aftercare, good machinery use, medically sterilized needles, high-quality and lightweight metals, and so on. Make sure you take a consultation session with any of these tattoo shops in Destin to understand your artist's knowledge and fluency in skills to make a precise decision.
All the best with getting inked!
Read more:
---
Note: The hours of operation, ticket prices, and admission criteria of museums, parks, etc. may change from time to time. For the most updated information, we recommend checking the official website of the attraction directly prior to your planned visit.
Categories: Asia | Africa | Europe | USA | Australia & New Zealand | France | Germany | India | Italy | Spain | Sports | Switzerland | Travel Tips | UK | Products | Download AI Trip Planner App
---