Tallahassee is a place that is known for its outdoor recreational activities that are plentiful. From horseback riding, hiking, cycling, and running to kayaking and fishing at the lake, it has everything to keep the kids engaged and entertained. The trails are apt for kids and beginners where kids can be kids and let their curiosity take over, explore and observe mother nature. There are plenty of parks and athletic centers which offer various athletic activities that kids can truly enjoy and have fun doing them.
Tallahassee has a lot of history too, so there are lots of museums that are a worthy place for you to take your kids where they can learn about history, heritage, and cultural importance of various things. From ancient Indian mounds to historical museums and interactive planetariums, there are a lot of things that the kids can see, experience, and learn in Tallahassee. Not just the fun aspect, these activities also have a learning aspect too. They are going to enjoy as well as get inspired by various things.
Here is a list of 12 best and fun things to do in Tallahassee with kids:
Fun Things To Do in Tallahassee With Kids
1) Lake Jackson Mounds State Park
It is one of those places for kids to visit which they don't only enjoy but also end up learning about something important. This is the most important archaeological site in Florida. This park encompasses six ancient Native American temple mounds, with two available for viewing by the public. This site is the capital of chiefdom and ceremonial center of the Fort Walton Culture inhabited from 1050-to 1500. The park itself is beautiful and full of untamed wild greenery.
Lake Jackson Mounds Archaeological State Park encompasses four earthen temple mounds! #FloridaHistory pic.twitter.com/ThlTZAxTYZ

— Florida State Parks (@FLStateParks) March 15, 2016
The place is also pet friendly so you can take your dog with you. There are a wide variety of trails available both in the dry as well as the more humid and dense forest. There are various informational plaques, where you can learn about the mounds which are nothing less than cool. There are various bridges as well. The park is removed from the hustle and bustle of the city so it is a perfect place for you to go back to nature and just enjoy what nature has to offer. The trails are perfect for kids as they are not too challenging. Overall the park is a must-visit with kids as they will love being outdoors. The park stays open from 8:00 a.m. to 6:00 p.m. It is located at 3600 Indian Mound Rd, Tallahassee, Florida. 
2) Lake Ella & Fred Drake Park
 It is a perfect place for a day out where you and your kids get to spend some time in nature and relax. The place is absolutely gorgeous and breathtaking. It is especially good given there are not many people, so kids can actually explore nature and let their curiosity run free in a surrounding filled with greenery and water. Apart from being good for kids, you, too, can spend some quiet time and relax in a place that is calming and soothing. One more good thing about the place is the ease of reaching here, it is located in the central part of Tallahassee. The lake area is spread across 12 acres. There are pathways around the lake, where you and your kids can have a stroll, do jogging, do a little running or just walk and enjoy the amazing view of Lake Ella. 
You can also bring your dog with you as this is a pet-friendly place. The lake is stunning, calm, and peaceful. You can see a variety of animals in the water as well as different birds surrounding the lake such as ducks, geese, and turtles. There are a few benches and porches available for you to just sit back, and observe the kids while they enjoy the serenity of nature and explore it further. It is a good spot for bird watching as well. It is especially scenic when the fountains are going. If you feel like grabbing a bite for yourself or the kids feel hungry then there are a few shops surrounding the lake area. It stays open for 24 hours. It is located at S Lake Ella Dr, Tallahassee, Florida.
3) J R Alford Greenway
It is a perfect place for kids to just go out and have lots of fun. In terms of area, it has a lot of open green areas where kids can run free and enjoy. The park is dog friendly, so your dog and your kids can enjoy the park together in a vast open green space. It has more than 17-mile of multi-use trails, which offer a wide variety of activities for people of all ages and abilities. You can do cycling, running, horseback riding, hiking on the trails as well as fog walking.
A fiery sunrise near J. R. Alford Greenway pic.twitter.com/Q9TgDLiNiZ

— Aerial Tallahassee (@aerialtlh) December 3, 2021
The trails are unpaved but the difficulty level is only intermediate so it is well suited for the kids. They are sure going to enjoy the vast open spaces of this park which is spread over an area of 874 acres. The place is absolutely beautiful and the trails are amazing for kids to vent their energy out. The park stays open from 6:00 a.m. to 8:00 p.m. It is located at 2500 Pedrick Rd, Tallahassee, Florida. 
4) Tallahassee Museum
A perfect place to take your kids to know about the local history and enrich their curious minds. This museum is perfect for kids due to its different interactive and unique things that one can witness. It is not a traditional museum with just different exhibits but 52 acres of the lakeside outdoor museum featuring wildlife, a nature trail, period exhibitions, and much more. It is a perfect place for kids to spend a day in nature and learn about it while having fun. They are not only going to have a great time but learn so much in a fun, interactive way that they are going to keep with themselves for many many years to come. The area is filled with greenery and is beautiful. You can watch a lot of animals and learn about them at the same time. 
---
Bestseller Drones
Bestseller No. 1
Bestseller No. 2
---
Was so animal deprived this week so I finally took myself back to Tallahassee Museum and had a great time! pic.twitter.com/l4ulqVxv8I

— 光 見矢 (Hikari Leilani Miya) 🐍🏳️‍🌈 (@muffintimetweet) May 30, 2022
There are unique and interesting dinosaur sculptures made from car parts, which are going to be a highlight for kids. If you are feeling like taking on an adventure with your kids then there is a zip line as well. There are many nature trails that you can walk or hike. There are various cafes inside if you feel hungry after so much fun and adventure. It stays open from 9:00 a.m to 5:00 p.m from Monday to Saturday. On Sunday, it is open from 11:00 a.m to 5:00 p.m. It is located at 3945 Museum Drive Tallahassee, Florida.
5) Elinor Klapp-phipps Park
This is a diverse park where you can not only do the expected trail activities but also have tennis courts as well as football grounds. It has well-marked 5-mile long multi-purpose trails which offer various activities such as hiking, cycling, horseback riding, etc. The trails are diverse and offer different types of landscapes so that one can enjoy them fully. The tennis center, as well as the meadow football ground, provides an opportunity for kids to not just do the trails but also take part in conventional athletic sports.
Our social isolation hike today was out at Elinor Klapp-Phipps Park, which I highly recommend for the variety of terrains, the size (700 acres), it being adjacent to Lake Jackson, and many other fine attributes. pic.twitter.com/lEWIjx2FyM

— Jeff VanderMeer (@jeffvandermeer) March 19, 2020
The place is beautiful and full of greenery. The park is dog friendly, though you need to keep the dog on a leash all the time. The trails are perfect for kids. The park stays open from 6:00 a.m. to 9:00 p.m. It is located at 4000 N Meridian Rd, Tallahassee, Florida.
6) Challenger Learning Centre
It is pertinent that we fill our kid's minds with ambition, and dreams. What could be more ambitious than having the dream to become an astronaut one day? We all were infatuated with space and becoming astronauts at some point during our childhood. It is time we give the same dream to our kids. This is a perfect place as it is an "edutainment" spot, where you can not only watch amazing 3D movies but also learn things about space, missions, and, in general, science. The place is dedicated to the memory of the Challenger Shuttle. The Digital Dome Theatre and Planetarium is a 50-foot, high-definition theatre with a Dolby surround sound system and state-of-the-art projectors. The place features a space mission simulator, an IMAX 3D theatre, and a dome theatre and planetarium.
There are various exhibits and simulators for kids to learn from. This experience is going to be greatly cherished by them for a long long time. This is a must as it is not something which every city can boast to offer. Kids will be able to view the night sky and explore the galaxy and get inspired by the experience. Be on the lookout as they often update their website about free planetarium shows, which are nothing less than out of this world. They are usually open from 12:00 p.m. to 7:00 p.m. from Monday to Thursday. On weekends, they are open from 12:00 p.m. to 9:00 p.m. It is located at 200 S Duval St, Tallahassee, Florida.
---
Bestseller GoPro Selfie Sticks
Sale
Bestseller No. 1
Bestseller No. 2
---
7) Winthrop Park
This park is a perfect place for kids of all ages as it has something to offer to everyone. The park is spread over an area of 13 acres. The park has baseball and softball fields, tennis courts, and soccer fields for kids to enjoy their time while in the park. The park also has a shaded playground area where small kids can enjoy and have fun. The playground has a few small slides and it is well shaded by the trees so it is perfect for small kids as it keeps them away from the heat and direct sun. Lots of space for them to run around and truly enjoy themselves. 
Tonight our #Tallahassee community came together at @floridastate and Winthrop Park to support one another as we process the loss and grief we all feel. These senseless acts of gun violence will never tear us apart as long as we continue to stand as one. #TallyStrong pic.twitter.com/G6YP4Wzxf6

— Mayor John Dailey (@MayorOfTLH) November 4, 2018
The park also has a beautiful rose garden, which features different colors of roses. There are covered pavilions as well as many benches around the playground and baseball ground available. It has a little bit of everything for everyone so that anyone can enjoy their time at the park. The park stays open from 6:00 a.m. to 7:00 p.m. It is located at 1601 Mitchell Ave, Tallahassee, Florida.
8) Tom Brown Park
This is among the large parks in Tallahassee, which is spread over an area of 255 acres. A perfect place to take your kids as well as adults. The park has a variety of recreational activities to offer such as there are several playgrounds available with big slides, where kids can have as much fun as they want and enjoy their time. There are also 4 baseball grounds, mountain biking trails, picnic spaces, etc. It has a little bit of everything to offer for kids of all ages as well as something for parents too. There is a lake in the park so you can just lay and have a relaxed day away from the noise and tension of the city while you oversee your kids from a distance.
Tallahassee is proud to host the 2022 Disc Golf Pro Tour with players from 32 states and 7 countries! Our course at Tom Brown Park is ranked in the top 100 in the world. Check it out today or Sunday afternoon. pic.twitter.com/1Fia8s0fLI

— Mayor John Dailey (@MayorOfTLH) April 9, 2022
You can bring your dog with you as they also have a small dog park within. There are ample things for kids to keep them not only busy but have a great, fun day at the park. They also have softball fields, tennis fields, and open spaces to play soccer as well. Kids of all ages and different interests are all going to enjoy the park equally. They are bound to have a fun time doing various activities here in the park. The park is open from sunrise to sunset. It is located at 443-557 Easterwood Dr, Tallahassee, Florida. 
9) Lafayette Heritage Trail Park
It is one of the coolest trails in Tallahassee. There is a 7.5-mile-long loop that takes you around Lake Lafayette and Piney Z Lake. It is a good place to take your kids and enjoy some activities on the water like canoeing and kayaking. There is a beautiful pier at Lake Lafayette which gives you an amazing view of the lake. The sunsets are breathtaking. There are shared-use trails for walking, jogging, and cycling. There is a separate trail for mountain bike riding. The trails are amazing and have varying degrees of difficulty for all levels of competency.
---
Bestseller Copper Water Bottles
Bestseller No. 1
Bestseller No. 2
---
Join us every Monday in June at 5:15 pm for A Walk in the Woods: Lafayette Heritage Trail Park (Piney Z)! Join us in a moderate to strenuous walk through the woods at your length. However, your Activity Leader will be hiking ~4 mi. More Info & Sign Up at: https://t.co/iDU8hcqR7t pic.twitter.com/99jxMWUnGD

— Apalachee Chapter (@ApalacheeFTA) May 30, 2022
The park also offers visitors to fish, exercise, observe nature, birdwatching, run, exercise, etc. If you feel tired after all the energy-demanding physical activities, you can just sit and relax, and enjoy the view and nature. The pier is a perfect location to end the day of fun by watching the scenic sunset. The park stays open at all hours throughout the week. It is located at 4900 Heritage Park Blvd, Tallahassee, Florida.
10) Tallahassee Automobile Museum
What we used to like as kids were mostly cars, toys or firetrucks and unique things. This place is like our childhood dream come to life so what could be a more great experience than visiting an automobile museum? This is a place which you won't come across often so you should take your kids to this. It is a huge collectibles car museum where you can see tons and tons of cars. As a kid, everyone loves car toys so this museum is going to be a truly epic experience, which might influence them for life and develop an affinity for cars. Regardless of anything, they are going to love this visit. Even the non-car-loving people are going to enjoy the place equally. There are old retro classics, limited editions, rare, and movie set pieces in different shapes, sizes, and ages present. The museum has not just cars, but much more to offer. The owner of the museum is a passionate person named DeVoe Moore. Apart from some amazing-looking cars, there are also collections of boats, motorbikes, and pianos too.
Shooting episode 2 of 'Totally Tallahassee & Beyond' at the incredible Tallahassee Automobile Museum! 🏎🚙🚗 173 classic cars and over 200 collections! @abc27 pic.twitter.com/wD8zfl0guo

— Ava Van Valen (@AvaVanValenTV) April 13, 2022
There is a great collection of police badges, which many kids are going to admire and love to see. There are model ships, motorcycles, and sports memorabilia too. The place has some amazing cars and unique things on display. You will love the visit and your kids for sure are going to love the museum. One more great thing about this place is that you can get really close to the displayed items including cars. The place stays open from 8:00 a.m. to 5:00 p.m. It is situated at 6800 Mahan Dr, Tallahassee, Florida
11) A J Henry Park
It is a perfect place to have a relaxed day out with the kids. It is a 72-acre spread tract of parkland, centrally located amidst seven surrounding neighborhoods in the Killearn area in the Northeast quadrant of the city. The park is like a hidden gem and doesn't get busy a lot so you can actually cut off from the hustle and bustle of the city crowd and enjoy nature. The park is serene, calm, and beautiful. The park amenities include picnic shelters where you can have your picnic with your kids and family. There are also large pavilions where more people can sit together. There is a small playground too where kids can play.
You know it's almost spring when new parks are showing up on the Parks on the Air list. Did a simple activation of VE-5538, J. Henry Tweed park today. One less ATNO on the list. Lots of snow but all went well. #parksontheair #POTA #hamradio pic.twitter.com/glbihtG3uY

— Kieran Shepherd (@va3ks) February 28, 2022
There are large open fields where kids can just run free and enjoy themselves. There are various nature and hiking trails available which are perfect for beginners. The trails are short so that kids can enjoy themselves and not get exhausted a lot. There are multiple bridges, and streams where you can take amazing photos. There is a small pond too where you can fish a little. A perfect place, where kids can be kids and be curious and explore nature and enjoy themselves. The park stays open from 7:00 a.m. to 7:00 p.m. It is located at A J Henry Park Dr, Tallahassee, Florida.
---
Bestseller Cupholder Bottles
Bestseller No. 1
Bestseller No. 2
---
12) Cascades Park
This is an absolutely gorgeous park where you can get some quiet time from work and the street, as well as kids, can enjoy it too. This is a 24-acre park along the stream of St, Augustine Branch in Tallahassee. It is a beautiful park whether you visit this during the daytime or after sunset. It has something to offer to everyone. There are large open green areas where you can lay and have a picnic with your family while kids can run around and have their own fun. There is ample space in the park which will keep the kids busy for a while as they explore the vast expanse. There is a Veterans Memorial as well. There is a splash park for kids so if you are going in summer, the kids are for sure going to enjoy their time. There are numerous restaurants and coffee spots available near the area so you can always grab a bite to eat or something to drink while you enjoy the sun and kids run around and have a great time.
The fountain in Boca Chuba Pond, with a rainbow 7/?@Cascades_Park #CascadesPark #Tallahassee pic.twitter.com/ei7JJ1xVZN

— Michael Lowe Wright (@MichaelLoWright) May 13, 2022
You can also bring your dog with you as it is a dog-friendly park, but the dog needs to be on a leash at all times. It is a perfect place for those who are just looking to enjoy the outdoors and have a relaxing, laid-back time with their friends and family in a beautiful green area. It has an overall peaceful, family-friendly ambiance which both you and your kids are going to enjoy. It stays open at all hours throughout the week. It is located at 1001 S Gadsden St, Tallahassee, Florida. 
We hope you found the list of Fun Things To Do in Tallahassee With Kids useful. Don't forget to hit up all the places on your next visit to this Florida town!
Read more: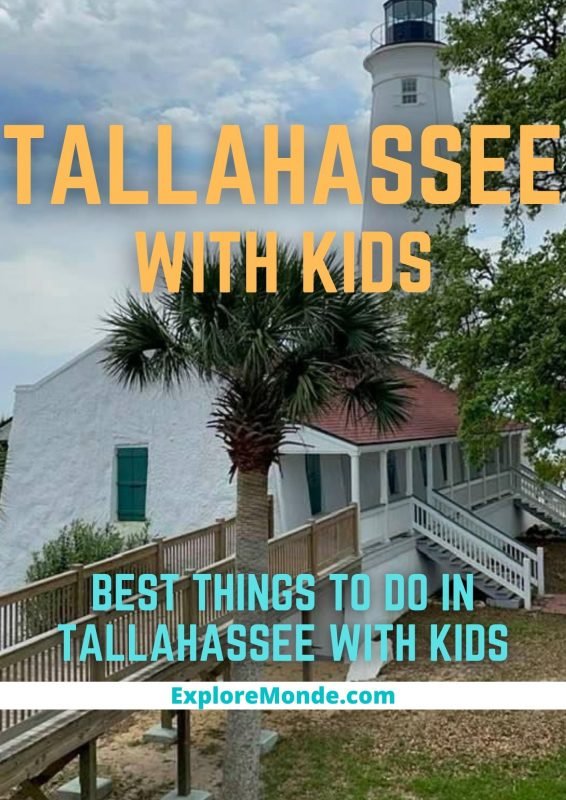 ---
Note: The hours of operation, ticket prices, and admission criteria of museums, parks, etc. may change from time to time. For the most updated information, we recommend checking the official website of the attraction directly prior to your planned visit.
Categories: Asia | Africa | Europe | USA | Australia & New Zealand | France | Germany | India | Italy | Spain | Sports | Switzerland | Travel Tips | UK | Products | Download AI Trip Planner App
---