From its manicured beautiful gardens to plenty of museums, Tallahassee has a variety of things that you can do with your partner which will not only be fun but memorable too.
11 Best Things To Do In Tallahassee For Couples (Jump To Section)
Book An Experience in Tallahassee
Whether your interest lies in learning about the history of the place and browsing through art and exhibitions with your partner or witnessing picturesque sunsets at the lakeside, the city has plenty of romantic things in which you can get involved. There are many activities that are not just fun and unique but will eventually become fond memories for you. The city has plenty of outdoor activities and untamed nature which will inspire you as well as amaze you. 
Tallahassee has various picturesque sites as well, where you and your partner can spend some quality time, relax, and enjoy the serenity. The city has some of the most exquisite and romantic locations where you can't but click a thousand photos to capture that precious moment with your partner. The city has a little bit of everything, whether you want to party with your partner, listen to live music or do something adventurous, it has everything. Here is a list of 11 romantic places and amazing activities that you can visit and do with your partner while you are in Tallahassee.
11 Best Things To Do In Tallahassee For Couples
1. Goodwood Museum and Gardens
It is a perfect place for couples who want to visit places that have historical significance as well as stories about them. It was a plantation property, now turned into a historical museum dedicated to the services rendered to the country. The museum features one of the earliest examples of Fresco Ceilings in Florida. The place is stunning and the Main house tour is highly recommended, where you would see gorgeous old furniture, porcelain, textiles, and glassware. The tour guide is knowledgeable and friendly. The Gardens and Grounds are free, so you can just have a stroll and relax. There are other things such as Jubilee cottage, Laundry Cottage, and Carriage House.
re-stART the arts at Goodwood Museum and Gardens. Did you know that they have a fantastic monthly music event called "Wonderful Wednesdays?" On January 12th, enjoy a concert featuring Charlie Mars – learn more at https://t.co/IP7PIkz4Nt #tallahasseearts pic.twitter.com/J3Qls9WAUM

— COCA / Tallahassee Arts (@TallahasseeArts) December 19, 2021
The tour will give you insight into the history of the Red hill region. The Main House is restored to its original look of the 1920s. The history is shown through the story of five families that lived in the main house. The tour and display items, as well as the picturesque garden, are beautiful and unique. This place is a little different from a regular museum as everything is interactive and you can get to things up-close and personal. The property is stunning and you will have a great time strolling and learning about the history month at the end of the visit you will not only find it unique but an enriching experience. It stays open from 10:00 a.m. to 4:00 p.m. It is located at 1600 Miccosukee Rd, Tallahassee, Florida.
2. Lake Ella & Fred Drake Park
This place is nothing less than gorgeous. It is a perfect place for those couples who want to spend some time in nature and relax. It is especially good given there are not many people, so you can actually sit back, relax and spend some quality time with your partner in a place surrounded by greenery and water. If you want to spend a rather quiet time and relax in a place that is calming and soothing then you should consider going to Lake Ella. One more good thing about the place is the ease of reaching here, it is located in the central part of Tallahassee. The lake area is spread across 12 acres. There are pathways around the lake where you can stroll, jog, do a little running or just walk with your partner and have a conversation with them.
Beautiful, breezy day at Lake Ella. #Tallahassee pic.twitter.com/qxitBK6yB4

— Valerie Crowder (@valcrowder) October 16, 2021
You can also bring your dog with you as this is a pet-friendly place. The lake is stunning, calm, and peaceful. You can see ducks, geese, and turtles. There are few benches and porches to sit and enjoy the serenity of nature. It is a good spot for bird watching as well. It is especially scenic when the fountains are going. There are a few shops surrounding the lake area where you can buy food and odd items as well. It is a perfect place to unwind and have a walk while enjoying a cup of coffee. It stays open for 24 hours. It is located at S Lake Ella Dr, Tallahassee, Florida.
3. Challenger Learning Centre
What is more romantic than a movie date? Well exactly! There is hardly anything that can compete with this tried and tested old classic movie date idea. A movie date is still the most preferred thing for couples to go on. The Digital Dome Theatre and Planetarium is a 50-foot, high-definition theatre with a Dolby surround sound system and state-of-the-art projectors. The place is dedicated to the memory of the Challenger Shuttle. This is the best Imax experience in Tallahassee at a very reasonable price. The place features a space mission simulator, an IMAX 3D theatre, and a dome theatre and planetarium. It is an "edutainment" spot, where you can not only watch amazing 3D movies but also learn things about space, missions, and, in general, science.
Our Robotics Team had a great time on their trip to the Challenger Learning Center of Tallahassee! #WeAreEastside pic.twitter.com/r8l5kfL7dZ

— Eastside Elementary School (@Eastside_Tigers) October 16, 2018
It is truly a unique experience and not something that every city can boast to offer. You will be able to view the night sky and explore the galaxy without the use of the outdated mechanical star ball common to other planetariums. Be on the lookout as they often update their website about free planetarium shows, which are nothing less than out of this world. They are usually open from 12:00 p.m. to 7:00 p.m. from Monday to Thursday. On weekends, they are open from 12:00 p.m. to 9:00 p.m. It is located at 200 S Duval St, Tallahassee, Florida.
---
Bestseller Drones
Bestseller No. 1
Bestseller No. 2
---
4. St Mark's Lighthouse
This place just screams romance. It has to be the most picturesque, scenic, and romantic place you can take your partner to. The lighthouse looks nothing less than a romantic movie setting.
St. Mark's lighthouse in FL near Tallahassee pic.twitter.com/QSgTbkrDii

— janet mcclanahan (@mcclanahanjanet) March 29, 2021
It is the second-oldest light station in Florida. It is on the east side of the mouth of St Marks River, on Apalachee Bay. The place is gorgeous, calm, and serene. The clear sky, clean blue water, greenery, and the lone white tower amidst it, create an absolutely scenic view straight out of a romantic movie. This is a perfect place for couples to have an evening stroll along the shore, hand in hand watching the picturesque sunset. Maybe you can pick some seashells as a memento to remember the day by. Click some Instagram-worthy photos and create a fond, loving memory with your partner at a beautiful location.
Apart from the scenic beauty, the place holds so much historical significance such as important battles. You can watch the birds, lie on the beach, and unwind. There are numerous nature trails available also. It is a perfect place for people who are nature lovers and want to truly feel unspoiled nature, nature in its truest form. This place is memorable and you will for sure love visiting it with your partner. You will have a fun, relaxing, and amazing day here. It is located in St Marks, Florida.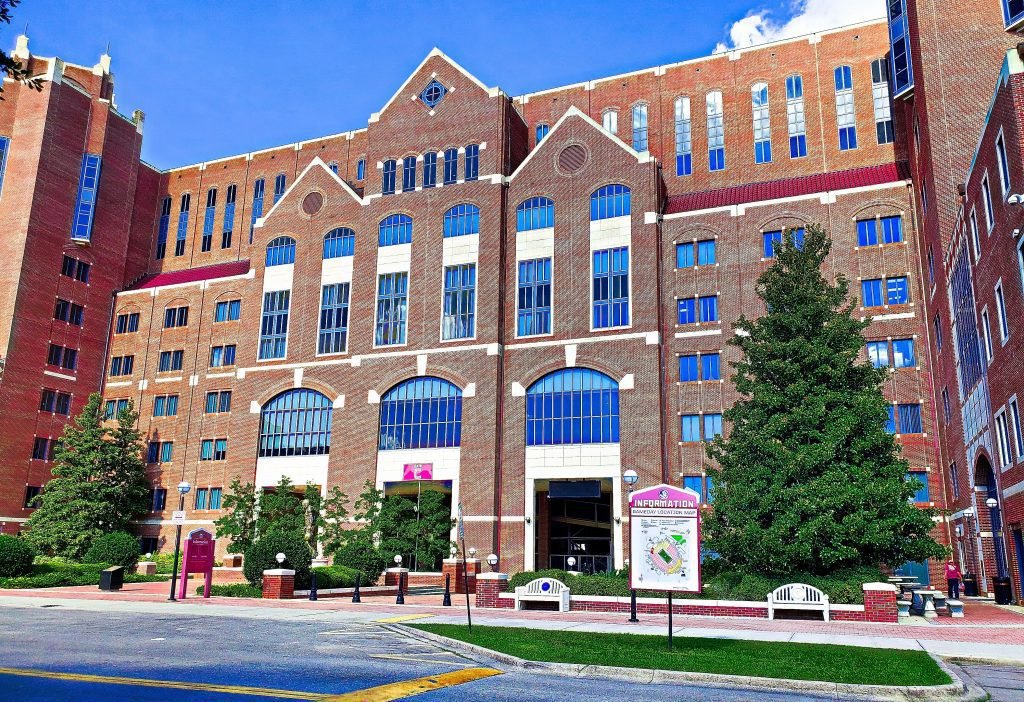 5. Bradfordville Blues Club
This one is all about the music, the food, the ambiance, and having a blast on the weekend. If you and your partner love music and that too blues then look no further than this place. This place offers amazing jazz and blues live music and combines that with great ambiance, food, and an overall mood that you are surely going to remember for a long long time. If you love to listen to some jazz then this goes without saying that it's a must-visit for you. Given the things involved like live music, great food, and amazing ambiance, this makes for a great date location too. You can take your partner on a surprise date here and enjoy the night and amazing performances by some great musicians.
The coolest blues juke joint venue in the country imo – Bradfordville Blues Club outside Tallahassee – fun night before ND takes on the Noles Sunday night! pic.twitter.com/PkSJAGZkzQ

— Rich Hohman (@rbhohman) September 5, 2021
This place is unlike any other live music performance location. The uniqueness of the place as well as the chill and laid-back feel gives it a very rustic mood. The place gives you world-class music in a backyard kinda feeling. A backwoods cinder block room houses this historic blues venue which gives out a down-to-earth and friendly atmosphere. The musicians love to perform and are friendly. You can get some amazing craft beer as well. The laid-back atmosphere, great music, and amazing food all add up to a night that you will love and enjoy to the fullest. The place is open only on the weekend, only Fridays and Saturdays, from 7:00 p.m. to 10:00 p.m. It is located at 7152 Moses Ln, Tallahassee, Florida.
---
Bestseller GoPro Selfie Sticks
Sale
Bestseller No. 1
Bestseller No. 2
---
6. Alfred B Maclay Gardens State Park
Another place which is beautiful and you would feel like clicking a thousand photos. This place is perfect for those couples who want to visit something which has landscaped gardens as well as untamed nature. A perfect mix of unbothered wild nature and crafted gardens. This place is stunning. A masterpiece of floral Designs, this garden features picturesque brick walkways, secret gardens, a reflective pool, walled gardens, and hundreds of camellias and azaleas. This beautiful garden was first planted in 1923. It has some of the most exquisite and exotic flowers for you to enjoy as well as feast your eyes upon. There is Lake Hall which provides ample opportunities for various activities such as swimming, boating, canoeing, kayaking, etc. All of this and one can hardly believe that the entry charge for this place is nominal at 6 dollars per vehicle.
Just 15 minutes from downtown Tallahassee, you can find a masterpiece of floral architecture at 📍 Alfred B. Maclay Gardens State Park. 🌹 Wander along picturesque brick walkways, find secret gardens and meander through hundreds of camellias and azaleas. 🌳🌺

📸IG: mckee.cristi pic.twitter.com/1AHW72nySb

— Florida State Parks (@FLStateParks) April 21, 2022
You can also have picnics in the pavilion at the shoreside, where you can watch a beautiful sunset. Don't forget to click as many photos as possible in the breathtakingly beautiful garden. It has so many scenic locations and spots that nowhere you sit, you are bound to be mesmerized by nature and scenery. There are various trails available too for various activities. It stays open from 8:00 a.m. to 8:30 p.m. It is located at 3540 Thomasville Rd, Tallahassee, Florida.
7. Lichgate On High Road
This is a perfect place for those who are into fairytales and want something dreamy and enchanting. This hidden 3-acres gem of greenery is tucked between two student apartment complexes. It was created by a university literature professor named Laura Jepsen. The place also features a 1900's style English Tudor cottage which looks absolutely beautiful. It is named after the gates that separate the graveyard from the church in England. It symbolizes her home as a place where one could travel back and forth between the land of the living and the land of the dead. This place will transport you to another world, a world where you will feel dreams come true. It is truly a unique and mesmerizing place.
When planning your next trip to Tallahassee, you definitely need to add Lichgate Park on High Road to your itinerary. This stunning park will take your breath away! #iHeartTally

📸: sheilarosegarden on IG pic.twitter.com/xufOcG4qIN

— Visit Tallahassee (@Visit_Tally) January 12, 2021
You will love visiting this place as not only it is a historical landmark but it also features a 250-year-old oak tree. The tree has an imposing presence and looks straight out of a fairyland. The place is full of greenery so you and your partner can just enjoy each other's company and have a stroll or relax. The place has a soul of its own. There is a charming garden and a labyrinth as well. The place will give you a cabin in the woods kind of vibe. This is a unique experience for those who want to see something beautiful, which has history and looks out of this world. It stays open from 10:00 a.m. to 8:00 p.m. It is located at 1401 High Rd, Tallahassee, Florida.
8. St Mark's Historic Railroad State Trail
If you and your partner love to get involved in outdoor activities or love to spend time outdoors, then this is the perfect location for you. This place will give you ample opportunities to do outdoor activities and spend your time in nature staying active. This is a paved 16-mile trail that lets you do various kinds of recreational activities, including jogging, hiking, biking, etc. This trail lets you go from Florida's capital to the Gulf of Mexico; the coastal community of St. Marks.
---
Bestseller Copper Water Bottles
Bestseller No. 1
Bestseller No. 2
---
Whether you want to take a light walk or full-on take on the trails and do some hiking or biking, you can enjoy the trails which offer plenty of opportunities for that. You can also do mountain biking, rollerblading, walking, running, horseback riding, etc. If you want to take things slow and relax then you can also do wildlife viewing. There are picnic pavilions available so you can have your little picnic and enjoy nature. You can also bring your dog with you here as this is a pet-friendly space. With so many things to do, you are bound to have a great fun day out in nature. Given the majority of the trail is covered with tree shades, you don't feel the heat of the sun. There are bathroom stops along the way so you don't need to worry about it too. It is open 24 hours so you don't need to worry about opening or closing either. You can accommodate this in your plan accordingly. It is located at 4778 Woodville Hwy, Tallahassee, Florida.
9. House of Music Tallahassee
If you and your partner are looking to have a night out and have a blast partying then this should be on your consideration list. It is a vintage warehouse-looking place, which is turned into a live music venue. They claim to be the only venue that has live multi-genre concerts. They have a karaoke stage as well so you can let your inner singer out and have fun. Other than this, they regularly have different performances like midget fighting and comedy shows. This makes for a great spot where you get to see these rather unique things. Whether you want to sing in front of a crowd or catch a midget wrestling, you are sure to tick some bucket list items off your list.
I'll be at House Of Music in Tallahassee, Florida along with the rest of the #KealFranklinBand on 5/21 pic.twitter.com/GEcURZutoa

— Keal Franklin (@TheRealKeal) May 10, 2022
This location is perfect for all of you party seekers, who want to have fun out in the town with your partner. They also have a bar and a restaurant as well for you to grab a bite to eat and something to drink. They have a selection of craft beers available. The food is also equally tasty and amazing. A big plus about this place is that the beers are fairly priced so they aren't really heavy on your pocket. The service is top-notch, the performances are great, and the overall ambiance is nothing less than amazing. The vibe and decor are equally complimentary to the feel of the place and mood. The open mic nights are an experience that is highly recommended. The place stays open from 5:30 p.m. to 12:00 a.m. It is located at 2011 S Monroe St, Tallahassee, Florida.
10. Cascades Park
This place is perfect for those couples who want to enjoy a quiet park that is curated and managed in such a way that you have enough open green space near the water as well as several shaded pavilions to have a picnic. This is a 24-acre park along the stream of St, Augustine Branch in Tallahassee. It is a beautiful park which has something for everyone. Large open green areas where you can lay and have a picnic with your partner and truly enjoy each other's company. They have a Veterans Memorial as well. Ample space for kids to run around and have fun. There is a splash park for kids so if you are going with kids then they are sure going to enjoy their time. There are numerous restaurants and coffee spots around the area so if you feel like grabbing a bite, it won't be a problem. You would have sufficient options to choose from.
Cascades Park
Tallahassee, Fl 😍 https://t.co/stnuQJqojT

— warriors in 6 (@mjfadeawayyy) August 18, 2021
It is a perfect place for those who are just looking to spend a day in the outdoors and have a quiet, laidback time with their partner and maybe have kids, too, in a beautiful green area. They also allow you to bring your dog with you but the dog needs to be always on a leash. It has an overall peaceful ambiance. The best part is that it is open 24 hours. It is located at 1001 S Gadsden St, Tallahassee, Florida.
---
Bestseller Cupholder Bottles
Bestseller No. 1
Bestseller No. 2
---
11. Tallahassee Helicopter Tours
What could be more adrenaline-pumping than getting on a helicopter with your partner and flying over the city? You will be able to view all the scenic spots from an aerial view. Everything will look even more stunning from the top-down angle. You will truly feel alive, free, and at the top of the world. If you are someone who wants a thrilling experience and is not afraid to try out new things then you should absolutely check this out. Even if you are not an adventure junkie you should consider this as it is truly an experience for life. You can't comprehend without trying what you are missing out on.
We offer the best #SpringBreak HELICOPTER TOURS in the #Tallahassee #Florida areahttps://t.co/qwSpSbzEPZ pic.twitter.com/zlzNLs0vDD

— Flight Crew (@FlightRides) March 18, 2017
It is also a great idea if you want to surprise your partner with something they will remember for life. They offer scenic tours and adventure flights which start from as little as 61 dollars per person. The Grand tour which covers most of the natural sites around 51 miles will cost you 299 dollars per person. This whole tour will last for about 37 minutes. There are several tour packages available which you can check out on their website. There are other companies who offer these services so you can check out online to find more. The pick-up site is usually Tallahassee airport for a majority of them. You need to first book the tour online. The place stays open from 8:00 a.m. to 8:00 p.m. It is located at 3240 Capital CIR SW, Tallahassee, Florida.
We hope you found the list of Best Things To Do in Tallahassee For Couples useful. Don't forget to hit up all the places on your next visit to this Florida town!
Read more:
---
Note: The hours of operation, ticket prices, and admission criteria of museums, parks, etc. may change from time to time. For the most updated information, we recommend checking the official website of the attraction directly prior to your planned visit.
Categories: Asia | Africa | Europe | USA | Australia & New Zealand | France | Germany | India | Italy | Spain | Sports | Switzerland | Travel Tips | UK | Products | Download AI Trip Planner App
---