Tampa, the Cigar Captial of the world, is a city in Florida Known For its Scenic Tampa Bay region. It has some of the most beautiful Gulf Coast Beaches where one can enjoy the cool blue water and clear sky. The city has a lot to offer to adults as well as kids, who are looking to explore its bountiful nature and enjoy different attractions. From world-class theme parks to some of the most amazing nature trails, Tampa has diverse, engaging, and fun activities for people of even the most niche interests. Whether you are on a vacation or you are a local looking for a fun new thing and place to explore with your kids on the weekend, there are certainly an array of activities, places, and things available for everyone.
We have compiled a list of 11 fun things to do in Tampa with kids:
Fun Things To Do with Kids In Tampa
1) Busch Gardens Tampa Bay
One of the main attractions in Tampa for people of all ages and without any other barrier is Busch Gardens. This is a rather unique place as it is a part adventure theme park, part safari-style zoo. This is a place where not only you can enjoy one of the best collections of rides in the world but also witness various exotic animals as well as greenery. Even if the kids don't enjoy adventure rides, they can still enjoy and have fun at the safari. It is spread over a 335 acres area. It is an African animal-themed adventure park that also has an animal care center, where kids can interact and see the animals from a safe distance. There are so many things to do, from watching animals like giraffes, flamingos, and elephants to riding some adrenaline-rushing rollercoaster that a day would feel too little a time. 
Impeccable landscaping at Busch Gardens Tampa Bay: pic.twitter.com/PQiC1lNPde

— Orlando Theme Park News (@OrlParkNews) June 5, 2022
You are in for a day of unlimited fun. There are so many things to see and do that one day would feel like too little a time. To avoid the rush, you can visit the place on the weekdays. This iconic place is a must-visit. The kids are going to spend a memorable day experiencing fun rides, interacting with animals, eating, and overall having a blast. The rides have wheelchair accessibility. The ticket for "visit any day" is around 124 dollars per person, which allows you to visit the park on any day within 6 months from the date of purchase. This place stays open from 10:00 a.m to 7:00 p.m. It is located at 10165 McKinley Dr, Tampa, Florida.
2) The Great Escape Room
What could be more fun than solving a mystery with your kids and taking on an adventurous task? This is an amazing place to go with your kids and have a fun day of doing activities that your kids are going to love. This place has 7 different escape rooms with various themes. The rooms are detailed, immersive, and detailed. You would have an amazing time looking for clues and Piecing together the puzzle with your kids. They also offer private games for groups and parties so it is a great place if you want to celebrate some occasion also.
Local Adventures: The Great Escape Room-Tampa https://t.co/M2E6U6Xfp7 #travel #ttot via @devilsventures pic.twitter.com/n8eG6LJkNt

— Devils Hole Ventures (@devilsventures) October 28, 2016
The puzzles are intricate and designed in such a way that they would bring all of the people together and work towards a mutual goal. The staff are super helpful and accommodating, they make your experience smooth and fun. There are scavenger hunt rooms available too. You would be given 60 minutes to solve the puzzle and escape from each room. It surely makes for a great experience that is fun, engaging, and interactive. The tickets for each room vary from 35 dollars to 50 dollars for each person. You can go in a group of up to 8 or 10 depending upon the room. The place stays open from 4:00 p.m. to 9:30 p.m. on weekdays. For the weekend, they remain open from 12:00 p.m. to 10:00 p.m. It is located at 300 E Madison St, #301, Tampa, Florida.
3) Florida Aquarium
What could be a better way to spend a day with your kids than taking them to a place where not only do they get to see some new animals and have fun but also learn something? Florida Aquarium is a perfect place for a fun day out with the kids where you can stroll along with the exhibits, and let the kids be amazed as well as learn a few things along the way in a place that they are going to remember for a long long time. The Florida Aquarium is one of the best in the USA, where you can see not only a variety of aquatic animals but terrestrial animals too. You can see sharks, turtles, jellyfish, corals as well as lemurs, and also other exotics animals.
Last August, the Florida Aquarium in Tampa became the first organization to successfully spawn Atlantic Ocean coral. Now they've mated them and are fostering 350 babies until they're big enough to be released. (@WUSF) https://t.co/Egd7IR2R7D

— NPR (@NPR) April 24, 2020
The price ticket for General admission generally fluctuates on a variety of things from weather to crowd and expected visitors. It makes for a great half-day activity as it is not a big Aquarium so you can plan something else for the rest of the day. Due to its ideal size, the kids too, don't find the trip exhausting. This is one of the must-visit places in Tampa with your kids. It stays open from 9:30 a.m. to 5:00 p.m. It is located at 701 Channelside Dr, Tampa, Florida.
4) Tampa Bay Grandprix
If you want to do something adventurous, adrenaline-pumping, and fun, then you should check this out. It is a 70,000-square-foot indoor go-karting Facility. We all know how much kids love cars and racing. This is a perfect place for them to have fun in a safe and secure environment. You can compete, race, and have a great time with them. The place has 2 tracks which are good for kids of varying skills. Regardless of whether your kid likes racing or not, they are going to have fun experiencing it. There are multiple electric vehicles to choose from.
The St Pete Grand Prix is What's Good in Tampa Bay this morning at 820 am with Ann Kelly and Kevin Savoree, Co-owner, President and COO who will help raise the flag to kick off the weekend today! Hear the full interview @1055TheDove https://t.co/7QheOwe3zU pic.twitter.com/HobXcq4wvX

— 105.5 The Dove (@1055TheDove) February 24, 2022
There is also a lounge where you can eat, relax, and play some pool too. The place is absolutely huge and the tracks are some of the very best you can find. It is also a good spot to host bday parties, graduation parties, fun corporate events, etc. Not just for kids, this place is fun for adults too, so you can have fun with them. The prices start from 16 dollars, which includes 12 laps, and go to 48 dollars, which includes 3 races of 16 laps each at Tampa Speed Tracks and 3 races of 14 Laos each at Tampa Grandprix Track. The place stays open from 11:00 a.m. to 11:00 p.m. It is located at 3404 Cragmont Dr, Tampa, Florida.
---
Bestseller Drones
Bestseller No. 1
Bestseller No. 2
---
5) Waterworks Parks
It is an ideal place for those who want to spend a day out in nature and enjoy outdoor activities with their kids. It is a riverfront park, which is extended alongside the Hillsborough River so there are a lot of recreational activities that you and your kids can take part in. The park was remodeled and reopened to the public in 2014. The park also includes an area of the Tampa Riverwalk. It has an amazing splash pad area where kids can run around and enjoy the water. It is perfect for the long Tampa summer day when everyone feels like splashing around in the water. There is a warehouse within the area, where you can grab a bite to eat for yourself and your kids. There is a dog park too so if you have a dog then your dog and kids have a great time.
One of its main strengths is that it is a rather quiet and less crowded park so the kids will have ample space to run around. There are plenty of bars on the southeast end of the walkway, where you can grab something to drink and eat. There are ample open green areas where you can do multiple activities or have a little picnic in the shade's pavilions where you will find multiple benches. Another good thing about this park is that it has free entry. It is open every day of the week from 7:00 a.m. to 10 p.m. It is located at 1701 N Highland Ave, Tampa, FL.
6) Dinosaur World
We all know how much kids are fascinated with dinosaurs. This is a perfect place for you to take your kids to show them exactly that. They have life-size sculptures of dinosaurs. It is an outdoor dinosaur theme park. There are more than 150 life-sized dinosaurs in their natural setting which you can see with your kids. A perfect place for kids as the exhibits are interactive which captures kids' imagination. One of the good things about the place is that you can bring your own food and water with you. There is a dino-themed playground that features several slides and swings. It is a perfect place for you to spend a fun day at a park with your kids where they get to witness something amazing.
Plant City's Dinosaur World is fun for the whole family – ABC Action News Tampa Bay https://t.co/fn17VtoFwz

— Dinosaur News (@Mydinosaurnews) June 5, 2022
You can bring your dog with you as this place is pet friendly but they need to be always on a leash. It is a place where kids can enjoy the experience as well as get to learn about these prehistoric animals. This is especially good for smaller kids as they absolutely love these kinds of places. Kids under the age of 2 years don't need tickets. The ticket price for kids between 3-12 years old is 15 dollars. Adult tickets cost around 20 dollars. The place stays open throughout the week from 9:00 a.m. to 5:00 p.m. It is located at 5145 Harvey Tew Rd, Plant City, Florida.
7) Glazer Children's Museum
This one is perfect for people who have small kids of age less than 12 or 13. This place feels less like a museum and more like an activity hub as they organize innovative, interactive, and fun things for kids to take part in and be involved in. These activities are as much fun as they are a medium for learning. Due to its unique approach, kids love participating and enjoying their time here. It is equally fun for the adults to be involved in all the activities with your kids. From different games to interactive exhibits, the kids let their curiosity run wild and have fun. They learn and discover stuff through various activities. They have various activities throughout the day so regardless of when you visit you will have fun. The place is stroller friendly too, so if you have infants you can take them with you.
---
Bestseller GoPro Selfie Sticks
Sale
Bestseller No. 1
Bestseller No. 2
---
Discover And Grow: Glazer Children's Museum Of Tampa FL via @mortgagemagic https://t.co/qOOpHM1oU0

— Marc Almond (@marcalmondcom) June 12, 2022
Even though kids generally associate museums with boring things, they are going to love this unique and fun place. The place is kept clean and has something for kids of all ages. The variety of things ranges from the base area where kids can do general things to arts and crafts areas where they can fully utilize their imagination. There is a fountain outside as well as various restaurants in the nearby area. It remains closed on Mondays and for the rest of the week, they stay open from 10:00 a.m to 5:00 p.m. It is located at 110 W Gasparilla Plaza, Tampa, FL.
8) HorsePower for Kids and Animal Sanctuary
This is a Non Profit farm/ petting zoo, which provides interaction with different animals such as Goats, Guinea pigs, Monkeys, etc. This is a great place to take your kids and let them have first-hand experience interacting with animals. This is not just a fun place but it will also teach them sensibility and empathy for animals. They also offer horseback riding so the kids can experience that too. Not just animals, the place has much more to offer. There are other fun activities such as Pony rides and train rides. It is a good place where you and your kids can spend a day in greenery interacting with various animals and have a blast.
Always an amazing time at Horsepower for Kids Animal Sanctuary in Tampa. We can't wait to come back for the Spring Festival!!! #Autism #AutismAwareness pic.twitter.com/bWoE4qFTAG

— Candi Spitz (@CandiSpitz) October 15, 2018
The staff is friendly, polite, and ladies back. They make the whole experience even more fun. You can also have a Bar mitzvah, birthday parties, and other events. There is a playground area inside the place too. The admission charge is 12 dollars per person but babies under the age of 12 months don't require any ticket. For 30 minutes of horse riding, you have to pay 25 dollars, which includes farm admission. There is an age restriction for horse riding. It is only for kids between the ages of 7-15. There are a few other rules which you can read on their website. The place remains open from 10:00 a.m. to 2:00 p.m. and On Saturdays and Sundays, it is open from 9:00 a.m. to 5:00 p.m. It is located at 8005 Racetrack Rd, Tampa, Florida.
9) ZooTampa at Lowry Park
Every kid has a memory of visiting the zoo with their parents so why not make it happen the next time you plan to have a day out with your kids? This is going to be among the core memories of your kids. And because of your kids, you, too, get to relive your fond childhood memory of visiting a zoo. Maybe you can tell your childhood stories of various zoo visits with your mum and dad as a kid. This is, in general, a great place to have a day out with your kid. ZooTampa is among the top 25 zoos in the U.S. You can see several apex predators as well as many exotic animals like the Indian rhino. The kids get to learn about different conservation efforts taken to preserve and save various animals.
Their Safari is particularly famous and is a sure hit with the kids. The place is huge so you should take your time and enjoy it without rushing anything. The signs, programs, and extra activities are educational in a fun way. There are food options available inside the park in case if feel famished after so many activities. The adults can visit unlimited times for one year for the price of 44 dollars. It is open throughout the week from 9:30 a.m. to 5:00 p.m. It is located at 1101 W slightly Ave, Tampa, Florida.
---
Bestseller Copper Water Bottles
Bestseller No. 1
Bestseller No. 2
---
10) Hillsborough River State Park
This is a perfect place if you want to have a day out with your kids in nature, greenery, and open spaces doing outdoor activities. This is a park that is spread over an area of more than 3,383 acres. The park has more than 7-mile trails, which have different sections of varying difficulty. The park is beautiful and serene. There are various bridges, and water bodies inside where you can just lay, relax and enjoy nature in its most authentic and untamed form. There are so many opportunities for outdoor activities that you and your kids, together, do and have fun with.
Hillsborough River State Park has more than 5 miles of nature trails to explore. And if you add Fort King Trail just outside the park, that's nearly 20 miles of hiking! #floridahikes #floridastateparks #hillsboroughriver #tampa #florida

— Wander Florida (@wanderingfl) June 12, 2022
You can do camping, fishing, hiking, biking, and, in general, enjoy the day outdoors with friends and family. You can have a little picnic with your kids at the campsite too while enjoying the beautiful scenic landscapes. Apart from this, the visitors can also view class II river rapids, which are rare in Florida. You can also do canoeing or kayaking. There is a kids-friendly pool available too, so kids can enjoy swimming. This place gives you ample activities to be involved in for a great day of fun while enjoying nature. The entry fee is 6 dollars per vehicle so it is not expensive either. The park remains open throughout the week from 8:00 a.m. to 6:00 p.m. It is located at 15402 US-301 N, Thonotosassa, Florida.
11) Adventure Island
Adventure Island is a water park, that is spread over an area of more than 30 acres. This is a perfect location for you to take your kids during the summer break, where not only the kids but you too can have a fun day doing some activities. You can stay cool and have a lot of fun with your kids on numerous rides and slides. This park features water rides, dining options, and many other attractions. This should be on your list as it is located just across the street from Busch Gardens Tampa Bay so You can check out either of the two according to the mood when you visit. It is a perfect location for kids to have inhibited fun experiencing the water rides and enjoy their time.
Waterslide Thrill at Tampa's Adventure Island Water Park via @mortgagemagic https://t.co/Ce1sOCSE6E

— Shamir Nandy (@shamir_nandy) June 9, 2022
If you feel hungry, which is expected, then you can try the delicious food inside the park. You can't bring your food and drinks. And if you think the rides aren't your thing, then there are plenty of places to just lay and relax under the shade and have a nice time by the pool, under the sun. One more good thing about this place is that they do serve alcohol inside the park so kids can have their fun while you have yours. A perfect place whether you want to just relax or spend a fun day out with kids in the water, you can do both. A single-day ticket per person would cost you around 44 dollars. It is open from 10:00 a.m. to 5:00 p.m. It is located at 10001 McKinley Dr, Tampa, Florida.
We hope you found our list of the fun things to do in Tampa with kids helpful. Be sure to visit all places to make the most of your Tampa trip with kids.
Read more:
---
Bestseller Cupholder Bottles
Bestseller No. 1
Bestseller No. 2
---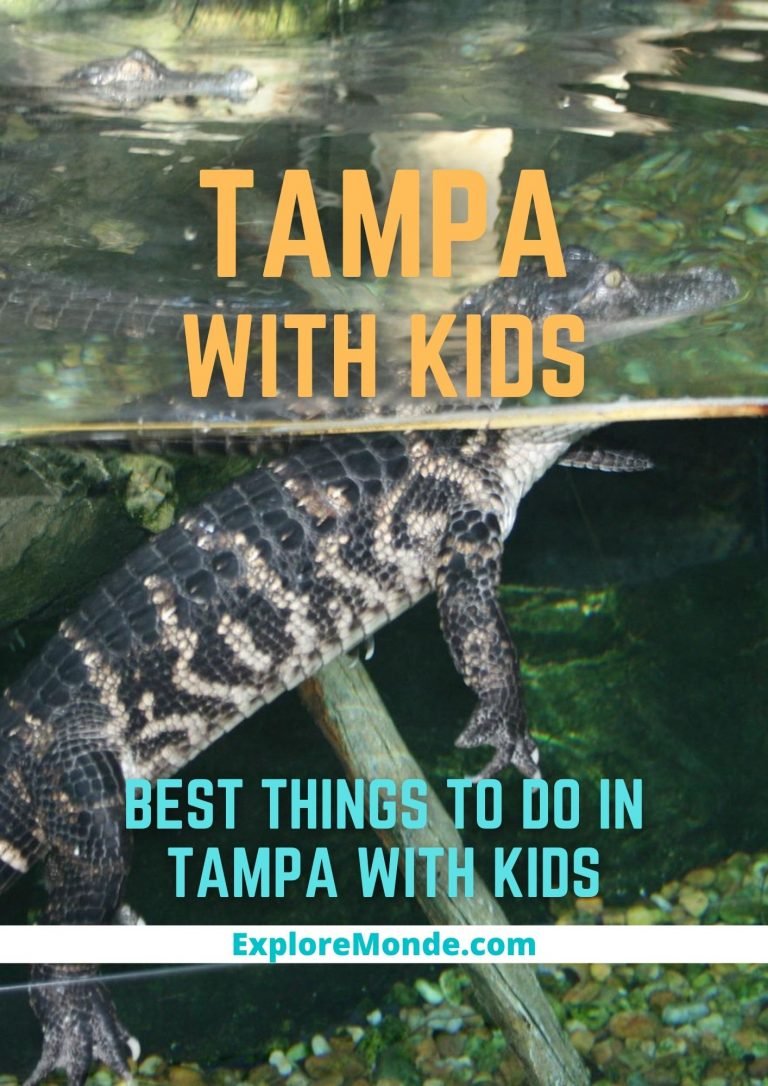 ---
Note: The hours of operation, ticket prices, and admission criteria of museums, parks, etc. may change from time to time. For the most updated information, we recommend checking the official website of the attraction directly prior to your planned visit.
Categories: Asia | Africa | Europe | USA | Australia & New Zealand | France | Germany | India | Italy | Spain | Sports | Switzerland | Travel Tips | UK | Products | Download AI Trip Planner App
---