There is a wide range of places for Scuba diving in Mexico where you can experience magnificent life under the water. Diverse and rich diving can be found throughout Mexico, from gentle drift dives over coral gardens in Cozumel to gentle pinnacles surrounded by large pelagic fish in the Revillagigedos; from cage diving with great white sharks to exploring mysterious and stunning freshwater caves tucked away in dense jungle.
Best Places For Scuba Diving in Mexico (Jump To Section)
Best Places For Scuba Diving in Mexico (Map View) (Jump To Section)
In this article, we are listing down the 10 best places for scuba diving in Mexico that will offer you nothing less than the best. When choosing a place for scuba diving it is necessary to understand the diversity under the waters, the best time to visit to avoid extreme weather phenomena, etc.
Here we are mentioning the best scuba diving places in Mexico with all the necessary information that any diver would seek.
Here are the top 9 places for scuba diving in Mexico:
Best Places For Scuba Diving in Mexico
1. Socorro Island: a lover's paradise for pelagic fish.
It is one of the best scuba diving places in Mexico. The island draws a variety of sea creatures due to its isolated seamount location offshore. Large groups of huge manta rays—possibly the nicest animals on Earth—are among them. They like swimming next to you, frequently no more than a meter away, making Socorro island the best place to dive with oceanic manta rays in the world, undoubtedly!
This scuba diving place in Mexico is a UNESCO world heritage site including a variety of shark species and a large number of pelagic giants in its Pacific seas. It is also known as a world-class shark destination as well.
While scuba diving on Socorro Island, play a massive game of pelagic bingo. Bottlenose dolphins in the wild approach you to participate in their antics. These dolphins are known to approach you and stay for a while rather than swim off when they see divers.
Good Morning, my friends! 🔆 #Buongiorno #BuongiornoATutti#mercoledì#23febbraio

The Socorro Island in Cabo San Lucas marine reserve and national park of Mexico as well as a UNESCO World Heritage Site 🇲🇽

© @originofidea pic.twitter.com/yZUyhAMi25

— Ilary ღ (@mi_oro13) February 23, 2022
Watch humpback whales break the water's surface or huddle up against a boulder to spot seven different shark species, including the whale shark. Only experienced divers should dive at Socorro due to strong currents, yet the rewards are enormous.
When to visit Socorro Island: Although species sightings fluctuate over the primary season, which runs from November to May. It's humpback whale season in February and March, whale shark season in November and December, and baitball season in May and June.
Difficulty Level: Experienced divers are preferred as a result of rough waves and frequently strong currents.
2. Riviera Maya: Surreal Cenote scuba diving place in Mexico
There are several locations to carry out scuba diving here, including the commanding Caribbean Sea, underwater rivers, and mysterious cenotes. Additionally, you have the option of doing it during the day or at night, giving you the chance to have two distinct experiences!
There are 6 caves that are explored by scuba divers most frequently- El Pit, Tajma Ha, pet cemetery, Angelita, Kukulan, and car wash. Each Cavern has something special to offer. El pit is the deepest cavern with 12-18 meters in depth.
Tajma Ha is an absolute gem due to its incredible rock formations such as stalactites, stalagmites, columns, and fossilized remains of ancient creatures. It connects to several other caves and offers so much more. Enjoy the phenomenal mirror effect here that will leave you speechless.
---
Bestseller GoPro Selfie Sticks
---
Pet cemetery is suitable for beginner divers as it is just 6 meters deep. You will get to see different animal skeletons here which will leave you with several questions.
Another Instagram-worthy scuba diving place in Mexico is Angelita cavern. It resembles a "sea forest" because of some fallen trees and other flora remnants that have created a very dense cloud of hydrogen sulfate that seems to be mist. You should post the pictures you shoot on Instagram.
Car was, also known as Aktun-Ha, is an open cenote where you can see a variety of plants and animals, including turtles, lotus flowers, and, if you're lucky, a little crocodile that calls this spot home. Kukulan is made up of pure limestone and it shines up when illuminated with a lantern. The views are absolutely phenomenal and spectacular.
When to visit: Anytime in the year.
Difficulty level: All levels of divers and snorkelers can enter the caves. Only those with the necessary experience should visit deeper caverns that are easily identified by the signs.
---
Bestseller Copper Water Bottles
---
3. Cozumel: A marine life aquarium
Diving in the Caribbean is among the best in Cozumel. Excellent weather and a plethora of marine life are to be found at Cozumel. There are many dive sites in Cozumel, but the magnificent wall dives and tranquil drift dives are its most well-known features.
For marine life watching from close, Cozumel is one of the best scuba diving places in Mexico.
Divers swarm here at this scuba diving place in Mexico for the simple drift dives along Cozumel's high but colorful cliffs, where an abundance of brilliant sponges, gorgonians, and hard corals serve as an aquarium backdrop for a wide variety of fish life, turtles, rays, and the rare reef shark.
Around Cozumel, there are more than 45 dive sites providing diving for all skill levels. Since it became a marine park more than 20 years ago, the island's southernmost point has a reef in excellent condition, with 105 distinct kinds of coral and more than 260 species of fish.
Divers frequently come across hawksbill turtles, eagle rays, and schooling jack in the shallow, clear waters of the southern and northern reefs. Moray eels, lobsters, and frogfish may also be found hidden within the coral heads. Snorkeling and glass-bottom boat cruises to some of the top places in the Caribbean are other options for non-divers to explore the shallower reefs.
---
Bestseller Cupholder Bottles
---
This scuba diving place in Mexico is easily accessible and hence one of the best options in Mexico for one-day trips. However, there are many options available for overnight stays including, star resorts, hostels, and Airbnb. So you can just drive here on weekends, explore a wide variety of activities from snorkeling to scuba diving, and if time allows then an overnight stay too!
When to visit: The aptest months to see bull sharks are particularly November through March. Warm seas, empty dive locations, and typically quiet conditions are all present from May through September. If you enjoy warm weather, now is the greatest time to dive in Cozumel, however, diving in the Caribbean Sea is enjoyable year-round.
4. Island Guadalupe: Breathtaking Cage Diving With Tiger Sharks!
Great white shark sightings are thought to be among the finest on Earth at Isla Guadalupe. Shark Season at Isla Guadalupe is from July to November.
Meet a great white shark eye-to-eye. 😳 This unimaginable footage was shot in Guadalupe Island in Mexico, a top destination for great white shark encounters. 🇲🇽

Sharks play a vital role in keeping marine ecosystems balanced and healthy. Sharks are also not hungry man-eaters pic.twitter.com/YjiNuiUdFv

— Faruk Hoosain (@FarukHoosain) June 26, 2022
With more than 300 uniquely identifiable sharks visiting the island each year, it is one of the few spots in the world where divers may interact closely with these formidable creatures. Guadalupe Island shark diving is incredibly spectacular with its gin-clear water.
submersible shark cage diving activities are staged in a bay where 366 distinct great white sharks are identified, which ensures amazing encounters. You can swim in these waters to get a pleasant experience. However, this island is known as the best cage scuba diving place in Mexico.
If you are planning to dive here, make sure you have enough time in hand. As this island is only accessible by liveaboard. The guest boats are experts in shark cage diving. Trips typically provide three days of diving and depart from San Diego in the US or Ensenada in northern Mexico.
Even though great white sharks are the main attraction, divers will also be able to see the indigenous Guadalupe seals and sea lions feasting on big schools of mackerel while the sharks are diverted by the cages. Additionally, the boat rides out and back provide the opportunity to see whales and dolphins.
When to visit: The best season to spot white sharks is from august to October, as young sharks arrive here for mating purposes early in the season. While large males arrive around September. Mid-October onwards the season starts to change and it is the breeding season where the largest females arrive. This is when you may interact with many sharks.
Difficulty Level: Since it's cage diving and not really a scuba diving, you don't necessarily have to have scuba skills. You can perform this diving without any experience of diving at all!
5. La Paz
More than 25 dive sites surround the islands beyond La Paz's port, including Espiritu Santo, San José, and Cerralvo, making it one of the best diving locations in the world. The big stuff—giant manta rays, sea lions, and amazing numbers of sharks, including whale sharks and hammerheads—is what makes diving at La Paz unique.
Every year from October to May, when these gentle giants visit the region to feast on a seasonal abundance of plankton and krill, you may snorkel with whale sharks at La Paz. The Baja California Sur state of Mexico is headquartered in La Paz. It has beautiful, serene beaches with frequently crystal-clear water.
Visitors to La Paz, the capital of Baja California Sur, have access to a wide variety of diving opportunities in the southern Sea of Cortez. The whale sharks that come to La Paz Bay in October and November, when plankton blooms are at their greatest, are one of the main draws here. One of the joys of a vacation to La Paz is swimming with these gentle giants, which is an amazing experience. The hammerhead shark nursery, which has been destroyed by fishing in recent years, is rebuilding in La Paz Bay as well, and reports of these formerly common sharks are increasing once more.
When to Visit: October and November
Difficulty Level: Dives of all abilities are welcome, however, more experienced divers should avoid the offshore seamounts since they may suffer strong swell.
6. Isla Mujeres
Sailfish schools are the main draw during the winter, especially in January and February. These lightning-quick predators are abundant on Isla Mujeres.
They migrate from the Gulf of Mexico and take refuge in the Yucatan Peninsula's lee, where they gorge themselves on sardines that have been pushed into shallow water by upwellings along ocean ridges. The majority of tourists choose to snorkel with the sailfish, but it is also possible to dive with them. Seeing these unusual fish seek and bait-ball their prey is an exciting experience.
A little further offshore, where they eat bonito and tuna eggs during spawning periods, it is also feasible to snorkel with these enormous fish. Whale shark sightings are less frequent here, but there is a decent possibility to see manta rays taking part in the feast.
Each year, two thrilling events gather underwater photographers and divers to Isla Mujeres, which is located close to Cancun on the northeastern point of the Yucatan Peninsula. Large groups of whale sharks congregate in the shallow seas around Isla Holbox throughout the summer to feed on krill and plankton.
When to visit: Dive in the Caribbean at any time of year. In reality, diving is feasible for about 300 days a year since the water is consistently warm year-round and only slightly cools in the winter.
The most well-liked season for Caribbean scuba diving is from December to April when it is said to be the greatest time to visit Mexico. These are the months where the topside and undersea circumstances are most evenly distributed. Because the winter months are considered peak season, you should be sure to make your reservations as soon as you can to get the greatest deal.
The best time to see whale sharks in the area of this island is specifically between June to September.
Difficulty Level: All skill levels may dive into Isla Mujeres. Shallow reefs with little to no current characterize several of the locations. A couple of deep wrecks are waiting for those with advanced certification.
7. Northern Sea Of Cortez
One of our planet's most biodiverse regions, the Sea of Cortez, sometimes known as the "Aquarium of the World," is home to a magnificent but austere combination of natural beauty and hence one of the best scuba diving places in Mexico.
With underwater conditions ranging from remote islands and shallow bays to up-close encounters with outstanding marine species, diving in the Sea of Cortez is in a league of its own. In just one dive, visitors may expect to see a staggering array of animals, from tiny nudibranchs to California sea lions weighing hundreds of kilograms! The Sea of Cortez was dubbed the "Aquarium of the World" by explorer Jacques Cousteau and has long been recognized as one of the planet's most biodiverse bodies of water. Because of the rigorous protection provided by the marine park, the area is still thriving today.
Three-quarters of the Sea of Cortez region, which is a UNESCO World Heritage Site, is made up of marine ecosystems because it is so important to North America's biodiversity.
The diving spots around Rocky Point are a collection of rocky coves that are reachable by land or boat in the extreme north of the sea. The only way to dive in the Midriff Islands is on a liveaboard, and diving there is sometimes paired with exploring Bahia de Los Angeles, which is famous for gathering whale sharks from June to December.
The primary reason most divers travel to Loreto is to dive the C-54 Agustin Melgar wreck. This intentionally sunk decommissioned minesweeper offers straightforward penetration paths in addition to chances for technical instruction and advanced wreck diving.
When To Visit: For the best visibility and calmest waters, go from July to December. July and August are when the whale sharks congregate.
Difficulty Level: Suitable for all levels.
8. Cabo San Lucas & Cabo Pulm
The diving playground of Cabo is in the backyard of Southern California. Cabo is a short journey from LAX and has plenty to offer everyone, whether they are visiting with friends or family. Many people are unaware that Cabo also provides reasonably priced and quiet family holidays where they can hang out by the resort pools and the beach despite the town's reputation for an intense party scene.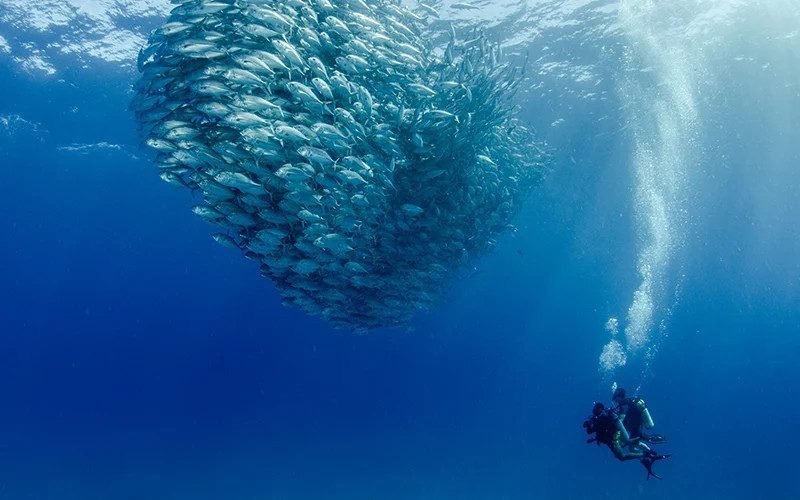 Visitors have the option of staying in Cabo San Lucas, the adjacent (and calmer) San José del Cabo or retreating to Cabo Pulmo, where the only disturbance is the odd pelican plunging into the clear ocean in search of a fish.
The finest diving season is from October to November, when visibility may equal that of well-known dive locations and the water heats up to tropical temperatures. Divers from all over the world travel to Cabo for the possibility to view hammerhead sharks in the Sea of Cortez, the Corridor, or at El Bajo (near La Paz).
Excellent diving occurs between December and March. Sea lions, schools of Mobula rays, humpback, and grey whales that are migrating from the Sea of Cortez into the Pacific Ocean are frequently present. Banded guitarfish, bullseye rays, octopuses, and many more creatures come up from the deeper waters to the recreational diving depths with the cooler water of winter and spring.
On the west coast of North America, there are just three coral reefs, including Cabo Pulmo. The bay is home to the local dive sites, and Cabo Pulmo Dive Center makes use of its extensive knowledge to drop divers off directly on the greatest sections of the reefs. Advanced divers may perform drift dives around the reef because of the open water, providing for very pleasant trips with simple fin kicks.
The DMs deploy an SMB during safety stops to ensure that the panga will be present when the divers surface because many dive locations are in the open sea. The marine park forbids glove diving, preserving the reef's natural condition.
When To Visit: December to May is the best time to spot pelagics, however June to November offers better underwater conditions.
Difficulty Level: There are inshore diving sites for all abilities, although some offshore dives are only for expert divers.
9. Chinchorro Banks
The Chinchorro Banks is a treasure on the Mesoamerican Barrier Reef, located five hours south of Cancun and protected under the Sian Ka'an Biosphere Reserve. Few people are aware of the distinctive variety and pristine environments found throughout this secluded atoll, even though hundreds of divers travel to the northern resorts of Cozumel and Cancun.
A few brave divers have been venturing beyond the renowned outer reef of the Mexican Caribbean for many years in search of diving opportunities. However, those few who made the trip to Banco Chinchorro were rewarded for their efforts by learning the Caribbean's best-kept secret! The biggest coral atoll in the western hemisphere is Banco Chinchorro, but due to the 2.5-hour boat voyage to get there and the limited availability of permits, only a select group of people have ever been to its reefs.
While scuba diving on the Chinchorro reef, you'll come across a wide variety of coral species, including black coral at unusually shallow depths and many other species of soft coral are occasionally found in small numbers on the Great Maya Reef but are vibrant and abundant in Chinchorro, along with a wide variety of tropical fish, rays, eels, conchs, and enormous sponges. Not to add that since the reef is offshore, a big animal encounter is always possible.
The most daring divers may get up and personal with American saltwater crocodiles for a really unforgettable encounter. Despite being meticulously controlled for the safest experience, this is nevertheless an exhilarating experience and offers some fantastic photo possibilities.
When to Visit: Year-round.
Difficulty Level: Anybody with or without experience in scuba diving.
Best Places For Scuba Diving in Mexico (Map View)
In Conclusion
Mexico has so much more to offer than just the incredible diving destinations highlighted above. In San Ignacio, you may also go whale watching. If you want to go diving and view humpback whales and maybe even manta rays and whale sharks, go to Puerto Vallarta on the Pacific coast.
Additionally, diving with manatees is possible at Xcalak, the location of the saltwater crocodiles. Bull shark scuba diving is available at Playa del Carmen between November and March for thrill-seeking divers. Finally, Puerto Morelos offers some pleasant and simple beach diving for scuba divers.
Read more:
---
Note: The hours of operation, ticket prices, and admission criteria of museums, parks, etc. may change from time to time. For the most updated information, we recommend checking the official website of the attraction directly prior to your planned visit.
Blog Categories: Asia, Africa, Europe, USA, Australia & New Zealand, France, Germany, India, Italy, Spain, Sports, Switzerland, Travel Tips, UK, Products
More From The Blog
---